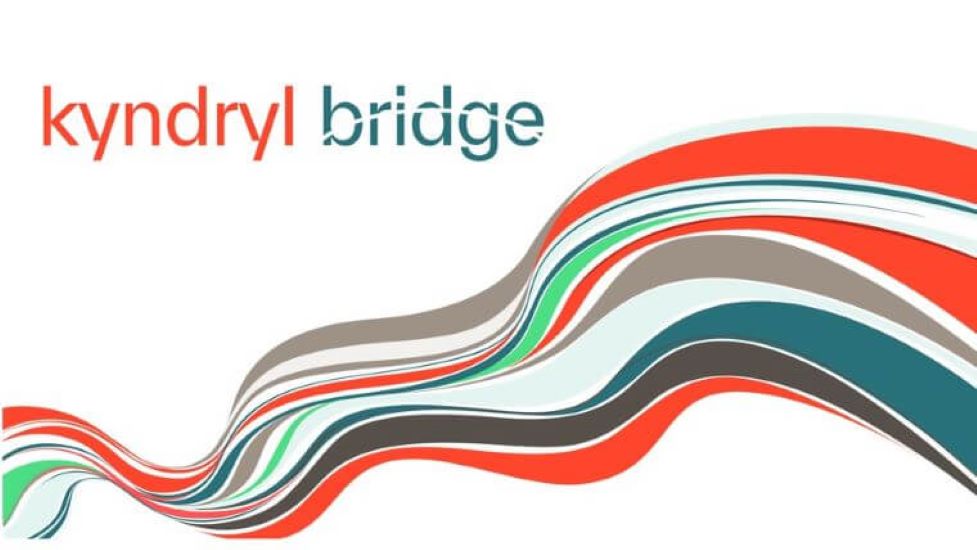 The News: Kyndryl released Kyndryl Bridge, a potentially game-changing technology platform that centers on a sort of technical clairvoyance aimed at allowing customers to, in the company's own words, "see trouble coming and gives them the intelligence to take action before a technical problem becomes a business problem." According to its creator, Kyndryl Bridge is a "digital integration platform powered by real-time AI, analytics, and insights and is available to all Kyndryl customers and partners." This is Kyndryl's first move to flex its innovation muscle, giving a glimpse into how the company plans to deliver service to its 4,000 customers globally, as well as differentiating itself in the congested IT services marketplace. Read more from Kyndryl's announcement.
Kyndryl Expands Offerings with Kyndryl Bridge, a Platform Designed to Help Customers Accelerate their Digital Transformation Journeys
Analyst Take: Digital modernization is top of mind for just about every CIO today, and with good reason — it's a growth driver, and a critical one at that. But IT leaders are the first to admit that the process of IT modernization is both challenging and complex. And when you combine those variables with an industry-wide shortage of highly skilled technical talent, being able to make progress on digital modernization/transformation journeys can be a challenge.
Why so complex? While public cloud adoption is accelerating, most enterprise workloads remain on-premises. In many cases, enterprises at scale are looking to repatriate workloads as cloud is to no longer be the cheapest option, even with the flexibility and ease of developer access that is appealing to many. That's where Kyndryl's expertise comes in, and why Kyndryl Bridge, specifically designed to address these challenges and accelerate digital transformation and digital modernization journeys.
Kyndryl is living at the intersection of the need to drive innovation to the cloud and digitally transform operations, while also ensuring that the workloads that remain on-premises are as cloud-like in the way they are delivered as possible. As Kyndryl points out, the complexity of systems driving modern business combined with a shortage of workers with the necessary IT skills has slowed progress for the businesses relying on technical advancement to keep up with rapidly scaling IT estates. "Dealing with complexity is what Kyndryl does best and what customers need most. Kyndryl Bridge will be a way for our customers and Kyndryl, to run their mission-critical infrastructure and digital transformation journeys better," said Martin Schroeter, Kyndryl's Chairman and Chief Executive Officer, in the release announcing Kyndryl Bridge. "Kyndryl is committed to transforming how IT services are delivered, and Kyndryl Bridge is core to our long-term strategic mission to grow our ecosystem of alliance partners, use tools and IP to create a robust advanced delivery system, and ultimately dedicate more expertise and focus to best serve customer accounts at scale."
Kyndryl is well positioned to deal with complexity as it manages 4,000 global customers' IT operations. In many cases, the workloads under management are, as Schroeter pointed out, the most mission-critical applications and data that the customer has.
Kyndryl Bridge is Designed to Act as a Hub in a Multi-Cloud Environment
We see Kyndryl Bridge as, perhaps most importantly, a product designed to meet businesses wherever they are on their individual modernization journeys, helping maximize value where needed and increase efficiencies of solutions they already know and trust and function like a hub in today's multi-cloud environment.
Kyndryl Bridge is architected to provide a way for Kyndryl customers to more effectively run their mission-critical infrastructure and as a result, empower the transition to a more digital transformed business. As Kyndryl transitions from activities focused on the spinout from former parent IBM and the establishing of alliances with key vendors, this new announcement is big news, representing the first major innovation effort the company has undertaken post divestiture.
For Kyndryl customers, we see this as an exciting prospect, utilizing the Kyndryl Bridge platform to simplify their modernization efforts and easily connect and integrate their existing cloud products. Moreover, this allows IT leaders to focus less on the hands-on business of managing IT and more on the more important business of expediting their digital transformation journeys, innovating, and optimizing their workforces.
With Kyndryl Bridge, Kyndryl is breaking cover on how it plans to innovate to deliver IT services at scale in the most cloud-like way possible.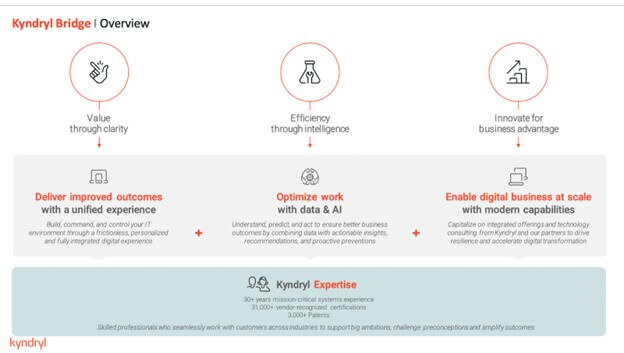 Here are some of the Kyndryl Bridge features that we find particularly compelling:
Single Product Experience. One of the major challenges for IT service delivery at scale is the sheer complexity and diversity of the tools and interfaces required to manage an enterprise-scale IT estate. With Kyndryl Bridge, customers will be able to consume, access, and control integrations and services via one console providing a simplified way to manage their estate but perhaps more crucially gain insights into the operational landscape.
Actionable Insights and Observability. As complexity increases and the need to innovate at scale go hand-in-hand, the need to automate operations and ultimately deliver on the promise of AIOps comes to the foreground. The functionality of the Kyndryl Bridge offering looks to deliver a simplified portal for observability, and telemetry and enable the transition to more automation of operations. This transition will ultimately enable Kyndryl customers to form a holistic overview of service requests and also provide insight into how incidents are resolved.
Unified Login, Billing, and Support. One area where the public cloud has excelled over the last decade has been in enabling IT to transition from a CapEx model to one where services are consumed via simplified consumption-based billing. With Kyndryl Bridge, Kyndryl is looking to bring this dynamic to the way outsourced customers consume IT.
Connected Services. A key challenge for many outsourced customers is the need to leverage the tools provided by the outsourcer, while also leveraging best-of-breed solutions sourced from the IT marketplace. With Kyndryl Bridge, the company's customers will be able to integrate their tools or use Kyndryl services, which will work together and work the same. This is a significant value add for customers, and we will be watching closely to see whether Kyndryl can pull this off as Kyndryl Bridge evolves in the months ahead.
As enterprises look to accelerate their digital transformations and partner with IT service delivery organizations to manage a legacy estate while helping them transition to hybrid multi-cloud service delivery models, the need for a digital integration platform is becoming evident. It's clear that Kyndryl Bridge hopes to deliver on that front.
Looking Ahead
Kyndryl has spent the last year since the spinoff from IBM focused on ensuring the financial stability of the company, retaining the 4,000 customers that IBM GTS used to have and forging strategic relationships with key technology partners. This focus has been well placed and has established a solid foundation for the company. With the announcement of Kyndryl Bridge, the company is transitioning to a new phase, namely one where innovation and development move to the forefront.
The Kyndryl Bridge announcement makes it clear the company is looking to leverage Kyndryl's core strengths and build on these to deliver data-driven insights and provide a holistic end-to-end service delivery experience for its customers. As IT leaders struggle to get arms around digital transformation and digital modernization efforts and also battle at every stage for top tech talent, this should be a welcome offering. We see this announcement from Kyndryl providing a first step and a glimpse into what will most likely become a long-term strategic mission to not only provide an assist to IT leaders but also to grow the company's ecosystem of technology partners, and develop surrounding IP, with the aim of creating an advanced delivery system able to handle the most mission-critical workloads, operate at scale, increase customer uptime, and make an impact on customer bottom lines.
This is a bold, ambitious move by Kyndryl and shows the transition the company has made over the last 12 months. Time will tell whether Kyndryl can build on the initial framework outlined here and we will be looking for customer references in the months ahead, but this is certainly a step in the right direction.
Disclosure: Futurum Research is a research and advisory firm that engages or has engaged in research, analysis, and advisory services with many technology companies, including those mentioned in this article. The author does not hold any equity positions with any company mentioned in this article.
Analysis and opinions expressed herein are specific to the analyst individually and data and other information that might have been provided for validation, not those of Futurum Research as a whole.
Other insights from Futurum Research:
Futurum Live! From the Show Floor with Kyndryl at the SHARE Conference Columbus 2022 
Kyndryl and NetApp Global Alliance Aims to Fast-Track Cloud Transformation, Data Insights
Kyndryl and Red Hat Announce Partnership to Advance IT Automation for Multicloud Infrastructure
Image Credit: Business Wire
The original version of this article was first published on Futurum Research.
Shelly Kramer is a Principal Analyst and Founding Partner at Futurum Research. A serial entrepreneur with a technology centric focus, she has worked alongside some of the world's largest brands to embrace disruption and spur innovation, understand and address the realities of the connected customer, and help navigate the process of digital transformation. She brings 20 years' experience as a brand strategist to her work at Futurum, and has deep experience helping global companies with marketing challenges, GTM strategies, messaging development, and driving strategy and digital transformation for B2B brands across multiple verticals. Shelly's coverage areas include Collaboration/CX/SaaS, platforms, ESG, and Cybersecurity, as well as topics and trends related to the Future of Work, the transformation of the workplace and how people and technology are driving that transformation. A transplanted New Yorker, she has learned to love life in the Midwest, and has firsthand experience that some of the most innovative minds and most successful companies in the world also happen to live in "flyover country."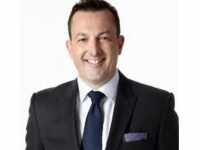 Steven Dickens is Vice President of Sales and Business Development and Senior Analyst at Futurum Research. Operating at the crossroads of technology and disruption, Steven engages with the world's largest technology brands exploring new operating models and how they drive innovation and competitive edge for the enterprise. With experience in Open Source, Mission Critical Infrastructure, Cryptocurrencies, Blockchain, and FinTech innovation, Dickens makes the connections between the C-Suite executives, end users, and tech practitioners that are required for companies to drive maximum advantage from their technology deployments. Steven is an alumnus of industry titans such as HPE and IBM and has led multi-hundred million dollar sales teams that operate on the global stage. Steven was a founding board member, former Chairperson, and now Board Advisor for the Open Mainframe Project, a Linux Foundation Project promoting Open Source on the mainframe. Steven Dickens is a Birmingham, UK native, and his speaking engagements take him around the world each year as he shares his insights on the role technology and how it can transform our lives going forward.