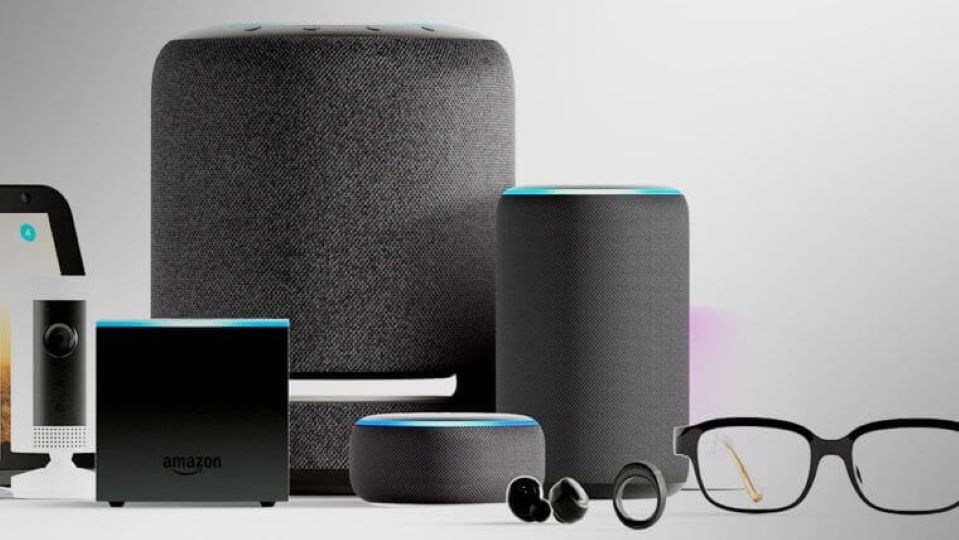 The News: The Amazon devices team recently held its Amazon Devices and Services event, launching a flurry of products aimed at making consumers' lives much richer with ambient intelligence in the background, whether in the home, on-the-road, or taking care of a loved one from great distances. Watch the Amazon Device Team's announcements here.
The Amazon Devices and Services Event Did Not Disappoint: It's Clear Amazon's Focus is on Making Consumers' Lives Better With its New Smart Home Devices
Analyst Take: The Amazon Devices and Services launch did not disappoint — and it was obvious that Amazon's goal across the entire line of devices and services was focused on making consumers' lives better. Devices designed to save time, entertain, enrich, be safer, and even healthier were the name of the game. Although my segmentation is high-level and not perfect, it gives you a sense of how I think about consumer technology and how it impacts our lives. With the matter standard coming to the smart home, intended to make all devices easier to install, the Amazon Device team certainly is preparing for greater interoperability in the future.
Amazon Devices: Entertained, Enriched, and Included
This overarching category of Amazon devices really rolls up products that entertain, enrich lives, and focus on inclusivity — whenever or wherever consumers may be.
Amazon Kindle Scribe. Amazon's Kindle Scribe is an excellent device, priced at $339.99 and will be available in time for the holidays. The Kindle Scribe It is 5.8mm thin and boasts the world's first 10.2-inch, 300-ppi, high-definition front-lit display. On the enrichment front, Amazon Kindle Scribe can access over 12 million books, fostering easy access to entertainment, education, and self-actualization.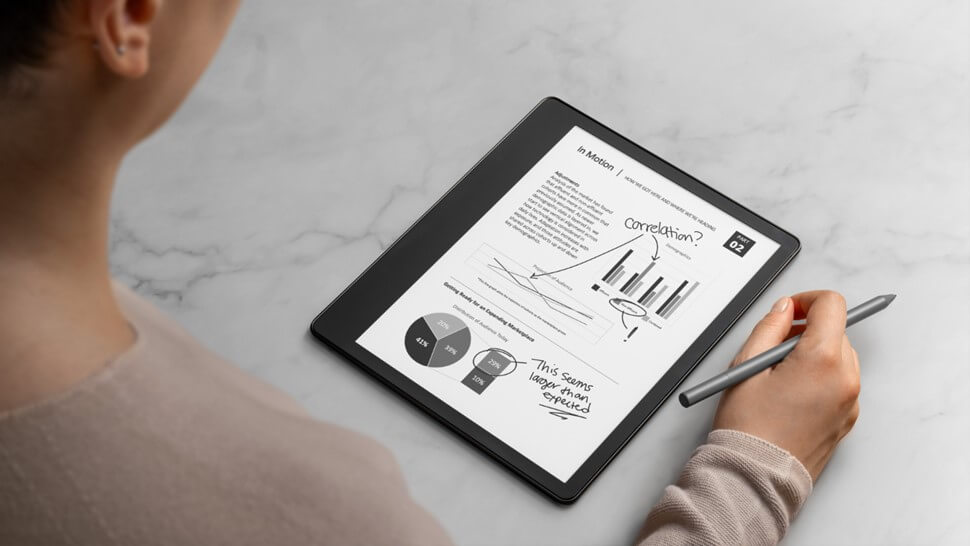 On the inclusivity front, assistive features such as the ability to adjust text size, use audio, and Post-it notes features, underline and highlight are key not only for book enthusiasts but also for the visually impaired, as well as students in the K12 and postsecondary markets. The ability to mark-up books or PDFs with the pen should also resonate with students in general, as well as with students with learning disabilities and who are more visually spatial in nature, leveraging mind maps or infographics. We all learn differently, and tools that speak to those differences and facilitate different learning styles are long overdue.
Amazon Echo Studio. The new updates to the Amazon Echo Studio include a new color scheme of glacier white and added custom-built spatial audio processing, enhancing stereo sound on compatible Amazon Echo devices. The new spatial audio processing will enhance stereo sound offering greater width, clarity, and presence. The team also enhanced the frequency range which will deliver better performance by improving midrange clarity deepening the bass. The Amazon Echo Studio device will cost $199.99 and will begin shipping next month.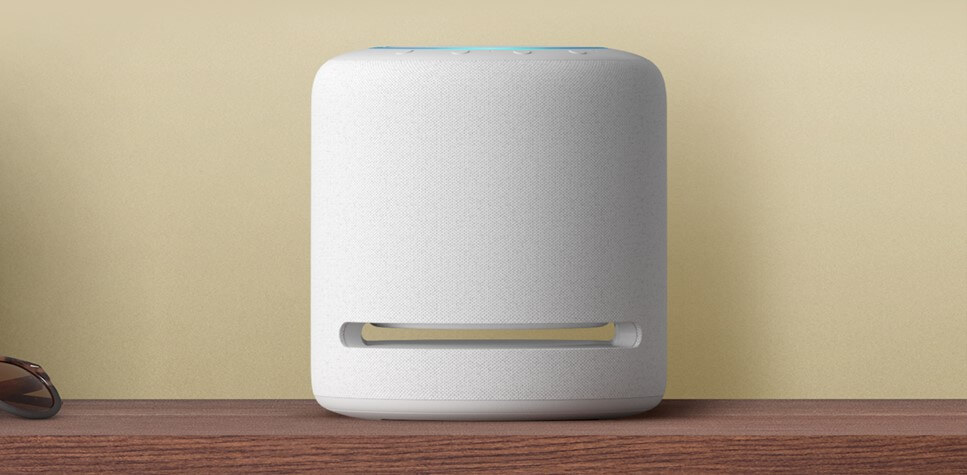 Amazon Fire TV Omni QLED. The Amazon devices team added the Amazon Fire TV Omni QLED Series to its line of Amazon Fire TV Omni Series. The TV is the first ever within its TV-lineup to feature the new Fire TV Ambient experience. The device is a 4K QLED that comes in 65-inch ($799.99) and 75-inch ($1,099.99) with up to 96 local dimming zones, Dolby Vision IQ, and HDR10+ Adaptive support for stunning picture quality. The screen uses quantum dots (QDs) which are nanoparticles squeezed into the display giving it a wider range of colors, which is great for streaming 4K HDR movies.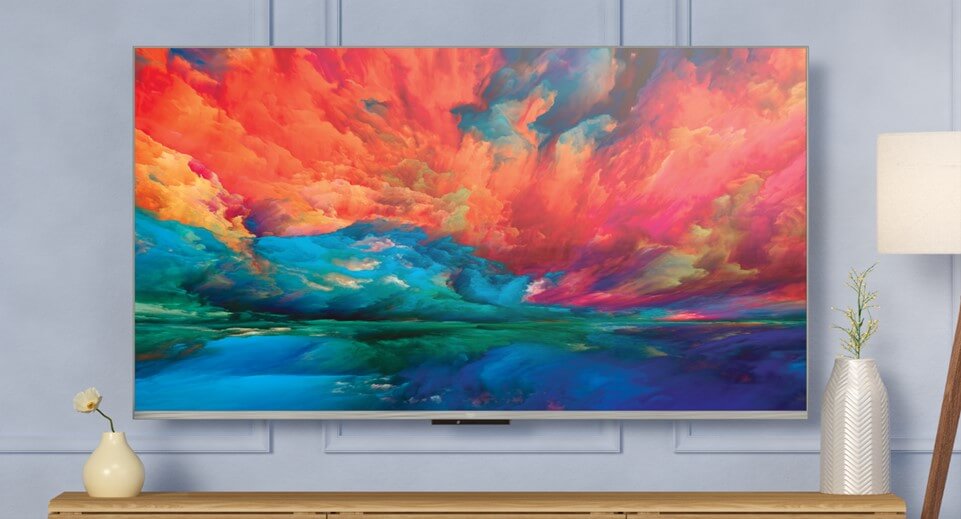 The Amazon Fire TV Omni QLED Series also includes the ambient smart TV experience that includes hands-free Alexa, along with sensors that can detect when you're not in the room and then will switch to the Ambient experience versus a blank screen. What I like about the widget functionality is that it's easy to see the family calendar, reminders, leave sticky notes, and control other smart devices. Also, the 1,500-image gallery of art, ranging from ocean settings to impressionist paintings, is incredibly attractive – and free! While this device is an entertainment area device, the widgets are also excellent for providing family information.
Amazon Fire TV Cube, Amazon Alexa Voice Remote Pro. To provide the consumer with an array of options, Amazon also updated the Amazon Fire TV Cube and launched the Amazon Alexa Voice Remote Pro. The Fire TV Cube is its 3rd generation streaming media player and includes an octa-core 2.0 GHz processor, making it 20-percent more powerful than the prior generation, which increases application launch speeds. The device can be controlled via hands-free with Alexa and includes support for cinematic 4K ultra-HD, Dolby Vision, HDR, and immersive Dolby Atmos audio. The Fire TV Cube also is the first in the industry with Wi-Fi 6e support, which will help deliver a much smoother streaming experience.
The device also includes an HDMI port allowing the user to connect compatible devices. The Amazon Alexa Voice Remote Pro allows the user to use Alexa commands to interact with other devices and it also has a remote finder feature, which is incredibly convenient and something that I predict family viewers will love — and use often.
The Amazon Device team also added the ability for Amazon Echo Show 15 users to now watch Fire TV, allowing its users to watch over a million movies and TV episodes from Paramount+ and Showtime. I had a chance to use the device and can say that the user experience is excellent and goes beyond the kitchen. In fact, growing up a kid, we had the X10 BSR devices and intercoms in our rooms, and think this could also be a new intercom or a bedside TV. The user experience is great in a compact picture frame.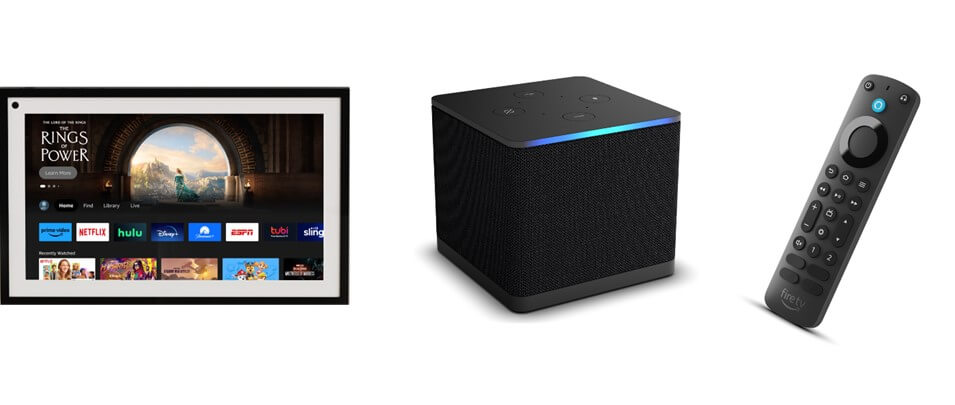 Features Focus on Saving Time and Making Life Easier
So many of the new or enhanced features of Amazon's devices center on saving time and making life easier for users — and I don't think there's ever a downside to that.
Amazon Echo Dot and Amazon Echo Dot With Clock. The new Amazon Echo Dot and Amazon Echo Dot with Clock are part of the company's latest generation of smart spherical speakers (and top-selling) that got some enhanced functionality, which I thought was very thoughtful and inclusive. The Amazon Echo Dot Clock has a new upgraded LED or high-density Dot technology, making the letters much brighter, which I think will resonate in myriad situations. I can see the larger text scrolling across the screen with time and other information being key for hybrid worker desktops, keeping people up-to-date with calendar events, appointments, and other useful things. This is also perfect for elders and/or people with impaired vision who need larger text. I have a colleague with a dad who has recently lost his sight, and he is loving controlling things throughout the house by using his Amazon Echo Dot device — there are so many possibilities here.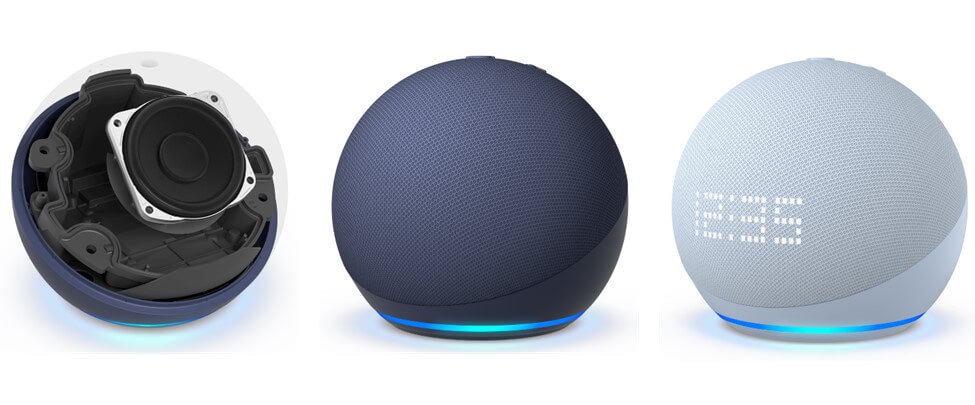 The Amazon Devices team added an accelerometer and temperature sensor that enables the user to tap (top of the device) or use gesture control to pause and restart music, stop a timer, or end a call. In fact, if a user wants to program routines, the temperature sensor in the device can adjust other smart devices, such as a smart fan, to automatically adjust if the temperature sensor detects swings that are not conducive to the user. As an example, many people have chronic illnesses that are exacerbated when temperatures rise or fall to a certain degree, which can cause extreme pain or induce greater swelling. A key use case example here would be someone with severe arthritis where rising temperatures and humidity can trigger joint pain. According to the CDC, 58.5 million U.S. adults have arthritis. Having a device that can help with pain management simply by understanding how temperature affects the condition has massive use possibilities.
Amazon's new Echo Dot line will get better audio within the same compact device with clearer vocals and up to two times the bass than the previous generation, and distortion is reduced by up to 50 percent. Amazon redesigned the audio architecture to fit a larger speaker into the device that's the same size as the previous generation, squeezing in better audio quality in the process.
Amazon EERO Devices. In their pursuit of always keeping the Prosumer in the smart home and their SMB customers connected, the Amazon Devices team also announced new Amazon EERO devices. The new devices will be available through professional installers, homebuilders, and ISPs, which makes sense since their setups are typically more sophisticated in general, and may also need the dropping in of a T1 or T3 line.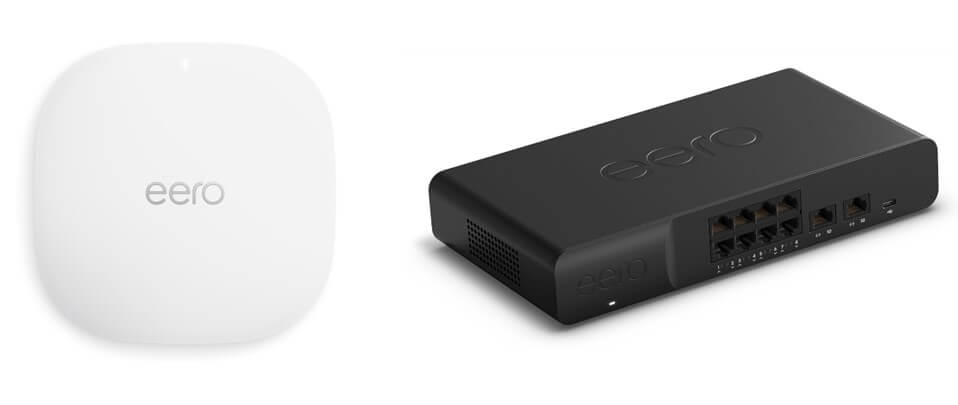 These days, it's not unusual for electricians, Pro AV and security resellers, or construction pros to be tasked with installing smart TVs, overhead projectors for theatre rooms, fire alarms, surveillance cameras, and the like. In many installations, walls must be cracked open, new cabling must be run, patch panels must be put in, etc., which requires a certain level of expertise. That's why it's not uncommon to also see these devices at major hardware retailers like Lowe's, Home Depot, and others.
I also see these resonating with SMBs, whether boutique stores, entertainment venues (like a Gymboree or gym) or small office spaces, ranging from 200 to 2,000 plus square feet in size. It is not uncommon in these spaces for employees to use tablets, smartphones, or DECT phones for checking inventory, checking in customers, making sales, or communicating in other ways.
Amazon launched the EERO PoE 6 ($299.99), which is a Wi-Fi 6 power-over-ether access point that can provide up to 2,000 feet of square coverage and can support up to 100, also a nod to serving the SMB market. The device can be mounted anywhere an ethernet can be pulled, which maximizes Wi-Fi coverage. What partners and others love about PoE is it can be used to power devices (e.g., access points, security cameras, digital signage, etc.) via an RJ45 cable instead of cracking open a wall, which is great. Amazon also launched the EERO PoE Gateway ($649.99), which is targeted at customers and SMBs looking for high-performance solutions. It's their first device with 10GbE and delivers their fastest experience ever, and can also provide up to 100 watts of power for multiple PoE devices. Even better, the products can all be set up via the mobile app.
Another product Amazon announced at the Devices and Services event is the EERO internet backup, which helps keep users connected in the event of an outage occurs. The product allows the user to wirelessly connect their EERO network to a backup internet service such as a mobile phone hotspot. The user can choose up to eight mobile hotspots. Once the outage is over, the process is seamless, and the EERO Internet backup will automatically switch back over to the EERO mesh network.
Devices Designed to Help People be Safer and Healthier
Amazon's launch of devices in this category is in keeping with its mission to keep users safer and secure by protecting the inside and outside of the home or office and making sure we are healthy. The company announced a plethora of new and enhanced devices, including: Halo Rise, Astro Robot, Ring Virtual Security Guard, Ring Floodlight Cam Wired Pro, Ring Spotlight Cam Pro, Ring Blink, and Echo Audio.
Halo Rise. The Halo Rise bedside device, which retails for $140, is one I'm particularly excited about. Instead of wearing a watch to track vitals or a phone to wake up, the Amazon Halo Rise device uses machine learning to pick up how users are sleeping or making micromovements. The Halo Rise device does not have a microphone and uses contactless sensors that track sleep. The device will be able to detect what stage the user is in, such as REM state. What excites me about the Amazon Halo Rise device is it can potentially detect or help with conditions such as Sleep Apnea or stress. For example, if a user has sleep apnea, they may be waking up several times a night coughing, which can significantly interrupt sleeping patterns. Being alerted to the fact that this is happening enables users to seek medical care to potentially treat the problems identified.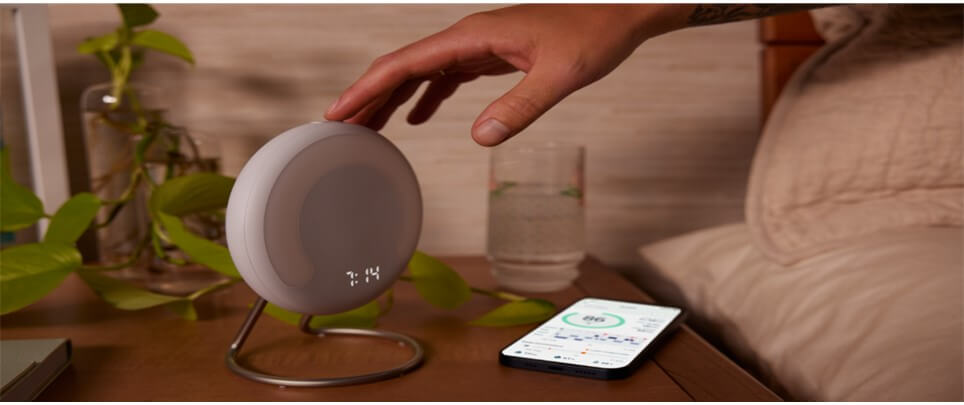 Amazon Virtual Security Guard + Astro. Amazon also announced the Virtual Security Guard + Astro (the robot), which can move throughout the house or business. Amazon launched Astro Virtual Security Guard last year and, when paired with Ring camera, it can investigate areas of the home or campus if a Ring Alarm has been tripped. In a nutshell, Astro will investigate, with the ability to live feed sending data to virtual security guard agents, which will allow them to request dispatch or speak to an introducer via two-way talk functionality. The Astro device will also be the first device to feature a new multi-modal AI capability enabling the device to learn about new things in the home if the consumer wants. As an example, if Astro is looking at a window or another object, you can describe the object and it will remember that state. In an instance like this, if a window was inadvertently left open, a user can receive an alert notifying about that abnormality and take action to correct it.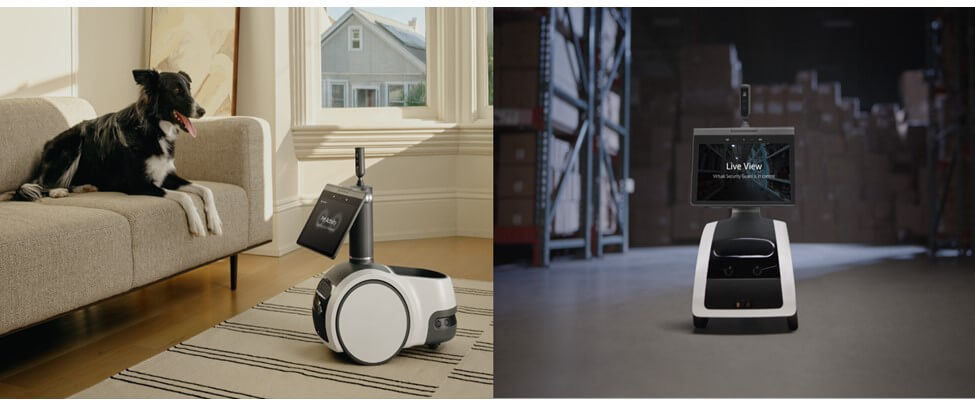 In an exciting add, in addition to humans, Astro can now also recognize pets, which means users can add custom interactions for the pet. If a pet is moving throughout the home or moves to a new area to sleep, Astro can take a picture or a quick video of them, which will be super helpful for when someone is working late and/or traveling and wants to keep an eye on Fido or Fluffy. The team also introduced an Astro Software Development Kit (SDK) that will allow people to create other features in the future. In fact, the pet detection feature was used with the new SDK.
Amazon Alexa Together. With Alexa Together, Amazon also added new features, such as the ability to add up to ten caregivers for each person providing care for a loved one. The remote assist feature can provide caregivers with daily alerts that are customized and personalized when a specific task happens. A few examples could be if the device detects a medicine cabinet is open, which implies whether the person who is receiving care took their medication, or if there's a potential obstacle that the person might run into.
Spotlight Cam Pro, Blink Mini Pan Tilt Camera, and Blink Wired Floodlight Camera. The Amazon Device team also added its Spotlight Cam Pro, Blink Mini Pan Tilt Camera, and Blink Wired Floodlight Camera to its device lineup. The Spotlight Cam Pro ($229.99) is the latest in Amazon's lineup of cameras and integrates radar for more precise motion alerts. By using radar sensors, Amazon has added a third dimension of motion detection, which pinpoints the specific distance where a user starts getting alerts. A user can opt to get alerts if a certain event happens, such as a delivery vehicle going up the driveway, and not when a pet is playing in the side yard or other common false positives. With a bird's-eye view, users can see an aerial map of motion events, which is pretty cool.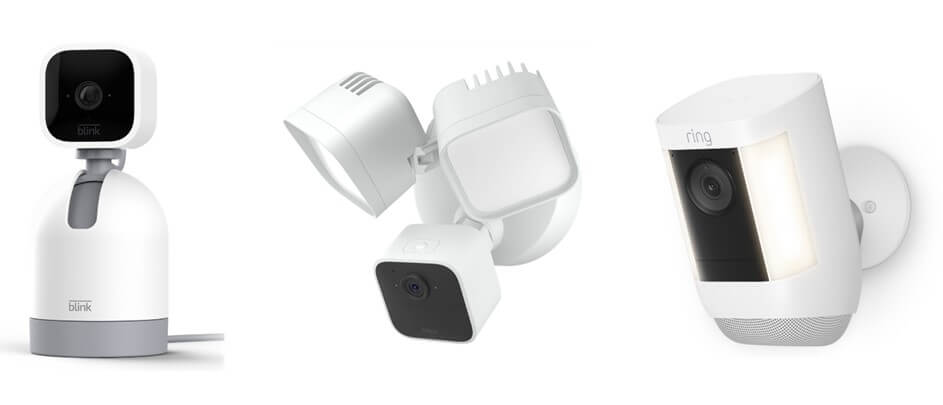 The Blink Mini Pan Tilt ($29.99), is an accessory for the Blink Mini, which offers a 360-degree view of any room, so users can see more of what's happening from corner-to-corner. The Blink Wired Floodlight Camera ($99.99) is a great addition to the lineup, and uses Amazon's AZ2 silicon to offer computer vision capabilities such as privacy and activity zones. Like Astro, all computer processing is done on the device.
Amazon Echo Auto. The Amazon Device team also announced the next generation Echo Auto ($54.99) or Alexa for the road which comes in a new form factor with an adhesive mount design for better placement in the vehicle. Again, as much as I could put the device under entertainment, I would also characterize it as a safety device, since we continue to see more accidents while people are distracted on their road via their handset devices.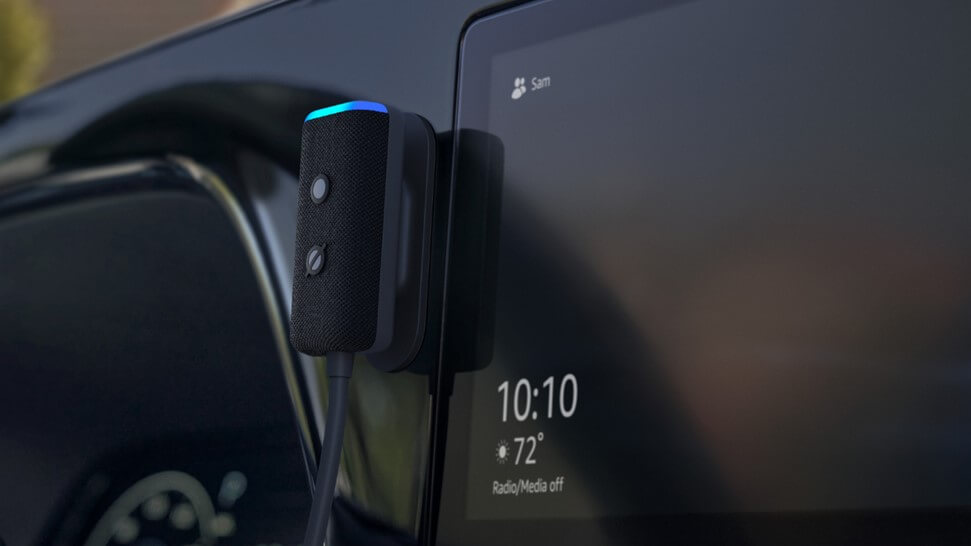 The product allows hands-free messaging, which is an important safety offering. Users can ask Alexa to play music and can seamlessly listen across devices. The device also will receive "hunches" from other Amazon Echo devices – for instance, if a person isn't' home or if the front door or garage is open, a user will get an alert, allowing them to remedy the problem. Another feature that resonates is the ability to say, "Alexa, call roadside assistance" which can connect a driver to emergency services such as towing which is great.
Wrapping Up The Amazon Devices and Services Event
As I said when I began writing this recap of the Amazon Devices and Services Event, Amazon did not disappoint. I felt the Amazon Device team did an excellent job of developing new products and enhancing existing products replete with excellent functionality, designed to help save time, increase efficiency, entertain, enrich, foster inclusivity, facilitate connectivity, and keep users, their families and businesses safer, more easily connected, and more secure.
While we occasionally hear concerns about the data and information the Amazon Device team collects, as illustrated, these devices, including those with AI-powered functionality, are designed and intended to be part of a smart home, smart life experience. To me, that is the very essence of ambient intelligence, it is there to learn and help make users' lives better, easier, and safer. For me, personally, and for many users, this is a tradeoff they are willing to make. I'm looking forward to putting these devices to work throughout my home and getting even more familiar with them.
Disclosure: Futurum Research is a research and advisory firm that engages or has engaged in research, analysis, and advisory services with many technology companies, including those mentioned in this article. The author does not hold any equity positions with any company mentioned in this article.
Analysis and opinions expressed herein are specific to the analyst individually and data and other information that might have been provided for validation, not those of Futurum Research as a whole.
Other insights from Futurum Research:
Climate Week NYC 2022: Recapping Amazon's Sustainability-Focused Announcements – Good Equals Progress Webcast
Amazon and the National Cybersecurity Alliance Are Protecting You
Amazon Acquires iRobot: The Battle for the Smart Home is All Around You
Image Credit: Engadget
The original version of this article was first published on Futurum Research.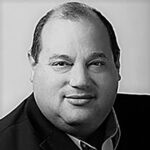 Michael Diamond is an industry analyst and foresight professional with 25 years of experience in the IT channel and market research industry. He is a route-to-market expert covering desktop and mobile devices, collaboration, contact center, ProAV, data center infrastructure, and cybersecurity. Prior to joining Futurum Research, Michael worked for The NPD Group as the sole industry analyst covering indirect channels, cybersecurity, SMB and vertical market trends, data center infrastructure (e.g., enterprise storage, servers, networking), ProAV and PCs. He has been quoted by media outlets such as Bloomberg, Kiplinger, TWICE, OPI (Office Products International), Apple World today, Dark Reading, Enterprise Storage Forum, Credit-Suisse, Footwear News, CRN (Computer Reseller News), Channel Futures and Into Tomorrow.  Michael has presented at myriad events including The Channel Company's Xchange, The Global Technology Distribution Council's summit, SMB TechFest and more.