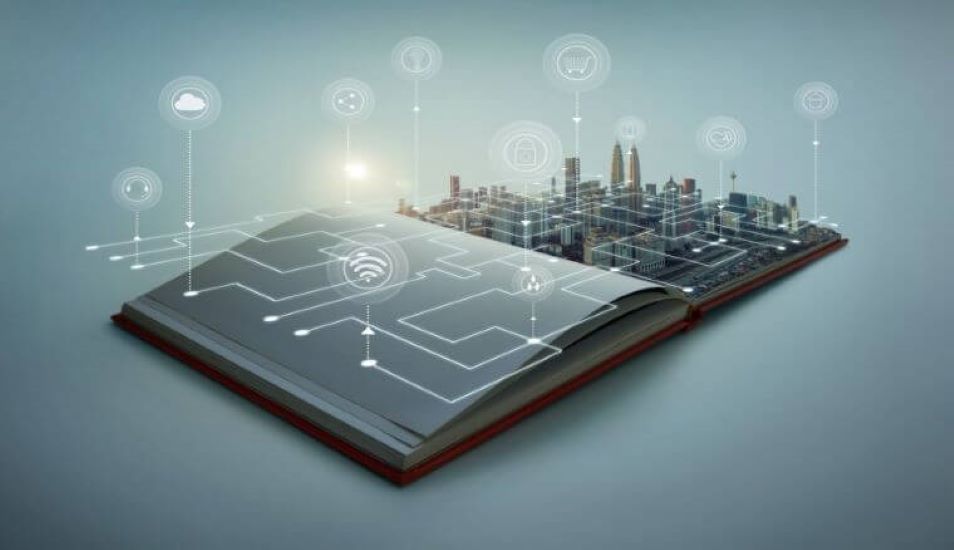 The News: Silicon Labs, the leader in secure, intelligent wireless technology, recently held its annual Works With Developer Conference in Austin, where the company announced myriad products such as its FG25 SoC, EFF01 FEM, SiWx917 and Silicon Labs Pro Kit for Amazon Sidewalk. The three-day event featured 75+ technical sessions, 10 hands-on workshops with 150 industry leaders. Read the full Press Release from Silicon Labs here.
Silicon Labs Works With Developer Conference: Announces New Products Designed for the Future of IoT
Analyst Take: I had the chance to attend Silicon Labs' Works With Developer Conference and the three-day event was packed with an exciting array of product announcements and information. Without a doubt, the market for the Internet of Things (IoT) will continue to grow and Silicon Labs, the largest IoT wireless pure-play company in the world, is obviously dedicated to the low-powered wireless market where low power wireless dominates more than 75 percent of IoT edge devices.
Kicking off the event was Matt Johnson, Silicon Labs' CEO, discussing how the IoT is far from being a fad. In fact, Johnson mentioned that by 2025, it is estimated that there will be 27 billion connected IoT devices or approximately three or four devices per person on the planet, which is astonishing.
The company announced four products, including the Complete Matter Development Solutions, Silicon Labs Pro Kit for Amazon Sidewalk, FG25 SoC & EFF01 FEM (Front-End Module), and the SiWx917. The four additions to the Series 2 SoC family indicate that Silicon Labs' original thesis was correct when it first launched the Series 2 Soc family in 2019. Fundamentally, as IoT would mature, customers would seek out IoT platforms that combined hardware, software, security, tools, and support, versus point solutions. This is a prescient move, and is absolutely the case today.
Silicon Labs' SiWx917 Designed for Power, Security, Faster Processing and More
Without a doubt, consumers love their devices and as the smart home trend continues to pick up steam, they will continue to add more devices designed to facilitate safety, connectivity, and beyond. It is a given that we'll collectively be using more devices in the home in the future, and Silicon Labs referenced a 2022 Connectivity and Mobile Trends Survey from Deloitte that mentioned that the average U.S. household currently has up to 22 connected devices. That might sound like a lot, but that number is expected to surge in the future, adding additional complexity.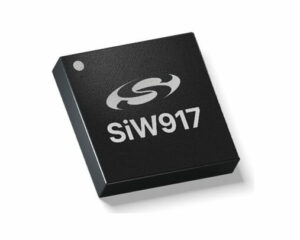 To address these ever-increasing demands, Silicon Labs introduced the SiWx917, which is an ultra-low powered Wi-Fi 6 and Bluetooth low energy (LE) System-on-Chip (SoC) that is Matter ready over Wi-Fi. The SoC offers the longest battery life Wi-Fi SoC for cloud connected devices. Benefits also include always-on cloud connectivity and Matter with minimal power usage and the lowest power Wi-Fi 6 SoC, providing multi-year battery life for IoT devices such as smart locks. The SoC also offers best-in-class security for Wi-Fi (e.g., PSA Level Certifiable, WPA3, TLS 1.3, AI/ML engine) and much more. Ultimately, the SiWx917 is designed to deliver exceptional computing power, best-in-class security, faster machine learning processing, ultra-low current consumption for longer battery life and ample memory to run wireless stacks and applications.
FG25 SoC & EFF01 FEM (Front-End Module)
We continue to see interest in the FED/SLED markets seeking to make their cities smarter, more optimized, and safer by adding more intelligence to their everyday infrastructure. This could be in the form of connected cameras identifying license plates, connected streetlights, smart metering and much more. In essence, as much as cities are seeking to improve safety and security for its citizens, there are also great opportunities to thwart costs, generate incremental revenue and add additional services in the future. In essence, the smart city opportunity is immense, and we see Silicon Labs as being a key linchpin in the future making this all work more efficiently.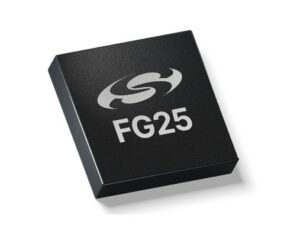 At the Works With Developers Conference, Silicon Labs announced its FG25 SoC, along with its accompanying EFF01 FEM RF power amplifier targeting smart cities and other environments (e.g., smart agriculture, etc.). The FG25 system-on-chip is intended to be the flagship SoC for low-power wide-area networks such as Wi-SUN and other proprietary protocols that are sub-GHz. To extend the range for the FG25, the EFF01 FEM will extend the range of the FG25 that will minimize loss of data at an impressive range of 3 kilometers.
Complete Matter Development Solutions
One of the most exciting things in the smart home segment today is the notion of much easier interoperability, with all the of the smart home devices out there largely designed with a view toward making it easier on the customer to deploy and install versus calling a value-added reseller that is highly proficient in areas such as smart home design.
That said support is important and something many customers seek. I was encouraged to see that Silicon Labs has thought this through as well. Silicon Labs will provide support for Matter over Wi-Fi, Matter over Thread, Bluetooth Low Energy (LE) commissioning, and Matter bridges to Zigbee and Z-Wave, which are in advance of the Matter Standard 1.0 being ratified during in the coming months.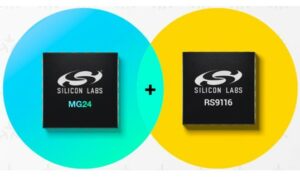 Silicon Labs is helping its partner base accelerate the bridging of their solutions to the new Matter Standard by offering a robust portfolio of hardware, software, and development tools such as its MG24 Matter-ready SoC, RS9116 Wi-Fi SoC, the multiprotocol Unify SDK, Simplicity Studio, and the Gecko SDK.
Silicon Labs Pro Kit for Amazon Sidewalk
The Amazon Sidewalk is a shared ecosystem for wireless networks that connects IoT devices to homes and beyond the front door, across the entire neighborhood or city. In a nutshell, Amazon Sidewalk uses Bluetooth low Energy (BLE) and part of the 900MHz spectrum that the FCC made available in 2020. In essence, Amazon Sidewalk extends the working range of low bandwidth, lower power smart lights, sensors, and other low costs devices that customers install at the edge of their home networks.
The Silicon Labs Pro Kit for Amazon Sidewalk offers low-power, high-performance wireless hardware for all of Amazon's Sidewalk Protocols which include Bluetooth Low Energy (LE), Sub-GHz FSK and CSS, software SDKs and security. The offering comes with a pre-flashed software image coupled with AWS pre-registration offering its developer base a path of least resistance to developing solutions for Amazon Sidewalk. Silicon Labs Simplicity Studio, which is the integrated development environment (IDE) for all Silicon Labs technologies, will guide developers through the entire Amazon Sidewalk process certifying finalized code into a guided, end-to-end process.
Wrapping it up, Silicon Labs' Works With Developer Conference did not disappoint. The company announced some excellent solutions both for the consumer and commercial markets. Consumers want smart home solutions that are easy to install, have longer battery lives, are more secure, can reach longer distances, have reliable connectivity, and interoperate with myriad vendors so they just work — without headaches.
In addition, as the FED/SLED markets are interested in adopting smart city strategies, offering the promise of improving the lives of its residents coupled with thwarting costs and generating incremental revenues, they will need excellent connectivity that is omnipresent. For both the consumer and commercial strategies to work well, we anticipate Silicon Labs being at the forefront with its new FG25 SoC, EFF01 FEM, SiWx917 and Silicon Labs Pro Kit for Amazon Sidewalk that will be heavily leveraged in the future.
Disclosure: Futurum Research is a research and advisory firm that engages or has engaged in research, analysis, and advisory services with many technology companies, including those mentioned in this article. The author does not hold any equity positions with any company mentioned in this article.
Analysis and opinions expressed herein are specific to the analyst individually and data and other information that might have been provided for validation, not those of Futurum Research as a whole.
Other insights from Futurum Research:
Silicon Labs Analyst Day 2022 Demonstrates a Hyper Focus on Low-Powered Wireless Marketing, Priming the Company for Growth
Kyndryl Expands Offerings with Kyndryl Bridge, a Platform Designed to Help Customers Accelerate their Digital Transformation Journeys
Juniper Boosts Data Center Management and Architectural Flexibility with Apstra Freeform Launch
Credit Image: TechRepublic
The original version of this article was first published on Futurum Research.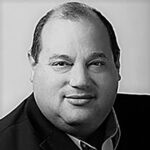 Michael Diamond is an industry analyst and foresight professional with 25 years of experience in the IT channel and market research industry. He is a route-to-market expert covering desktop and mobile devices, collaboration, contact center, ProAV, data center infrastructure, and cybersecurity. Prior to joining Futurum Research, Michael worked for The NPD Group as the sole industry analyst covering indirect channels, cybersecurity, SMB and vertical market trends, data center infrastructure (e.g., enterprise storage, servers, networking), ProAV and PCs. He has been quoted by media outlets such as Bloomberg, Kiplinger, TWICE, OPI (Office Products International), Apple World today, Dark Reading, Enterprise Storage Forum, Credit-Suisse, Footwear News, CRN (Computer Reseller News), Channel Futures and Into Tomorrow.  Michael has presented at myriad events including The Channel Company's Xchange, The Global Technology Distribution Council's summit, SMB TechFest and more.