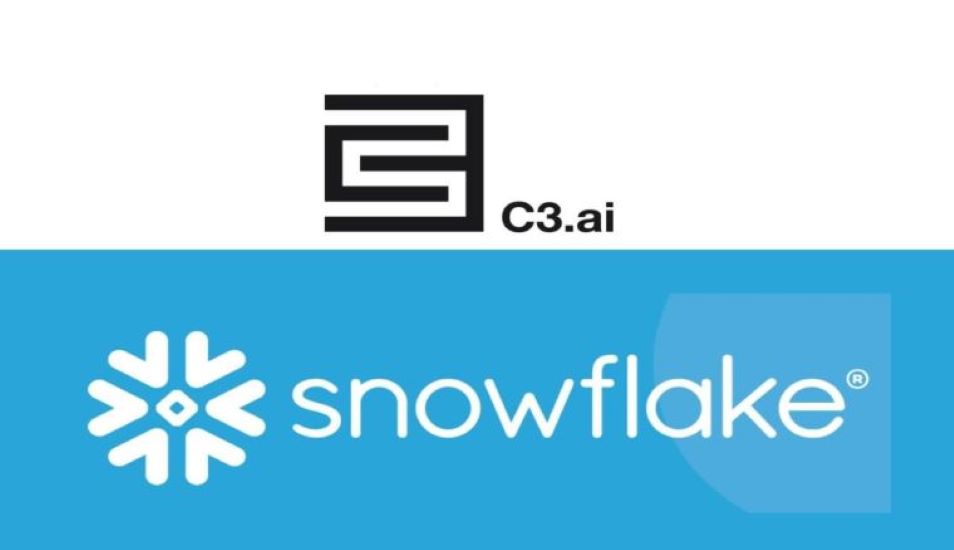 The News: C3 AI, the enterprise AI application software company, announced last Wednesday a partnership with Snowflake, the Data Cloud Company and a provider of cloud-based data platform services and applications. The partnership is intended to combine Snowflake's architecture with C3 AI's family of industry-specific enterprise applications and enterprise AI development suite and deliver next-gen enterprise AI apps at scale. Read the press release from C3 AI here.
C3 AI Snowflake Partnership Aimed at Delivering Next Gen Enterprise AI Apps at Scale — and Expanding Market Presence
Analyst Take: The C3 AI Snowflake partnership is about just two things: speed and business value. Throughout the enterprise, speed what it's all about, especially as it relates to using machine learning and AI to drive enterprise digital transformation. The ability to simplify and speed the development of enterprise AI applications, the ability to quickly and seamlessly integrate as needed, and the ability to develop and deploy enterprise AI applications at scale all lead to the other critical part of the equation: delivering on business value. The partnership will make C3 AI's suite of development tools available to Snowflake users.
Why Snowflake Data Cloud?
Why Snowflake Data Cloud? Well, it's one piece of the puzzle, and an important one. Snowflake's Data Cloud, billed as "one platform, many workloads, no data silos" offers enterprise customers cloud-based data storage and analytics services running on Google Cloud, AWS, and Azure. The Snowflake Data Cloud allows customers to unify, integrate, analyze, and share data (read: no more silos), with what they call a "near-zero management platform" that can deliver unlimited scale and concurrency.
Snowflake aims to make the process of working across multiple public clouds a simple and seamless one, as well as a consistent, reliable experience at scale. As you can see in the image below, Snowflake's robust architecture provides data warehousing, data engineering, data lakes, data science, data application development, and data sharing capabilities, allowing the easy discoverability, shareability, and execution of diverse workloads.
Some Key Capabilities of the C3 AI Snowflake Partnership
Some key capabilities Snowflake's customers will be able to realize as a result of the C3 AI Snowflake partnership include:
C3 AI's Cross-industry and industry specific AI enterprise apps and prebuilt object models
Integrated Machine Learning
Scalable time-series services for enterprise AI app development via the C3 AI Suite
Snowflake's customers will have access to C3 AI's predictive maintenance, supply network optimization, AI-driven CRM, Dev tools and enterprise apps, and fraud detection apps.
Snowflake's easy to use platform can deliver unlimited scale and concurrency, allowing for the quick development of enterprise AI apps at scale
Here's an image that shows at a glance what the C3 AI Snowflake partnership looks like from a capabilities standpoint and what Snowflake's customers will be able to accomplish using Snowflake (and C3 AI) as their platform of choice for enterprise AI applications.
Snowflake and C3 AI Better Together
This partnership between C3 AI and Snowflake makes them better together — for their respective customers, that is. When you take the Snowflake Data Cloud and its robust capabilities and add to that C3 AI's pre-built AI applications and the C3 AI Suite, which includes an AI-based CRM, predictive maintenance, supply network optimization, and fraud detection, to which Snowflake's customers will have access, it's a massive win for customers across the board. From C3 AI's standpoint, to not only be serving Snowflake's existing customers, but also benefitting from having Snowflake's business development team effectively selling their services as part of the process is good business. It's also a strategic move on the part of C3 AI founder and CEO Tom Siebel, who told analysts earlier this month that part of his strategy on expanding market presence involved partnerships.
Enterprise organizations who need to be able to run data platforms across multiple clouds and regions — at scale, and quickly — should be looking to Snowflake as part of their tech stack decision-making process. While still classified as an "upstart" by many, the Snowflake Data Cloud has some impressive capabilities, and will be made even more impressive by the partnership with C3 AI.
C3 AI's pre-built, cross-industry models play a significant role in terms of a value proposition, and the company's pre-built object models for industry verticals, which include oil and gas, utilities, manufacturing, telecos, and aerospace and defense are incredibly attractive. These pre-built models can both simply the development of enterprise AI applications and also provide the speed that enterprises seek. More good things for Snowflake customers.
C3 AI Snowflake Partnership — Wrapping It Up
This C3 AI Snowflake partnership is obviously a win for Snowflake's customers and the company's ability to garner more market share as a result of the robust enterprise AI offering that C3 AI provides. Customers will not only have greater flexibility, speed, and capabilities, they'll be able to do what they need most, and that's delivering next-gen AI apps at scale.
We've written recently about the attention C3 AI's model-driven approach to AI is garnering, especially following its IPO this past December. Extreme accuracy in actionable predictions, a significant reduction in unscheduled maintenance events, complimented by services and engineering teams who do all the heavy lifting for customers make C3 AI's value proposition hard to ignore. When paired with Snowflake, bringing the right architecture into the equation, and offering unlimited scale and concurrency, and making the process of working across multiple public clouds a breeze it's clear that Snowflake customers will benefit from the ability to rapidly drive enterprise digital transformation utilizing machine learning and AI as part of their technology stack.
Smart, strategic partnerships are the way forward — we've talked a lot about that here, and we're seeing many players in the tech space realize the value of partnership offerings. In the fall of 2020, C3 AI partnered with Microsoft and Adobe on the CRM front, unabashedly taking on Salesforce and, here again, part of the beauty of what C3 AI brings to the table in these partnerships is its vertical focus and pre-built algorithms.
The C3 AI Snowflake partnership is yet another example of technology companies partnering in a way that makes them stronger together, with a customer-centric focus, delivering the kind of rapid results that are needed in the enterprise today. I'll take Tom Siebel at his word as it relates to turning to partnerships to expand C3 AI's market presence and I have a feeling this is one of many yet to come. I'm looking forward to seeing good things from the two of these companies moving forward.
Disclosure: Futurum Research is a research and advisory firm that engages or has engaged in research, analysis, and advisory services with many technology companies, including those mentioned in this article. The author does not hold any equity positions with any company mentioned in this article. 
More insights from Futurum Research:
C3 AI Finishes Fiscal '21 at 17% Annual Growth as Q4 Outpaces
C3 AI Gains Momentum and Increases Competitiveness with Model-Driven Approach to AI
C3 AI Delivers 19% Top Line Growth in its Fiscal Third Quarter
C3 AI IPO Reflects Momentum Around Vertical AI Solutions
Image Credit: zdnet.com
The original version of this article was first published on Futurum Research.
Shelly Kramer is a Principal Analyst and Founding Partner at Futurum Research. A serial entrepreneur with a technology centric focus, she has worked alongside some of the world's largest brands to embrace disruption and spur innovation, understand and address the realities of the connected customer, and help navigate the process of digital transformation. She brings 20 years' experience as a brand strategist to her work at Futurum, and has deep experience helping global companies with marketing challenges, GTM strategies, messaging development, and driving strategy and digital transformation for B2B brands across multiple verticals. Shelly's coverage areas include Collaboration/CX/SaaS, platforms, ESG, and Cybersecurity, as well as topics and trends related to the Future of Work, the transformation of the workplace and how people and technology are driving that transformation. A transplanted New Yorker, she has learned to love life in the Midwest, and has firsthand experience that some of the most innovative minds and most successful companies in the world also happen to live in "flyover country."