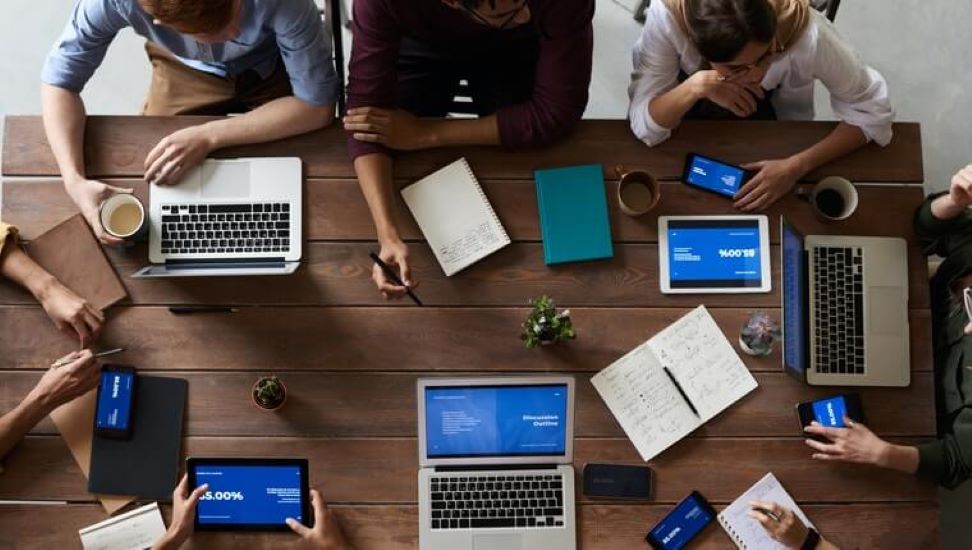 These days it's safe to say that just about every business in every industry uses some form of technology on a daily basis, and that's not likely to change any time soon. As we continue our dependence on technology in business, realizing the impact certain technology solutions have, or could have on business and developing an organization-wide strategy around technology and innovation is essential. And that responsibility? It's driven by the IT team, who is truly the workhorse, and often the unsung hero of every organization.
Focusing on innovation, agility, and growth, leveraging tools and technology solutions that make workflows easier, incorporating automation and orchestration, and making both customer experiences and employee experiences better — that's what the modern enterprise is all about today.
I was honored to join nine other influential leaders in the IT space to share my thoughts on some of the important trends that are impacting and shaping the industry today. BMC took our insights and developed an eBook, The Fully Operational Enterprise, focused on the next frontier of technological maturity and how success lies in embracing technology that drives innovation and agility, efficiencies and reliability that will keep businesses running smoothly, at hyper speed, which is, in reality, the new normal. DevOps, cloud, application workflow orchestration — all play important roles in successful digital transformation.
Let's take a quick look at some of the technology solutions that BMC identified in their eBook that your IT team is likely either already advocating for or evaluating for use within the organization. These include the expansion of cloud services, streamlined DevOps, incorporation of Data Analytics into business operations, and a focus on creating an autonomous digital enterprise. The more leaders know about these technology solutions and the role they play, the better advocates we can all be when it comes to unleashing IT's potential, reducing the cumbersome load of managing and maintaining a distributed infrastructure, and clearing the way for success as they turn to migrating applications to the cloud.
Expansion of Cloud Services
Speaking of cloud service, cloud computing has changed everything when it comes to how businesses operate — and that has never been more evident than now, as we navigate a global pandemic and rely more on the cloud than ever before. There are three basic types of cloud computing. Software-as-a-Service (SaaS), in which a vendor provides access to their cloud-based software, and eliminates the need for the installation, management, updating, etc. of software. Platform-as-a-Service (PaaS), in which a vendor provides access to a cloud environment for use in the development, management, and hosting of applications. And last but never least, Infrastructure-as-a-Service (IaaS), an offering that provides the computing resources organizations need — networking, storage, and servers — on which an organization can run their own platforms and app, and which can scale up or down as needed.
Global public cloud infrastructure spend is expected to grow some 35% in 2021, reaching $120 billion. Creating a business strategy and an IT strategy that facilitates increasing the speed of business requires not only thinking about what's needed now but also planning for the future, where cloud and hybrid environments are the norms.
The Role of DevOps in Digital Transformation
Successful digital transformation relies on integration, digitization, and automation of processes, and pulling these things together is no small challenge for IT teams. In fact, 79% of IT leaders surveyed by Forrester reported they believed application workflow automation would have a positive impact on their ability to meet their top IT priorities.
That's where DevOps comes into play. DevOps is a model that combines software development (dev) and IT operations (ops) in an effort to simplify and speed up the process of delivering applications and services. When teams work together across the application lifecycle, rather than being siloed, they're more efficient and better able to exceed customer expectations. And of course, DevOps relies heavily on technology and automating processes whenever possible.
Data Analytics
Data is the veritable lifeblood of any organization, but data also presents significant challenges for IT leaders. Massive amounts of data are collected at every juncture and throughout every part of the organization. Harnessing that data, making sense of it through the use of analytics, making it easily accessible through the organization as needed, and storing it safely are all primary concerns throughout the modern enterprise.
The End Goal — Creating an Autonomous Digital Enterprise
There is an end goal in sight when it comes to successful digital transformation and enabling your IT team to truly unleash its potential for the benefit of the organization — and that's the creation of intelligent, tech-enabled systems across every facet of the organization — or an Autonomous Digital Enterprise (ADE). Shifting to an ADE is the epitome of successful digital transformation. An ADE mindset allows organizations to be continually growth-oriented and agile, quickly evolving and staying competitive in an ever-shifting digital world. The new operating models that are a part of an ADE are as logical as they are simple. They are customer-centric and focused on delivering the ultimate in customer experience, use automation at every point possible, embrace data-driven business outcomes, support enterprise DevOps, and through it all, protect the enterprise through adaptive cybersecurity measures.
For a quick look at the things I've outlined above, download the infographic created by BMC that outlines each of these technology solutions and the role they play within the enterprise. If you're one of the three-quarters of Chief Strategy Officers who say their company's digital transformation is less than 50 percent complete, I think you'll find it incredibly helpful. One other resource that I have found incredibly helpful is BMC's ADE Index, which allows you to assess your organization's competitiveness — and yes, chances are good that you are further from being an Autonomous Digital Enterprise than you might think. The good news is that educating yourself about these things is the first step in making forward progress. And unleashing your IT team's potential is the path to a more rapid digital transformation.
For more on Digital Transformation, Futurum's comprehensive 2020 Digital Transformation Index is an in-depth look at the impact technology disruption has had on the ability to remain competitive, an understanding of operational agility, the importance of the key technologies driving digital transformation initiatives, and what's ahead in the next few years.
Futurum Research provides industry research and analysis. These columns are for educational purposes only and should not be considered in any way investment advice.
Other insights from Futurum Research:
The Rise Of Confidential Computing – Trust: The New Battlefield In The Age Of Digital Transformation
Accelerate Digital Transformation In 2021 With Stronger Partnerships
Top 10 Digital Transformation Trends For 2021
The original version of this article was first published on Futurum Research.
Shelly Kramer is a Principal Analyst and Founding Partner at Futurum Research. A serial entrepreneur with a technology centric focus, she has worked alongside some of the world's largest brands to embrace disruption and spur innovation, understand and address the realities of the connected customer, and help navigate the process of digital transformation. She brings 20 years' experience as a brand strategist to her work at Futurum, and has deep experience helping global companies with marketing challenges, GTM strategies, messaging development, and driving strategy and digital transformation for B2B brands across multiple verticals. Shelly's coverage areas include Collaboration/CX/SaaS, platforms, ESG, and Cybersecurity, as well as topics and trends related to the Future of Work, the transformation of the workplace and how people and technology are driving that transformation. A transplanted New Yorker, she has learned to love life in the Midwest, and has firsthand experience that some of the most innovative minds and most successful companies in the world also happen to live in "flyover country."