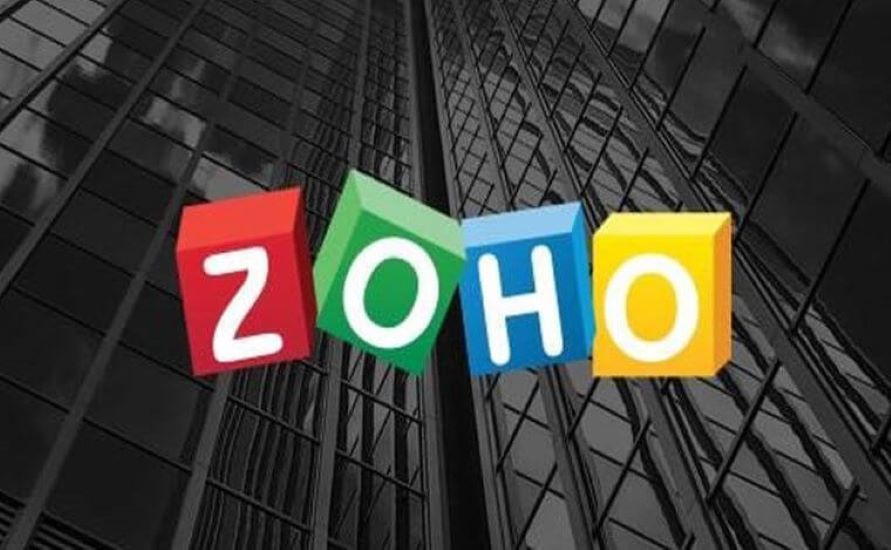 In today's digital age, it seems everything we do — from shopping online to signing in to a third-party app through Facebook — entails a potential security threat. While it's most common to hear about these types of privacy breaches as they relate to B2C companies, they also occur every day in the B2B world. Just as B2C companies seem to be collecting every detail about our lives, from what we buy to where we shop and what we read — and then selling it to whomever is willing to pay for it — many B2B companies are doing similar things. It is not at all unusual for SaaS vendors to add cookies to monitor and collect the data of customers and potential customers. That data is then sold to a third-party company. One B2B company, however, is taking a bold stance on privacy and also against that practice: Zoho.
Zoho is a software company focused on solving B2B problems with software for everything you'd need to run a business: Marketing, HR, Finance, and IT. And Zoho is taking a public stance against selling customer data to third parties. At Zoho's ZohoDay 2020 event, Chief Evangelist Raju Vegesna announced the company was prepared to "leave money on the table" in making a choice to respect the privacy of its customers and that it's committed to only collecting the information it actually needs from clients. To be sure, we've heard that before from other companies, but it looks like Zoho means it.
Zoho doesn't own client data, it doesn't sell client data, and it never does advertisements, even with free software versions that are typically littered with ads. At ZohoDay 2020 the company announced it was going a step further with privacy: Blocking adjunct surveillance to protect users. That's pretty imporessive. How will this impact the B2B software company or other SaaS companies? Let's take a look.
What is Adjunct Surveillance?
Whether you realize it or not, you're being tracked everywhere you go on the internet. Facebook, Google, Twitter and others are tracking your every move online. If you're using a free service, you're actually paying for it with your data — and that includes freemium versions of B2B software you might be using. But don't take my word for it — a simple search using BuiltWith.com can show you every tracking piece of technology that has been built into any website you visit. Salesforce, as just one example, uses a host of tracking software through Google Analytics, Twitter Analytics, DoubleClick ads, conversion tracking, and Facebook Pixel tracking, to name just a few. But don't make the mistake of thinking that only freemium software offerings track and sell customer data — that's not the case at all.
Zoho's bold stance on privacy is saying 'that's enough' to this widely used industry practice. The company has removed Facebook, Google, Twitter, and other trackers from the company's website in order to protect customer privacy — even if it means losing out on data and ad money. According to Vegesna's keynote address at ZohoDay 2020, it's totally worth the sacrifice.
Zoho Has Always Made Privacy a Priority
Zoho is clearly doing something special, but it's not the first time. The company's privacy policy is short, simple, and basic. It's clearly written so anyone can understand it — without any of the normal legalese sprinkled throughout that usually serves to make things thoroughly confusing. Zoho promises that it will "only collect the information we actually need" and will delete, anonymize, or isolate user data when that need ends. Zoho's policy also explains to customers what data is being used and how, and in most instances, the company's goal is to utilize data only to improve software performance.
The company's privacy policy explicitly states that Zoho only works with like-minded vendor partners, vendors who agree to adopt appropriate confidentiality and security measures. For instance, the company refuses to work with public hyperscalers and promises that the customer data it does collect will never leave its data centers. Zoho is so committed to privacy that it is willing to build its own AI in-house, and work with much more limited data sets, in order to keep user privacy front and center.
The company also offers a surprisingly honest note that there are some limitations to the privacy they can promise, if only due to the nature of working in the digital age. What is impressive here is that where many companies seem to prefer to over promise and under deliver, Zoho seems bent on under promising and over delivering. I'm a fan of that strategy and it's one we try to follow ourselves.
Will Other B2B Companies Follow Suit?
At ZohoDay 2020, Vegesna urged other B2B companies to follow Zoho's lead in prioritizing and protecting user privacy. But if that doesn't happen — and let's be honest, it likely won't — Vegesna advised B2B customers to be wary of the companies with whom they work. Questions B2B companies should ask include: Are the company's privacy policies simple and easy to understand? Is it crystal clear what it happening with your data at all times? Do you know where you're vulnerable, both as a user and a company? The bottom line is clear: Ads, surveillance, and privacy don't mix. If your B2B company prioritizes privacy, it's time to adopt a privacy-first mindset and the best way to do that is to start asking hard questions of your vendor partners and looking deeper.
Will Zoho's Bold Stance on Privacy Pay Off?
Clearly, the most obvious potential issue with taking such a radical approach to user data, in a time when data is worth its weight in gold, is that Zoho may not be able to compete financially with other companies who are collecting and selling data. But according to Vegesna, to Zoho, the sacrifice is worth it.
I think once more B2B customers realize that their data is being collected, sold, and profited from without their knowledge, the more they will demand change in the marketplace and the more they will look for vendors who clearly respect and value their privacy. When that happens, Zoho will come out on top, but of course, only time will tell on that front. As a private company, Zoho can take this risk. It isn't subject to the pressures of stockholders to make more money above all else, which ensures its customers and users that it will be able to ensure their privacy concerns remain the top priority.
It's obvious that Zoho's bold stance on and commitment to privacy is a game-changer in the B2B software industry, and it offers users an opportunity to escape the opportunism that is currently embedded in practically all software experiences. Rather than having their data tracked and sold to the highest bidder, businesses can simply focus on rely on the software they're using to do the work they purchased it to do.. Personally, I'm excited to see where Zoho goes moving forward.
Futurum Research provides industry research and analysis. These columns are for educational purposes only and should not be considered in any way investment advice.
Related content from the Futurum Team:
Zoho, Zoom, Cisco, Intel, Amazon And More — Tech Brands Doing Good In Tough Times–Futurum Tech Podcast
Zoho Announces ESAP: Seeks To Help Small Business With Free Software 
Zoho Catalyst Platform Empowers Users, But Will It Grow Zoho? 
Image Credit: ZDNet
The original version of this article was first published on Futurum Research.
Daniel Newman is the Principal Analyst of Futurum Research and the CEO of Broadsuite Media Group. Living his life at the intersection of people and technology, Daniel works with the world's largest technology brands exploring Digital Transformation and how it is influencing the enterprise. From Big Data to IoT to Cloud Computing, Newman makes the connections between business, people and tech that are required for companies to benefit most from their technology projects, which leads to his ideas regularly being cited in CIO.Com, CIO Review and hundreds of other sites across the world. A 5x Best Selling Author including his most recent "Building Dragons: Digital Transformation in the Experience Economy," Daniel is also a Forbes, Entrepreneur and Huffington Post Contributor. MBA and Graduate Adjunct Professor, Daniel Newman is a Chicago Native and his speaking takes him around the world each year as he shares his vision of the role technology will play in our future.