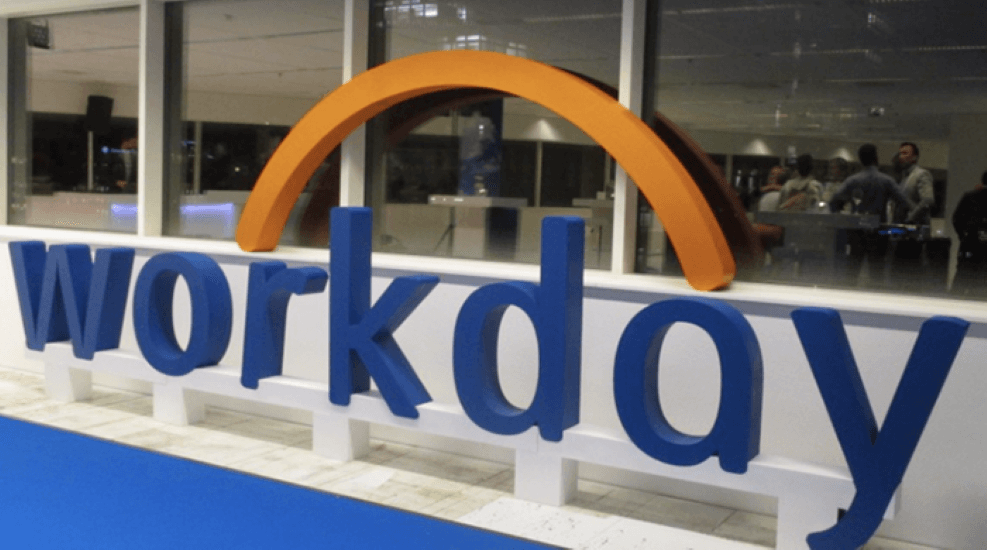 The News: Workday, Inc. published Q2 financials on Thursday. The cloud-based Human Capital Management (HCM) and financial management, planning, and analytics applications software provider beat market estimates and raised its FY 2020 subscription revenue outlook. Total revenues were $887.8 million, representing a YoY increase of 32.2 percent from the same period last year. Read the full release from Workday, Inc.'s newsroom here.
Workday Q2 2019 Earnings Are In — Beating Estimates, Raising Outlook
Analyst Take: Founded in 2005, Workday is scooping up market share in a highly competitive space. It's not surprising to see Workday's subscription revenue for the quarter up significantly — reported at $757.2 million and representing an impressive 33.9 percent increase from the same period last year.
Analysts were looking for earnings of .35 cents per share on revenue of $872.31 million and the company reported a non-GAAP net income per diluted share of .44 cents, compared with an EPS of .31 last year, and Q2 revenues came in at $887.8 million.
Subscription revenue for the quarter was $757.2 million, an increase of 33.9 percent from the same period last year.
What's Driving Workday's Growth?
What's driving Workday's growth? That's an easy answer: The ability to plan, manage, execute, and analyze all in one system is the secret sauce for the today's enterprise focused on transformation and growth. When you add AI and machine learning to the mix, so much the better.
Workday's clients for its core offering — its HCM software — range from midsized to enterprise and the company lays claim to some 40 percent of Fortune 500 HCM customers, half of the Fortune 100, half of the Fortune 50, and some 17 percent of the Global 2000 reportedly use the company's core HR system.
What Role Does the Adaptive Insights Acquisition Play?
The company's $1.55 billion acquisition of Adaptive Insights announced in June of 2018 helped shore up business for the company's Financial Management solutions, with many of those clients coming from the healthcare and financial services sectors. The Adaptive Insights acquisition added business planning capabilities into the Workday family of offerings and the company continues to advance with machine learning capabilities that further sweeten the pot.
One year post-acquisition Adaptive Insights reports the addition of ~45 new and upsell deals and the addition of 200+ customers opting for the company's Planning-first solution.
Making Things Easy Can Be the Key to Continued Growth
Workday claims 50 percent revenue growth for its Financial Cloud Management offering and continues to focus on adding to its growing customer base.
The thing I like about a platform like Workday is that it's relatively easy for customers of all sizes to dip their toes in and try experimenting with one or the other of the company's software offerings, see success fairly quickly, and decide to go all in, or maybe just go a little further. For instance, an HCM customer can try out the Adaptive Insights planning product (being offered up by the Workday's enterprise sales team as an add on), love it, and then move into a deeper relationship with the company for some of its other Financial services offerings. Making technology stack purchases of this nature are a big investment for business, so having an offering that spans human resources, planning, and financial management makes it more robust rather than less so.
Ethical Practices, Innovative Workplace Are Value Adds
Two final notes: At a time when ethics are to many (customers and employees) as important as innovation, it is impressive to see Workday taking a stand on the issue of ethics as it relates to AI and publicly publishing its commitments to ethical AI and the development of machine learning. I also like to see companies who are entrenched in the HCM/HR space being recognized as a great place to work, and Workday nabbing Fast Company recognition as one of the 50 Best Workplaces for Innovators (alongside companies like 3M, SAS, P&G, Amazon, Pivotal, Salesforce and others) would certainly play a role in my decision-making if I was in the market for an HR-focused enterprise software solution. Having a culture and a reputation for innovation also goes a long when when it comes to recruiting and retaining talent in a highly competitive market.
At a time when financial management, HCM, and analytics applications are table stakes for businesses serious about growth and profitability, Workday seems to be maximizing opportunity. The company expects to grow subscription revenue to $3.06 billion and hit revenue targets of between $783 million and $785 million. All in all, it was a strong quarter for Workday, and I look for more of that ahead.
Other insights from Futurum analysts:
How Technology is Transforming Healthcare
How Marketers are Using AI and Machine Learning to Grow Audiences
JPMorgan's 5-Year Agreement with AI-Powered Startup Persado is Only the Beginning of Advertising Agency and Financial Services Transformation
Top 10 Digital Transformation Trends for 2020
The original version of this article was first published on Futurum Research.
Shelly Kramer is a Principal Analyst and Founding Partner at Futurum Research. A serial entrepreneur with a technology centric focus, she has worked alongside some of the world's largest brands to embrace disruption and spur innovation, understand and address the realities of the connected customer, and help navigate the process of digital transformation. She brings 20 years' experience as a brand strategist to her work at Futurum, and has deep experience helping global companies with marketing challenges, GTM strategies, messaging development, and driving strategy and digital transformation for B2B brands across multiple verticals. Shelly's coverage areas include Collaboration/CX/SaaS, platforms, ESG, and Cybersecurity, as well as topics and trends related to the Future of Work, the transformation of the workplace and how people and technology are driving that transformation. A transplanted New Yorker, she has learned to love life in the Midwest, and has firsthand experience that some of the most innovative minds and most successful companies in the world also happen to live in "flyover country."