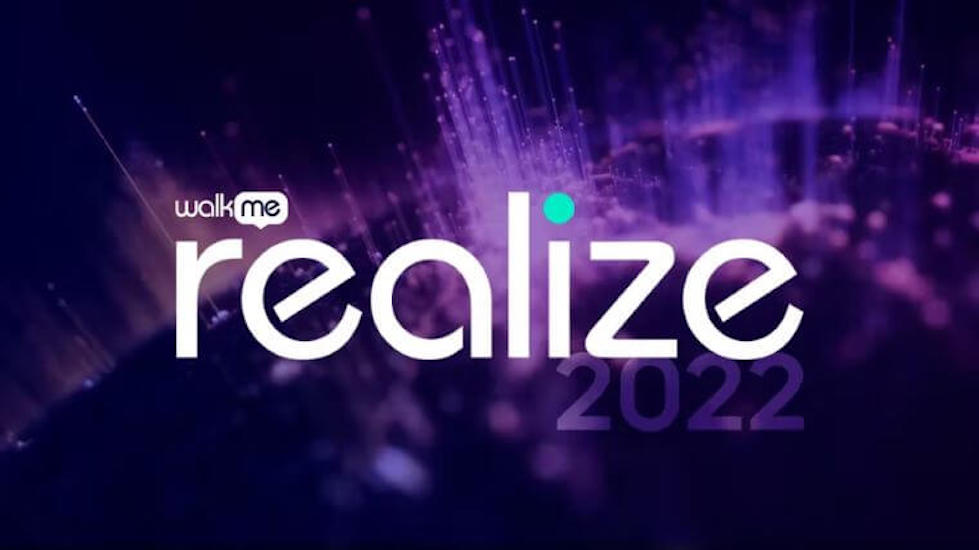 The News: At WalkMe Realize 2022 this past week, the company announced updates and new features for WalkMe Enterprise, a Digital Adoption Platform, focusing on data, action, and experience for the end user. The new features include a solution gallery with pre-built templates, a no code editor, and better data visibility. Listen to the full keynote presentation from WalkMe here.
WalkMe Realize 2022: New Updates and Features for WalkMe Enterprise Take Center Stage
Analyst Take: In the last few years, WalkMe has revolutionized the way companies approach digital transformation by way of its Digital Adoption Platform. Successful digital transformation is all about three simple things: people, processes, and technology. Tech solutions alone are never the answer, and the key to successful adoption of technology investments is all about creating great user experiences, serving the people using the technology, and making processes efficient and effective. That's why a Digital Adoption Platform like WalkMe's is an important part of digital transformation initiatives and why we're excited as we watch WalkMe continue to innovate.
And it's clear from what the company showcased at Realize 2022, that WalkMe doesn't disappoint, and continues to innovate and deliver on new and exciting ways to better serve customers. With the addition of new features and capabilities in WalkMe Enterprise, the company is expanding its Digital Adoption Platform to further connect the workflow to the user and also continues its focus on the enterprise customer.
To speed digital transformation initiatives an excellent user experience is the end goal — and data and action are the pathways in which to deliver on the user experience front. These three: UX, data, and action, form the backbone of the new releases from WalkMe showcased at Realize 2022.
WalkMe's Digital Transformation Intelligence App: Better Data Leads to Better Visibility
Behind each user there is a ton of data. Organizations need to be able to understand that data to know what is and isn't working. WalkMe's new Digital Transformation Intelligence app allows organizations to have immediate insight into software consumption. Leaders can see where users are struggling and step in to help when necessary. The quicker the adoption rate of any tech stack solution, the quicker the company can maximize a return on its investment. That's the beauty of a digital adoption platform and the role it plays in digital transformation should not be underestimated.
WalkMe's UI Intelligence app leverages machine learning to provide actionable analytics to how users are interacting with software. Leaders can prioritize what needs to get done and optimize the experience for each user.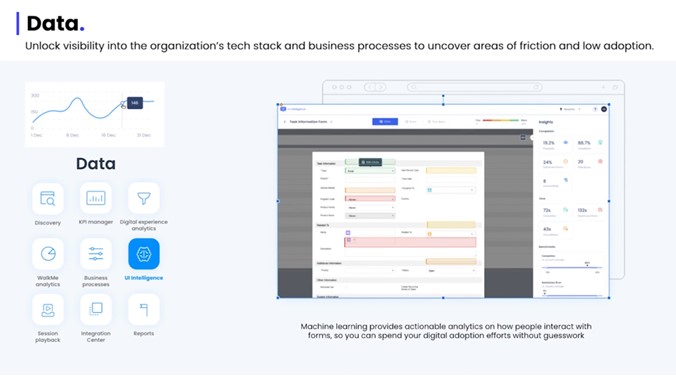 In WalkMe Enterprise, No Code Editor Facilitates Swift Action, Easily Taken
In WalkMe Enterprise, the No Code Editor makes it possible for users to easily create and design new experiences without any technical knowledge. We really like the inclusion of pre-built templates that WalkMe has developed for some of the most common software solutions used in the enterprise. Employees in today's workplace want to be able to quickly find the solutions they need, and this no code editor helps make that process efficient and effective.
WalkMe Workstation: Drive New Experiences
Another announcement coming out of Realize 2022 was around WalkMe Workstation, a centralized native hub accessible from a desktop or mobile phone. Users can have access to any workflow or process from wherever they are. New functionalities include enterprise search, more integrations, personalized widgets, and the action bot, which can help simplify any task with a quick conversation.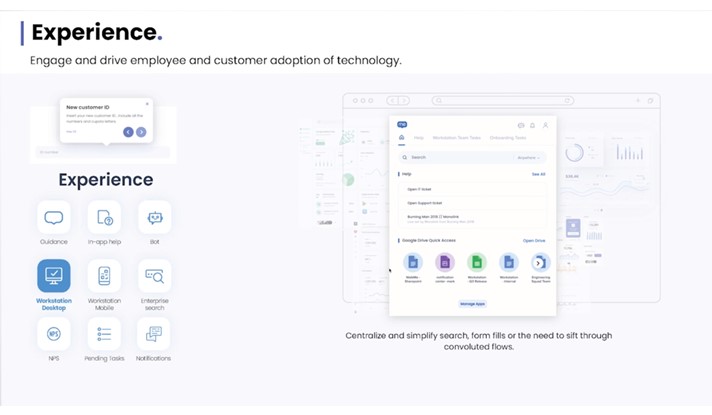 Realize 2022: Taking it to the Next Level
At the end of last year, during WalkMe's industry analyst round table event, President and Co-Founder Rafael Sweary said the company's focus for 2022 was going to be data, data, and more data. And with data being at the heart of these updates, it's clear that WalkMe is staying true to their word.
Data is a critical piece for leaders to intrinsically understand what employees are experiencing when using technologies in the workplace. Mining the data for insights will lead to action, which will ultimately lead to better experiences. Data. Action. Experience. Simple in idea, a gamechanger in the enterprise. We believe that integration digital adoption platforms into operations is one of the quickest ways to spur adoption of new technology, vastly improve the user experience overall, and not help maximize the return on technology investments. We'll even take it one step further and add that a DAP might well be the competitive advantage organizations didn't realize they need — until they experience it for themselves.
Disclosure: Futurum Research is a research and advisory firm that engages or has engaged in research, analysis, and advisory services with many technology companies, including those mentioned in this article. The author does not hold any equity positions with any company mentioned in this article.
Analysis and opinions expressed herein are specific to the analyst individually and data and other information that might have been provided for validation, not those of Futurum Research as a whole.
Other insights from Futurum Research:
Making Markets EP28: The Digital Adoption Category Has Big Growth Ahead, with WalkMe CEO Dan Adika 
WalkMe Q4 Full and Year 2021 Earnings Report Sees Q4 Revenue Increase 37% as Subscription Revenue Rises 39%
It's Time to Drive Transformation with Data: A Retrospective on WalkMe's Year-end Industry Roundtable
Image Credit: WalkMe
The original version of this article was first published on Futurum Research.
Shelly Kramer is a Principal Analyst and Founding Partner at Futurum Research. A serial entrepreneur with a technology centric focus, she has worked alongside some of the world's largest brands to embrace disruption and spur innovation, understand and address the realities of the connected customer, and help navigate the process of digital transformation. She brings 20 years' experience as a brand strategist to her work at Futurum, and has deep experience helping global companies with marketing challenges, GTM strategies, messaging development, and driving strategy and digital transformation for B2B brands across multiple verticals. Shelly's coverage areas include Collaboration/CX/SaaS, platforms, ESG, and Cybersecurity, as well as topics and trends related to the Future of Work, the transformation of the workplace and how people and technology are driving that transformation. A transplanted New Yorker, she has learned to love life in the Midwest, and has firsthand experience that some of the most innovative minds and most successful companies in the world also happen to live in "flyover country."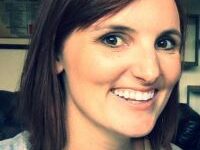 Lauren Kirkpatrick is a junior analyst and project lead for Futurum Research. She covers topics ranging from corporate DEI and ESG initiatives, to cloud, mobility, and beyond. When she's not working, she's either chasing her dog, Whiskey, or cheering on her beloved LA Dodgers at the ballpark.