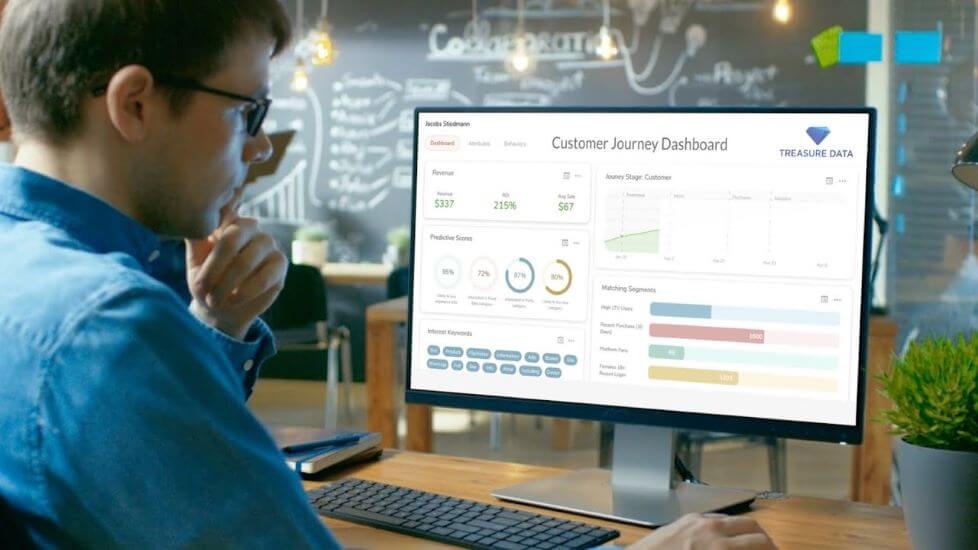 The News: Leading customer data platform (CDP) provider Treasure Data launched CDP for Service, a new platform dedicated to powering improved customer experiences. This new Treasure Data solution takes CDPs beyond marketing and sales departments and is designed to empower a new breed of customer service contact centers with real-time data and insights needed for personalized interactions. Read the full press release from Treasure Data here.
Treasure Data's CDP for Service Platform Dedicated to Contact Centers is the Right Solution at the Right Time
Analyst Take: I was excited to see Treasure Data's launch of its CDP for Service Platform because I believe it's the right solution at the right time. Today's best in class organizations have realized that CDPs are an integral part of their MarTech stacks, and critical for their ability to connect and harness data customer data from multiple touchpoints like social media, websites, in-store, and others.
That said, not every organization is there yet. In fact, we find that many organizations are relying on CDPs and processes that are outdated. For example, a CDP might serve only marketing, or only sales, rather than being connected to and serving the organization as a whole, which is a significant problem. Data that's collected by an organization's CDP often remains siloed, collected and managed by various parts of an organization, but not accessible by others. For customer service contact centers, this can often lead to a disjointed customer experience and, equally important, have a negative impact an organization's bottom line.
Customers today expect organizations to provide excellent customer experiences whether those experiences are online, in-store, or handled by way of customer service agent. This requires that contact centers have access to real-time data and complete customer profiles — something that has not existed until now. That's what makes Treasure Data's CDP for Service offering so attractive.
Treasure Data's CDP for Service Really Shines
Treasure Data's CDP for Service is integrated with all customer service systems, whether its voice, chat, or another digital channel. Contact center agents are empowered with complete, 360-degree customer profiles with real-time data from marketing campaigns, purchase history, and prior customer service interactions. With full access to this information in real-time, contact center agents can provide better service by way of recommendations and problem resolution. The Treasure Data CDP for Sales is also readily compatible with other service cloud platforms including Zendesk, Salesforce and others, which I think is a big value add.
Additional benefits of the Treasure Data's CDP for Service include:
AI-driven agent assist. With Treasure Data's CDP for Service, its AI-powered solution means that agents are provided with tailored and accurate recommendations for customers.
Reduced time to resolution. The solution empowers fast, personal, and relevant support, which will lower overall wait times and time to resolution, improving customer satisfaction and brand loyalty.
Unified customer view. Treasure Data's CDP for Service provides a unified customer view, effectively eliminating silos across the organization and ensuring exceptional customer experience throughout the entire customer journey.
Intelligent routing. The Treasure Data CDP for service features intelligent routing, which means that if the first agent is unable to help a customer, agents will be able to quickly and easily re-route the customer to another agent based on a number of unique criteria, delivering the optimum in a customer service experience.
Customer Experience is Great, But Improved Employee Experience is Important, Too
I'm all in on working to provide the optimum in customer experiences, but it's also very important for organizations to likewise focus on improving their own employee experience across the board. And the Treasure Data CDP for Service offering will no doubt have an impact on employee experience. In 2019, call center attrition rates were averaging 35 to 45 percent. It's highly likely that those numbers have increased driven by a pivot to remote work necessitated by the pandemic and myriad factors challenging employees and their families along the way. a time when employees are leaving organizations for better opportunities en masse, providing agents with technology that makes their jobs not only easier, but infinitely more enjoyable, is a no brainer.
Treasure Data is a Proven Expert
Brands need technology solutions and partners who are accessible, flexible, agile, and can scale as needed. Treasure Data delivers on all fronts with an enterprise-grade CDP capable of managing and analyzing thousands of pieces of data across the organization. Treasure Data's CDP for Service is the next step in their mission to unify and drive value for the organization while meeting the unique needs of every customer. And at the end of the day isn't that what we want from every software?
Disclosure: Futurum Research is a research and advisory firm that engages or has engaged in research, analysis, and advisory services with many technology companies, including those mentioned in this article. The author does not hold any equity positions with any company mentioned in this article.
Other insights from Futurum Research:
Treasure Data Up-Levels Its CDP Platform With Treasure Insights
The Customer Data Platform: The New Table Stakes for CPG Companies
Image Credit: Treasure Data
The original version of this article was first published on Futurum Research.
Shelly Kramer is a Principal Analyst and Founding Partner at Futurum Research. A serial entrepreneur with a technology centric focus, she has worked alongside some of the world's largest brands to embrace disruption and spur innovation, understand and address the realities of the connected customer, and help navigate the process of digital transformation. She brings 20 years' experience as a brand strategist to her work at Futurum, and has deep experience helping global companies with marketing challenges, GTM strategies, messaging development, and driving strategy and digital transformation for B2B brands across multiple verticals. Shelly's coverage areas include Collaboration/CX/SaaS, platforms, ESG, and Cybersecurity, as well as topics and trends related to the Future of Work, the transformation of the workplace and how people and technology are driving that transformation. A transplanted New Yorker, she has learned to love life in the Midwest, and has firsthand experience that some of the most innovative minds and most successful companies in the world also happen to live in "flyover country."