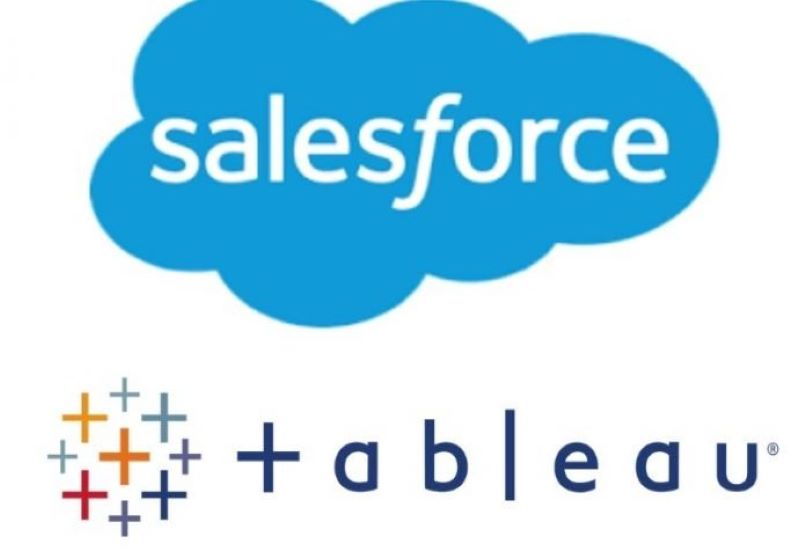 "Salesforce (NYSE: CRM), the global leader in CRM and Tableau Software (NYSE: DATA), the leading data analytics platform, have entered into a definitive agreement under which Salesforce will acquire Tableau in an all-stock transaction, pursuant to which each share of Tableau Class A and Class B common stock will be exchanged for 1.103 shares of Salesforce common stock, representing an enterprise value f $15.7 billion (net of cash), based on the trailing 3-day volume weighted average price of Salesforce's shares as of June 7, 2019." Read the full Salesforce press release here.
Salesforce Acquires Tableau — Aggressive and Smart Acquisitions by Benioff Continue
Analyst Take: Salesforce acquires Tableau in what is yet another aggressive, and smart move by Salesforce's Marc Benioff. Tableau, founded on campus at Stanford University, has long been regarded as the cat daddy of data visualization and business intelligence offerings. While the company's operating margins are negative, its customer base is deep, with positive operations cash flow to the tune of some $126m.
Tableau's customers include some 86,000 companies globally, the likes of which include Accenture, Allstate, Amazon, AON, Box, Boston Scientific, Cerner, Charles Schwab, Cisco, Citibank …. and I'm only at the beginning of the alphabet, so you likely get my drift.
Tableau is the real deal when it comes to business intelligence and this acquisition is another of Benioff's bold moves designed to counter competition from Microsoft, Oracle, and others in the cloud space.
The company's demonstrable ability to serve enterprise, blue chip clients will only be augmented by the Tableau acquisition, which is likely the strategy. In light of Google's acquisition of data analytics company Looker last week for $2.6 billion, IBM's $34 billion acquisition of Red Hat in 2018, and SAP's $8 billion acquisition of survey company Qualtrics last November (just before it went public), the battle for cloud dominance is hot, and none of these companies are resting on their laurels. With the market for data, information, and analytics expected to hit $2 trillion by 2020, these moves make sense. Having enterprise technology stacks that are consolidated as much as possible within single product offerings are good for the enterprise, rather than the siloed tech stacks we see scattered throughout today. Cloud companies realize that, and the race to have the most comprehensive offerings possible not only makes sense, but certainly won't stop any time soon. This move by Salesforce and others in the cloud space aren't in any way surprising. 
What has this acquisition announcement done to the companies' respective sale prices? In pre-market trading Tableau's shares are up 34.89 percent to $168.90 and Salesforce's are down slightly, 4.76 percent, to $153.59.
The AI-powered, data and analytics, data visualization enterprise is here. Enterprises understand that data and analytics are everything, and the more you know, the better you can perform. Period. And cloud vendors want those customers.
The original version of this article was first published on Futurum Research.
Related reads:
Salesforce Shares Rise Beating Both Top and Bottom Lines
Why Marc Benioff's AI Bet Will Power Salesforce's Next Wave of Growth
Shelly Kramer is a Principal Analyst and Founding Partner at Futurum Research. A serial entrepreneur with a technology centric focus, she has worked alongside some of the world's largest brands to embrace disruption and spur innovation, understand and address the realities of the connected customer, and help navigate the process of digital transformation. She brings 20 years' experience as a brand strategist to her work at Futurum, and has deep experience helping global companies with marketing challenges, GTM strategies, messaging development, and driving strategy and digital transformation for B2B brands across multiple verticals. Shelly's coverage areas include Collaboration/CX/SaaS, platforms, ESG, and Cybersecurity, as well as topics and trends related to the Future of Work, the transformation of the workplace and how people and technology are driving that transformation. A transplanted New Yorker, she has learned to love life in the Midwest, and has firsthand experience that some of the most innovative minds and most successful companies in the world also happen to live in "flyover country."