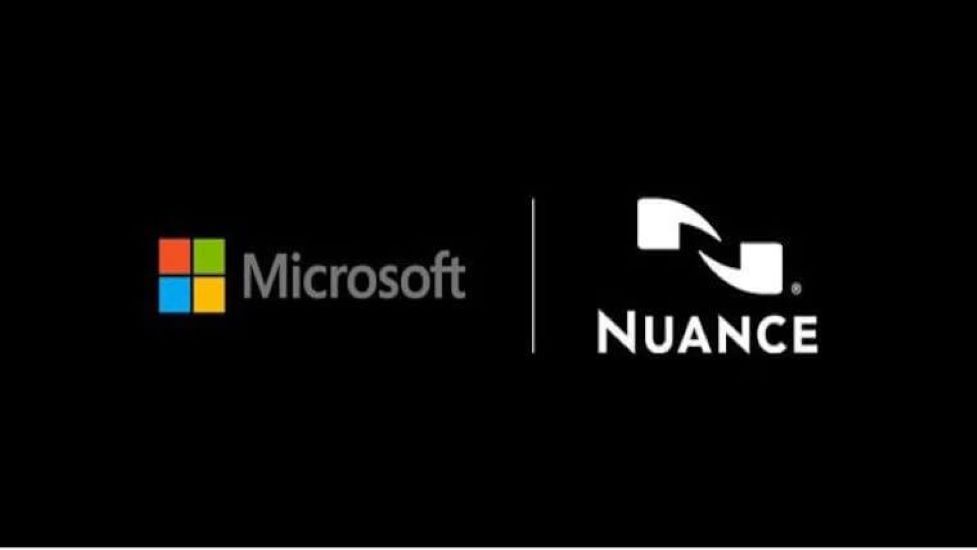 The News: Microsoft has agreed to buy Boston-based voice recognition AI technology company Nuance Communications, for $19.7 billion. Read more at The Wall Street Journal.
Microsoft to Buy Nuance, a Voice Recognition AI Leader for $19.7 Billion
Analyst Take: Microsoft's rumored negotiations with Boston-based voice recognition AI technology company Nuance Communications have moved quickly, with the announcement of an acquisition for $19.7 billion announced just this morning.
This will be the second largest acquisition for Microsoft, after its 2016 $26.2 billion acquisition of LinkedIn and one of many deals the tech giant has been exploring over the course of the last year, including Discord, Pinterest, and TikTok.
Nuance's Focus in Healthcare is Key
Nuance, the developer of the technology powering Apple's Siri, was one of the early developers of speech recognition artificial intelligence (AI). In what I think is a key factor here, while the company hasn't had booming revenues for the past couple of years, spinning off some business units and devoting renewed focus on healthcare and specific markets has resulted in some positive wins for the bottom line.
Microsoft and Nuance have partnered for the last couple of years, with Nuance transcription being used with Microsoft's Microsoft Teams' product allowing doctors to use the technology to capture voice comms from visits and enter that data into patients' medical records. Add a global pandemic to the mix, which has unmistakably catapulted telehealth services into high demand, and it's easy to see the value and the opportunity for Microsoft here.
Also worth noting is that to date Microsoft hasn't been able to gain much traction with its investments in speech systems. The Nuance acquisition should change that.
Nuance Will Help Microsoft Speed (and Sell) Digital Transformation for Customers
Microsoft has been on a buying streak over the course of the last couple of years and Nuance and its technology is a perfect fit for Microsoft's already impressive natural language processing AI capabilities. Moreover, this move will augment the company's focus on continuing to build its enterprise cloud business at a rapid-fire pace. Not only is Nuance Communications' technology applicable in healthcare, it's easy to see this very attractive functionality translate to industries like banking and finance, along with retail, for starters. It's likewise easy to see that the Nuance Communications acquisition will help Microsoft continue to make significant inroads with its enterprise cloud business.
Futurum Research provides industry research and analysis. These columns are for educational purposes only and should not be considered in any way investment advice.
Additional Insights from Futurum Research:
Microsoft and Discord — Could a Discord Acquisition Bring Harmony to Microsoft?
Microsoft's Momentum is Assured for 2021 After a Blowout Year
Microsoft Launches Microsoft Viva, an Employee Experience Platform
Image Credit: Yahoo Finance
The original version of this article was first published on Futurum Research.
Shelly Kramer is a Principal Analyst and Founding Partner at Futurum Research. A serial entrepreneur with a technology centric focus, she has worked alongside some of the world's largest brands to embrace disruption and spur innovation, understand and address the realities of the connected customer, and help navigate the process of digital transformation. She brings 20 years' experience as a brand strategist to her work at Futurum, and has deep experience helping global companies with marketing challenges, GTM strategies, messaging development, and driving strategy and digital transformation for B2B brands across multiple verticals. Shelly's coverage areas include Collaboration/CX/SaaS, platforms, ESG, and Cybersecurity, as well as topics and trends related to the Future of Work, the transformation of the workplace and how people and technology are driving that transformation. A transplanted New Yorker, she has learned to love life in the Midwest, and has firsthand experience that some of the most innovative minds and most successful companies in the world also happen to live in "flyover country."