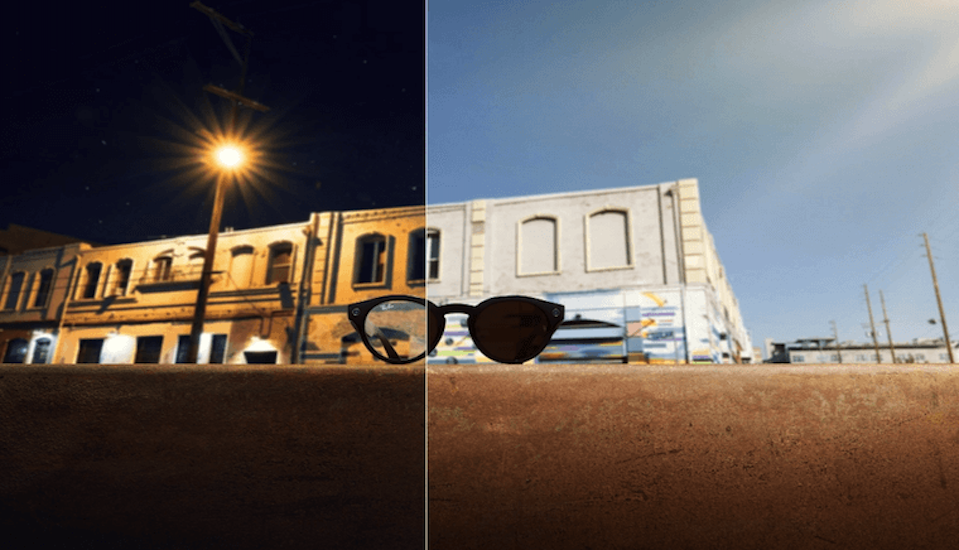 The News: Meta and Ray-Ban Stories — the smart sunglasses first introduced last year — announced the glasses are rolling out in new markets and new colors. The announcement from Meta and Ray-Ban on this front was released in mid-March, with news the Ray-Ban smart glasses are rolling out in retail stores in Span, Austria, France, and Belgium. The Ray-Ban smart glasses will be available both online and in select retail stores. Read the full Meta Press Release.
Meta and Ray-Ban Stories Announce Smart Glasses Rolling Out in New Markets and New Colors
Analyst Take: Meta and Ray-Ban Stories announcement around availability in new markets and some new colors was interesting to us. Is anybody buying these? Let's backtrack. The Meta and Ray-Ban stories glasses were first launched last year, by way of a partnership with EssilorLuxottica. The Meta connection is that Ray-Ban Stories pairs with the Facebook View app, which lets users "tell their stories" to their social connections (influencers rejoice!) without the need to take their phones out of their pockets.
Ray-Ban Stories — Are They Something to Get Excited About?
So what's the deal with these Ray-Ban Stories? Are they worth getting excited about? For starters, from a looks perspective, the Ray-Ban Stories glasses are innovative and good-looking. Is it possible they'll bring back excitement in the smart glasses marketplace that has been largely absent since Google Glass first hit the scene in 2013 and captured the attention of users before disappearing later with nary a trace? What we remember most about those days are annoying posts from users, aptly named "Glassholes" and a lot of ho-hum moments. Times have changed over the course of the last decade, however, and influencers seem to always be looking for different ways to put themselves front and center. This could be a relatively unobtrusive answer, at a time when influencers are more prevalent, everywhere, than they were in 2013.
How are Ray-Ban Stories Different?
While we've not personally tested the Meta Ray-Ban Stories glasses, they do seem to be different from traditional smart glasses of the past in one key way: they leave out augmented reality features which display alerts and other information on heads-up displays. We agree with this approach – and today, anyway, most users do not want or need heads-up displays. In fact, some folks have HUD in their vehicles and are annoyed enough by that they they simply turn it off.
What people want, we think, is pretty simple. They just want to be able to connect their smart glasses to a smartphone in their pocket and then have the ability to record videos, take pictures, answer calls and listen to music. Those activities are where Meta and Ray-Ban Stories shine. Some new features of Ray-Ban Stories include:
Recording time has been increased from 30 seconds to 60 seconds
The Facebook View app is now available in French, Spanish, Dutch, and German
Voice command functionality in French and Italian is being rolled out
Users will have the ability to make voice activated phone calls, send messages via Facebook Messenger, and control media playing on the glasses
The Meta and Ray-Ban Stories smart glasses are essentially a hybrid of a GoPro camera and a smartphone, which gives users the freedom to take simple images without having to concentrate on getting perfect shots.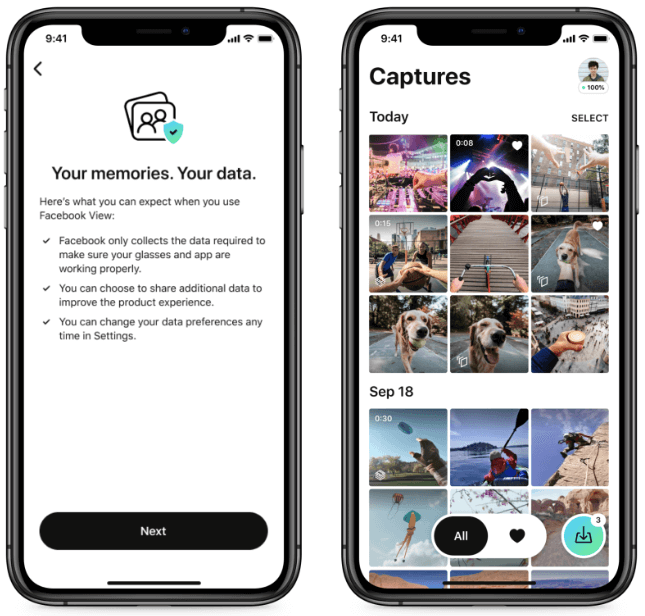 Image source: Facebook
Perhaps the most compelling (read: what might make us buy these) feature of the Ray-Ban Stories smart glasses is that they've woven the technology into the classic Ray-Ban Wayfarer sunglasses design — Wayfarer, Wayfarer Large, Round, and Meteor — so users don't have to worry about looking too dorky. There, we said it out loud. Google Glasses looked dumb, these are better.
There is still room for improvement in the product, however, including the need for cameras with more than five megapixels, capabilities to capture videos of more than 60 seconds, and longer battery life.
Why Meta? Meta Needs Creators and Influencers
It's no secret that Facebook's user base is largely comprised of older folks and the social network is in a perpetual battle to try and gain back any semblance of relevance to a broader (read: younger) demographic. Instagram, also owned by Meta, is battling TikTok and Snapchat for users, and largely losing that battle. That said, the Facebook View app is available on both Android and iOS and is said to make it easy to import the images captured on device to Facebook, Instagram, WhatsApp, Facebook Messenger, Twitter, TikTok, Snapchat and others.
Will the allure of being able to capture images and videos on smart sunglasses win the attention of creators and influencers? Maybe. Is the ability to share on multiple platforms that don't include Facebook and Instagram appealing? Probably. Will that alone be enough to induce consumers to fork over $420ish US and download and use the Facebook View app? We'll find out soon enough.
Wrapping It Up
Bottom line and beyond the deeper motivations of Meta that we've explored here, smart glasses are of interest to some consumer groups, and it will be interesting to see how Ray-Ban Stories do and how — or if — they are broadly adopted. Will smart glasses become a "must-have" product for consumers? Will they put their phones away and use smart glasses instead? Will they pay $400+ for those smart glasses? We don't know, but it will be interesting to watch as this market matures.
Disclosure: Futurum Research is a research and advisory firm that engages or has engaged in research, analysis, and advisory services with many technology companies, including those mentioned in this article. The author does not hold any equity positions with any company mentioned in this article.
Analysis and opinions expressed herein are specific to the analyst individually and data and other information that might have been provided for validation, not those of Futurum Research as a whole.
Other insights from Futurum Research:
The Apple Meta Hack — Breaking Down How It Happened and Exploring Some of the Cybersecurity Dangers Ahead
Nike's Metaverse Store Paves a Pathway into the Future
Lego and Epic Games Are Taking the Metaverse to Children by Co-Building Immersive Digital Play Space for Kids – Is This a Move to Entice Grown-ups to Follow?
Image Credit: Meta
The original version of this article was first published on Futurum Research.
Shelly Kramer is a Principal Analyst and Founding Partner at Futurum Research. A serial entrepreneur with a technology centric focus, she has worked alongside some of the world's largest brands to embrace disruption and spur innovation, understand and address the realities of the connected customer, and help navigate the process of digital transformation. She brings 20 years' experience as a brand strategist to her work at Futurum, and has deep experience helping global companies with marketing challenges, GTM strategies, messaging development, and driving strategy and digital transformation for B2B brands across multiple verticals. Shelly's coverage areas include Collaboration/CX/SaaS, platforms, ESG, and Cybersecurity, as well as topics and trends related to the Future of Work, the transformation of the workplace and how people and technology are driving that transformation. A transplanted New Yorker, she has learned to love life in the Midwest, and has firsthand experience that some of the most innovative minds and most successful companies in the world also happen to live in "flyover country."