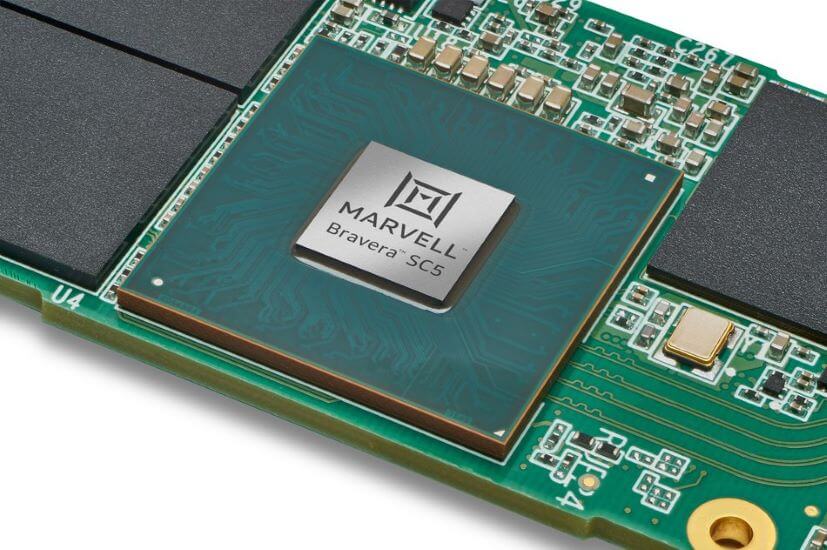 The News: Marvell announced its new Bravera SC5 controller family, designed to improve performance, efficiency, and security advances to meet ever-expanding workloads in the cloud. Marvell's Bravera SC5 SSD (Solid-state Drive) controllers address the evolving requirements for scalable, containerized cloud storage infrastructure. By seeking to enable better performing flash storage solutions, Marvell's controllers could provide a foundation for data centers that offer low latency, real-time applications while also providing cost-optimized, cloud-scale capacity. Read the Marvell release here.
Marvell Takes Data Center Flash Storage to the Next Level with Bravera SC5 SSD Controller Debut
Analyst Take: Marvell's new Bravera SC5 SSD Controller family launch is off to a good start. Marvell is touting the new offering as the first SSD controllers to support PCIe (Peripheral Component Interconnect express) 5.0 and NVMe (Non-Volatile Memory express) 1.4b, doubling performance in comparison to PCIe 4.0 SSDs. This includes delivering 14 GB/s sequential read, 2M+ IOPS (Input/Output Operations per Second) random read, <6 microseconds ultra-low deterministic latency, and 40% improvement in power-performance efficiency. These capabilities assist in lowering latency and accelerating workloads, bolstering user experience. The controllers support FIPs-compliant root of trust (RoT), AES-256 encryption and multi-key revocation to fulfill strict cloud security requirements in protecting user data.
The new controllers also support an innovative hardware-based Elastic SLA Enforcer to assure quality of service (QoS) and deliver metering capabilities on a per customer basis to boost overall storage efficiency while reducing total cost of ownership (TCO), as well as minimize cloud server CPU utilization. Key benefits include multi-physical function support which enables virtualization without host software changes, hardware queue management that provides performance with latency regulation, and granular hardware arbiter capabilities that enable rate measurement and metering for multi-tenant environments.
This is important, as I believe Marvell needed to unveil the Bravera SC5 SSD Controller offering to bolster the Flash SSD Controller and NVMe accelerator portion of its overall storage portfolio, also consisting of the HDD controller/pre-amp and Fiber Channel HBA suites. With this move, Marvell is clearly targeting the fast-evolving demands of data center environments consisting of distinct storage server requirements, such as high capacity, bandwidth-intensive application support, SEF (Software Enabled Flash) and ZNS (Zoned Names Spaces) integration, as well as compute server requirements such as high IOPS, ultra-low latency, OCP (Open Compute Project) SSD, and Open Channel support. The new Bravera SC5 product is designed to fulfill the full range of emerging storage server and compute server needs, enhancing Marvell's differentiation aims.
The Bravera product is capitalizing on the E1.S form factor replacing the M.2 form factor trend throughout cloud storage environments. The E1.S dimensions (31.5mm x 111.5 mm) enable improvements over M.2, such as the twofold increase in maximum NAND channel counts (from 8 to 16), Hot Plug function, Heatsink support, and avoiding SI (Signal Integrity) issues for PCIe Connector functions. I also see Marvell attaining a key differentiator in touting that the new Bravera package (MV-SS1333 with 16 NAND CH: 20x20mm) comes in at 45% smaller than rival solutions.
In the area of security and data protection, Marvell's Bravera SC5 covers all the bases, including support for FIPS (Federal Information Processing Standards) Compliant Root of Trust with AES-256 encryption, Multi Key Revocation + TCG (Trusted Computing Group) Opal, NANDEdge LDPC (low-density parity-check code) Error Correction, and end-to-end Deadpath Protection. I expect that this set of security and data protection measures will give organizations the peace of mind needed to accelerate their adoption of fifth generation PCIe technology.
Marvell Enlists Major Ecosystem Support to Boost Bravera SC5 Sales Prospects
I anticipate Marvell bolstering Bravera SC5 adoption through the offering's cloud DIY (Do It Yourself) SSD capabilities. These Bravera SC5 capabilities include interworking with any key NAND vendor, including Kioxia, Micron, Samsung, SK hynix, Western Digital, and YMTC. The new product is developed to support any NAND type (i.e., SLC, MLC, TLC, and QLC), as well as any form factor including E1.S, E1.L, U.2, and E3.
Marvell is already working with cloud powerhouses Microsoft and Facebook to promote the Bravera SC5's capabilities to gain more channel influence across the storage server and compute server communities. I believe this channel backing will be important as Bravera SC5 evaluation boards and SDKs are available today and I anticipate that 5th generation SSD Controller products will start their initial deployments and advanced testing in the H1 2022 timeframe, with mass-scale production deployments ensuing throughout H2 2022. Likewise, I foresee such channel backing to smooth potential co-opetition clashes with NAND suppliers using their own sales channels (e.g., Samsung, Intel, SK hynix) to push 5th generation NAND solutions.
Key Takeaways on the Marvell Bravera SC5 SSD Controller Debut
I expect that Marvell's Bravera SC5 SSD Controller offering delivers the PCIe 5.0 and NVMe 1.4b SSD Controller, as well as 16Ch E1.S Form Factor innovations needed to expand Marvell's channel presence and influence across the entire storage server and compute server market realms in 2022 and beyond. Factor in the support of flexible usage models (i.e., OCP, SEF, ZNS) and Elastic SLA Enforcer capabilities and I anticipate that Marvell has the competitive foundation to succeed further in the data center storage market.
Futurum Research provides industry research and analysis. These columns are for educational purposes only and should not be considered in any way investment advice.
Other insights from Futurum Research:
Marvell Rapidly Strengthens IVN Proposition with New 10G Ethernet PHY Offering
All Eyes are on Semiconductor Companies Amid Chip Shortage — Investors Should be Looking at These Four Lesser-known Names
Marvell Octeon DPU Family Boards the Burgeoning Evenstar Initiative
Image Credit: PR Newswire
The original version of this article was first published on Futurum Research.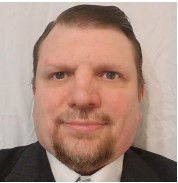 Ron is an experienced research expert and analyst, with over 20 years of experience in the digital and IT transformation markets. He is a recognized authority at tracking the evolution of and identifying the key disruptive trends within the service enablement ecosystem, including software and services, infrastructure, 5G/IoT, AI/analytics, security, cloud computing, revenue management, and regulatory issues.