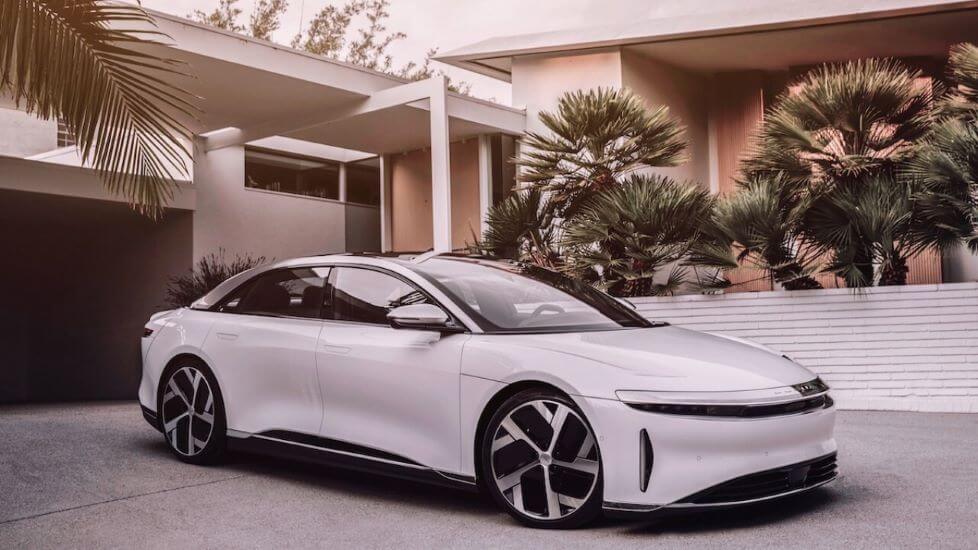 The News: The Lucid Group stock soared to new heights recently, closing out the day with a market cap higher than General Motors (GM) and Ford. The electric vehicle (EV) start-up added nearly $17 billion to its valuation in a single day after the CEO announced an increase in vehicle reservations and that the company plans to hit its production target in 2022. Read more about the market gains from Bloomberg.
Lucid Stock Soars Eclipsing Auto Giants GM and Ford
Analyst Take: The EV market is booming and the Lucid Group stock price proves it. Despite missing its Q3 earnings projects — which might hurt other companies — Lucid stock soared on Tuesday most likely as a result of the news that the company is on track to hit its 20,000 vehicle production goal for 2022. The company also said it had plans to expand its capacity at its main production plant in Arizona to be able to produce 90,000 vehicles a year by 2023, up from the 34,000 it can currently handle.
While the news about production and the future of the company is impressive, the bigger story here is the fact that the EV startup, which only started producing cars in September, reached a $91 billion market cap surpassing GM and Ford. And with production ramping up, it's likely safe to say that market cap won't be taking a dip any time soon.
The New Big Three?
Lucid isn't the only impressive EV stock right now. Rivian, which only went public last week, has a market cap of $140 billion, overtaking Volkswagen this week. Both obviously pale in comparison to Tesla that has over $1 trillion market cap and about a decades-worth head start.
It could easily be argued that these three EV companies will edge out Ford, GM, and Stellantis (formerly Fiat Chrysler) as the new big three automakers in the U.S. as Tesla already claims the top spot. But what will this mean for the auto conglomerates who have dominated the industry since the invention of the automobile? They're not going away without a fight.
Don't Count Out the Giants
As Rivian and Lucid ramp up production on their EV fleets and Tesla likely continues to dominate the industry, we can't count out the traditional big three out altogether. All three have invested heavily in EV production, have revamped factories to be able to handle EV production, and have made significant announcements in the last few months that will impact the future of the industry.
GM is promising to produce 30 different EVs by 2025, starting with the first a Hummer EV — yes, you read that correctly — this fall. In late September, Ford announced plans to spend $11 billion on building an EV production plant and two battery production plants. And in October, Stellantis announced a partnership with LG to produce battery cells in North America. Ready or not, the auto industry is getting a makeover this decade.
The Big Caveat to Production Goals
As Lucid stock soars due to the news that they will hit their production goal in 2022, and we are seeing more EVs being produces across the industry, it might seem like everything is back on track for auto production. But there is still a big caveat to all of this: We are still experiencing a chip shortage that has disrupted the automotive supply chain like never before. In fact, unsettling news of the week in the Automotive sector, at least for cold-weather denizen like me, is that GM announced the removal of heated seat and heated steering wheel options for its 2022 vehicles due to supply chain issues, following an earlier announcement by BMW around the removal of touch screens in some of its models. So, while all of these production projections and goal targets sound promising, we must remain cognizant of the big piece — or 20 little pieces — that are, or might well be, missing.
The news of Lucid's soaring stock price and growing market cap is impressive nonetheless. We are on the precipice of an electric vehicle revolution and it is only just getting started. It will be interesting to see what comes next and from who.
Disclosure: Futurum Research is a research and advisory firm that engages or has engaged in research, analysis, and advisory services with many technology companies, including those mentioned in this article. The author does not hold any equity positions with any company mentioned in this article.
Other insights from Futurum Research:
Betacom's 5G as a Service Offering is Built on Valuable Lessons from Early Private Wireless Network Adopters 
SAP's Tech Education Focus is Front and Center at SAP TechEd Aimed at Closing the Skills Gap
Qualcomm and BMW Collaborate on Automated Driving Technology
Image Credit: ABC15 Arizona
The original version of this article was first published on Futurum Research.
Shelly Kramer is a Principal Analyst and Founding Partner at Futurum Research. A serial entrepreneur with a technology centric focus, she has worked alongside some of the world's largest brands to embrace disruption and spur innovation, understand and address the realities of the connected customer, and help navigate the process of digital transformation. She brings 20 years' experience as a brand strategist to her work at Futurum, and has deep experience helping global companies with marketing challenges, GTM strategies, messaging development, and driving strategy and digital transformation for B2B brands across multiple verticals. Shelly's coverage areas include Collaboration/CX/SaaS, platforms, ESG, and Cybersecurity, as well as topics and trends related to the Future of Work, the transformation of the workplace and how people and technology are driving that transformation. A transplanted New Yorker, she has learned to love life in the Midwest, and has firsthand experience that some of the most innovative minds and most successful companies in the world also happen to live in "flyover country."