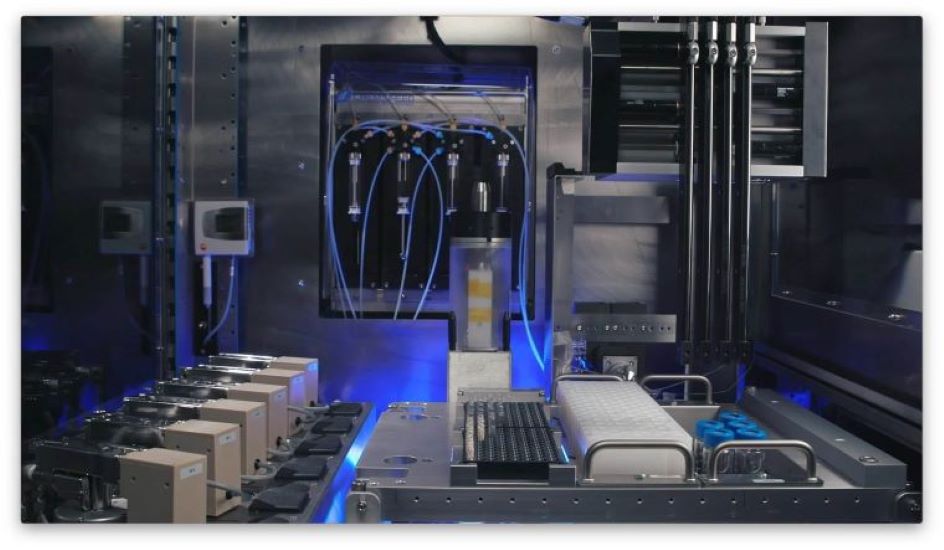 The News: IBM's new RoboRXN chemistry lab combines AI models, a cloud computing platform, and robots to help scientists design and synthesize new molecules while working remotely. To read more about the lab read IBM's blog post here.
Analyst Take: As the COVID-19 pandemic has forced companies to shift to an almost all-remote workforce, this also means laboratory-based positions. At Futurum we have been discussing how vendors such as HPE, Microsoft, and Cisco have been rapidly coming to market with more agile solutions and products to help companies manage and operate seamlessly during the COVID-19 pandemic, so it only makes sense that tech vendors like IBM are stepping up to help the category of laboratory-based employees as well.
IBM is leading the way with its RoboRXN online lab platform which allows scientists to log on via a web browser, and then draw the skeletal structure of the molecular compounds they want to create. The platform then uses machine learning to predict the materials required and plan the order in which they should be mixed. Instructions are then sent to a robot in a remote lab to make it. Once the experiment is done, the platform sends a report to the scientists with the results.
In a time where agility can save lives, the key traits of IBM's RoboRXN platform is its ability to accelerate chemistry synthesis while all being done in the cloud and remotely. According to IBM, new drugs and materials usually take an average of 10 years and $10 million to bring to market. Much of that time is taken up by a lengthy cycle of trial and error to synthesize new compounds. IBM's goal with the RoboRXN platform is to dramatically speed up this process by predicting the recipes for compounds and automating experiments. By speeding up this process, it will lower the costs of drug development and allow scientists to react faster to health crises like the current pandemic, where social distancing policies have slowed down lab work.
This lab platform by IBM also highlights the element of discovery. As academic institutions and startups are also trying to accelerate chemical synthesis by using AI and robotics, the concept of allowing users to submit molecules remotely and receive analysis on the synthesized molecule is an important trait of IBM's platform as it speeds up the step of discovery. IBM started working on this platform three years ago when it began to develop machine learning models to predict chemical reactions, and it is now a significant part of its cloud offerings. As IBM has a strong foothold in cloud and has been making announcements in verticals such as financial services, its combination of AI with its roots in advanced analytics, will only help the field of chemistry and most importantly, help chemical lab workers continue to practice their science in a safe manner.
As our team at Futurum continues to cover the Future of Work, the notion of supporting remote workers in all industries and scenarios becomes more prevalent. Most of us think of work as being in an office setting, but the RoboRXN platform reminds us that work can take place in a laboratory, a factory, on a farm, or on a construction site — and technology can play a big role in all those settings.
As COVID-19 will not be the last of our global health concern, vendors and their partner ecosystems will have to continue to innovate and release agile solutions and products to keep employees of all types safe.
Futurum Research provides industry research and analysis. These columns are for educational purposes only and should not be considered in any way investment advice.
Other Insights from the Futurum Team:
Amazon Creating Jobs While Defining a Hybrid Future of Work
HPE Delivers Return-To-Work Solutions to Accelerate Recovery
How The Human + Machine Workforce Is Being Accelerated By COVID-19
Image Credit: MIT Technology Review
The original version of this article was first published on Futurum Research.
Sarah brings 24 years of experience as an industry analyst to the Futurum team. She most recently served as the head of industry research for Oracle. Her experience working as a research director and analyst extends across multiple focus areas including AI, big data and analytics, cloud infrastructure and operations, OSS/BSS, customer experience, IoT, SDN/NFV, mobile enterprise, cable/MSO issues, and managed services. Sarah has also conducted primary research of the retail, banking, financial services, healthcare, higher ed, manufacturing, and insurance industries and her research has been cited by media such as Forbes, U.S. News & World Report, VentureBeat, ReCode, and various trade publications, such as eMarketer and The Financial Brand.