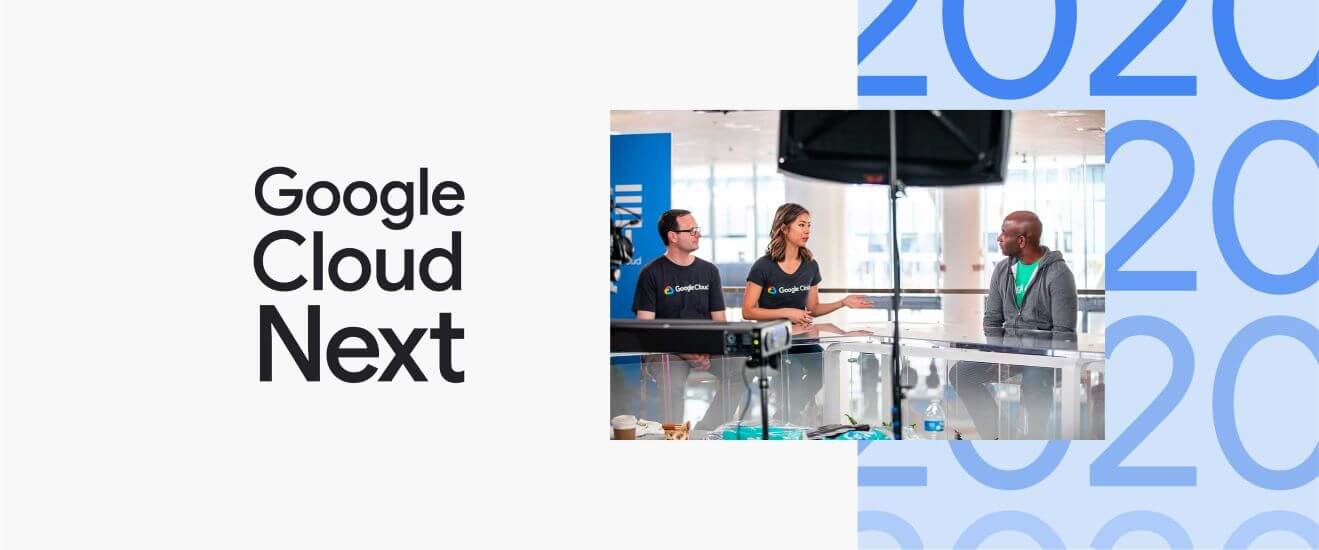 The News: Google Cloud began its Next '20: OnAir virtual conference, where executives made some exciting announcements about what to expect soon. The multi-week virtual event started in mid-July and will wrap up this next week. Read more about Google Cloud Next '20 on the Google Cloud blog.
Analyst Take: As with pretty much every conference this year, Google Cloud Next '20 conference was originally planned as an in-person conference meant for customers and partners to attend in person. Due to the pandemic, it turned into a nine week-long digital event dubbed Google Cloud Next '20: OnAir. The event kicked off in July and will end in September. I'm interested to see what we can expect to see from Google Cloud in the coming months and perhaps you are as well.
The opening session of the Google Cloud Next '20 OnAir Digital event was kicked off by Google Cloud CEO Thomas Kurian outlining Google Cloud strategy around accelerating digital transformation in the cloud — something that pretty much every business of every size is focused on right now. Kurian covered infrastructure enhancements, multi-cloud app modernization, multi-cloud analytics, compliance and data control enhancements, as well as highlighting some industry-specific solutions. The sessions that followed focused on Productivity & Collaboration, Infrastructure, Security, Data Analytics, Data Management & Databases, Application Modernization, Cloud AI, and wrapping up with Business Application Platform, featuring relatively deep dives on them all.
Some interesting announcements in the early sessions focused on Confidential Computing with Confidential VMs that can make cloud workloads more private thanks to data encryption at all times—such as during rest, transit, and processing. This provides the ultimate data protection for Google Cloud users, which is especially helpful for businesses in heavily regulated industries that require a lot of privacy and confidentiality.
BigQuery Omni will make it seamless to move between clouds with multi-cloud analytics. This allows users to query data in Microsoft Azure and Amazon Web Services without moving the data to Google Cloud. The result is that customers can enjoy the power of BigQuery analytics without paying fees to move the data to Google. This is a big deal for most businesses, as they usually can't afford to frequently move data between different cloud providers and having an easier way to analyze data stored in several public clouds will be attractive. This is a smart move on the part of Google Cloud.
Google also highlighted its Assured Workloads for Government offering, which is designed to secure government workloads and accelerate users' ability to run compliant workloads on Google Cloud. This feature is currently in private beta in certain regions of the US. But once it's available to everyone, users will be able to automatically apply controls to workloads as needed, which will make it possible for to meet all security requirements when processing government data. This will be a relief to the cloud providers that previously had to create separate environments with standalone data centers in order to run their government workloads.
The launch of Google Cloud's Customer to Community (C2C) was another topic of discussion at Google Cloud Next '20: OnAir. C2C is a community designed for Google Cloud users to connect with one another to learn and collaborate. The ability to easily reach out to other professionals is especially important during the pandemic, as people might otherwise find it difficult to connect with others to share their knowledge. When Google Cloud customers join C2C, they'll be able to access networking opportunities, attend events, read and share content, and reach out to other experts.
Want to browse the sessions offered at Next '20: OnAir — here's a list that's linked to each session:
I'll close by saying that as I navigated the Next '20: OnAir interface exploring content that I was interested in exploring I was both surprised and thrilled to see this:
Cloud AI Track
Productivity & Collaboration Track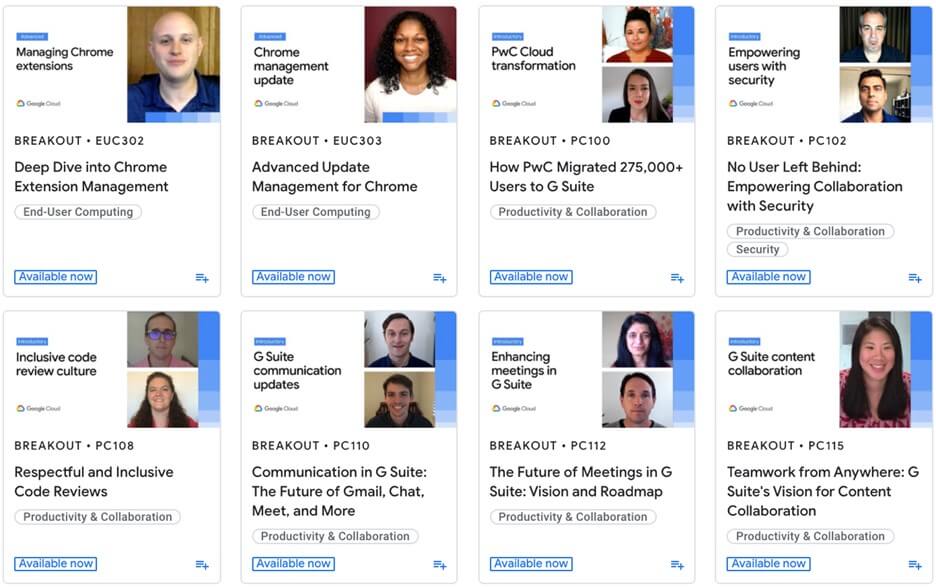 See all those female faces? This is a sample from just a few of the tracks, but I'm guessing you get my point. They're there! As an analyst who attends more conferences, virtual and otherwise, than most, the norm when it comes to representation at corporate events, especially in the tech space is men, men, and more men. While I like and respect my male colleagues, it is a breath of fresh air to see some of the many brilliant women in tech represented at Google Cloud Next '20: OnAir. Note to Big Tech brands, more of that, please.
The Google Cloud Next '20: OnAir event wraps up this coming week, with the Business Application Platform track, but the content remains available to all to consume at your leisure. There was a ton of great information presented by the Google Cloud team in a well-developed, well-designed, easy-to-consume interface.
With the company touting client relationships, including Verizon, Goldman Sachs, Human, Spotify, Deutsche Bank, FOX Sports and Proctor & Gamble, Group Renault, Telefónica, Carrefour and others, it's clear Google Cloud is working to make significant inroads in the cloud arena, which has thus far been dominated by Amazon's AWS and Microsoft Azure. It will be interesting to watch these offerings continue to evolve.
Check out Google Next '20: On Air in its entirety here.
Futurum Research provides industry research and analysis. These columns are for educational purposes only and should not be considered in any way investment advice.
Other insights from Futurum Research:
Google Cloud Announces General Availability of its VMware Engine
The NVIDIA A100 Is Now Available On Google Cloud 
Google Extends Work From Home Policy Through End of June 2021
Image Credit: Google Cloud
The original version of this article was first published on Futurum Research.
Shelly Kramer is a Principal Analyst and Founding Partner at Futurum Research. A serial entrepreneur with a technology centric focus, she has worked alongside some of the world's largest brands to embrace disruption and spur innovation, understand and address the realities of the connected customer, and help navigate the process of digital transformation. She brings 20 years' experience as a brand strategist to her work at Futurum, and has deep experience helping global companies with marketing challenges, GTM strategies, messaging development, and driving strategy and digital transformation for B2B brands across multiple verticals. Shelly's coverage areas include Collaboration/CX/SaaS, platforms, ESG, and Cybersecurity, as well as topics and trends related to the Future of Work, the transformation of the workplace and how people and technology are driving that transformation. A transplanted New Yorker, she has learned to love life in the Midwest, and has firsthand experience that some of the most innovative minds and most successful companies in the world also happen to live in "flyover country."