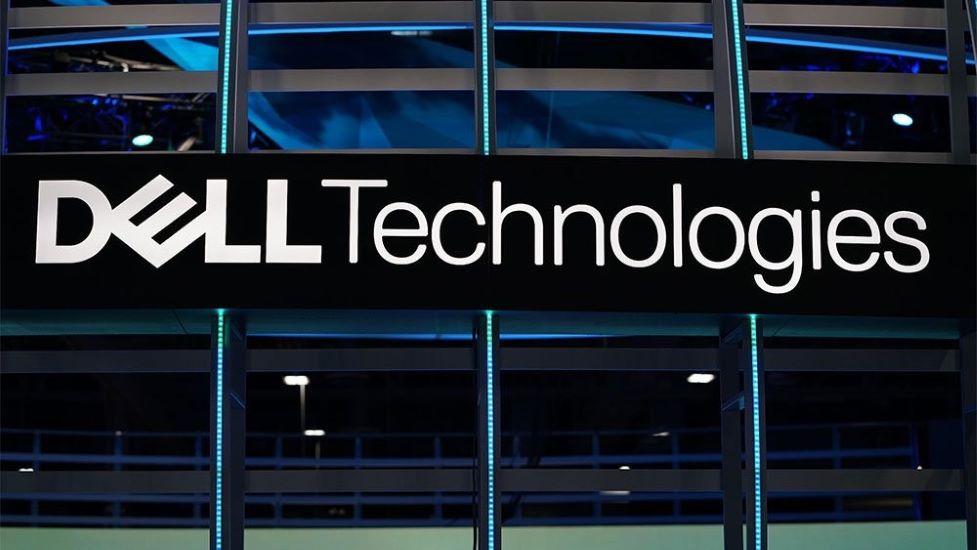 The News: Dell Technologies (NYSE: DELL) reported fourth quarter and full year fiscal 2022 results after the market closed on February 24, 2022, posting a healthy 17 percent increase in full year revenue to $101.2 billion and a 16 percent rise in Q4 revenue to $28 billion. The full year 2022 earnings figure breaks all previous yearly earnings tallies for the company.
Here's a quick breakdown of the headline numbers:
Fourth quarter revenue of $28 billion, up 16 percent from $24 billion for the same quarter in fiscal 2021.
Fourth quarter operating income of $1.6 billion, up 13 percent from $1.4 billion one year ago.
Non-GAAP diluted earnings per share for the fourth quarter was $1.72, down 2 percent from $1.76 per share one year ago.
Fiscal 2022 full year record earnings of $101.2 billion, up 17 percent from $86.7 billion in fiscal 2021.
Full year fiscal 2022 operating income set a new company record of $4.7 billion, up 26 percent over the $3.7 billion from the prior year.
Non-GAAP diluted earnings per share for full year fiscal 2022 are $6.22, up 27 percent from $4.88 per share in full year fiscal 2021.
It was another strong year and quarter for Dell Technologies, driven by robust demand, ongoing competitive advantages, and continuing strong execution. That is especially impressive in the face of the now almost-two-year-old COVID-19 pandemic and its wide-ranging impacts on semiconductor supplies and other critical parts supply shortages, shipping slowdowns and broader global demand shocks. Read the full release on Dell's Investor Relations Page.
Dell Technologies Posts Another Earnings Record with Full Year Fiscal 2022 Revenue of $101.2B, as Strong Performance Continues Across All Business Units
Analyst Take: Dell Technologies delivered a solid albeit mixed fourth quarter that included impressive top line revenue growth, a robust backlog, and notable client growth. Strong performance across all business units resulted in fourth quarter revenue of $28 billion beat analyst estimates of $27.4 billion, and full year revenue beat analyst estimates of $100.9 billion, as the company continues to fire on all cylinders despite the continuing supply chain, shipping and other business pressures that come with a once-in-a-lifetime pandemic. While a small miss on EPS did draw eyes away from the strong top line growth, the miss was based upon a tax calculation rather than any major operating issues. Overall, we continue to be impressed with and bullish on the performance of this market and category leader.
These successful fourth quarter and full-year earnings chapters in the latest history of Dell Technologies are also marked as being the first in recent years to no longer include financial results from its former VMware division, which was spun-off in 2020. Dell's previous third-quarter results were the last to include VMware results, marking the end of that chapter of its business lines.
Earnings per share for the quarter and for the year both came in below analyst estimates, which are one of the few low points in the numbers. For Q4, earnings per share were $1.72, compared to analyst estimates of $1.95, while earnings per share for the full year were $6.22, which both fell below the analyst estimates of $6.53.
But even with those lower than expected share prices, Dell Technologies continued to outperform and grow its own numbers in a wide range of product and service categories, business units, customer segments, and geographies. And those gains are seen in a wide range of key solutions areas, including commercial PCs servers, and storage.
Dell Technologies has a considerable historical footprint in the IT sector and spans everything from consumer gaming-focused PCs to Enterprise Class storage and everything in between. We believe we will see Dell continuing to extend comfortably into these areas, given how well the company is positioned today and tomorrow with its core offerings. We also see Dell making a significant investment to bolster its hybrid cloud, 5G, and consumption services (Apex) in order to improve stickiness and expand revenue within its customer base.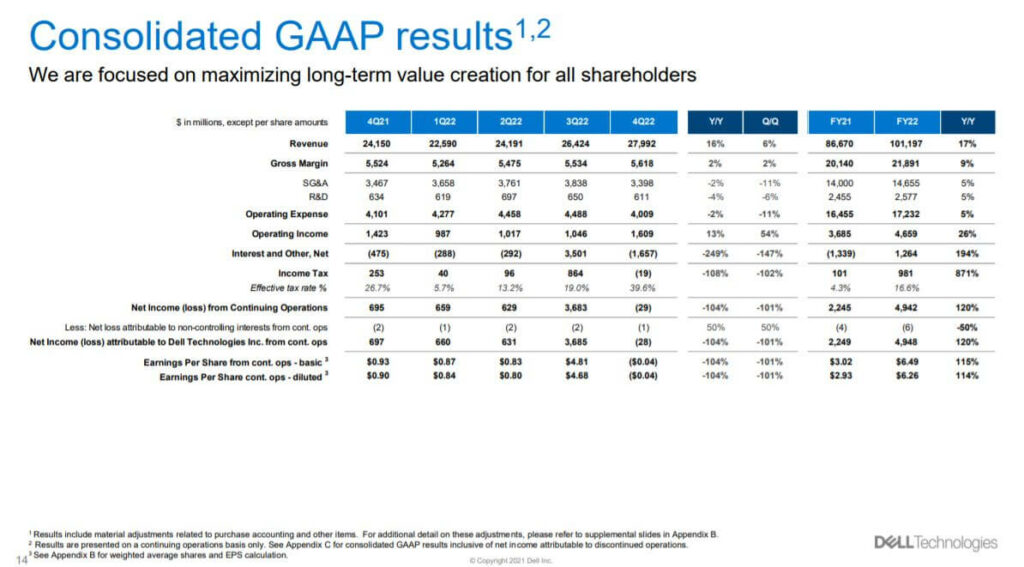 Overall Q4 Growth and Performance
Looking at overall Q4 growth and performance, revenues were up across both the Infrastructure Solutions Group (ISG) and Client Solutions Group (CSG) business units on an overall basis.
Total ISG revenue for Q4 was $9.2 billion, up 3 percent from $9 billion one year ago, while full year revenue was $34.4 billion, up 4 percent from $33 billion in fiscal 2021. Total CSG revenue for Q4 was $17.3 billion, up 26 percent from $13.8 billion one year ago, fueled by a 30 percent gain in commercial sales. Full year revenue was $61.4 billion, up a healthy 27 percent from $48.4 billion in 2021.
The storage business within the ISG unit saw flat revenue for both the quarter and full year, which has been an up and down market for the company in the recent past.
ISG would have seen considerably strong results if backlogs could be cleared up. This has been an industrywide challenge. Dell has been one of the best at dealing with supply constraints throughout the pandemic. However, we heard from Cisco as well, backlogs on items like storage and servers is a hurdle to realize revenue against growing backlogs.
Business Unit Growth
Dell's ISG unit provides an expanding array of technology and services designed to help business customers digitally continuously transform their organizations.
In the ISG unit, net Q4 revenue for servers and networking was $4.7 billion, which was up 7 percent from $4.4 billion one year ago. For the full year, net revenue for servers and networking was $18 billion, up 8 percent from $16.6 billion one year ago.
Revenue in the ISG storage unit was flat at $4.5 billion in Q4, compared to the same figure a year ago, and flat for the full year at $16.5 billion, compared to $16.4 billion one year ago.
Dell's Client Solutions Group includes the company's commercial and consumer divisions. Both continued to do well due to strong demand from pandemic-related work from home requirements as well as more businesses getting back to work and expanding their workforces following COVID-19 shutdowns or operational slowdowns.
The commercial client business unit is the busiest CSG segment and showed that in Q4 and for the full year, with $12.9 billion in revenue for Q4, which was up 30 percent from $10 billion in the same quarter one year ago. Revenue for the full year for commercial sales was $45.6 billion, up 29 percent from $35.4 billion one year ago.
The consumer CSG unit grew as well, with Q4 revenue of $4.4 billion, up 16 percent from $3.8 billion in the same quarter in 2021, and full-year revenue of $15.9 billion, up 23 percent from $13 billion in 2021.CSG has been a standout business for Dell this year. With PC demand off the charts throughout the pandemic, Dell should have been an expected winner. However, the outsized results reflect solid management and a more desirable product mix.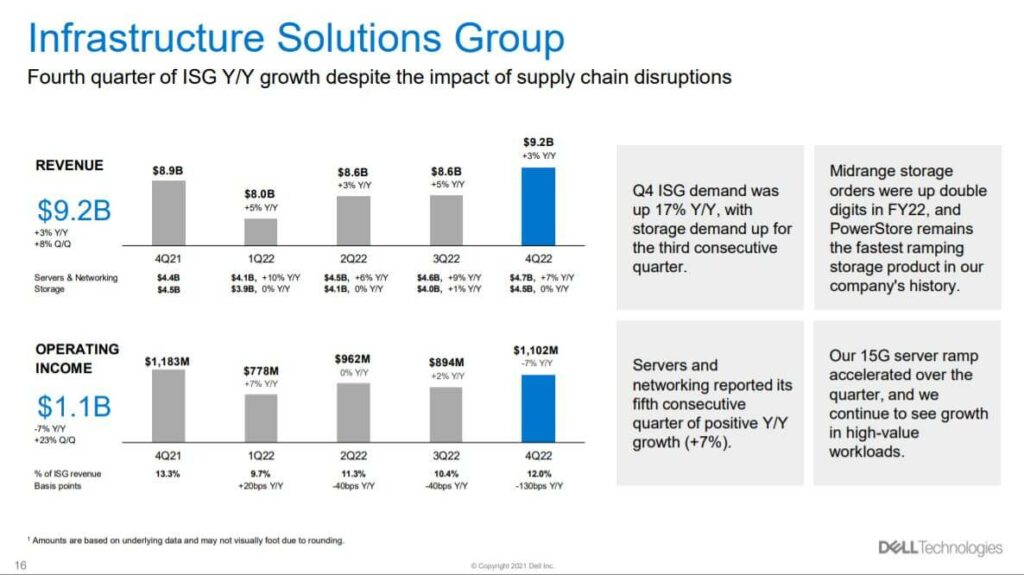 Supply Chain Outlook for 2022
With supply chain challenges continuing, Jeff Clarke, Dell's co-chief operating officer, said the company is still experiencing shortages of integrated circuits across a wide range of devices, including network controllers and microcontrollers which are used in the company's products and services. The supply chain impacts are occurring across client systems, servers, and storage.
Also affecting Dell are freight costs that are continuing to rise due to increased shipping rates, which is further pressured by higher use of air freight because ocean-going transport is already overloaded.
The company has reduced its PC backlog over the last two quarters and it is nearing the high-end of its normal range, but that PC backlog is expected to grow again in Q1 2023 due to continuing high demand and component shortages, said Clarke. "We expect our ISG backlog to remain elevated through at least the first half of the year as part shortages continue," he said.
On a positive supply chain note, Dell expects component costs to improve with modest deflation in Q1 while freight costs remain elevated. Of course, competitors are also dealing with these same challenges.
What's Next in FY2023
What's ahead? Dell executives said they see another year of healthy growth and all signs point to that assessment being accurate. But they also said they were not resting on those beliefs and are working to deliver deeper services for customers, including data center modernization strategies using automation and intelligence, deploying IT at the Edge, and continuing to simplify multi-cloud for enterprises.
An important example of this strategy is a continuing expansion of Dell's APEX Flex on Demand subscription offering, which was launched in FY2022. Dell said the service is resonating with customers and in Q4 there were significant expansions of the APEX Cloud Services portfolio which will grow in FY2023.
Among the latest services are APEX Multi-cloud Data Services, which delivers storage and data protection as-a-service with simultaneous access to all major public clouds through a single console. This allows Dell customers to access the cloud services they want while maintaining control of their data on-premises, avoiding lock-in and egress fees while also allowing customers to meet regulatory and compliance requirements.
Also new are APEX Backup Services, which give customers scalable data protection with centralized monitoring and management for SaaS applications, endpoints and hybrid workloads, as well as backup, disaster recovery and long-term data retention. The offering if provided as-a-service, without the need to manage any infrastructure by the customer.
We see APEX as a critical business focal point for Dell. As hyperscale cloud providers continue to look for growth on-prem, there is growing competition in this space. HPE, Lenovo, and Cisco are all large-scale IT infrastructure providers developing hybrid cloud services. Between public cloud providers and industry competition, Dell will have its work cut out for it. However, with its massive client base and reputation, we expect Apex to catch on in the coming year.
Dell also said it aims to continuing to push its innovation agenda in Telco, Edge, and multi-cloud in FY 2023, with more details to come.
We think this is a forward-looking and smart initiative that will help Dell Technologies meet its existing and new customers with the products and services they continue to need to run and transform their own growing operations.
Overall Impression of Dell Technologies Q4 and Full Year 2022 Results
Despite the lingering effects of the pandemic as it drags on, Dell continues to be well-positioned to take advantage of secular trends such as edge computing, hybrid (multi) cloud, and increased focus on data management. Dell continues to ruthlessly execute on the supply chain side despite headwinds driven by supply chain issues, parts supply price increases, and the overall chip shortages. The company is finding ways to cope and grow despite the challenges, which is admirable. All of this continues to help the company show solid results across its business units. Dell also declared a $1.32 per share annual dividend this quarter. We like the timing of this announcement as volatility and uncertainty have investors looking for stable names that can carry weight as value and growth.
Looking Ahead
Dell gave guidance revenue for Q1 2023, with expectations of revenue between $24.5 billion to $25.7 billion, up 11 percent at the midpoint, with CSG and ISG growing.
The company said it is optimistic about the overall macro-economic environment, with global IT spending projected to rise by the mid-single-digits.
Dell Technologies, through its largely positive Q4 and full-year fiscal 2022 results, again shows that it is one of the premier technology players in the world and that it does so by meeting customer needs and expectations wherever they are. We continue to be bullish about Dell, its direction and its strategy in making its way through any storm and finding ways to deliver customer and investor value.
Disclosure: Futurum Research is a research and advisory firm that engages or has engaged in research, analysis, and advisory services with many technology companies, including those mentioned in this article. The author does not hold any equity positions with any company mentioned in this article.
Other insights from Futurum Research:
MWC 2022: Dell Intros New Open Telco Solutions and Works with Marvell to Spur Open RAN 
Dell APEX, Microsoft Acquires Activision, Intel's Ohio Fabs, Luminar & Mercedes, 5G Debacle – The Six Five Webcast
Dell's Multi-Cloud Portfolio Expansion Intended to Ease the Enterprise Multi-Cloud Journey
Image Credit: Investor's Business Daily
The original version of this article was first published on Futurum Research.
Daniel Newman is the Principal Analyst of Futurum Research and the CEO of Broadsuite Media Group. Living his life at the intersection of people and technology, Daniel works with the world's largest technology brands exploring Digital Transformation and how it is influencing the enterprise. From Big Data to IoT to Cloud Computing, Newman makes the connections between business, people and tech that are required for companies to benefit most from their technology projects, which leads to his ideas regularly being cited in CIO.Com, CIO Review and hundreds of other sites across the world. A 5x Best Selling Author including his most recent "Building Dragons: Digital Transformation in the Experience Economy," Daniel is also a Forbes, Entrepreneur and Huffington Post Contributor. MBA and Graduate Adjunct Professor, Daniel Newman is a Chicago Native and his speaking takes him around the world each year as he shares his vision of the role technology will play in our future.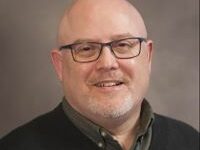 Todd is an experienced Analyst with over 21 years of experience as a technology journalist in a wide variety of tech focused areas.