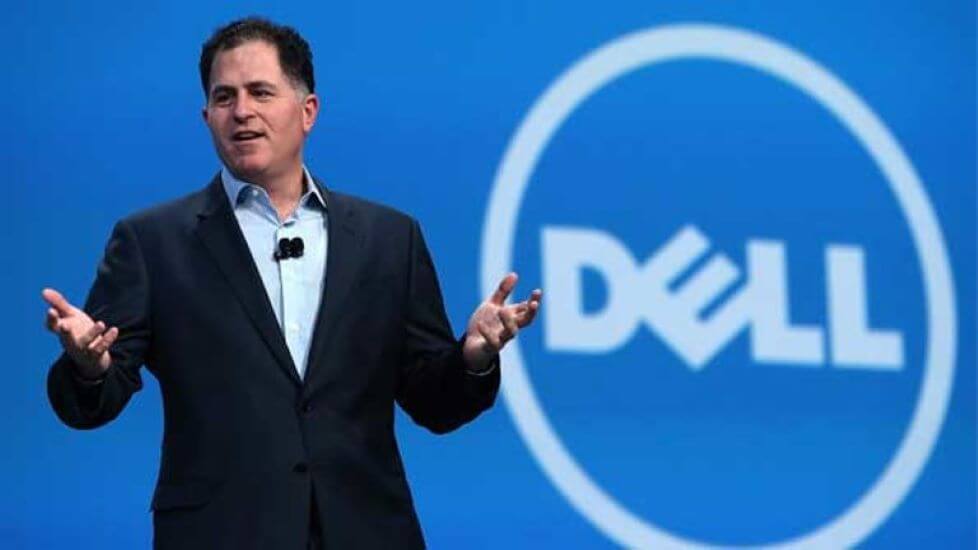 The News: Dell Technologies reported a strong first quarter on Thursday, with strong growth from key elements of its Client Solutions Group, particularly commercial notebooks. However, total revenues were effectively flat year-over-year with infrastructure sales declining.
Dell's non-GAAP diluted earnings per share came to $1.34 on revenue of $21.9 billion.
Analysts were expecting earnings of $1.01 per share on revenue of $20.83 billion. Read the full news piece on ZDnet.
Analyst Take: Dell was able to enjoy a set of solid results as the company delivered above analyst expectations for both revenue and earnings. Amidst the Covid-19 Pandemic, we are seeing inconsistent earnings results and it is safe to say that for the IT industry, Dell is somewhat of a bell weather for enterprise spend on IT.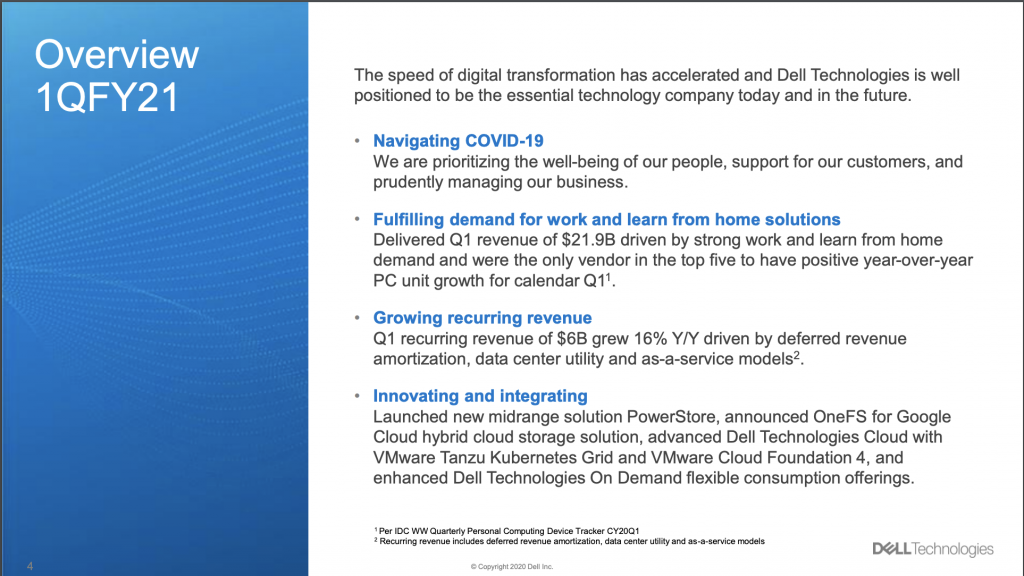 During the company's fiscal first quarter, the company had to navigate the troubling headwinds of Covid-19, on the heels of a challenging slowdown that was caused by China's earlier shutdown and ongoing trade dispute.
This left Dell Technologies in a more challenging position, but with the rapid transformation that many businesses had to endure in moving from traditional office environments to work-from-home, Dell Technologies diverse businesses in client, cloud and services provided a platform for continued revenue and profitability that ultimately led to the strong quarter result.
Dell Maintains Top Spot Across a Wide Swath of Categories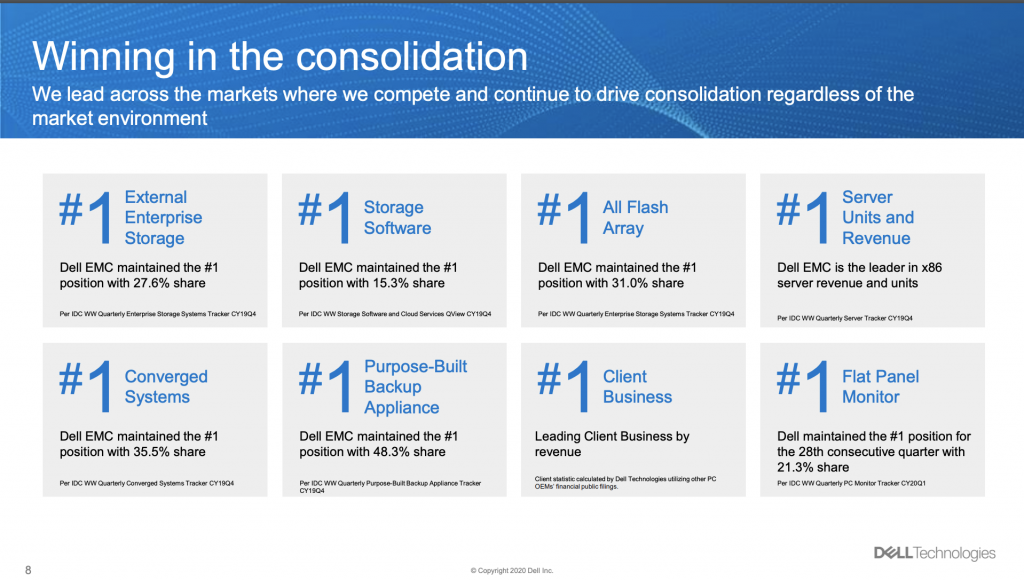 Michael Dell is known for his commentary on market share focus and the company measures a lot of its success by its market share in key areas. As the overall TAM for certain portions of the business have seen reductions amidst Covid-19, specifically in the infrastructure space, Dell has been focused on taking market share of the overall business. It is generally accepted that these available markets will return and grow in many areas, for now Dell is targeting the biggest portion of the markets that it serves. Leadership in key areas including Client, Server, Monitors and Converged Systems are indicators of the company's ability to lead across a diverse set of technologies.
Dell is Leaning Hard into Multi-Cloud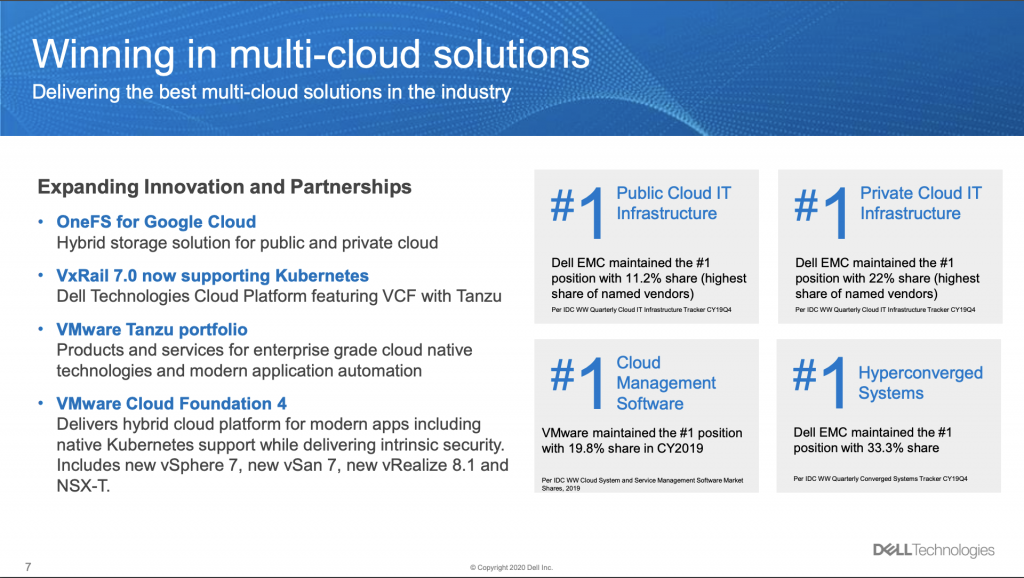 While Dell has historically been known for its PC business, it has been vocal that its future lies in being an enabler for enterprise to move to the Cloud. The acquisition of EMC and the purchase of 80% of VMware (More below), have put the company firmly in the center of enabling enterprise migration from traditional on-prem datacenter to hybrid and multi-cloud architecture.
The Dell Technologies Cloud Platform and the innovations of VMware are important components for enterprises looking to deploy multi-cloud solutions and while there are competitive offerings, Dell Tech with VMware is well positioned because of where the company sits in the ecosystem. We are certainly going to see users migrate toward more multi-cloud instances where AWS, Azure, Google, IBM and other clouds will co-exist–This is where VMware is differentiated. While it isn't exclusive, the company hold the #1 marketshare for managing multi-cloud and it will continue to propel the company's ambitions in cloud.
Client Compute Grows as Work From Home Business Grows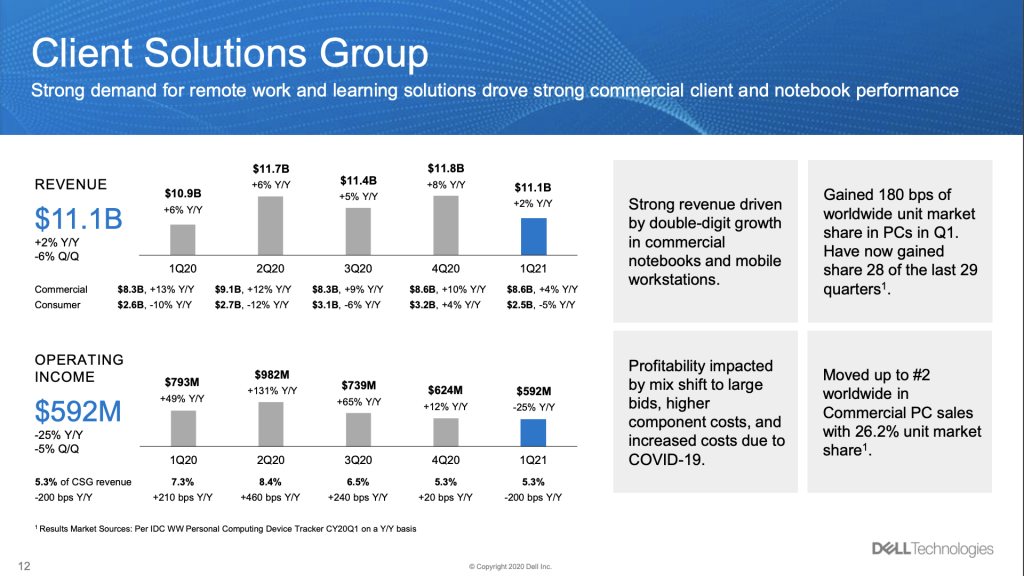 Client Solutions Group revenue for the first quarter was $11.1 billion, up 2 percent versus the first quarter of last year with an operating income of $592 million or more than 5 percent of Client Solutions Group revenue. This included Double-digit unit and revenue growth in commercial notebooks and high-single-digit revenue growth in mobile workstations. Dell can stake the claim this quarter of being the only top 5 vendor gaining year-over-year worldwide share in total and commercial client units where it also moved up to #2 worldwide in commercial PC sales with a 26.2 percent-unit share.
We realized quickly, as workers were sent home for Covid-19 that the worldwide demand for PCs was about to explode and winners would be companies like Dell, HP and Lenovo so long as each could fulfill demand. It is also not a surprise that commercial client was where the growth came as businesses sought to buy volumes of PCs whereas consumers saw more economic distress, likely limiting purchases that weren't essential.
ISG Sees Soft Revenue as Covid-19 Persists Slowing Enterprise IT Spend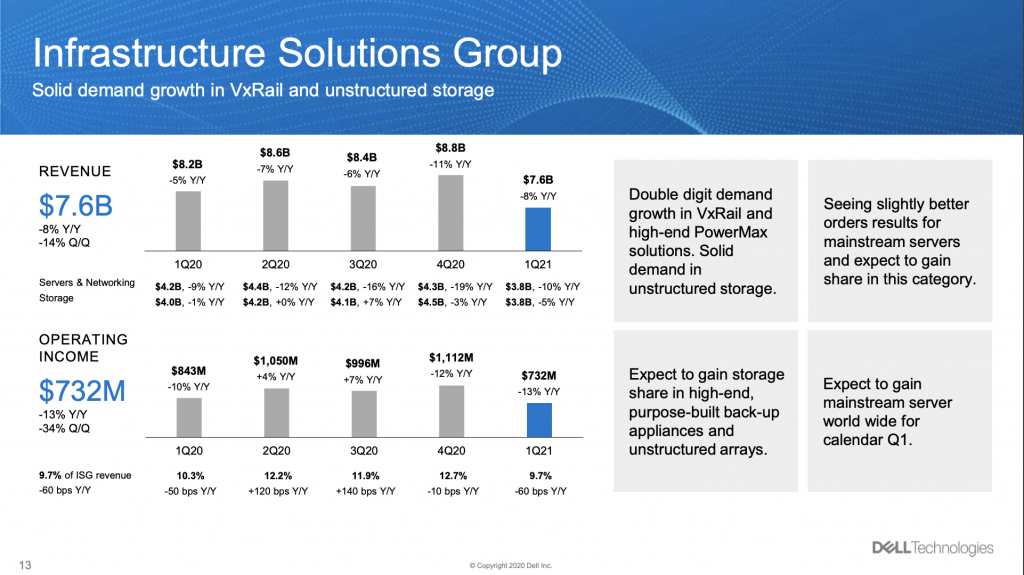 Infrastructure Solutions Group revenue for the first quarter was $7.6 billion, which represented an 8 percent decrease year-over-year. A few of the results and highlights that were included in the earnings report were:
Storage revenue was $3.8 billion, down 5 percent year-over-year,
Servers and networking revenue was $3.8 billion, down 10 percent.
Operating income was $732 million for the first quarter, or approximately 10 percent of Infrastructure Solutions Group revenue.
Key highlights: (Per Dell's Earnings Press Release)
• Began shipping PowerStore – an innovative autonomous storage platform built from the ground up to support multiple workloads for the midrange segment, the biggest part of the external storage market. PowerStore includes CloudIQ storage monitoring and analytics software that combines machine learning and human intelligence. Dell Technologies will integrate CloudIQ across the full Dell Technologies infrastructure portfolio for greater insights. Dell EMC Cloud Storage Services can connect PowerStore to all of the big three public clouds as a managed service.
• Earlier this month, announced Dell Technologies Cloud OneFS for Google Cloud to help organizations control exponential data and application growth and ease the flow of files across their private clouds and Google Cloud
• Added a one-year term to Dell Technologies On Demand flexible consumption offerings, which can also be used with the Dell Technologies Cloud Platform.
Dell has seen consecutive quarters of revenue declines in ISG. This isn't alarming given China trade constraints and now Covid-19, but it is something to keep an eye on.
I'm also watching closely the Dell Technologies on Demand business as I believe services are a key pivot for Dell. The company has long participated in the financial services and leasing space, but has recently expanded to offer more infrastructure services in a consumption format. While VMware does reflect a big chunk of the company's strong recurring revenue numbers, Dell Tech can claim a robust ~$6 billion a quarter in recurring revenue that provides tremendous stability to the company's performance.
VMware Continues to Show Strong Growth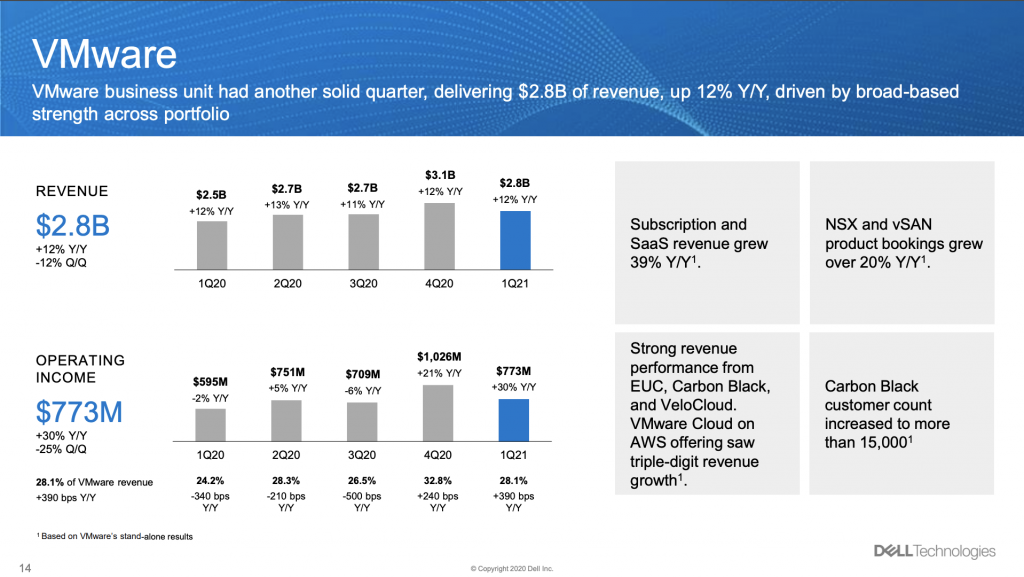 VMware revenue was $2.8 billion with an operating income of $773 million for the first quarter, which reflects an increase of 12 percent.
Key highlights: (From Dell Tech's Earnings Press Release)
• Announced the new VMware Tanzu Portfolio and its suite of tools for deploying and managing Kubernetes and the new VMware vSphere 7.
• Released VMware Cloud Foundation 4, which delivers intrinsic security and lifecycle management across software-defined compute, storage and networking, and hybrid cloud environments.
VMware continues to be a critical add for Dell Tech. The company's stickiness remains a key connector to the enterprise migration to cloud. With strong licensing revenue yielding 39% YoY growth in recurring revenue, VMware is able to deliver growth in overall income contributions to Dell Tech, which certainly played a big part in the strong overall result this quarter.
Dell Pulls Guidance but Maintains Business Stability In Tact
Dell, as have a large number of companies amidst the Covid-19 outbreak, has opted to pull its guidance for the next quarter. However, the company in a post-earnings briefing, maintained that the expectation is that the company will fall just below its previous sequential growth rates in the range of 6-8%.
One small sidebar that indicates the challenging times, despite the strong earnings, was a recent report that Dell has suspended its 401K match. While this isn't a huge surprise as companies take actions to secure long term cash requirements, I do have to wonder what, if any, impact this may have on morale–The suspension is set to expire at the year end and I do believe these will return when the economic situation around Covid-19 becomes more stable. These are challenging times and I don't hold in contempt for companies making conservative plays so long as stock buybacks are eliminated before employees are cut or benefits are eliminated.
Overall Impressions of Dell Technologies Q1 Earnings Report 
Last week when HPE delivered its earnings, it set off some alarm bells as another company that is a bell weather for enterprise IT spend. Dell showed here that its strategy, diversification and overall size has insulated the company from some of the challenges related Covid-19 and the ensuing shutdowns and slowdowns across a wide swath of industries.
Dell Technologies did suffer a pull back in its Infrastructure Group, and I will be looking for that to return to growth given its importance to the business, but the company's significant deferred revenue, recurring services revenue and the PC component of the business all provided a boost to deal with the complexities of the market. VMware's growth also has been a predictable support mechanism for the business and with that and the growth of commercial client, the company delivered above where analysts sought it to be.
I am eager to see the next quarter as the missing guidance will make for a more interesting reporting for Dell Tech. Having said that, I believe its focus on multi-cloud and the support of the PC business will keep Dell Technologies in a good position to deliver another positive quarter when it reports its fiscal Q2 in August.
Futurum Research provides industry research and analysis. These columns are for educational purposes only and should not be considered in any way investment advice.
Read more analysis from Futurum Research:
Nvidia has Become a Power Broker for the Next Wave of Datacenter Technology
Cisco Delivers Above Expectations for Q3 Despite Headwinds
Microsoft Azure Scoops up Metaswitch in Bid to Make Azure the Meta-5G Edge Cloud
Image: Dell Technologies
The original version of this article was first published on Futurum Research.
Daniel Newman is the Principal Analyst of Futurum Research and the CEO of Broadsuite Media Group. Living his life at the intersection of people and technology, Daniel works with the world's largest technology brands exploring Digital Transformation and how it is influencing the enterprise. From Big Data to IoT to Cloud Computing, Newman makes the connections between business, people and tech that are required for companies to benefit most from their technology projects, which leads to his ideas regularly being cited in CIO.Com, CIO Review and hundreds of other sites across the world. A 5x Best Selling Author including his most recent "Building Dragons: Digital Transformation in the Experience Economy," Daniel is also a Forbes, Entrepreneur and Huffington Post Contributor. MBA and Graduate Adjunct Professor, Daniel Newman is a Chicago Native and his speaking takes him around the world each year as he shares his vision of the role technology will play in our future.