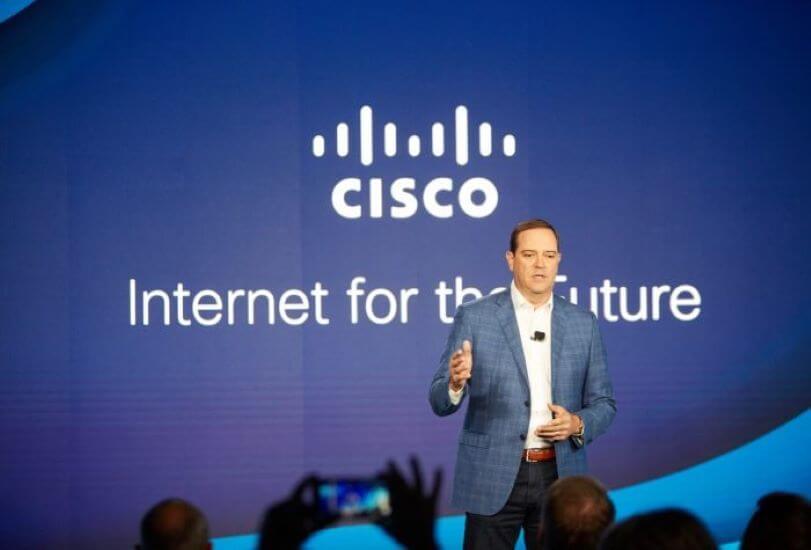 This Research Note Includes insights from Futurum Senior Analyst Ron Westfall
Earlier this month, Cisco held a highly important launch in which the company entitled "The Internet of the Future." Not just another typical launch of new switching equipment, but a true next generation launch pad for the company as it used the event to introduce new Silicon, which the company sees as a critical component for building what will be next for the network in the age of 5G.
The event focused on how the company envisioned the (r)evolution of service provider networks required to adapt Internet economics in meeting the massive scaling demands of the digital 5G-IoT era. With the number of Internet users expected to grow from 3.4 billion in 2019 to 4.8 billion in 2022. The number of devices and connections will grow even more, going from 18 billion in 2019 to 28.5 billion in 2022.
With such significant growth in users and devices, traditional Internet economics will increasingly be challenged as containing and managing operational expenditures (OpEx) becomes unsustainable making it too costly or perhaps even impossible to efficiently fulfilling the exponential growth projections for consumer IP traffic.
A Brief History, Moore's Law and Dennard's Scaling Law
For years, the Internet industry, and specifically service providers, relied heavily on Moore's Law to deal with the economics of scaling to meet the new technical demands of customers. In essence, Moore's Law states that the number of transistors on a microprocessor chip will double approximately every two years, which has also generally resulted in the doubling of the chip's performance on a cost-effective basis.
As a result, we have seen exponential improvements that powered consistent innovation and technological breakthroughs throughout the industry, enabling the availability of the first basic home computers of the 1970s through the advanced routing platforms, supercomputers, cloud data centers, and smart devices of today. Since the 1990s, the chip industry has consistently released research road maps approximately every two years to harmonize coordination throughout the ecosystem of manufacturers and suppliers to align and capitalize on the economic benefits of the law.
However, as many people may be aware, Moore's Law has started to slow down during the past decade. Some of the key factors for the slow down include the limits in managing the heat that is inevitably generated when increasingly more silicon circuitry is crammed into the same small area. As chip geometries have continued to shrink toward sub-10 nanometers (nm), features become measured at the atom level whereupon electron behavior is governed by quantum uncertainties rendering transistors as more unreliable. In addition, costs add up as design and manufacturing expenses escalate due to the increased complexity in qualifying, verifying, prototyping, and validating these new sub-10 nm chipset designs.
Dennard's Scaling Law: Yes Dennard!
The slowing down of Moore's Law is becoming more broadly understood although the magnitude and timing of the implications are not necessarily agreed upon by a broad field of manufacturers and experts. However, in alignment with Moore's Law is the lesser known Dennard's Scaling Law. Dennard's Law stipulates that that as the dimensions of a device shrink, so does power consumption. While Moore's Law held so did Dennard's Law, enabling smaller transistors to run faster, use less power, and cost less.
And while Moore's Law has been slowing down the last several years, Dennard's Scaling Law started to diminish sooner, effectively ending over the last decade. The inability to operate within the same power envelope led the chip industry's transition to multicore architectures, creating significant challenges for memory technology. With each passing generation, the number of memory controllers per core decreased and the burden on the memory system and related costs expanded.
The diminishing returns on Moore's Law and the demise of Dennard's Scaling Law has spurred angst throughout the Internet industry as the fundamental drivers that underpinned and powered the economic scaling and innovative computing breakthroughs over the last 50 years has come into question. What, if anything, can service providers do to survive and compete in the world of skyrocketing bandwidth and service quality demands combined with limited prospects in containing expenditures while delivering more value to customers?
The Internet of The Future Requires Different Laws, Economics, and an Evolved Service Provider
Based upon what was announced, I believe Cisco's Internet of the Future provides the solution that is essential in redefining Internet economics while meeting the significant network architecture challenges of service providers. Essentially, Cisco is addressing how the diminishing of Moore's Law and the dissolution of Dennard's Law must be addressed in order to revitalize the relevance and applicability of both Laws toward spurring rapid innovation throughout the industry. Cisco is proposing evolving network architectures on a converged, cloud-enhanced, and fabric-based approach that is capable of delivering unprecedented cost and power efficiencies, accelerated integration of augmented intelligence inputs, and streamlined, prioritized operations.  All the while, offering a level of customization and field programmability that will be needed to keep up with the ongoing evolution that commonly exists within the network. This is what Cisco delivered when it announced SiliconOne.
However, the way Cisco is going to accomplish this isn't just through providing portfolio innovations across the silicon, software, and optics domains, but through enabling service providers to offer the required breakthrough the cost and power efficiencies, along with prioritized operations and augmented intelligence, that fulfill the specific Internet consumption demands of enterprise and consumer customers. The value of this innovation cannot be understated, most notably because of the way service providers have historically handled innovation versus how innovation will need to be handled in a more agile manner, which hasn't really been possible before the launch.
Perhaps the easiest way to look at this is through the eyes of the service provider. With the debut of the Silicon One silicon architecture Cisco is unifying silicon development to consolidate advanced routing capabilities and switching efficiencies onto a single chip. This enables the service provider flexibility rather than being stuck in the established practice of developing separate routing and switching chipset lines where only incremental but limited improvements in areas like cost per chip and power consumption could be achieved. Additionally, Silicon One integrates system-on-a-chip, line card, and fabric functions onto a single chip design while supporting both fixed and modular form factors and fulfilling across-the-board servicer provider and webscale environment demands. This system approach is exactly why the likes of AT&T, Century Link, Comcast, Facebook, Microsoft and The Walt Disney Studios have already adopted Cisco's Internet for the Future proposition in order to propel joint innovation within the next Internet, providing instant market credibility.
The new approach significantly alters the established silicon development practice of using roadmaps to improve chips and having the ecosystem and applications follow. Now the service provider requirements and applications will drive the chipset development itself.
Cisco's new offerings appear set to reduce the challenges related to long-term competitiveness throughout the service and content provider community and will serve as both a challenge and inspiration for competitors like Juniper and Huawei, which must rapidly refresh their product development and marketing strategies to counter Cisco's breakthrough innovation. I'm sure all of the companies are working on it, as Cisco spent five years developing its Internet for the Future portfolio. Having said that, it will be interesting to see how these competitors evolve their responses in 2020 and beyond. By partnering with Cisco, it can be argued that service providers are now better positioned than ever to power the broad acceptance of the converged, cloud-centric, fabric-based architectures essential to forging the new Internet. No doubt, Moore and Dennard are delighted.
Futurum Research provides industry research and analysis. These columns are for educational purposes only and should not be considered in any way investment advice.
Read more analysis from Futurum Research:
Dell Technologies's 5G Vision Embraces Shifting Network Architectures
Dynamic Spectrum Sharing: how 5G's secret accelerator pedal starts changing the game in 2020
Zoom Q3 Growth Slows but Its Trajectory Remains Solid
Image Credit: Cisco
The original version of this article was first published on Futurum Research.
Daniel Newman is the Principal Analyst of Futurum Research and the CEO of Broadsuite Media Group. Living his life at the intersection of people and technology, Daniel works with the world's largest technology brands exploring Digital Transformation and how it is influencing the enterprise. From Big Data to IoT to Cloud Computing, Newman makes the connections between business, people and tech that are required for companies to benefit most from their technology projects, which leads to his ideas regularly being cited in CIO.Com, CIO Review and hundreds of other sites across the world. A 5x Best Selling Author including his most recent "Building Dragons: Digital Transformation in the Experience Economy," Daniel is also a Forbes, Entrepreneur and Huffington Post Contributor. MBA and Graduate Adjunct Professor, Daniel Newman is a Chicago Native and his speaking takes him around the world each year as he shares his vision of the role technology will play in our future.