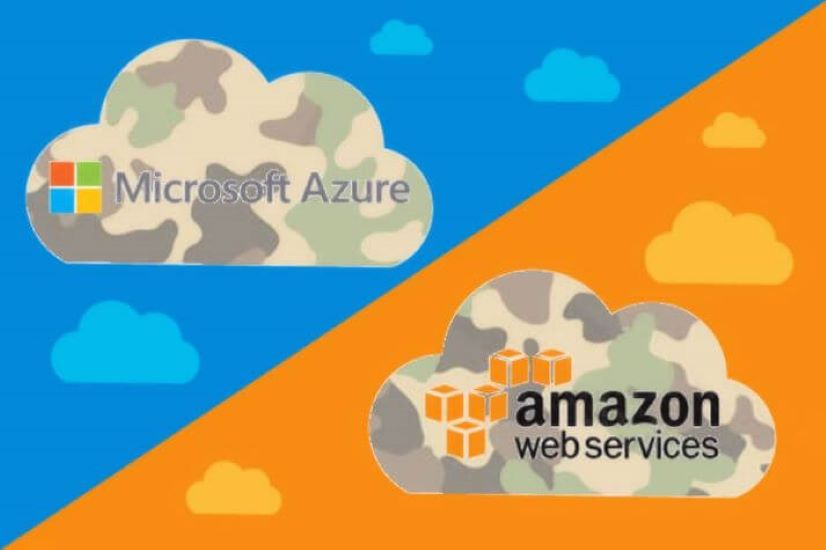 The News: In the continuing cloud wars between two tech giants in pursuit of the Department of Defense's $10Bn JEDI cloud services contract, Amazon scored today. A judge issued a temporary, sealed injunction blocking forward movement on the JEDI cloud contract originally awarded to Microsoft. As a condition of the injunction, Amazon must be responsible for any costs and damages incurred in the event it is decided the injunction was wrongfully issued. More on that at CNBC.
Cloud Wars: Amazon Scores as Judge Blocks Microsoft's JEDI Cloud Contract
Analyst Take: The dance between Microsoft and Amazon's AWS with regard to the award of the $10 billion, 10-year cloud services contract with the Department of Defense, called the JEDI contract, continues to play out.
The Amazon/Microsoft JEDI Cloud Services Contract Back Story
The contract was originally to have been awarded in September of 2018, but there were arguments along the way. Amazon and Microsoft originally vied for consideration along with Google, IBM, and Oracle (note that both IBM and Oracle were ultimately excluded from consideration and protested that exclusion), with most thinking that Amazon would ultimately get the nod.
But as time went on and the battle between the President and Amazon's Bezos continued to escalate, it was no surprise to anyone to see news that the President was going to take a close look at the Pentagon contract because he reportedly "…never had something where more people are complaining."
When the contract was ultimately awarded to Microsoft in late October of 2019, I think it's fair to say that Amazon was perhaps a little surprised, but probably a whole lot more outraged. Amazon has a long track record when it comes to dominating the cloud wars and winning a contract of this nature is likely more about stature and brand credibility in the market than it is about money.
But the reality of the cloud wars is that the market is changing, and the market perception of Microsoft Azure and its capabilities is likewise changing.
Microsoft is Gaining on Amazon
In earnings reports in October of 2019, Microsoft had managed to grow its Azure cloud business by as much as 59%*, while Amazon reported results in the same period showing that it was perhaps hitting what my partner, Daniel Newman, described when writing on this topic as "critical mass" — with AWS slightly missing revenue expectations ($9 billion versus the expected $9.1 billion). The 35% percent growth reported in that quarter was 11% less than the same period YoY and it's probably safe to say that the field between the two cloud giants is leveling a bit. Amazon's AWS continues to dominate the market, but Microsoft Azure is quietly taking market share.
Why This Isn't Surprising News
I have always believed that Microsoft would get the nod from the Department of Defense, and largely not because of the company's qualifications, but because the current administration has made no secret of its animosity toward Amazon's Jeff Bezos. And that's not to say that Microsoft hasn't shown that the company is fully capable of handling this project, especially as its Azure platform continues to become more popular within the enterprise. Microsoft was, as ever, strategic in how it set out to position itself as a contender here and undertook early on to obtain the security clearances needed to handle this cloud services contract. I believe Microsoft is both prepared and capable of doing exactly what it is the DoD seeks with regard to the consolidation of its cloud services with one vendor.
Bottom line, both Amazon and Microsoft are fully capable of undertaking this project and delivering stellar results. This isn't about capabilities, it's about a presumption of fair and equitable processes in the vetting and selection of candidates in a government bidding process. Ask Oracle and IBM how they feel about this — they have all the feelings on this front.
The Amazon AWS Lawsuit and What's Ahead
Soon after the announcement of the JEDI cloud services contract award, Amazon made it clear that it felt the selection process was skewed against Amazon, and in November of 2019 filed a notice with the U.S. Court of Federal Claims giving notice that it planned to protest the Pentagon's decision on this contract award.
News earlier in the week covered by my colleague, Sarah Wallace, reported that Amazon had filed a motion seeking to depose President Donald Trump, Defense Secretary Mark Esper, former Defense Secretary James Mattis, and the Department of Defense Chief Information Officer, Dana Deasy, along with several other government officials, over the JEDI cloud award to Microsoft (read that article here: Amazon Seeks to Depose President, Others After Losing $10B Pentagon Cloud Contract).
The news out today is the next logical step in the process. Amazon's AWS alleges bias on the part of the President and others and interference in the award of this contract. This isn't the biggest contract award that AWS has ever had, nor is this contract critical to the company's success: It's the principle of the matter. It's no surprise to me that AWS is taking a hardline stance against what it (probably rightfully) infers is intervention in the Pentagon's decision-making process.
What's ahead? I can't imagine that Amazon's lawsuit will change anything. The reality of the administration today is that it largely does what it wants, with whom it wants and lets pretty much nothing get in the way. To me, this is a completely understandable move by Amazon to fight what is probably best described as intervention at the highest levels to assure the award didn't go to Amazon. With Amazon's pocketbook, it can afford to file this lawsuit and incur the costs associated with fighting this fight. In fact, if I was AWS, I'd be all in on this fight.
That said, Microsoft got the business, regardless of how that decision was made. And Microsoft is fully capable of delivering on this scope of work. The more delays there are with regard to the final contract award, determination, etc., there is really only one party who will ultimately suffer: The Department of Defense and the entities within the government who stand to benefit from both consolidation of cloud services and best-in-class cloud services offerings that either vendor could provide.
One thing is for certain, this will be an interesting episode of cloud wars to continue to watch play out.
*Azure is part of the Microsoft Commercial Cloud and the company does not provide specific revenue for Azure Infrastructure to draw exact comparisons versus AWS.
Futurum Research provides industry research and analysis. These columns are for educational purposes only and should not be considered in any way investment advice.
Other insights from Futurum on this topic:
Here's What to Watch in the Microsoft vs. Amazon Cloud Battle after JEDI Win
2019 Data Shows Cloud Wars Heating Up as AWS Remains on Top
Microsoft Awarded Impact Level 6 DoD Clearance: Closes Gap With AWS
Microsoft Wins Pentagon's $10Bn JEDI Contract [I told you so]
Image Credit: MSPoweruser
The original version of this article was first published on Futurum Research.
Shelly Kramer is a Principal Analyst and Founding Partner at Futurum Research. A serial entrepreneur with a technology centric focus, she has worked alongside some of the world's largest brands to embrace disruption and spur innovation, understand and address the realities of the connected customer, and help navigate the process of digital transformation. She brings 20 years' experience as a brand strategist to her work at Futurum, and has deep experience helping global companies with marketing challenges, GTM strategies, messaging development, and driving strategy and digital transformation for B2B brands across multiple verticals. Shelly's coverage areas include Collaboration/CX/SaaS, platforms, ESG, and Cybersecurity, as well as topics and trends related to the Future of Work, the transformation of the workplace and how people and technology are driving that transformation. A transplanted New Yorker, she has learned to love life in the Midwest, and has firsthand experience that some of the most innovative minds and most successful companies in the world also happen to live in "flyover country."