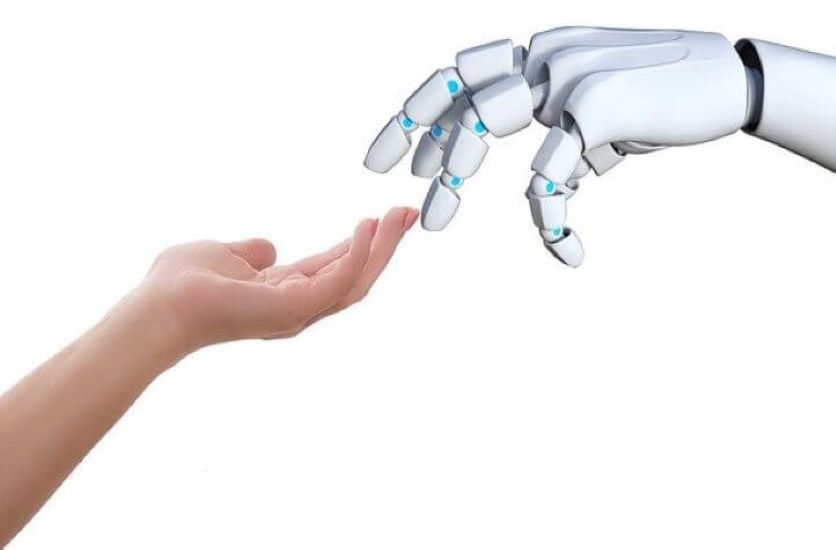 AI and job creation. There's never been a more unlikely marriage. In fact, a much-cited McKinsey report scared the pants off all of us in 2017 when it first projected that 30 percent of workers would be displaced by technology by 2030. Our worst nightmares about technology, it seemed, were coming true. The robots—or in this case, chatbots—were taking over. The job world as we knew it was about to change, and all of us could see our careers in jeopardy.
But could McKinsey have been wrong? A new report from ZipRecruiter says AI's legacy may not be mass annihilation of jobs; it could be the creation of them. Fred Baker, a Cisco Systems Fellow and Internet pioneer, agrees with that outlook. "My observation of advances in automation has been that they change jobs, but they don't reduce them. I expect a lot of change, but I don't think the human race can retire en masse by 2025."
The ZipRecruiter study—much welcomed by those of us in the tech industry—took a look at 50 million job posts, and surveyed both job hunters and seekers to find out whether the fear of AI was something we really need to manage in 2019. Its findings? AI created three times as many jobs as it took away in 2018, and more than 80 percent of companies that are already using some form of AI in their companies prefer for humans to continue to manage it. Turns out AI job creation is a real thing. And my guess is that it's only just beginning. Below is a brief synopsis of what I believe ZipRecruiter's study means for the job market, and the kinds of jobs that are being created.
AI Job Creation: What Does It Look Like
It's been estimated 85 percent of customer service interactions will be handled with AI by 2020. Just walking into any fast food shop today—let alone chatting with any "customer service rep" online—we can see this is likely true. But just as cashier jobs and service agent jobs are eliminated from AI, so are new jobs surrounding analytics and data engineering created.
Most likely, today's more traditional IT positions will evolve into crossover roles that deliver value beyond the network. These new jobs will require skills that span business, DevOps, security, analytics, AI, IT processes, workflows, and infrastructure, and more. Some of the new roles we might see include:
The business translator will work to better use the network and network data for business value and innovation.
The network integration architect will focus on integrating the network into the IT process and with external systems.
The network guardian will bridge network and security architectures, playing a critical role in that convergence.
The network data architect will find ways to better leverage network analytics and AI to improve IT services and inform the business.
As digital transformation continues to become key to an organization's strategy, network practitioners will likely evolve to support one or more of the pillars of network operations: lifecycle, process, or assurance. New skills will need to be developed for these potential roles:
The network commander will focus on network lifecycle management, ensuring overall network health and continuous operation.
The network orchestrator will understand how business needs translate into network policy and manage the automation and alignment of those policies.
The network detective will use advanced analytics, AI, and network assurance tools to ensure that the network delivers as expected.
AI job creation looks like a swapping of this-for-that—the elimination of manual front-end labor for the creation of high-tech back-end support. These new crossover roles will look different than today's typical IT jobs, and will require a solid business acumen combined with technical skills, technology expertise, and soft skills like critical thinking, deep problem solving, negotiation, and leadership. And those soft skills cannot be replaced by AI. For more information on how digital transformation is impacting the future of networking, take a look at the Cisco 2020 Global Networking Trends Report.
Still, one of the most interesting facets of the ZipRecruiter study, to me, was its finding that the number of jobs for those with high school diplomas grew more than the number of jobs for those with college diplomas between 2017 and 2018. Is that a typo, or are we really rolling back the need for college degrees in lieu of pure tech acumen? My guess is that it's a bit of both. The job market right now is so tight when it comes to skilled coders and developers. Combine that with a growing discussion about pushing more young people toward trade careers, and you've got a recipe for change. It's possible that as we move forward in digital transformation, we'll see AI job creation look more like tech trade / skill training and less like four- or six-year degrees. After all, we need young people upskilled quickly today—many companies can't wait four years for students to learn what their company needs them to know now.
AI Job Creation: How Long Will It Last?
Honestly, there is no way to know. However, we do know that we'll continue to see a growth in the diversity of jobs being created with AI. We're seeing that even in areas like manufacturing, healthcare, and agriculture, a push away from physical labor and toward automation hasn't necessarily meant fewer people employed in the industry. It's actually led to more diverse roles with things like "precision farming" and drone monitoring. Yes, it's possible that within the next 10 years, we will see McKinsey's dire prophecy come true. But I'm guessing we'll land somewhere in the middle—not necessary a 3x increase in jobs every year, but perhaps a stabilization of the AI career climatization process.
AI Job Creation: What Does It Mean for the Job Market?
I've said it before, and I'll say it again: agility isn't just for businesses. I believe we need to constantly look to upskill and reskill our teams and ourselves to survive in digital transformation. Just like technology is constantly upgraded to stay relevant and competitive, we need to do the same thing for our businesses and the roles we employ within them. Does that mean we ditch all of the more traditional roles like accountant and CEO? Of course not. But we do need to look at them differently. Today's CEO needs to be data-driven. Today's accountant needs to know how to use AI to automate and process data, preferably in real time throughout the enterprise. The jobs we employ won't necessarily change, but the way people need to perform them must if we want our companies to remain competitive.
AI: What Does It Mean for Tech Jobs?
I believe AI means new—and different—tech jobs. The use of AI continues to grow as an imperative for business operations, service delivery, and network assurance, and over 50 percent of network strategists identify AI as a priority investment. As with every wave of new technology, I expect that jobs will be shifted—not eliminated—as entirely new categories of jobs are created. Earlier we explored what some of those new network related jobs might look like, and the stats from the US Department of Labor support the expected growth and evolution. Let's take a look:
Job Outlook for Network Practitioners. According to the US Department of Labor, job growth for network administrators is projected to grow 20 percent from 2016 to 2026. The increasing adoption of cloud services by small and medium-sized businesses that do not have their own dedicated IT departments could increase this demand for network and computer systems administrators.
Job Outlook for Network Architects. Based on US Department of Labor research, demand for computer network architects will increase by 6.5% and for information security analysts by 28.5% as firms continue to expand their information technology networks.
AI-driven troubleshooting. Network engineers have the opportunity to get ahead of incident management and identify and deal with potential problems before they occur. This will require them being able to identify and prioritize trends based on AI-driven insights that will allow them to proactively take action. It will also require them to be able to tune and provide feedback to the analytics systems so that anomaly detection and remediation is continuously improving.
To address some of these developments, the industry is refreshing curriculum to help engineers build their own individual learning paths. An example of this would be new certifications and frameworks that Cisco is offering together with learning partners. These include some newly announced network developer software certifications and updated certifications for network engineers and SecOps practitioners.
As for the ZipRecruiter survey, it's interesting. It's positive. It gives a lot of us technologists hope that we're using technology to grow business, rather than eliminate people from the business process. But, in all fairness, the study is based on one year of data. 2018. A year when a lot of change and transformation surrounding AI was happening around the globe. As with any study, we need to take it with a grain of salt and do what we can in our own companies to stay on trend, or ahead of it, whenever possible.
Futurum Research provides industry research and analysis. These columns are for educational purposes only and should not be considered in any way investment advice.
This article was sponsored by Cisco Enterprise.
The original version of this article was first published on Futurum Research.
Daniel Newman is the Principal Analyst of Futurum Research and the CEO of Broadsuite Media Group. Living his life at the intersection of people and technology, Daniel works with the world's largest technology brands exploring Digital Transformation and how it is influencing the enterprise. From Big Data to IoT to Cloud Computing, Newman makes the connections between business, people and tech that are required for companies to benefit most from their technology projects, which leads to his ideas regularly being cited in CIO.Com, CIO Review and hundreds of other sites across the world. A 5x Best Selling Author including his most recent "Building Dragons: Digital Transformation in the Experience Economy," Daniel is also a Forbes, Entrepreneur and Huffington Post Contributor. MBA and Graduate Adjunct Professor, Daniel Newman is a Chicago Native and his speaking takes him around the world each year as he shares his vision of the role technology will play in our future.