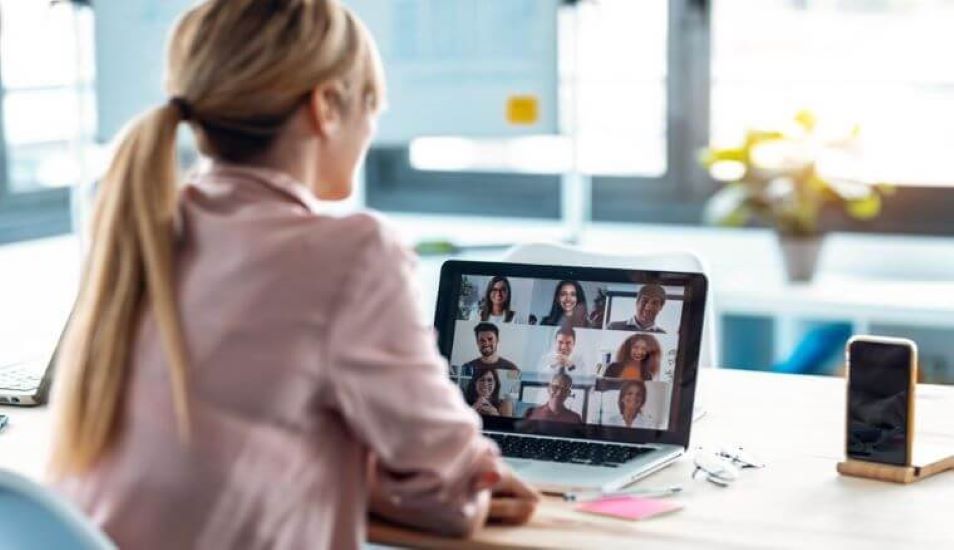 Most of us can't wait to call an end to 2020, for so many reasons. Still, January isn't a magic bullet that will bring us back to the "good old days" of business. In fact, with the rollout of global vaccines for coronavirus expected to continue through summer 2021, it's likely we'll be managing a remote or hybrid workforce for at least another six months. Nearly 90% of those polled think a digital workplace will coexist with a physical workspace once Covid-19 is finally over, and almost 80% of respondents expect to increase their remote work/digital workspace in a post-Covid world. So—what does that mean for collaboration in 2021?
This past year has been a huge catalyst for adoption and improvement of enterprise collaboration tools, and it's only expected for tech collaboration to grow in 2021. A recent report predicts that the enterprise collaboration market will hit $45 billion by 2025—and that's a good thing. Almost 60% of those surveyed say investments in their digital workplace have helped them become more agile, which is essential in the current business environment. Still, moving ahead, the development of digital workplaces and the adoption of enterprise collaboration tools will be much more conscious. Rather than a knee-jerk response to a global pandemic, it will be a methodical, proactive decision on the part of global businesses to accept that remote work is here to stay. That means the trends we're likely to see are a bit different than those we saw at the start of the pandemic. The following are just a few enterprise collaboration trends in store for 2021.
A New Focus on Security
We've all seen the stories from early in the year of Zoom meetings getting overtaken, so much so that Zoom-bombing made it into our lexicon this year. Collaboration tools like video conferencing aren't alone in their risk for cyber threats, but they were singularly unprepared for the epic torrent of threats they'd face once coronavirus hit. As we roll into 2021, there will undoubtedly be a greater push for security in the enterprise collaboration realm. Just last month, Zoom unveiled a new feature, "At-Risk Meeting Notifier," that runs on the Zoom backend servers to scan public posts on social media and other public sites for posted meeting links. When it finds a meeting URL, it notifies that meeting organizer to warm them that their meeting may be accessible and disrupted. It's not perfect, but it's something. I anticipate we'll see greater steps on the part of tech collaboration tool developers to prevent the risk (rather than simply notify users about it). Cisco's Webex Platform and Microsoft Teams have also both been astutely focused on delivering a more secure offerings as this is becoming an increasingly important focus for IT leaders—we must keep remote work and the data safe.
We are also likely to see a renewed push for security in the wake of the Solarwinds hack. It's still not clear what and who were impacted yet, but my guess is that security will shoot to the top of the list for every CTO and CIO. It's likely that other collaboration companies will deliver more security measures to keep customers at ease, but only time will tell.
A New Focus on Competition
It's likely Zoom had no idea how much success it would see in 2020. At the start of the year, its stock started trading in the high $60s but jumped to nearly $600 per share by October, thanks to coronavirus and a newly remote global workforce, and of course good execution to scale up to meet the growing market need. If there's one thing that we can count on in the global marketplace, it's that success begets competition. Usage of Microsoft Teams and Cisco Webex Teams has also skyrocketed. Microsoft saw its daily active users (DAU) of its Teams platform grow from around 11 million to over 115 million according to recent updates from the company. We are seeing more companies turn to these all-inclusive platforms that fit into their technology stacks neatly and integrate with other apps and software. And I'm guessing it's only heating up.
Inspired by Microsoft's success, we'll likely continue to see other companies try to accelerate their play in the collaboration market space like we are seeing with Salesforce's recent announcement of its intent to purchase Slack. This is also a leading indicator of a transition to even more integrated ecosystems that incorporate productivity. Google Workspace, Microsoft Office, and now Salesforce with Slack and Quip begin to show the potential of productivity and collaboration tools uniting to an even more comprehensive workspace.
A New Focus on Simplicity
Who loves clicking on a meeting link and immediately being able to access the meeting without an app or an account? I'm sure I'm not the only one. Zoom can largely be credited with starting the trend of the super simple video meeting. With recent updates, Webex Teams and Microsoft Teams also have evolved to be incredibly intuitive to have a quick meeting within a channel. It's this kind of ease and simplicity that makes these apps so popular. They are mirroring — or at least attempting to mirror — an office atmosphere where you can walk by someone's desk and have a quick chat about a project. I think this will continue in 2021 with more integrations that make it easier to conduct business. This could come in the form of easier file-sharing, chat features, calendaring (such as Zoom's recent integration into Google calendar) and on-screen sharing, multi-screensharing, white boards for easy collaboration — anything to cause fewer headaches for employees. AI will also be the next frontier of simplicity, with tech that enables better noise cancellation and improving video backgorunds with Blur. Augmented reality has found its way into meetings too, Microsoft's Together Mode and Zoom, Teams, and Cisco all have greenscreen modes that use the processing power of your PC to hide the fact you may be broadcasting from your dining room table. Peripherals and desktop units are also gaining momentum. Webex has expanded its hardware to offer more affordable desktop video solutions, and Poly, with its long legacy in collaboration is building some great appliances and peripherals like its Sync products for audio conferencing.
A New Focus on Consolidation
Again — when it comes to security, simple is always better than fragmented. At the start of the pandemic, many companies didn't have a choice how their workers got online — they just needed them to get there. Now, they're realizing that they need to consolidate some of the tools employees are using, both for the sake of security and spend. In 2021, we will likely see an increased focus on reducing redundancies, cutting costs, and consolidating tools for remote work at the enterprise level.
As we close out 2020, it's safe to feel a sense of relief that a difficult year is coming to a close. However, some of the tools that pushed to the forefront of work in 2021 are absolutely here to stay. Tech collaboration tools are surely at the top of that list. Nearly 80% of those polled say digital workplaces (as opposed to simply physical workplaces) are now essential to building data-driven business. Pandemic or not, that won't change anytime soon.
The original version of this article was first published on Forbes.
Daniel Newman is the Principal Analyst of Futurum Research and the CEO of Broadsuite Media Group. Living his life at the intersection of people and technology, Daniel works with the world's largest technology brands exploring Digital Transformation and how it is influencing the enterprise. From Big Data to IoT to Cloud Computing, Newman makes the connections between business, people and tech that are required for companies to benefit most from their technology projects, which leads to his ideas regularly being cited in CIO.Com, CIO Review and hundreds of other sites across the world. A 5x Best Selling Author including his most recent "Building Dragons: Digital Transformation in the Experience Economy," Daniel is also a Forbes, Entrepreneur and Huffington Post Contributor. MBA and Graduate Adjunct Professor, Daniel Newman is a Chicago Native and his speaking takes him around the world each year as he shares his vision of the role technology will play in our future.