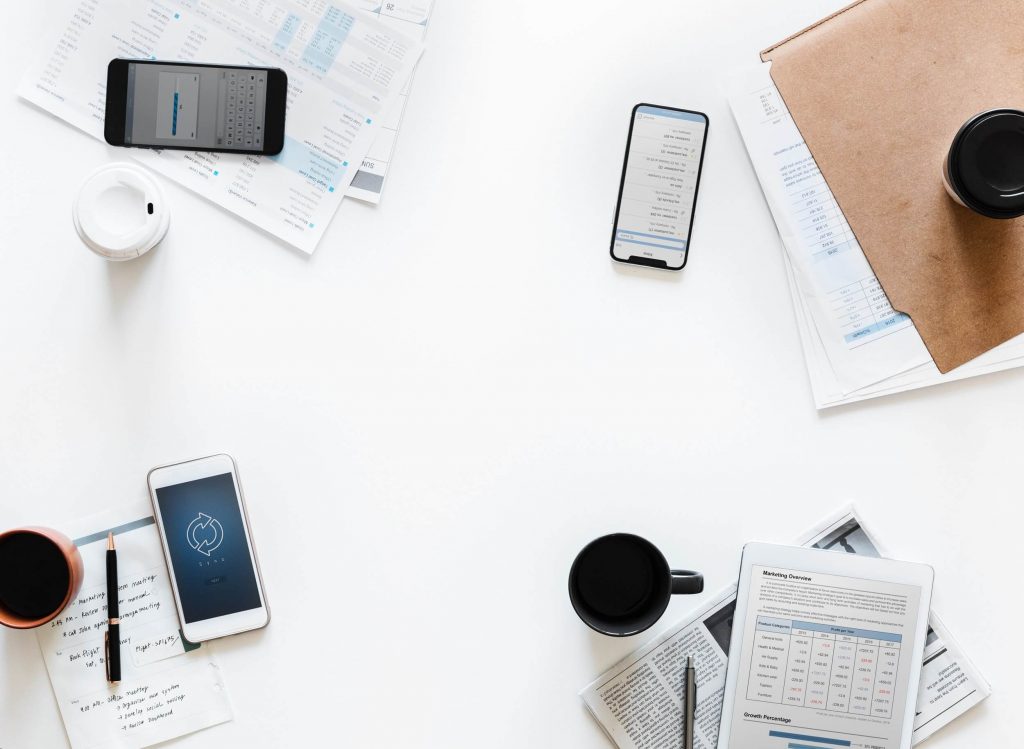 One of the fastest growing business models in the IT space is that of a managed service provider (or MSP.) In fact, chances are pretty good you've either transitioned to a service provider model or are planning a transition in the near future. But who exactly are MSPs, and what challenges do they face on their way to success? Well, for one thing, the majority are Star Wars fans! How do we know this? From Datto's 2018 State of the MSP Report, which surveyed roughly 2,300 MSPs, we learned:
The average number of clients they take on, and how long the contracts are
The top 10 challenges MSPs face this year
How the modern MSP is handling their marketing and sales
And much more
Let's dive into the topic of MSP to see why it is the fastest growing business model in the IT space and how the global state of the MSP landscape lies.
Fastest Growth in IT Space and the State of the MSP Landscape
Previously IT management providers worked on a "break-fix" business model, which literally means "you break it, we fix it!" Basically, a business only contacted IT support when something had already gone wrong. The issue with this type of model was, although a business can save money, initially, through non-managed support, when something does go wrong it can end up costing a lot more than if managed support had been provided.
Think of it this way, by saving pennies a problem could arise and become rooted deep within a network, costing more time, effort and money to fix (and that's if there's a solution.) Or a business could invest in a managed service that is proactively monitored. So when a problem does arise, a prompt solution can be worked on quickly to address the issue early and avoid further damage.
Hence, the growth of the MSP! Achieved, not just by providing a proactive service but by building a recurring-revenue business model. But it's not all plain sailing in the MSP world and the State of the MSP report provides insights into some of the business challenges of today's MSPs. Let's take a look at what some of the challenges are, and delve a little deeper into the biggest issues.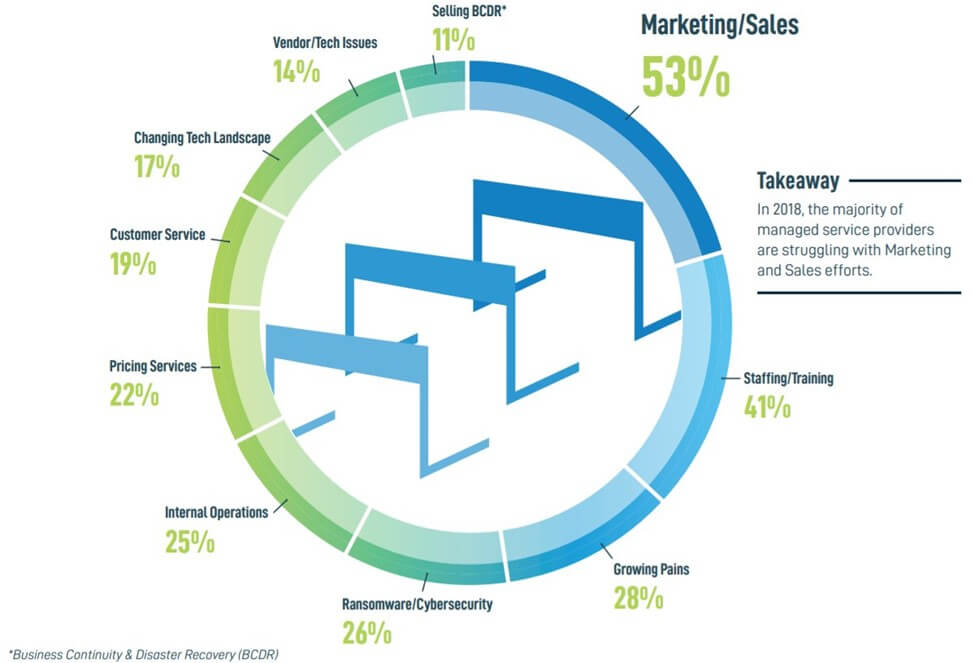 State of the MSP Pain Point 1—Marketing and Sales
In the infographic above, we can see that 53% of MSPs are struggling with Marketing and Sales. But going a little deeper, we found that the main issue MSPs had was the lack of a strong lead generation strategy in their marketing plan. That, and the issues of hiring sales talent, cold-calling and market differentiation were the other major concerns.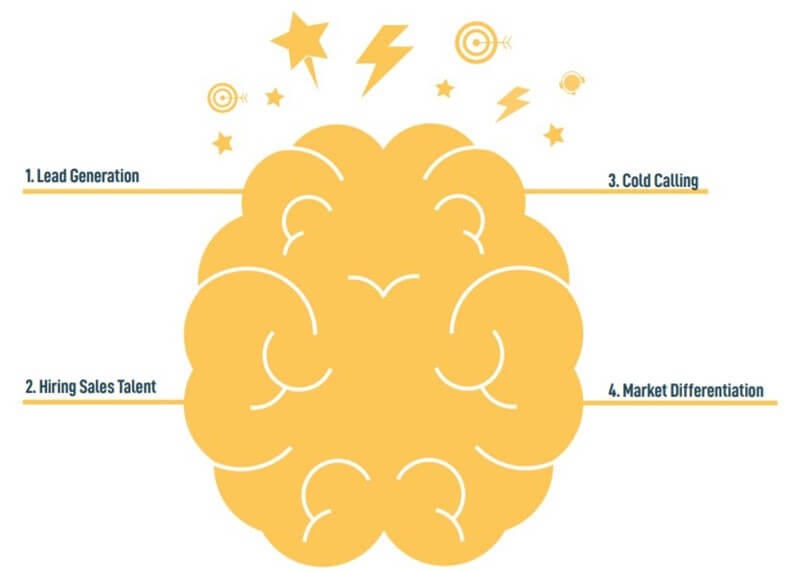 One of the biggest keys to a successful business is the ability to generate new leads and sales. And a large factor of generating new leads is the art of cold-calling and cold-emailing. With the former also being highlighted above, it's no wonder, as cold-calling isn't an easy task. This article from Datto removes some difficulty surrounding the issue and gives advice on how to grow your client base through cold-calling.
State of the MSP Pain Point 2—Staffing and Training
41% of MSPs are affected by Staffing and Training, and the dilemma of recruiting quality technical, sales and marketing personnel. Along with employee training and retention, it seems that HR in the MSP landscape is difficult.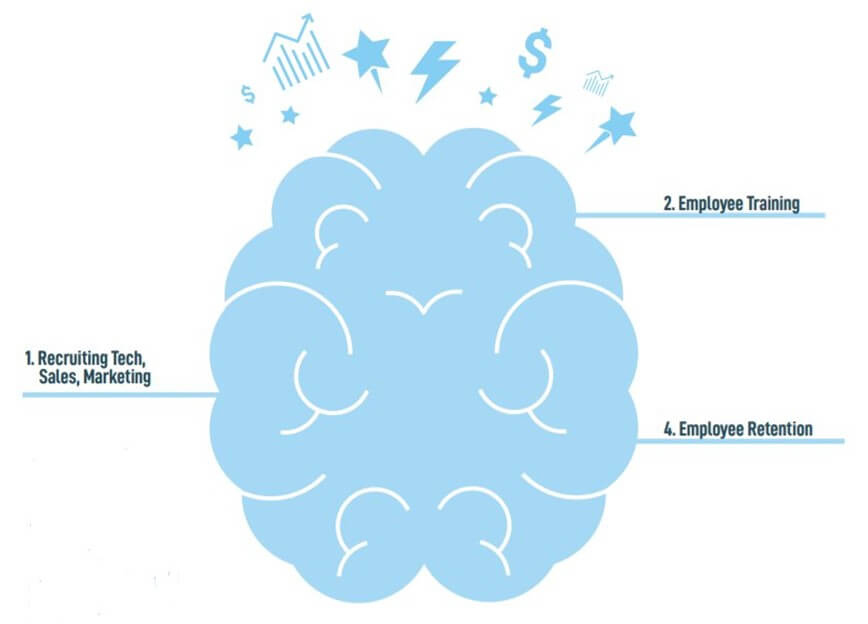 One of the problems that MSPs are facing with recruiting technical staff (or retaining/training current staff) comes from implementing the development of an MSP culture after moving from a Break-fix environment. A lot of IT engineers come from a Break-Fix environment and sitting in an office remotely fixing issues instead of carrying out on-site visits can be completely alien to the Break-Fix generation. A stronger focus on preparing employees for the transition is a partial-remedy to the solution, as the employee themselves really have to want to work in an MSP environment.
State of the MSP Pain Point 3—Growing Pains
Growing pains were highlighted by 28% of MSPs as a major issue in the state of the MSP landscape. Due to a lack of time and resources, the ability to scale with the demand is quashed, having a direct effect on the operational efficiency and service consistency of the company.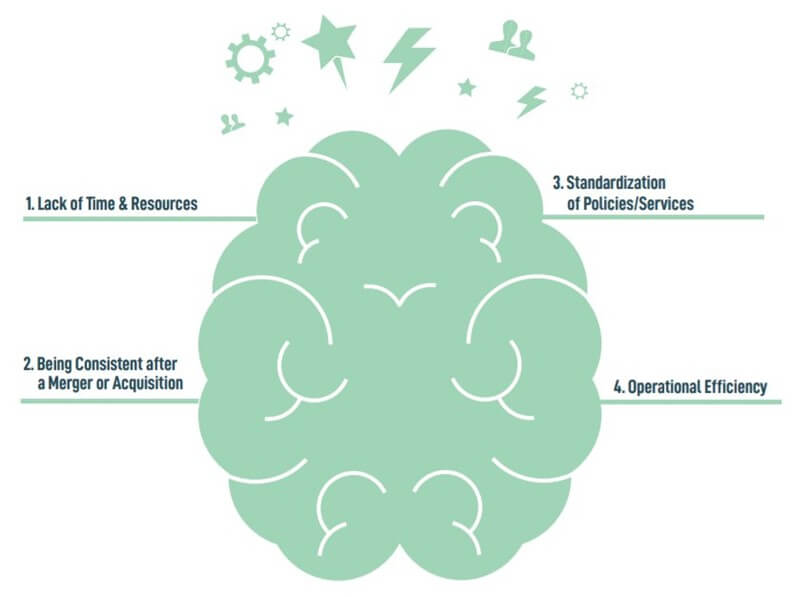 60% of MSPs serve less than 100 clients, followed by 20% that serve 101-200 clients. So, trying to scale up from a small MSP, where the owner has multiple roles in the company, is extremely difficult. And this is due to one recurring issue (mentioned in each of the points above.) The ability to hire a quality sales and marketing person to alleviate some of the duties of the owner and to implement a lead generating sales and marketing process.
State of the MSP Pain Point 4—Ransomware/Cybersecurity
Our final major pain point brought to our attention by 26% of MSPs, is ransomware and cybersecurity, or more like the lack of awareness being the general consensus.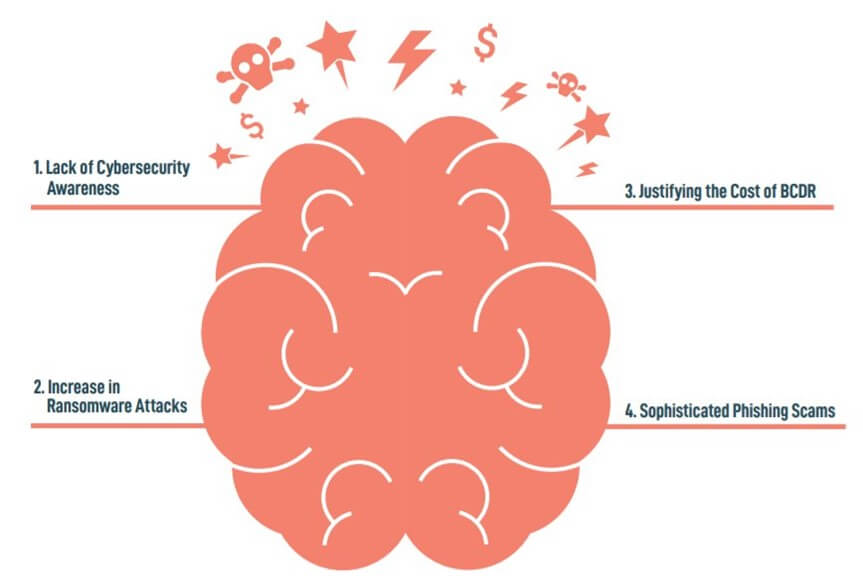 But at the same time, this is a huge opportunity for MSPs. It's no secret that ransomware and cybersecurity are becoming a huge scourge to the IT industry. But companies are still oblivious to it, mainly because they haven't had to deal with it yet. It-can't-happen-to-me-syndrome!
And this is where all the pain points interlink with a similar common denominator. With the ability to hire a good sales and marketing person, awareness of cyber crimes could be pitched to these companies showing them the reality of what could happen without good, monitored IT support. Paint the picture of an MSP in a red cape—Ok, Ok, too far!—how about, an MSP remotely and proactively protecting their IT assets against cyber crime…and boom…they've got an instant cyber hero!
Not only does the 2018 State of the MSP report provide insights into the challenges businesses face but also the interesting analytics of the demographic and psychographic traits of today's MSPs. Make sure you avail of this valuable information (and more) by downloading your FREE report.
Shelly Kramer is a Principal Analyst and Founding Partner at Futurum Research. A serial entrepreneur with a technology centric focus, she has worked alongside some of the world's largest brands to embrace disruption and spur innovation, understand and address the realities of the connected customer, and help navigate the process of digital transformation. She brings 20 years' experience as a brand strategist to her work at Futurum, and has deep experience helping global companies with marketing challenges, GTM strategies, messaging development, and driving strategy and digital transformation for B2B brands across multiple verticals. Shelly's coverage areas include Collaboration/CX/SaaS, platforms, ESG, and Cybersecurity, as well as topics and trends related to the Future of Work, the transformation of the workplace and how people and technology are driving that transformation. A transplanted New Yorker, she has learned to love life in the Midwest, and has firsthand experience that some of the most innovative minds and most successful companies in the world also happen to live in "flyover country."