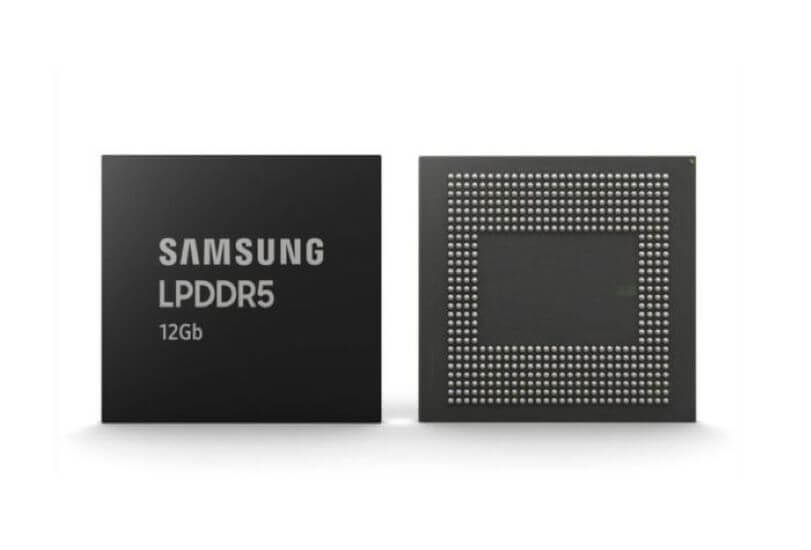 Late last week Samsung announced it has begun mass producing the industry's first 12-gigabit (Gb) LPDDR5 mobile DRAM, which has been optimized for enabling 5G and AI features in future smartphones. The new mobile memory comes only a few months after announcing mass production of 12GB LPDDR4X, further reinforcing the company's premium memory lineup. Samsung also plans to start mass producing 12-gigabyte LPDDR5 packages later this year, each combining eight of the 12Gb chips, in line with growing demand for higher smartphone performance and capacity from premium smartphone makers. Read more on this from the Samsung Newsroom.
Samsung's New 5G-Ready 12Gb LPDDR5 Mobile DRAM Gives a Glimpse into the Future
Analyst Take: News of Samsung's new 5G-ready 12Gb LPDDR5 chips is an exciting glimpse into the future. Each next generation of smartphone comes with its own set of performance improvements, and this means entirely new engineering challenges. Ultra-fast data speeds enabled by advanced multigigabit LTE and 5G broadband connections, more powerful CPUs and GPUs, and an increased reliance on AI to enhance phone functionality create a ripple effect of extreme demands on smartphone components, from RF Front End (RFFE) to RAM.
Samsung, as both a handset maker and a chipmaker, is uniquely positioned to not only understand this challenge, but also do something about it. Despite some setbacks on the device side this year, its announcement last week that it has started mass producing 12Gb LPDDR5 DRAM chips perfectly illustrates one of the reasons why the Korean tech giant continues to be a force to be reckoned with in the mobile industry. These DRAM modules won't be used only in Samsung phones. They will very likely also be found in iPhones and other android devices.
This Announcement Sounds Familiar … With Good Reason
Samsung highlights that its new LPDDR5 help enable "ultra-high definition video recording," improve AI functionality, increase battery life (or rather, make devices more energy-efficient), and bring 30 percent speed performance improvements over the LPDDR4X. If these features sound vaguely familiar, it is because they echo last week's announcement by rival chipmaker Qualcomm about improvements made to the Snapdragon 855 SOC with the introduction of the Snapdragon 855 Plus. I wrote about that here if you'd like a deeper dive: Qualcomm Announces New Snapdragon 855 Plus Platform for Faster Multi-Gigabit and 5G Gaming AI and XR.
More broadly, the improvements announced by Samsung here closely follow general performance improvements achieved during last year's evolution from Snapdragon 845 to Snapdragon 855 Plus. Note that the 855 Plus spec sheet references the LPDDR4x, not the new LPDDR5. Samsung looks to be mostly keeping up with Qualcomm's performance benchmarks with this announcement, and yet manages to appear as if half a step ahead with this new RAM module. I think there is more here than meets the eye.
Why Samsung's Announcement is not a Dig at Qualcomm
While some might interpret this announcement as Samsung keeping its A+ chip to itself while serving up its A- chip to Qualcomm, and see its timing as a slight, I don't see this as an attempt to undermine or one-up Qualcomm in any way.
For starters, consider the reality of integration gaps: SOCs like Snapdragon 845, 855, and 855 Plus take a long time to design, develop, test, and validate for mass production. If Samsung failed to provide the LPDDR5 early enough in that product development cycle for Qualcomm to integrate into their 855 Plus release, Qualcomm would naturally stick to using the 4x instead (rather than risk delaying the release of the Snapdragon 855 Plus).
Secondly, anything over 8GB of RAM for 2019 and 2020 smartphones (iPhone or Android) is mostly spec overkill. One reason why Qualcomm engineers may not have lost an ounce of sleep over using the LPDDR4x instead of the LPDDR5 in the Snapdragon 855 Plus is that despite its 30% performance improvements on paper, 2019 and 2020 smartphone releases likely wouldn't need that kind of improvement. Specifically, it's not likely users would notice any difference, making the improvements more academic than purposeful. Integration gaps aside, Qualcomm engineers might have simply decided that there was no need to include the LPDDR5 in a Snapdragon SOC just yet. I suspect that it will be part of whatever next SOC evolution Qualcomm will announce at their next Snapdragon Summit, however.
What This Announcement Actually Means
Samsung's announcement serves two principal purposes:
First, it reminds everyone that while Qualcomm's 7nm Snapdragon 855 platform reigns supreme, Samsung occupies a leadership role in the component space. Given that Samsung's contributions to the mobile phone industry on the IP and component side often take a back seat to the attention garnered by their devices, announcements like this are an important aspect of the company's overall PR strategy.
Second, it suggests that the next generation of flagship smartphones (top-line iPhones and Androids alike) will, as 5G capabilities become standard, likely ship with 8GB to 16GB of RAM, as opposed to the 3GB-6GB range that most flagship smartphones served up in recent years. On that point, while I do agree that a hypothetical 8GB-16GB of RAM for a smartphone is basically a spec overload today, I would argue that boosting RAM will be especially helpful to post-2020 smartphones. Why? Because media-heavy apps (photos, videos, games, and XR experiences) will run a lot more smoothly with 8GB-16GB of RAM than just 3GB-6GB of RAM, particularly as advanced AI functionality increasingly becomes integral to image capture, real-time video processing, graphics rendering, and seamless XR performance.
While I don't expect to see device-makers (save perhaps Samsung) focus on boosting smartphone RAM above and beyond 8GB this year, 2020 may be a different story. In an effort to sell consumers on the benefits of upgrading to 5G phones, even if 5G coverage hasn't quite reached them yet, device-makers will likely look at double-digit RAM specs as an empirical value-add that consumers will understand.
By 2023, 12G-16GB of RAM will probably be standard in high end 5G smartphones, and by then, even the most recalcitrant pundits will have to agree that double-digit RAM is no longer spec overkill. For now though? Don't sweat it.
Related articles from the Futurum Team:
Why Apple's Looking to Buy Intel's 5G Smartphone Modem Business
For Major 5G Internet Breakthroughs, Look to the Skies
Samsung Patents a Cool New Futuristic Smartphone Design
The original version of this article was first published on Futurum Research.
Senior Analyst at @Futurumxyz. Digital Transformation + Tech + Disruption. Author, keynote speaker + troublemaker. Opinions are my own. I like croissants.