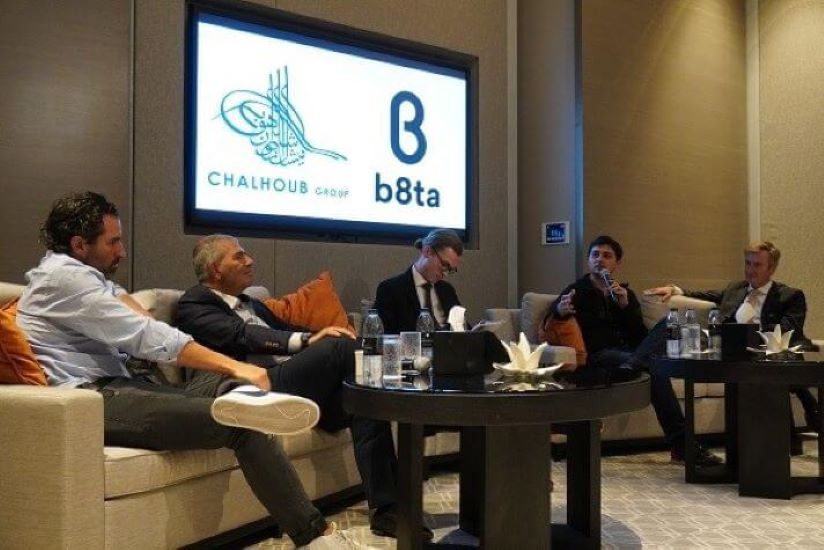 The News: Retail-as-a-service b8ta, opened its first store outside the U.S. on January 29,2020, in Dubai, at The Dubai Mall, in partnership with Chalhoub Group, a Dubai-based luxury goods retailer and distributor. Proving to be a trailblazer in experiential retail, b8ta has multiple locations in the United States.
The company's retail-as-a-service model features spaces that brands rent to display high-tech and luxury products, while customers can touch and demo the products, ask employees questions, and then order the items online in the store. Brands receive 100 percent of the sales generated as a result of the experiential experience, and they can also use the b8ta store as a way to test customer reaction, get feedback, and see how their products will fare in a retail environment.
At b8ta's Dubai store, customers can buy the Sennheiser HE1 headphones which go for Dh202,000 ($5,4992.92 USD) and are exclusive to b8ta. Other store offerings are the Puppy Cube, a standalone ultra-short-throw projector that turns any flat surface into a touch screen that retails for Dh3,299 ($898.13 USD) and the Larq bottle, the world's first self-cleaning water bottle and on-the-go water purification system, which costs Dh439 ($119.51 USD). Along with high-tech products, the Dubai store also sells other luxury items such as suitcases, leather bags, hair perfume, and scalp masks. Meanwhile, brands like Dolby have replicated a home theatre system within the store, purely for demonstrative purposes. Read more at Channel Middle East.
Retail-as-a-Service: b8ta and Experiential Retail
Analyst Take: Founded in 2015, b8ta essentially pioneered the retail-as-a-service category
I started covering b8ta five years ago when four former Nest executives launched the first b8ta store in a downtown Palo Alto retail space, with the sole focus being on selling Internet of Things (IoT) products.
Former Nest engineer and b8ta co-founder and CEO, Vibhu Norby, said the idea for b8ta came from frustration he felt when he was shopping around the holidays. Norby observed there was always a big gap between what you could get in a store and what you could buy online. Norby was quoted in a Forbes article as saying, "There are thousands of new physical products coming out, but they never touch the shelves of stores."
In late June of 2018, b8ta, the retail-as-a-service startup, closed a $19 million Series B round led by Macy's, with participation from Sound Ventures, Palm Drive Capital, Capitaland, Graphene Ventures, Khosla Ventures, and Plug and Play Ventures, bringing the startup's total funding at that time to $39 million. On October 31, 2019, b8ta announced the closing of $50 million in Series C funding, led by new investor Evolution Ventures, alongside participation from existing investors Macy's, Khosla Ventures, Peak State Ventures, and others.
Describing themselves as "the next generation of retail" focusing not only on discovery, but also on building infrastructure and tools to power that next generation of retail, b8ta has launched over 1,000 brands by way of its platform and claims to have facilitated some 50 million product engagements.
Now, with ~26 flagship locations (including Dubai), b8ta continues to innovate with real-time insights into how customers are interacting with products and, in my opinion, is the leading example of experiential retail.
Innovating the Retail Industry — and the Selling Retail-as-a-Service Concept to Brands
b8ta has helped innovate the retail industry in many ways, not the least of which is by taking its success and selling its Retail-as-a Service platform to other brands. b8ta's platform includes checkout, inventory, point of sale, inventory management, staff scheduling services and more.
Over the last few years, the company has encountered tremendous customer growth in the fashion industry, prompting the launch of Forum, a new social marketplace where partners design their own space and have creative control to curate brand experiences for consumers. And, in addition to its foray into the fashion community, b8ta has also formed partnerships with Macy's (understandably) to help the traditional retailer with experiential retail in its stores, as well as home improvement retailer, Lowe's, and the company has worked with Tru Kids Brands during the holiday season in their efforts to reinvigorate the the Toys 'R' Us brand.
When announcing its Series C funding this fall, b8ta also announced the launch of Ark, and its flagship product, Ark Marketplace, a technology platform marketed to retailers and retail landlords (complete with the "built by b8ta" tagline, designed to enable them to operate their own Retail-as-a-Service concepts, helping to monetize the value of their floorspace.
Customer Tracking and Privacy Concerns
Aside from its continued growth, b8ta has taken customer tracking to the next level. The company claims to be transparent (mostly due to new privacy laws) about all the tracking technology it uses in its stores to track your every move and behavior, though some argue they could use better signage and stronger communication with customers on this topic. Between its 26 flagship stores, b8ta has over 45,000 square feet of experiential retail space with more than 3 million visitors. Technologies used to track customers include smartphone detectors and Wi-Fi routers that note the location and unique identifiers of your phone, and cameras equipped with software that estimates customers' age and gender. b8ta also tracks how much time customers spend looking at product items on the screens in the store. A more in-depth article by Wired discusses how b8ta's knee-high signage may not be enough. This continues the ongoing issue of privacy concerns for consumers versus the benefits for merchants. Our team also touched on this topic as part of a recent episode of the Futurum Tech Podcast, specific to the use of this technology in Toys 'R' Us pop up stores during the holiday season If you've not yet had a chance to check out the podcast, we invite you to do so — grab the link here and listen on your favorite podcast platform.
I think the reason b8ta has been so successful is because it meets the needs of consumers to be able to touch and feel items, but in a modern way. b8ta is not the only example of retailers turning traditional brick-and-mortar retail on its head as pure-play e-commerce players like Warby Parker, Peloton and Amazon are opening successful physical locations. However, b8ta is different in that it has been selling its experiential retail concept to others and thus creating a domino effect in the retail industry.
Futurum Research provides industry research and analysis. These columns are for educational purposes only and should not be considered in any way investment advice.
Other insights from the Futurum team:
NRF 2020: 6 Trends Are Driving Big Retail
Intelligent Enterprise for the Retail Industry
Top 5 Digital Transformation Trends In Retail for 2020
Image Credit: Channel Middle East
The original version of this article was first published on Futurum Research.
Sarah brings 24 years of experience as an industry analyst to the Futurum team. She most recently served as the head of industry research for Oracle. Her experience working as a research director and analyst extends across multiple focus areas including AI, big data and analytics, cloud infrastructure and operations, OSS/BSS, customer experience, IoT, SDN/NFV, mobile enterprise, cable/MSO issues, and managed services. Sarah has also conducted primary research of the retail, banking, financial services, healthcare, higher ed, manufacturing, and insurance industries and her research has been cited by media such as Forbes, U.S. News & World Report, VentureBeat, ReCode, and various trade publications, such as eMarketer and The Financial Brand.