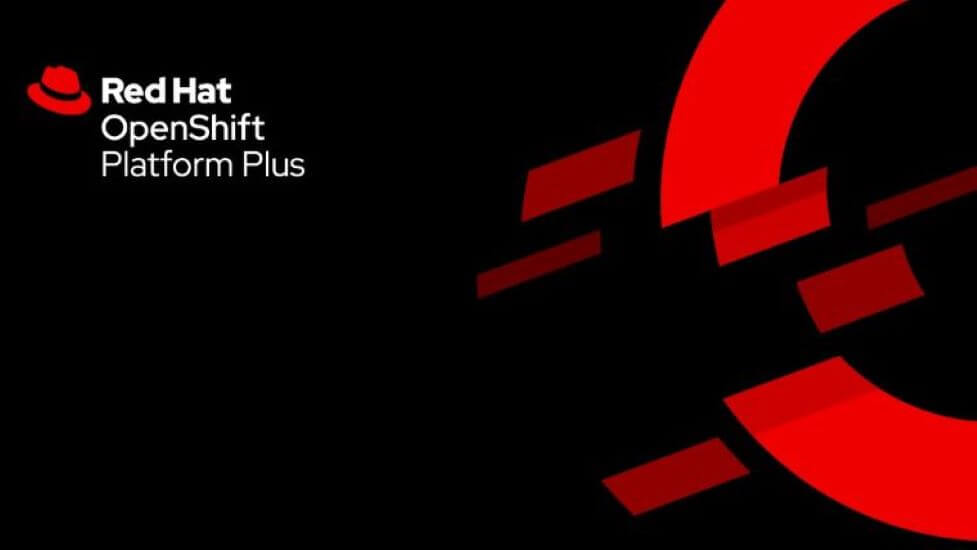 The News: Red Hat announced this week a new version of Red Hat OpenShift Platform Plus, with new features and capabilities that go beyond the base Kubernetes platform to encompass storage, management, and more. For more details see the full Press Release.
Red Hat Announces Red Hat OpenShift Platform Plus, Continuing to Innovate in the Kubernetes and Containers Space
Analyst Take: As enterprises increasingly look to leverage both a hybrid and multi-cloud strategy while also embracing the benefits of edge computing, complexity and the ability to operate at scale are primary concerns. Red Hat has worked to establish its presence at the heart of the hybrid cloud multi-cloud landscape over the last decade or so and this push to fully embrace the cloud and the shift to Kubernetes led to IBM's $34 billion acquisition of the company in 2019. Arguably the $34 billion was a bet on OpenShift powering the next phase of IBM's overall growth
While the public cloud is showing explosive growth, as evidenced in the recent earnings statements of Amazon and Microsoft, many customers making the move into the cloud are at different stages, with many yet to refactor or replatform legacy on-premises applications. One dynamic shared by all customers regardless of their maturity in cloud deployment is that they are all are trying to figure out how manage their journey through the increasingly complex architecture of multiple cloud platforms, and the various edge computing environments, while also moving from a virtualized to a container and microservices architecture.
The concept of application portability, where resources are optimized and customers get to deploy on various clouds both on-premises and public cloud, is starting to emerge as the default model to power digital transformation efforts. As this adoption matures, the challenge of scale starts to manifest, specifically in cluster management, and this is exacerbated when the sheer volume of edge devices and sensors comes into play. That's where Red Hat OpenShift Platform Plus comes in.
Red Hat OpenShift Platform Plus
Just over a year ago, Red Hat launched the OpenShift Platform Plus, offering the capability for enterprises to better control their expanding IT environments through a consolidated hybrid cloud platform, endeavoring to bring together various OpenShift features. The solutions is positioned to enable organizations to more easily run their applications from the edge to the cloud and, perhaps most crucially, at scale.
Red Hat OpenShift Platform Plus includes the OpenShift Kubernetes platform, the Advanced Cluster Management solution built on the acquisition of StackRox platform, Advanced Cluster Security (ACS), and OpenShift Data Foundation for software-defined storage and data services optimized for OpenShift, and Quay.
Red Hat OpenShift Platform Plus is engineered to provide a foundation for organizations to move toward standardization and, as a result, also realize reductions in complexity and cost. The latest version focuses on tools to more simply build, protect, and manage applications throughout the software lifecycle and across Kubernetes clusters. The key updates in this release include:
Red Hat OpenShift 4.11
Red Hat OpenShift Data Foundation 4.11
Red Hat Advanced Cluster Management for Kubernetes 2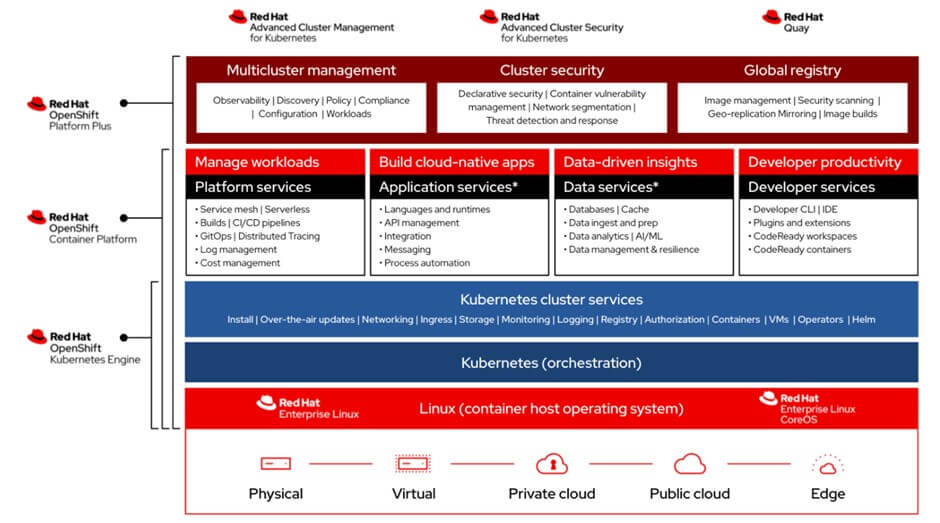 As enterprises increasingly look to leverage the edge, operating environments have scaled massively, which has led to a corresponding need for greater consistency across these environments. Red Hat OpenShift 4.11, based on Kubernetes 1.24 and CRI-O 1.24 runtime interface, has been designed to make the deployment of enterprise Kubernetes architecture easier to deploy and manage, whether in multiple clouds or on-premises.
The latest version of Red Hat OpenShift enables organizations to install OpenShift directly from major public cloud marketplaces for simplicity of billing and administration. New features in Red Hat OpenShift 4.11 include:
Pod Security Admission integration. As architectures have become more disparate and data and applications are accessed outside of datacenter firewalls, security becomes an increasingly important factor, and one that also needs to scale. OpenShift 4.11 includes such features as pod security admission integration to enable organizations to define isolation levels for Kubernetes pods to ensure more consistent pod behaviors and more architectures for sandboxed containers, including running sandboxed containers in AWS and one single-node OpenShift. The sandboxed containers offer more isolation layers for workloads, even at the edge.
Installer provisioned infrastructure (IPI) support for Nutanix. This feature supports Nutanix customers and provides them the ability to employ the IPI process for fully automated, integrated, one-click installation of OpenShift.
Additional architectures for sandboxed containers. Additional architectures for sandboxed containers were added, including the ability to run sandboxed containers on AWS as well as on single node OpenShift. Sandboxed containers provide an optional additional layer of isolation for workloads, even at the far reaches of the network's edge.
Improved Visibility and Compliance Across Hybrid Deployments
Advanced Cluster Management (ACM) 2.6 adds new features aimed at improving availability in high latency, low bandwidth use cases that are the norm in edge deployments.
A single ACM hub cluster can now deploy and manage up to 2,500 single-node OpenShift clusters through a zero touch provisioning approach. ACM 2.6 also looks to provide edge metrics-collectors designed specifically for single-node and small workloads, allowing for improved operational management of remote operations.
ACM also offers new integrations with key tools with key integrations including:
Automatic fleet wide visibility of applications. Automatic fleetwide visibility of actions, including improved visibility of the application topology.
Cluster management directly from the Ansible Automation Platform. Cluster management is available as a technology preview and enables Ansible users to interact with ACM natively.
Integration with Kyverno PolicySet. Integration with Kyverno PolicySet is again available as a technology preview, and this functionality provides customers more options to keep pace with Kubernetes policy landscapes, which is important.
Data and Persistent Storage
As organizations increase the pace of hybrid cloud deployments, resilience is often the biggest barrier to adoption. To allay concerns around data loss and business disruption in the event of a failure, OpenShift Data Foundation 4.11 includes OpenShift API for data protection. The operator-based API can be used to backup and restore applications and data specifics, natively or by using existing data protection applications across the hybrid cloud.
As part of this latest release, OpenShift Data Foundation also now provides multicluster monitoring capabilities via ACM. This approach enables a single view of the health of the cluster data management across multiple clusters. Ultimately, this will reduce the operational costs of customer management through consolidation into a single tool.
Looking Ahead for Red Hat OpenShift Platform Plus
As more organizations evolve toward modern applications to underpin their digital transformation objectives, the need for a platform that delivers consistency of orchestration, whether it's traditional applications delivered via on-premises compute capacity or cloud-native, containerized workloads spanning the edge and multiple public clouds, is quickly becoming paramount.
The announcements from Red Hat this week further position Red Hat OpenShift Platform Plus as well-positioned to provide a stable foundation layer, with an extensive array of tools for improved security posture enhanced management, and a better approach toward data resiliency. The Red Hat OpenShift Platform Plus is laser-focused on how customers manage, secure, and ensure they are compliant at a scale, whether the user is an admin, a security officer, or a compliance officer.
I expect IBM customers to embrace this technology as they look to look to manage their IBM software titles, however, the more interesting dynamic is the adoption outside of the IBM ecosystem. Based on the ~20% growth that Red Hat is touting, I think it is safe to say that OpenShift has rapidly become the market leader for hybrid multi-cloud deployments.
Disclosure: Futurum Research is a research and advisory firm that engages or has engaged in research, analysis, and advisory services with many technology companies, including those mentioned in this article. The author does not hold any equity positions with any company mentioned in this article.
Analysis and opinions expressed herein are specific to the analyst individually and data and other information that might have been provided for validation, not those of Futurum Research as a whole.
Other insights from Futurum Research:
Red Hat Collaborates with ABB on Industrial Edge Computing Offering 
HPE Discover 2022 News: HPE Deepens Relationships with Red Hat and SUSE
At Red Hat Summit 2022, the New Red Hat Enterprise Linux 9 Release Shows How Far RHEL Has Come as a Success-Driven Igniter of Linux and Open Source for Enterprises
Image Credit: ITPro Today
The original version of this article was first published on Futurum Research.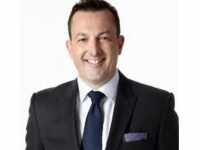 Steven Dickens is Vice President of Sales and Business Development and Senior Analyst at Futurum Research. Operating at the crossroads of technology and disruption, Steven engages with the world's largest technology brands exploring new operating models and how they drive innovation and competitive edge for the enterprise. With experience in Open Source, Mission Critical Infrastructure, Cryptocurrencies, Blockchain, and FinTech innovation, Dickens makes the connections between the C-Suite executives, end users, and tech practitioners that are required for companies to drive maximum advantage from their technology deployments. Steven is an alumnus of industry titans such as HPE and IBM and has led multi-hundred million dollar sales teams that operate on the global stage. Steven was a founding board member, former Chairperson, and now Board Advisor for the Open Mainframe Project, a Linux Foundation Project promoting Open Source on the mainframe. Steven Dickens is a Birmingham, UK native, and his speaking engagements take him around the world each year as he shares his insights on the role technology and how it can transform our lives going forward.