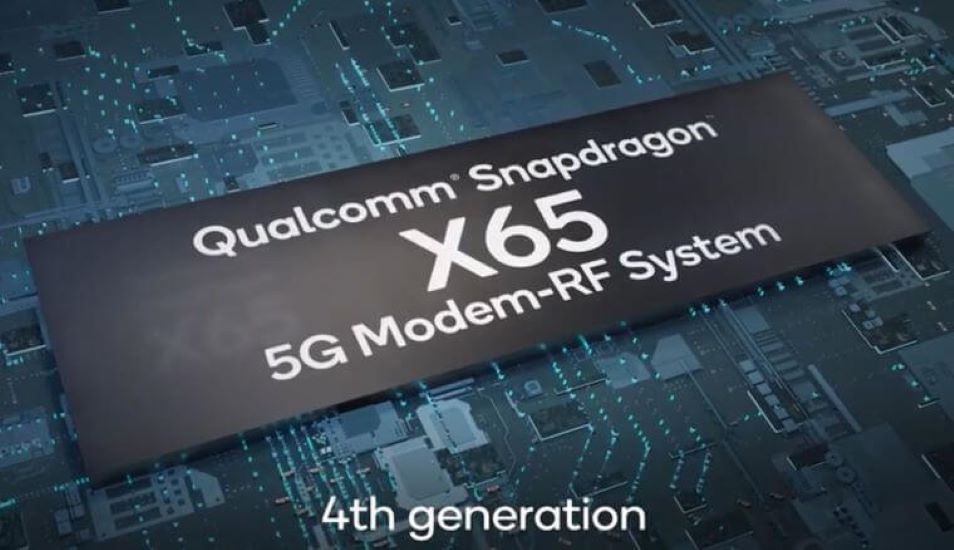 The News: Qualcomm Technologies, Inc. made several noteworthy announcements on Tuesday, all relating to 5G. These announcements include the new Snapdragon X65 modem-RF system, the new Snapdragon X62 5G modem-RF system, the new high-performance 5G RFFE solutions, and the new Qualcomm 5G Fixed Wireless Access (FWA) platform gen 2. Read more from Qualcomm here.
Qualcomm's Upgradable New Snapdragon X65 Modem Promises to Bring 10gbs speeds to 5G phones as Early as this Year
Analyst Take: There's a lot to be excited about with these announcements from Qualcomm around its new Snapdragon X65 modem and beyond, including new 5G RFFE solutions as well as its new 5G Fixed Wireless Access (FWA) platform gen 2. Here are some specifics:
New Snapdragon X65 5G modem-RF system: The most noteworthy among these announcements may be the introduction of Qualcomm's new 10gbs-capable Snapdragon X65 5G Modem-RF System. This is Qualcomm's fourth generation 5G modem-to-antenna solution and is the world's first 5G modem-RF system capable of delivering up to 10 gigabits per second download speeds. Qualcomm reports that it is currently sampling the solution to OEMs and expects the first commercial device launch with the system later this year.
5G mmWave specs for the Snapdragon X65 highlights: 1000 MHz bandwidth, 10 carriers, and 2×2 MIMO. Sub-6 GHz specs: 300 MHz bandwidth, 256-QAM, 4×4 MIMO. The system also provides Global 5G Multi-SIM support.
New Snapdragon X62 5G modem-RF system: Qualcomm also announced an impressive but more mainstream-focused Snapdragon X62 5G modem-RF system, which can deliver download speeds up to 4.4 gigabits per second. 5G mmWave specs for the Snapdragon X62 are somewhat less advanced than the X65: 400 MHz bandwidth, 4 carriers, and 2×2 MIMO. Sub-6 GHz specs: 120 MHz bandwidth, 256-QAM, 4×4 MIMO. The system provides 5G Dual-SIM support.
New high-performance 5G RFFE solutions: Adding to its new 5G modems, Qualcomm also announced a new generation of advanced RFFE (RF Front End) solutions designed to support the high-performance features and power-efficiency capabilities delivered by the Snapdragon X65 and X62 modems. These combine the modem, RF transceiver, RF front-end components, and mmWave antenna modules, and use AI to optimize performance.
New Qualcomm 5G Fixed Wireless Access (FWA) platform gen 2: Lastly, Qualcomm unveiled its 5G Fixed Wireless Access (FWA) platform, gen 2. The new platform, which is powered by the Snapdragon™ X65 5G Modem-RF System, aims to provide fixed internet broadband services to homes and businesses using their 5G network infrastructure. The platform notably features the new extended-range Qualcomm® QTM547 mmWave antenna module, support for extended-range high power 5G sub-6 GHz, the world's first 5G sub-6 GHz support with eight receive (RX) antennas, and support for Qualcomm® Dynamic Antenna steering.
For a deeper dive into Qualcomm's new 5G Fixed Wireless Access platform, and why I feel it deserves its own analysis, come back for a follow-up tomorrow. For now, I want to focus on the Qualcomm's new Snapdragon X65 modem and RFFE solutions.
Next-gen 5G Phones with 10 Gigabit per Second Speeds, All Day Battery Life, and Smart AI-Optimized mmWave Antennas are Coming
10 Gigabit per second 5G connectivity is really here. Here we are, barely in February, and Qualcomm has just announced that it is bringing 10gbs speeds to 5G phones this year. I have to be honest here and admit that I thought it would take us another year or two to get there. I really did. As much faith as I have in Qualcomm's engineers, I didn't expect them to reach this milestone so quickly. For the record, I feel that this speaks more to their expertise and skill than to my lack of faith in Qualcomm's ability to out-innovate its competitors, particularly when it comes to solving complex RF-related engineering challenges. At any rate, the Snapdragon X65 is here, and it won't be long before OEMs start releasing 5G phones capable of 10 gb/s speeds. Qualcomm even expects that the first could hit the shelves this year, which presumably means this fall.
Upgradeable architecture to boost device lifespan and lower barriers of entry into 5G. One aspect of the Snapdragon X65 solution that I find particularly inspired is its upgradable architecture. This should theoretically empower OEMs to enable new features and 3GPP Release 16 updates virtually at will, essentially future-proofing devices powered by the Snapdragon X65. This is particularly important to OEMs and discerning smartphone users, as extending device lifespan and helping reduce total cost of ownership has become far more of a factor in the smartphone market than it was just five years ago.
I also expect that making the Snapdragon X65 upgradeable will help boost consumer confidence in higher ticket 5G smartphones. The logic there could be that many consumers wanting to buy a premium 5G smartphone may be hesitant to do so too early into the 5G lifecycle, potentially entering premium price-points prematurely and ending up with obsolete devices with limited resale value too quickly. By making the X65 modem not just 10gbs capable but also upgradeable, Qualcomm may have handed OEMs the very solution they needed to boost consumer confidence in the sustainable value of a premium 5G device, and shift them once again toward investing in premium 5G handsets. If I am right, OEMs, not Qualcomm, will still need to articulate this value-add to consumers. I look forward to seeing how they will frame that feature in their handset announcements, and assuming they will.
Power efficient for sleeker devices and longer battery life. Another element of this week's announcements that caught my eye is the overall focus on power efficiency. Qualcomm's focus on improving the power efficiency of its chipsets, including modems, is nothing new, but the company's ability to deliver on this particular engineering challenge becomes especially important when dealing with mmWave features, which can be taxing on a device's power supply. For starters, both the Snapdragon X62 and X65 modems feature 4-nanometer baseband chips designed for lower power consumption. Qualcomm's new QTM545 mmWave antenna module is also designed to be as power-efficient as possible and is capable of supporting higher transmit power than previous generations. It also makes use of Qualcomm's new 5G PowerSave 2.0 system, which is based on key power-saving innovations defined in 3GPP Release 16.
Along similar lines, Qualcomm's new QET7100 wideband envelope tracker also delivers up to 30% better power efficiency compared to the average power tracking technology solution. This gives OEMs the flexibility to continue designing sleek phones without needing to significantly increase battery size or increase board area to support additional envelope trackers. Adjacently, Qualcomm's new integrated QPM6679 power amplifier module, which eliminates the need for external diplexer filters, and supports 100 MHz envelope tracking operations, also promises improved both power efficiency and higher transmit power.
Even Qualcomm's new Signal Boost technology, which calls on AI to optimize adaptive antenna tuning. Essentially, AI is used to detect a user's hand positioning on a device, then dynamically fine-tune the antennas in real-time to improve context accuracy, which should translate into discernible power efficiency improvements.
Speaking of AI. Far be it from me to bury the lede, but the fact that Qualcomm is leveraging artificial intelligence to solve complex mmWave engineering challenges in real time, regardless of the environment that a device and its users happen to find themselves in, is pretty impressive. It may also hold the key to making mmWave deliver the kind of reliable connectivity experiences that consumers have grown accustomed to. To wit, up-to 10gbs speeds aren't going to be all that impressive to consumers at large if mmWave connections aren't consistently reliable. I may be going out on a limb here, but I suspect that the average smartphone user would rather have a consistently reliable 4gbs connection than an inconsistent 10gbs connection, even if that preference is marginal at best. It therefore behooves OEMs, operators, and consequently Qualcomm, to eliminate as much friction between the complex engineering challenges of 5G mmWave technology and smartphone user experiences as they possibly can, and as quickly as humanly possible. Leveraging AI to detect a user's hand positioning on a device and then dynamically fine-tuning the antennas in real-time to improve context accuracy is an elegant and clever way to eliminate a significant portion of that friction.
By delivering not only an upgradeable 10gbs 5G modem but complete RF/RFFE solutions optimized to support global sub-6GHz and mmWave bands, Qualcomm manages yet again to give major OEMs a compelling reason to build their premium and flagship 5G devices around Snapdragon modem-RF systems.
A Quick Recap of Some of the Snapdragon X65 Features
Here's a quick recap of some of the Snapdragon X65's features showing why I am bullish on Qualcomm's move to provide OEMs all the reasons they need to build both their premium and flagship 5G devices around Snapdragon modem-RF systems:
10 Gbps peak speeds in 5G standalone and non-standalone modes
Upgradable architecture
5G NR, LTE, WCDMA (DB-DC-HSDPA), TD-SCDMA, CDMA 1x, and GSM/EDGE
5G mmWave-sub6 aggregation and global 5G band support (including the new n259 41 GHz, n70 and n53 bands)
TDD, SA (standalone), NSA (non-standalone), and FDD 5G modes
5G mmWave specs: 1000 MHz bandwidth, 10 carriers, 2×2 MIMO
5G sub-6 GHz specs: 300 MHz bandwidth, 256-QAM, 4×4 MIMO
Global 5G Multi-SIM
Qualcomm Wideband Envelope Tracking and AI-Enhanced Signal Boost
Qualcomm 5G PowerSave 2.0
3GPP Release 16 support
No other modem-RF system on the market can match these specs.
The caveat of course is that with its impressive Snapdragon X65 modem-RF solution, Qualcomm may appear to be swinging for the fences a little harder than it needs to this early in the 5G ecosystem's lifecycle. Some may opine that a more gradual approach to download speeds (say, starting with 6gbs, then reaching 8gbs, and only reaching 10gbs in time for 2025) might have given OEMs, consumers, and especially operators time to adapt and periodize their technology upgrades. But… why? If Qualcomm can already deliver 10gbs speeds, why not set the benchmark now and challenge the rest of the 5G ecosystem to adjust their trajectories faster? From a pure business standpoint, this makes sense for Qualcomm: why give other chipmakers a chance to catch up and capture OEM market share that Qualcomm has a better chance of capturing now?
This fast-forward strategy makes sense for the ecosystem at large as well. Everyone knew that 10gbs would become a reality someday. Now that that someday is now, this gives operators an incentive to accelerate their mmWave investments and deployments rather than dragging their feet. The argument that "10gbs isn't needed yet" starts to hold a lot less water when 10gbs capable phones are months away from hitting the shelves. Will Qualcomm's strategy indeed accelerate mmWave deployments? It may be too soon to tell just yet, but I believe this was the right move by Qualcomm: US operators' hesitation when it comes to mmWave deployments needed to be nudged. Major handset brands announcing that 10gbs handsets are coming should light a fire under operators' seats and convince them to stop dragging their feet. If nothing else, I salute Qualcomm's initiative here. Someone had to move the 5G ecosystem forward, even if some critical elements of it remained reluctant to do.
As for these modem-RF solutions' potential applications outside of smartphones, let's not get too excited just yet. Yes, Qualcomm did tease the market with mentions of multiple "application segments," hinting at these solutions perhaps finding their way into automotive, IoT, and IIoT ecosystems. And yes, these modem-RF systems' impressive lower power consumption and URLLC (ultra-reliable low-latency communications) features may lend themselves well to IoT use cases. Having said that, these two modem-RF solutions are probably overkill for the vast majority of IoT and IIoT applications, which may not need such a high level of performance and are likely to require much lower power consumption from their modems. However, given Qualcomm's propensity to use flagship Snapdragon features from one application segment to pollinate lower price tiers and adjacent application segments, we could see IoT, IIoT, and automotive-specific modem-RF solutions emerge later this year with features and specs bearing some resemblance to the X62 and X65. We will certainly keep an eye on that possibility.
In the second part of our coverage of this week's announcements, we will focus more closely on Qualcomm's new 5G Fixed Wireless Access platform.
Futurum Research provides industry research and analysis. These columns are for educational purposes only and should not be considered in any way investment advice.
Read more analysis from Futurum Research:
Qualcomm Shows Massive Year On Year Growth For The First Quarter 
Moving On From Huawei, Honor May Find The Perfect 5G Mobile Platform Partner In Qualcomm
Mobile News From CES: Qualcomm Powers Samsung's Galaxy S21 Lineup, Featuring The Snapdragon 888 5G Platform
Image Credit: SlashGear
The original version of this article was first published on Futurum Research.
Senior Analyst at @Futurumxyz. Digital Transformation + Tech + Disruption. Author, keynote speaker + troublemaker. Opinions are my own. I like croissants.