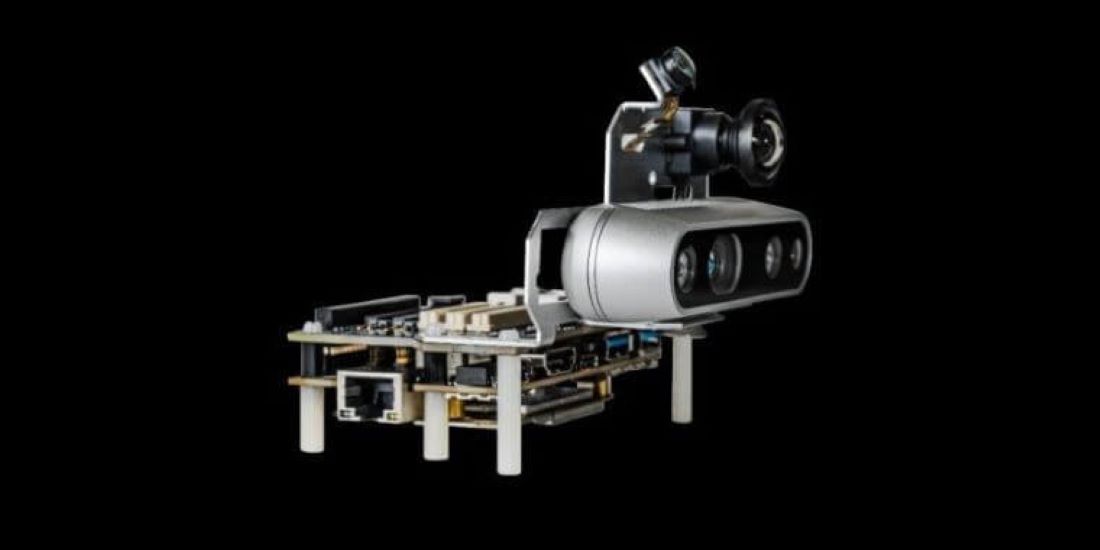 The News: Qualcomm Technologies, Inc., (NASDAQ: QCOM) just announced its first-of-a-kind 5G Robotics RB5 platform. The natural successor to the successful (4G-based) Qualcomm® Robotics RB3 platform, Qualcomm's new Robotics RB5 platform combines an expansive toolkit of hardware, software and development tools that leverage the Company's extensive expertise in both 5G and AI. As Qualcomm puts it, the Robotics RB5 platform aims to "empower developers and manufacturers to create the next generation of high-compute, low-power robots and drones for the consumer, enterprise, defense, industrial and professional service sectors."
In addition, the Qualcomm Robotics RB5 Development Kit "helps ensure developers have the customization and flexibility they need to make their visions a commercial reality." The Qualcomm Robotics RB5 platform offers support for Linux, Ubuntu and Robot Operating System (ROS) 2.0, as well as OpenCL, OpenGLES and OpenCV, and offers pre-integrated drivers for various cameras, sensors and of course 5G connectivity. Read Qualcomm's press release here.
Qualcomm's Robotics RB5 Platform Brings Powerful AI-enabled 5G Connectivity to Industrial Robots, Drones, and the IIOT
Analyst Take: Qualcomm's Robotics RB5 platform is built around Qualcomm's own QRB5165 processor, and specifically customized for robotics applications. A quick peek under the hood reveals Qualcomm's Octa Core Kryo 585 CPU and Adreno™ 650 GPU, staples of Qualcomm's 2020 lineup of premium technology platforms, and helps explain where the QRB5165's horsepower and the resources it needs to handle machine learning (ML) inferencing at the edge and under low power come from.
Qualcomm's Robotics RB5 Platform Specs
The QRB5165 processor also comes equipped with Qualcomm's 5th-generation AI Engine, which, like Qualcomm's premium mobile platform — the Snapdragon 865 — is capable of delivering 15 TOPS (Trillions of Operations Per Second) of AI performance. It also includes Qualcomm's new Hexagon Tensor Accelerator (HTA), Qualcomm's advanced Spectra 480 image signal processor (ISP)m which can process 2 Gigapixels per second, with support for up to 7 concurrent cameras, and a dedicated computer vision engine for enhanced video analytics (EVA). This makes the RB5 platform extremely versatile and gives developers a broad range of features for quasi-unlimited robotics use cases.
Quick note on those camera specs: The Spectra 480 ISP supports Dolby Vision video capture, 8K video recording at 30 FPS and as high as 200-megapixel photos, or 4K HDR video at 120 FPS and simultaneous 64 MP photos with zero shutter lag. Additional ISP will sound familiar to fans of the Snapdragon 865 platform: HEIF photo capture, slow motion video capture, and advanced video capture formats including Dolby Vision, HDR10, HDR10+, HEVC and HLG. Per Qualcomm, "the 7 concurrent cameras can be used for simultaneous localization and mapping (SLAM), object detection and classification, autonomous navigation, and path planning to efficiently and safely perform tasks in complex indoor and outdoor settings," which reminds me a lot of how Qualcomm also uses concurrent cameras in its advanced XR platform. Seeing these cameras applied to autonomous navigation and path planning in addition to object detection and classification is pretty exciting, and I look forward to seeing whether the autonomous navigation feature, other than with drones, will be limited to geofenced environments like manufacturing facilities and warehouses, or also applied to free-range applications like delivery robots and sanitizing robots. Qualcomm's FastCV Computer Vision SDK comes with a mobile-optimized computer vision (CV) library that enables gesture recognition; face detection, tracking and recognition; text recognition and tracking; as well as augmented reality features, which can be especially useful with various uses of drones, exploration robots, and rescue robots.
The RB5 Development Kit also supports Intel® RealSense™ Depth Camera D435i, and Panasonic TOF Camera depth-sensing capabilities. A strategic collaboration Between Qualcomm and TDK has also helped incorporate TDK's 6-axis, high performance ICM-42688-P IMU, accompanied by an ICP-10111 barometric pressure and a T5818 Digital (PDM) bottom port microphone into the Dev kit. Also enabled in the Dev kit are TDK's ultrasonic Time-Of-Flight CH101 and CH201 solutions, embedded motor control (HVC4223F), high performance IMU with built-in redundancy (IIM-46220), Hall effect and temperature sensors, and validated and verified software algorithms dedicated to robotic applications. Qualcomm's Robotics RB5 Development Kit also leverages the 96Boards Consumer Edition Specification to help accelerate rapid prototyping, which is going to be pretty key for any organization that has to adapt quickly to new challenges and fluid operational demands.
Where Qualcomm's RB5 Platform is Already in Use
Qualcomm reports that over 20 early-adopter companies are already in the process of evaluating and familiarizing themselves with the platform – among them Skydio (drones); NXT Robotics (security robots); Meitun (drones and delivery robots), and LG, – while over 30 additional companies are simultaneously "developing the necessary hardware and software to enable various robotics applications." Among them: 96Boards, Acontis, ADLINK, AirMap, AirServe, Airtonomy, AlwaysAI, Augmented Pixels, Autocore, Autoware Foundation, Canonical, DeepEdge.ai, DreamVu, Dronecode, Fractal.ai, GlobalEdge, Innominds Software, InOrbit, Intel RealSense, Lantronix, Linaro, LiteOn, Kudan, ModalAI, Nod, Open Robotics, Panasonic, PathPartners, Pilot.AI, Shoreline IoT, SLAMCORE, TDK, Thundercomm, and Tier IV. In other words, the platform's footprint, from its inception, is already sizeable, and companies already familiar with its predecessor, the Robotics RB3 platform, should be able to easily incorporate the RB5 Robotics platform into their automation ecosystem.
Qualcomm's Transition to the World of Robotics and IIoT is Recent, But Exciting
With the Robotics RB5 platform and the QRB5165 processor, Qualcomm brings powerful, versatile, off-the-shelf system-on-module solutions as well as flexible chip-on-board designs to the robotics and IIOT space. And while Qualcomm's transition from a system and component approach to the world of robotics and IIOT to the more comprehensive platform approach seen in its RB3 and RB5 platforms is relatively recent, I already like what I see.
For starters, spotting many of the features already found in Qualcomm's premium mobile, computing and XR platforms make their way to Qualcomm's latest robotics platform speaks to the versatility, interoperability, and operational flexibility of Qualcomm's top-shelf hardware, software, and IP. Qualcomm is powering this platform with its best gear. Second, Qualcomm's already impressive on-chip AI capabilities are made all the more robotics-friendly by the unparalleled power efficiency of Qualcomm's silicon. In other words, because Qualcomm's chips are so power-efficient, or rather, power-smart, they are a natural fit for countless robotics and IIOT use cases. Third, incorporating 5G right into its Robotics platform is bound to make developers and engineers very interested in what Qualcomm has to offer. While integrated solutions aren't always as versatile as they should be, especially in the overlapping fields of robotics and industrial IOT, the Robotics RB5 platform seems to strike a solid balance of features, operational flexibility, design adaptability, and cost-effectiveness. If it can not only deliver the right mix of cost and performance, but also streamline logistics for buyers and shorten development cycles for design engineers, it will do well.
The only real hurdles currently facing broad adoption of Qualcomm's Robotics RB5 platform in the next 12 months, at least as I see it, are just how new it is, and how relatively new Qualcomm is to the robotics platform space — at least compared to other verticals it has already established itself in. But as the number of use cases and design wins begins to grow in the next year, which I have no doubt will happen, and Qualcomm establishes itself in that space as it has in others, Qualcomm chips may soon find their way into a whole lot of robots. The timing of this release is all the more opportune for Qualcomm and its partners because of the impact of the COVID-19 crisis on robotics. As countries and organizations around the world turn to drones, robots, and other smart automation solutions to handle deliveries, manufacturing, security, food preparation, healthcare, education, and sanitation services where it isn't always safe for humans to handle the workload at scale, Qualcomm's push into the robotics platform space may have come at precisely the right time.
Futurum Research provides industry research and analysis. These columns are for educational purposes only and should not be considered in any way investment advice.
Read more analysis from Futurum Research:
Qualcomm's New Snapdragon 690 To Bring 5G Connectivity To Budget-Friendly Phones 
An Inside Look At Qualcomm's Latest Announcements – Futurum Tech Podcast Interview Series 
Qualcomm Hits Earning Targets Amidst Temporary Slowdown In Wireless Demand 
Image Credit: Voice&Data
The original version of this article was first published on Futurum Research.
Senior Analyst at @Futurumxyz. Digital Transformation + Tech + Disruption. Author, keynote speaker + troublemaker. Opinions are my own. I like croissants.