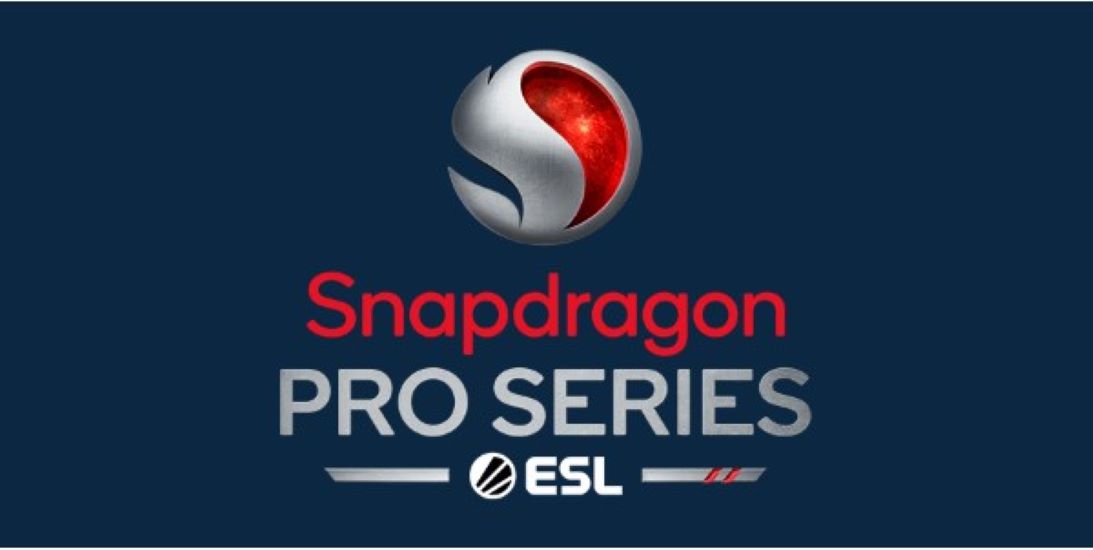 The News: Qualcomm is partnering with ESL Gaming to launch the Snapdragon Pro Series eSports competitions with tournaments in North America, Europe, the Middle East, China, North Africa and Asia-Pacific. The premium-tier event will leverage Snapdragon powered devices which are packed with the Snapdragon Elite Gaming technology. The tournaments will provide esports experiences to new and veteran competitors. To attract more players, the tournaments will include different tiers such as open, challenge and masters. Read the full Press Release from Qualcomm here.
Qualcomm Partners with ESL Gaming to Form the Snapdragon Pro Series Mobile Esports Competition Showcasing Premium-tier Snapdragon Powered Devices
Analyst Take: The eSports market is big and growing at a rapid pace, and it was no surprise to see news of Qualcomm partnering with ESL Gaming to launch the Snapdragon Pro Series eSports competitions. But first, a step back. Coming out of Qualcomm's Snapdragon Tech Summit 2021 held on Nov 30-Dec 1 of this last year, we wrote about Snapdragon's premium SoCs — Snapdragon Gen 8 — and how the focus at the Summit was exclusively on Snapdragon's premium tier, which is all about powering mobile, PC, and elite gaming.
The beauty of this premium tier, flagship SoC is all about supporting peak performance. It's processing power to the max, interoperability, impressive wireless capabilities, performance per watt, security, interfaces, AI, NLP capabilities, and beyond. And this flagship SoC is the foundation upon which Automotive platforms, wireless sound, RFFE, boundless XR and, you guessed it, elite gaming, are built.
A Quick Look at the Mobile Gaming Market
Video gaming is big, the mobile gaming ecosystem is even bigger — with 54% of gamers playing on smartphones and 35% playing on consoles — and it's transcending myriad platforms and demographic segments. Here's a look at some data from Statistica on the Mobile Gaming segment:
There are more than 2.6 million mobile gamers worldwide, with almost 1.3 million in Asia alone.
Revenue in the Mobile Games segment is projected to reach almost $125 million in 2022, with an annual growth rate (CAGR 2022-2026) of 8.73%, resulting in a projected market volume of $174.6 million by 2026.
The number of users in the Mobile Games segment will hit 2.3 million users by 2026.
Mobile gaming dominates global gaming revenue, hitting $79 billion in 2021 (representing 52% of the global gaming market).
User penetration will be 25.4% in 2022 and is expected to hit 29.3% by 2026.
For global comparison purposes, the most revenue will be generated in China ($47 million in 2022).
The average revenue per user is projected to hit $64.66 in 2022.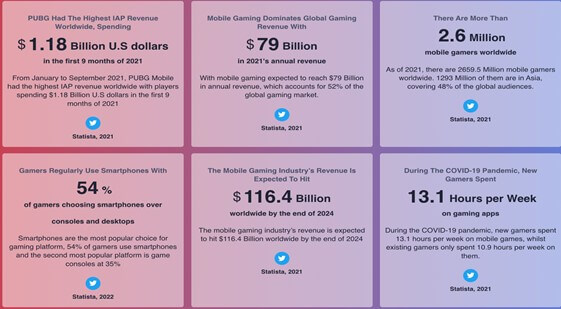 Image source: WePC
Here's a look at just how big that mobile gaming user base was in 2021 — note how APAC and European markets dominate, with ~1.3 million and 552 million users respectively.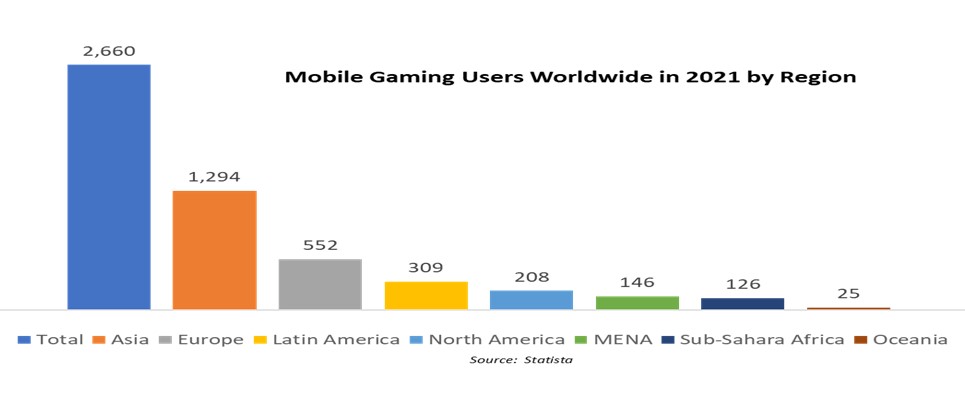 Source: Statistica
Bottom line, mobile gaming has quickly become the largest gaming market in the world and 72% of mobile gamers in the U.S. are also mobile phone gamers. With a global game market set to reach $196 billion in 2022, note that the mobile gaming market will account for $95.4 billion of that alone.
Vendors are Paying Attention to Mobile Gaming
It of course is not surprising based on the data above that many vendors in categories such as virtual reality, desktop peripherals (e.g., monitors, keyboards, etc.), components (e.g., CPU, GPU, etc.), ProAV (e.g., digital signage, etc.) and smartphones have strategies around the mobile gaming segment. Although PCs and consoles have garnered the bulk of attention over the years, we've shown that the mobile gaming market is growing and expected to continue in that vein. There are a number of reasons for this.
First, the sheer installed base of smartphones, coupled with the number of mobile gamers worldwide is staggering. As we covered earlier, there are 2.7 billion mobile gamers worldwide with Asia Pacific (1.3 billion) leading the pack followed by Europe (552 million), Latin America (309 million) and North America (208 million).
Second, more established titles that have massive installed bases were traditionally on personal computers and consoles are being adapted to the smartphone because that's where we're seeing user preferences lie. For example, popular games such as Grand Theft Auto series is there and Call of Duty: Mobile was downloaded more than 170 million times in 2019 and downloaded 5.94 million times in January of 2022. We should also note that while mobile gaming is popular in general, female gamers have expressed a clear preference for mobile platforms, which we're finding reflected in the most popular gaming genres. We're also seeing females driving gaming competition online, with Skillz, a mobile gaming platform that powers over two billion tournaments a year reporting that 60% of the players using its platform are female. Skillz also reported that 64% of women report preferring mobile gaming over any other platform.
Third, the rollout of 5G will undoubtably improve download speeds and lower latency, which is especially key for more serious gamers. Fourth, the rise of virtual and augmented reality will also be a boon for the segment. For example, imagine playing a video game at an airport and extending the screen with your Google Glasses; simply, you are beyond the screen. Fifth, the rise of eSports competitions in primary and secondary education markets will also be key. For example, similar-to the growth of robotics competitions in STEM education, schools are increasingly starting eSports teams and competing at major competitions. Reality check on this front: my teenage daughters go to a fairly small all girls' high school, which not only has an esports team, they also have students who have recently been receiving college scholarship offers to study esports. This isn't something that's happening in the future, the revolution in esports is happening right now!
The Qualcomm ESL Gaming Partnership for the Snapdragon Pro Series is Smart and Timely
In summary, we believe the Qualcomm ESL gaming partnership for the Snapdragon Pro Series tournament is the right move at the right time. We've already shown the upward trajectory of the Mobile Gaming market. Add to that the fact that ESL Gaming is a market leading gaming platform, which is a key part of the value prop of this equation, and that's where the magic happens.
This provides Qualcomm the ability to create a community wrapped around its premium-tier Snapdragon powered devices (with Snapdragon Elite Gaming technology) at a time when communities around special interests are proving their weight in myriad ways — and will continue to do so for the foreseeable future.
We expect the market for mobile eSports to continue to rise and expect that it will rather quickly eclipse the growth of the traditional PC and console eSports markets. Factors that will contribute to this growth will be the rollout of 5G, augmented reality, virtual reality and the abundance of the 2.7 billion gaming users worldwide. And one last note, did you notice that the average revenue per user is projected to hit $64.66 this year? Do some quick math on market size and average revenue per user and you'll have no trouble seeing why so many brands, including Qualcomm, are interested in this market segment. We'll definitely be watching to see how this plays out.
Disclosure: Futurum Research is a research and advisory firm that engages or has engaged in research, analysis, and advisory services with many technology companies, including those mentioned in this article. The author does not hold any equity positions with any company mentioned in this article.
Other insights from Futurum Research:
Insights from Qualcomm's Snapdragon Tech Summit: How Snapdragon Gen 8 1 Signals an AI Inflection Point for the Premium Mobile Tier
MWC 2022: Qualcomm Unleashes Game Changing 5G Ecosystem Innovations
MWC 2022: Qualcomm and the Metaverse
Image Credit: Qualcomm
The original version of this article was first published on Futurum Research.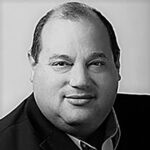 Michael Diamond is an industry analyst and foresight professional with 25 years of experience in the IT channel and market research industry. He is a route-to-market expert covering desktop and mobile devices, collaboration, contact center, ProAV, data center infrastructure, and cybersecurity. Prior to joining Futurum Research, Michael worked for The NPD Group as the sole industry analyst covering indirect channels, cybersecurity, SMB and vertical market trends, data center infrastructure (e.g., enterprise storage, servers, networking), ProAV and PCs. He has been quoted by media outlets such as Bloomberg, Kiplinger, TWICE, OPI (Office Products International), Apple World today, Dark Reading, Enterprise Storage Forum, Credit-Suisse, Footwear News, CRN (Computer Reseller News), Channel Futures and Into Tomorrow.  Michael has presented at myriad events including The Channel Company's Xchange, The Global Technology Distribution Council's summit, SMB TechFest and more.
Shelly Kramer is a Principal Analyst and Founding Partner at Futurum Research. A serial entrepreneur with a technology centric focus, she has worked alongside some of the world's largest brands to embrace disruption and spur innovation, understand and address the realities of the connected customer, and help navigate the process of digital transformation. She brings 20 years' experience as a brand strategist to her work at Futurum, and has deep experience helping global companies with marketing challenges, GTM strategies, messaging development, and driving strategy and digital transformation for B2B brands across multiple verticals. Shelly's coverage areas include Collaboration/CX/SaaS, platforms, ESG, and Cybersecurity, as well as topics and trends related to the Future of Work, the transformation of the workplace and how people and technology are driving that transformation. A transplanted New Yorker, she has learned to love life in the Midwest, and has firsthand experience that some of the most innovative minds and most successful companies in the world also happen to live in "flyover country."