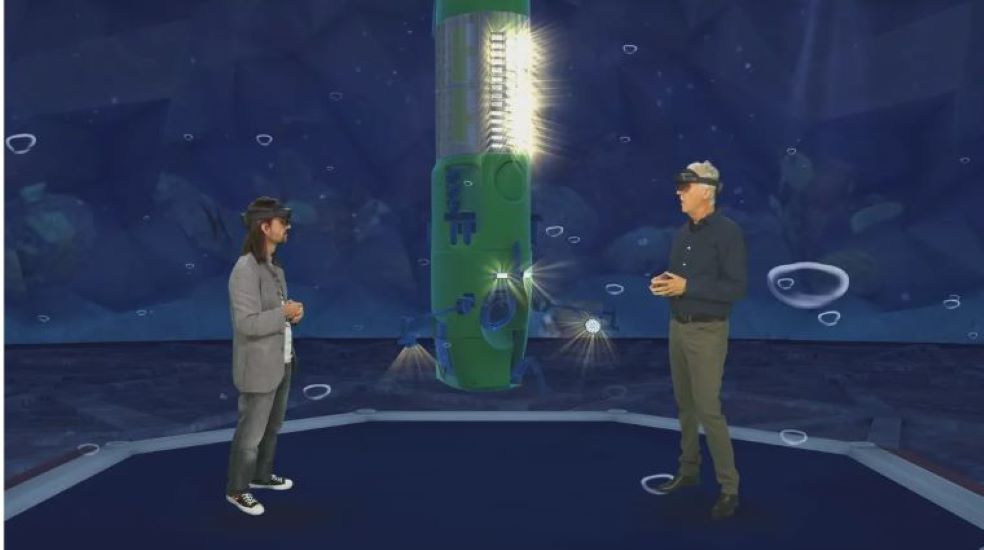 The News: At the recent Microsoft Ignite event, Microsoft's Mesh for Teams was announced, a new offering that's intended to blend the digital and physical world and which is a clear nod to the metaverse. Teams users will be able to appear as animated avatars in meetings and virtual workspaces using anything from a smartphone to a VR headset or HoloLens. Read the full announcement from Microsoft here.
Microsoft's Mesh for Teams is Microsoft's Nod to the Metaverse
Analyst Take: The metaverse is clearly in the news of late, and it appears to be on pace to be one of the biggest trends of 2022. At the recent Microsoft Ignite event, we saw Microsoft throwing its proverbial hat in the ring on the metaverse front, with its Mesh for Teams offering, which is expected to roll out to users in 2022.
Microsoft's Mesh for Teams combines the mixed reality capabilities of Microsoft Mesh with the productivity tools of Teams. Users can appear as an animated avatar in video meetings instead of a static image or bubble with initials with the hope of making meetings more engaging and fun.
Improving Collaboration with a Virtual Presence
While employees have done a terrific job over the course of the past couple of years of mastering the art of working from home and collaborating virtually with coworkers, for many the social aspect of sharing space with coworkers has been sorely missed. During the announcement around Microsoft's Mesh for Teams offering, Microsoft said their research and productivity experts observed a couple of key trends. One is that employees are incredibly productive while working from home, but equally as important, they miss their friends and colleagues and interacting with them on a regular basis. Those passing in the hallway moments, grabbing a quick coffee together, shared lunchtimes and even sitting around a conference table in person experiencing meetings together are all things that often don't translate well to video collaboration experiences.
Thus the impetus behind Microsoft's Mesh for Teams — a perfect solution to address what is missing from our virtual collaboration efforts. Attending a meeting as an animated avatar is only the first phase of Mesh for Teams. The offering will roll out with pre-built immersive spaces for a variety of contexts from collaboration spaces to social mixers. Organizations will also be able to build immersive spaces within Teams where users can take their avatars to collaborate, hang out, and enjoy the chance encounters that we are missing from being in-office. These immersive spaces are intended to provide a feeling and enhanced connectivity and personalization that regular meetings often lack.
One of the best features? Employees will be able to use any device from phones to laptops to virtual reality headsets, and buying a new piece of equipment will not be a barrier to adoption. Also, the Mesh technology will allow a user to be their expressive selves when they don't want to turn on their cameras.

Image Credit: Microsoft
Big Step Forward for a New Reality
Mixed reality, augmented reality, and virtual reality have been in the works for years now, but adoption, especially in the workplace, has been slow. Microsoft's Mesh for Teams is a big step forward in making this technology more mainstream and can serve as what Microsoft hopes to be the gateway to the metaverse.
And while this new form of virtual interaction might feel foreign to many of us, it's likely here to stay as more companies make plans for the metaverse. Last week, Facebook announced plans to rebrand to Meta, highlighting its plan to pivot the social network to the next generation of the internet with virtual collaboration spaces where people can hang out, play games, and interact without ever leaving the comfort of their homes.
But unlike Facebook's expansive vision for the future, Microsoft's smaller and by comparison, more modest announcement seems to be more realistic — at least in the short term. Organizations will not have to buy new technology or provide new devices to employees. And employees can decide on their own level of comfort by choosing to adopt a virtual avatar or not. Overall, I think this will be an interesting test for the future of the metaverse. I'll admit right up front that I'm kind of meh on the metaverse overall. I'm not at all averse to turning my camera on to talk with, meet with, and collaborate with colleagues or clients, and love being able to look people in the eye. But I also admittedly am not the average person. I've lived my life in front of cameras and on stages delivering keynotes and presentations and our team has been 100% virtual for decades, so I was an expert at video collaboration, even before a global pandemic hit. I think avatars are cute – for other people, but I can't imagine representing myself in that way — I just like being me. That said, I'm not everyone. And for some portion of the workforce, I'm certain that these virtual collaboration environments and immersive experiences will be both welcome and eagerly embraced.
It will be super interesting to see the evolution of Microsoft Mesh for Teams and what kind of interest in and adoption of this is of this offering once it's fully rolled out in 2022. This will be fun to watch.
Disclosure: Futurum Research is a research and advisory firm that engages or has engaged in research, analysis, and advisory services with many technology companies, including those mentioned in this article. The author does not hold any equity positions with any company mentioned in this article.
Other insights from Futurum Research:
Microsoft Cloud for Manufacturing Now Available in Preview 
Microsoft Sees Revenue Growth Accelerate to 22% in Q1
Microsoft Adds New Features to Teams to Support Hybrid Work and Enabling Collaboration 
Image Credit: The Verge
The original version of this article was first published on Futurum Research.
Shelly Kramer is a Principal Analyst and Founding Partner at Futurum Research. A serial entrepreneur with a technology centric focus, she has worked alongside some of the world's largest brands to embrace disruption and spur innovation, understand and address the realities of the connected customer, and help navigate the process of digital transformation. She brings 20 years' experience as a brand strategist to her work at Futurum, and has deep experience helping global companies with marketing challenges, GTM strategies, messaging development, and driving strategy and digital transformation for B2B brands across multiple verticals. Shelly's coverage areas include Collaboration/CX/SaaS, platforms, ESG, and Cybersecurity, as well as topics and trends related to the Future of Work, the transformation of the workplace and how people and technology are driving that transformation. A transplanted New Yorker, she has learned to love life in the Midwest, and has firsthand experience that some of the most innovative minds and most successful companies in the world also happen to live in "flyover country."