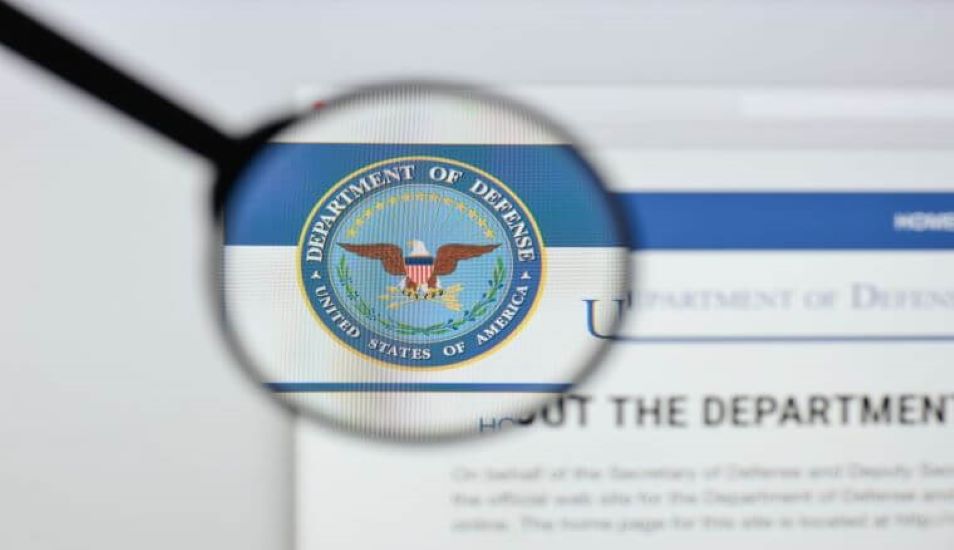 The News: The Pentagon announced today the cancellation of the $10 billion cloud procurement contract known as JEDI (Joint Enterprise Defense Infrastructure) almost two years after initially awarding the contract to Microsoft. Read the full release from the Department of Defense here.
Microsoft JEDI Win Gets Cancelled, Amazon Gets Another Chance and Hello JWCC
Analyst Take: Once the Department of Defense (DOD) awarded the $10 billion JEDI cloud contract to Microsoft some two years ago, Amazon quickly filed suit in Federal court, alleging that the then administration led by President Donald Trump swayed the contract away from Amazon based on his well-known animosity toward Amazon's Jeff Bezos.
Early on, I predicted Microsoft would be awarded the JEDI contract in part because of the administration's obvious bias toward Bezos and Amazon, but also because Microsoft had gone all in on cloud, making huge strides in its cloud capabilities in a relatively short period of time. The company obtained important and necessary security clearances, had rapidly built its cloud business to be a solid, reliable provider, and I believed there was every reason to expect the contract to be awarded to Microsoft. While Amazon's AWS might well have been the first, and the most logical choice given its long reign at the top of the list of cloud service providers, Microsoft's Azure is certainly no slouch. Here's a look at the top 10 cloud service providers from Canalys. As you can see, in Q4 2020 Amazon's AWS grew by 28%, Microsoft Azure by 50%, followed by Google Cloud's 58% and Alibaba at 54%. AWS has 31% of total cloud market share, with Azure coming in at 20%.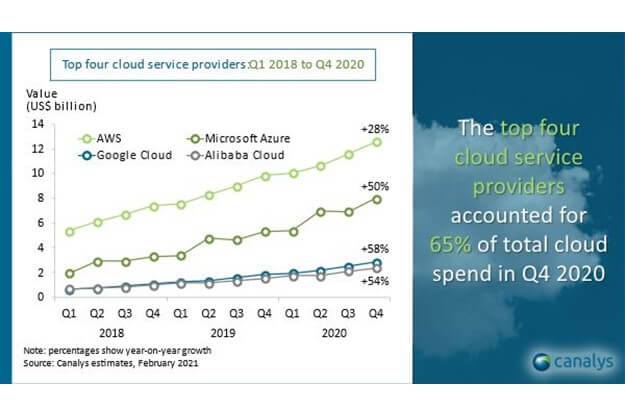 Given that AWS launched in 2006 and Azure in 2010, and Google Cloud in 2008, Microsoft's quick rise is an obvious commitment to going all in on cloud services. And so far, at least if you're paying attention to earnings statements, Microsoft's strategy is working.
Amazon AWS Refused to Sit Back and Take It
Once the news broke about the DoD JEDI contract award to Microsoft in October of 2019, it became quickly clear that Amazon AWS was not going to simply sit back and take it. In November of 2019, the company filed a notice with the U.S. Court of Federal Claims that it intended to protest the DOD's award of the JEDI contract to Microsoft, and made it clear it intended to seek to depose then President Donald Trump and numerous members of his administration, along with several other government officials over this hotly contested award.
Following the filing of the Amazon suit, the DOD suspended the award of the contract and said it would reevaluate everything that had transpired in the consideration and award process.
In September of 2020, the Pentagon announced it had completed a reevaluation of the JEDI cloud proposals and again awarded the JEDI contract to Microsoft, at which time Amazon AWS quickly announced it would continue to "protest this politically corrupted contract award."
This contract award has always had exponentially less to do with capabilities and more to do with just two things. One is the fact that it was originally thought that only one provider of cloud services made sense, serving the entire Department of Defense and secondly, politics. Both companies are inherently capable, and have long been capable, of providing these cloud services.
AWS's tenacity, however, paid off. Not only were there allegations by about an award based on a noncompliant proposal submitted by Microsoft the company simply refused to back down on its claims of undue and wholly inappropriate political interference. In the words of AWS, the award "sets a dangerous precedent" and signified "a growing trend where defense officials act based on a desire to please the President rather than do what's right."
As I have said before, I believe this has always been a political issue and not a capabilities issue.
Times Change — What's Ahead: The Joint Warfighter Cloud Capability (JWCC)
Over the course of the last few years, while Microsoft waited and Amazon fought, the needs of the Department of Defense continued to grow. This contract was originally supposed to be awarded in the fall of 2018 and wasn't actually awarded to Microsoft until a year later. Now we're a full two and a half years past the original award date and it's to be expected that the needs of the DoD have changed — and magnified exponentially.
With the cancellation of the JEDI RFPs (and the award to Microsoft that's sat in abeyance), the DOD has announced a new goal for its cloud computing needs. The Joint Warfighter Cloud Capability (JWCC) will be a multi-cloud/multi-vendor Indefinite Delivery-Indefinite Quantity (IDIQ) contract. And you know what? That's as it should be. Multi-cloud (and of course hybrid cloud) is the reality of what organizations need today. I think it's fair to say that if multi-cloud is the cloud strategy embraced by the world's largest enterprises, it's likely the best path for the DOD as well. That wasn't the thinking back pre-JEDI award, when one vendor to serve all the government's needs seemed like the best solution.
The Department has indicated it will solicit proposals from both Microsoft and Amazon Web Services, and that "available research indicates that these two vendors are the only Cloud Service Providers (CSPs) capable of meeting the Department's requirements. That said, the department also indicated it will engage industry experts more broadly during the course of the next several months to "determine whether any other U.S.-based hyperscale CSPs" can meet the DOD's requirements, which would of course include Oracle, IBM, and Google, all of whom participated in the original JEDI RFP.
The DOD has said that it hopes to make awards to vendors in April of 2022 and has not attached any dollar amount to the award this time around. And that makes sense. While much was made of the original $10 billion JEDI contract, the reality is that award was intended to be spread out over the course of ten years. For both AWS and Microsoft, I'm certain that number was never that significant — it was the cache of the exclusivity of the award that was so appealing.
Bottom line, the DoD needs to upgrade its cloud game, immediately. JWCC is intended to support and enable Joint All-Domain Command and Control (JADC2), the DOD's concept to connect sensors from all of the military services—Air Force, Army, Marine Corps, Navy, and Space Force—into a single network, and the department's new Artificial Intelligence and Data Accelerator initiative, which will embed data experts within military units. You can be certain we'll be watching with interest how this plays out. It only makes sense that both Amazon's AWS and Microsoft will be awarded parts of the JWCC, but the question will be what, if any, other cloud services vendors are likewise deemed worthy.
Disclosure: Futurum Research is a research and advisory firm that engages or has engaged in research, analysis, and advisory services with many technology companies, including those mentioned in this article. The author does not hold any equity positions with any company mentioned in this article.
Other insights from Futurum Research:
Microsoft Wins Department Of Defense JEDI Contract Award Again – For Now Anyway 
Amazon, The US Government And The JEDI Contract–Futurum Tech Podcast
Cloud Wars: Amazon Scores As Judge Blocks Microsoft's JEDI Cloud Contract Award
Image Credit: Tom's Hardware
The original version of this article was first published on Futurum Research.
Shelly Kramer is a Principal Analyst and Founding Partner at Futurum Research. A serial entrepreneur with a technology centric focus, she has worked alongside some of the world's largest brands to embrace disruption and spur innovation, understand and address the realities of the connected customer, and help navigate the process of digital transformation. She brings 20 years' experience as a brand strategist to her work at Futurum, and has deep experience helping global companies with marketing challenges, GTM strategies, messaging development, and driving strategy and digital transformation for B2B brands across multiple verticals. Shelly's coverage areas include Collaboration/CX/SaaS, platforms, ESG, and Cybersecurity, as well as topics and trends related to the Future of Work, the transformation of the workplace and how people and technology are driving that transformation. A transplanted New Yorker, she has learned to love life in the Midwest, and has firsthand experience that some of the most innovative minds and most successful companies in the world also happen to live in "flyover country."