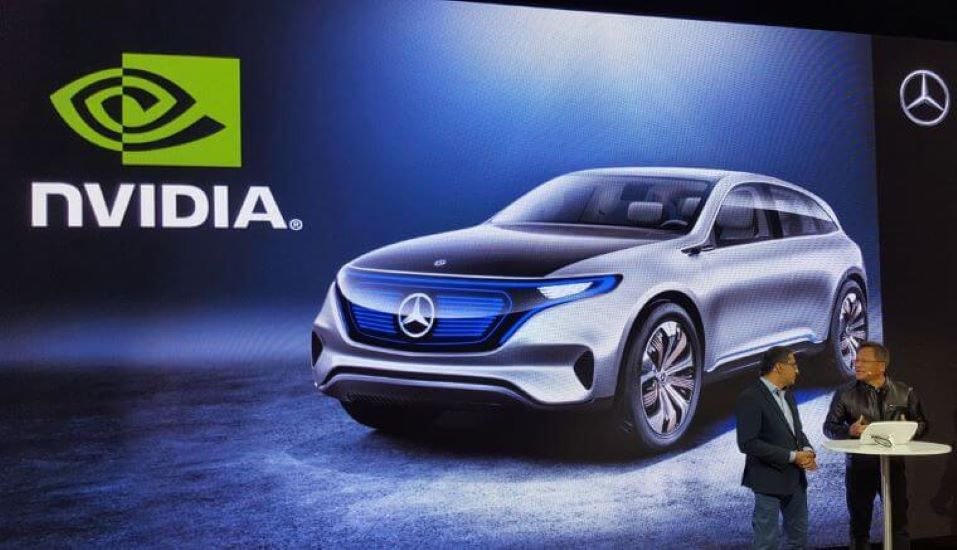 The News: Mercedes-Benz has partnered with NVIDIA to create a new computing platform for cars that will allow for technological advancements, including increased automation and easy software updates. This partnership, announced by way of livestream from Stuttgart and Silicon Valley, is what the brands collectively call "The biggest partnership of its kind in the transportation industry." More on the NVIDIA blog.
Mercedes-Benz Partners with NVIDIA to Deliver the Next Generation of Automotive Innovation
Analyst Take: The news from Mercedes-Benz and NVIDI Ais an example of the ongoing rapid transformation of the automotive industry — and the exciting times ahead for consumers. Consumer demand for connected cars continues to grow, and with good reason. Once you drive a connected car, for the safety features alone it's fairly impossible to consider going back to cars without these features. If you've got one, you're nodding right along with me.
Mercedes-Benz NVIDIA Partnership is Smart, Strategic for Both Companies
Beyond consumer demand and convenience, this partnership between Mercedes-Benz and NVIDIA is a smart, strategic move. For Mercedes-Benz, it allows the company to more effectively compete against Tesla in the connected car market moving forward. End to end automotive innovation that begins in the data center and extends through every part of the driving experience not only attracts customers, it should help keep them as they are able to continuously experience software upgrades and take advantage of subscription offerings on an as desired basis.
For NVIDIA, it allows the organization to showcase its DRIVE Software stack, a next-gen compute platform that delivers 200 trillion operations per second (TOPS) for every vehicle in the Mercedes lineup, from its entry level models to the most high-end models.
The details of the Mercedes-Benz NVIDIA partnership are as follows:
The German auto manufacturer plans to release cars that rely on technology by NVIDIA to give them computing systems that can be updated throughout the life of the car. Considering how quickly technology changes, this can be very helpful for consumers who might want to keep the same vehicle for several years but who also want the latest technology-based safety features.
More specifically, the platform in these cars will rely on NVIDIA's Drive AGX Orin, which has several processing engines, AI, and surround sensors. This would would give Mercedes-Benz cars more autonomous features, such as Level 4 automated parking, as well as the ability to go on regular routes autonomously.
What Kinds of Features Will Mercedes-Benz Vehicles Get?
The main benefit of using NVIDIA's technology in vehicles is the ease of updating software over the years, and that's the key value proposition here. A best-in-class operating system, and one that updates continuously so that vehicles are always operating on the most up-to-date technology without having to take it anywhere for updates (like Tesla provides), or without having to trade in and up for a more intelligent vehicle is likely to be attractive. Updating your car will be like updating your phone's operating system — quick and easy.
In 2024, the entire Mercedes fleet will feature a full system software stack that has the ability to use different automated driving apps, such as advanced driver assist programs and driverless parking. In fact, NVIDIA's Drive system will be able to monitor where the driver's head and eyes are pointing to ensure they're looking at the road. If they're not, the system can send alerts to the driver.
This system can even track how frequently the driver is blinking to make sure they're not getting too tired to safely operate the vehicle. It can also carefully monitor the area around the car, which can be helpful if the driver is about to open the door to get out right as a bicyclist or pedestrian goes by. In that case, the system could alert the driver or even stop the door from opening until it's safe.
I drive a 2020 model Mercedes and the safety features that it has are beyond anything I've experienced to date. It already has the sensors that monitor opening doors and can park itself (I don't use that option because I am the freak who actually enjoys parallel parking). Another safety feature that blows my mind has to do when the intelligence of the current operating system when the vehicle is operational. If I'm approaching another vehicle (or backing) and the car feels that an accident might be looming, it will literally shut the car down by instantly braking. I can't run into another vehicle — the car won't let me.
These are features that are prevalent in 2020, I can only imagine what this partnership with NVIDIA and the advancements in intelligent tech that that will bring will mean for the Mercedes fleet. NVIDIA has long been known for its expertise in the gaming industry and we are seeing the company make significant inroads well beyond gaming, and we'll no doubt continue to see innovation from NVIDIA, in many sectors, moving forward.
Futurum Research provides industry research and analysis. These columns are for educational purposes only and should not be considered in any way investment advice.
Read more analysis from Futurum Research:
BMW Car Subscription Updates Spark Customer Experience Questions 
NVIDIA Has Become A Power Broker For The Next Wave Of Datacenter Technology
NVIDIA Announces Important Updates To Its VGPU Offering
Image Credit: Fortune
The original version of this article was first published on Futurum Research.
Shelly Kramer is a Principal Analyst and Founding Partner at Futurum Research. A serial entrepreneur with a technology centric focus, she has worked alongside some of the world's largest brands to embrace disruption and spur innovation, understand and address the realities of the connected customer, and help navigate the process of digital transformation. She brings 20 years' experience as a brand strategist to her work at Futurum, and has deep experience helping global companies with marketing challenges, GTM strategies, messaging development, and driving strategy and digital transformation for B2B brands across multiple verticals. Shelly's coverage areas include Collaboration/CX/SaaS, platforms, ESG, and Cybersecurity, as well as topics and trends related to the Future of Work, the transformation of the workplace and how people and technology are driving that transformation. A transplanted New Yorker, she has learned to love life in the Midwest, and has firsthand experience that some of the most innovative minds and most successful companies in the world also happen to live in "flyover country."