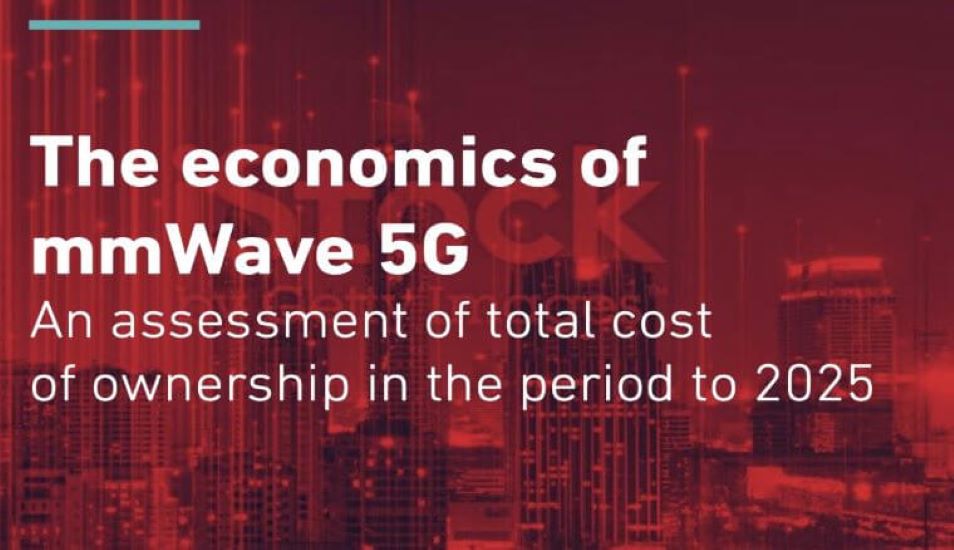 "Can mmWave be cost-effective?" That is the question posed in a new GSMA Intelligence report titled The economics of mmWave 5G: An assessment of total cost of ownership in the period to 2025, published this week.
The answer to that question, according to the 56-page report, authored by GSMA Intelligence's Federico Agnoletto, Pau Castells, Emanuel Kolta, and Dennisa Nichiforov-Chuang, is resoundingly yes. In fact, looking at net present value (NPV) and total cost of ownership (TCO) across a breadth of likely service scenarios, the report methodically makes the case for the ROI to mobile operators of accelerating their investments in 5G mmWave network capacity, and shows precisely how and when such deployments become profitable, based on a range of scenarios.
GSMA Intelligence Report — Fundamental Facts Point to a Window of Opportunity, Capitalizing on 2 Billion 5G Connections by the End of 2025
In its introduction, the GSMA Intelligence report lays out some fundamental facts about 5G adoption, and the need to build mmWave capacity sooner rather than later. Part of the reason mmWave investments are already so crucial is spelled out in the report's introduction: Growth, and the need for capacity. For starters, 5G networks are expected to reach 200 million connections globally by the end of 2020. Fast-forward to 2023, and that forecast grows to over 1 billion connections. That number is expected to double by the end of 2025, reaching an estimated 2 billion connections.
While many of these connections can be attributed to consumers connecting their smartphones to 5G networks, the enterprise also stands to benefit from 5G networks, which present massive transformative opportunities for industrial applications, from manufacturing and logistics, to energy, healthcare, education, defense, and transportation.
5G network improvements also hold the key to enabling increasingly vital business services at scale, like high-quality video conferencing, ubiquitous cloud services, and edge computing.
I note that one of the key network capacity challenges in the next few years is to both drive and support the growth of what we have begun to refer to as the enterprise (or IT) renovation of the home, in which remote workers need their home networks and equipment to be as reliable, secure, and high-performance as if they were sitting in their corporate office. To this end, mobile operators must enable fast home broadband services through fixed wireless access (FWA), an aspect of mmWave infrastructure strategies the report spends time outlining fairly well.
Given that 5G networks, and specifically mmWave-enabled 5G networks, can deliver up to 10× faster data rates and 100× the capacity of 4G networks with considerably reduced latency, it makes practical sense to focus network investments there. While the general idea behind this strategy may be reminiscent of the old "build it and they will come" adage, it seems to me that the real subtext of this report falls more along the lines of "whomever can build this the fastest wins," (with the "whomever" referring to operators).
Overcoming Misconceptions About mmWave's Financial Viability Faster than Other Operators May be The Ultimate Competitive Advantage in a Maturing 5G
While global network investments in 5G are growing at an encouraging clip, the report reminds us that 5G investments in mmWave are still lagging behind 5G investments in Sub-6GHz. In fact, most 5G deployments around the world so far have relied on mid-band spectrum. This shouldn't come as a surprise, since Sub-6Ghz services are simpler for mobile operators to implement and layer over existing 4G service areas, especially in the early phases of a transition from 4G to 5G.
Conversely, while mmWave is considerably faster, it is also both more complex and more limited in range and comes with its own set of complex engineering challenges, especially when it comes to indoor deployments. The report nicely addresses the importance of FWA investments in response to this specific hurdle. What this translates into for operators is a higher risk of poor customer satisfaction in early stages of deployment, and the perception of a higher cost of implementation and ownership, at least compared to Sub-6GHz 5G investments. Because of this dual assumption, operators may be underestimating the commercial and financial viability of mmWave, particularly when weighed against mid-band spectrum — at least in the short term.
The GSMA Intelligence report takes on that erroneous perception head-on and presents six different scenarios outlining the economic benefits to operators (read: ROI) of rapidly building out mmWave capacity at scale alongside Sub-6GHz/midband capacity. Two of those scenarios consider the deployment of outdoor sites in hypothetical dense urban areas, three scenarios consider the deployment of FWA in hypothetical urban, suburban, and rural areas, and one scenario considers a deployment in a hypothetical enterprise office space.
For instance, the report shows various inflection points where mmWave begins to become profitable in areas where demand for capacity is concentrated (like dense urban areas, large buildings, airports, advanced manufacturing plants, and stadiums), and where 3.5 GHz networks can no longer keep up with demand, with and without the deployment of FWA solutions.
Limited Access to Spectrum Also Highlighted as an Obstacle to 5G
The GSMA Intelligence report also makes a point to highlight subtle yet critical opportunities for operators to take advantage of while they can. For example, one of the more astute nuggets of insight I spotted in the report points to the fact "so far, mobile operator bids in auctions for mmWave bands have not been as high as for lower frequency bands. This means that mmWave bands are at present generally cheaper in $/MHz/pop terms."
Another critical piece of the 5G deployment puzzle that the report touches on is the one played by governments: "Governments looking to capitalize on 5G as a catalyst of economic growth need to make clear plans for the assignment of mmWave bands to mobile services," the report states, highlighting the need for governments to play a more proactive role in the planning, development and stewardship of 5G infrastructure alongside their private sector partners.
The report also makes the case for regulators to facilitate the availability of mmWave spectrum bands as a vehicle of international competition and economic development, citing as a policy low-hanging fruit the potential annual boost to global GDP of 0.6% (roughly an added $600 billion per year). The flipside of that potential for economic growth is that governments and regulators that fail to assign sufficient mmWave spectrum to their mobile operators (around 1 GHz each) with adequate haste, run the risk of inadvertently creating "an artificial barrier to the development of 5G networks and their associated socioeconomic benefits." By doing so, they would essentially squander the window of opportunity afforded them between now and 2025 to make full use of 5G to accelerate economic growth.
Actionable ROI Models to Help Mobile Operators Justify and/or Guide Profitable mmWave Deployment Between Now and 2025
Opinions and theories aside, the real value of the GSMA Intelligence report, in my view, is that it provides a detailed and thorough ROI framework, compete with tables, which mobile operators can use to model, plan, and test mmWave deployments based on a realistic range of likely service scenarios, population density, bandwidth demand, and access to spectrum. These tables point to the specific inflection points where mmWave deployments first become profitable, as well as additional inflection points where ROI can be optimized as those networks mature.
In other words, this report provides not only a solid argument in the theory of the case that an acceleration of mmWave deployments between now and 2025 can be a lot more profitable for mobile operators than they may realize, but also the very ROI framework with which to test that theory for themselves, then base their real-world mmWave deployment roadmap on.
Futurum Research provides industry research and analysis. These columns are for educational purposes only and should not be considered in any way investment advice.
Other insights from the Futurum team:
6 Key Themes Driving Headlines At CES 2021 
A Diverse Approach To AI Has AWS Uniquely Positioned For Growth 
Women In Tech: A Dive Into Dell's Project APEX With Dell's Akanksha Mehrotra – Futurum Tech Webcast Interview Series
Image Credit: GSMA Intelligence
The original version of this article was first published on Futurum Research.
Senior Analyst at @Futurumxyz. Digital Transformation + Tech + Disruption. Author, keynote speaker + troublemaker. Opinions are my own. I like croissants.