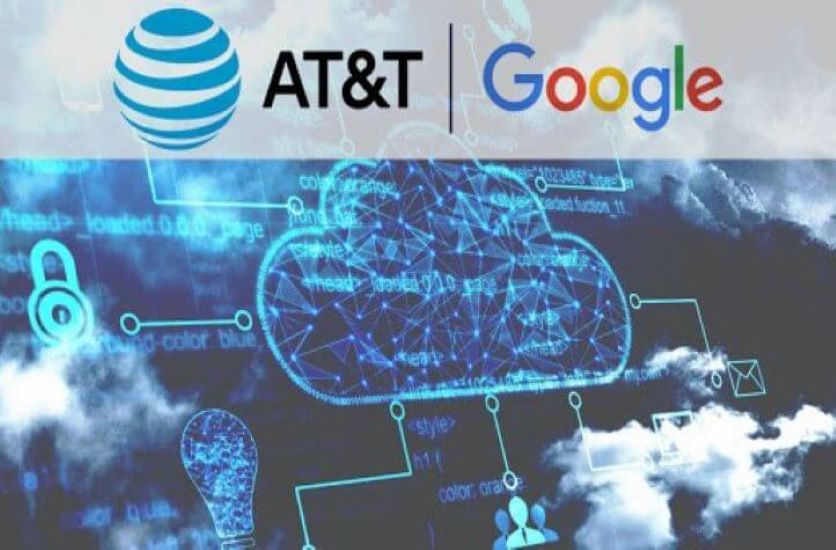 The News: Google Cloud and AT&T announced that they are partnering to build enterprise-grade edge computing solutions for 5G and other networking environments. This is the first partnership in Google Cloud's newly announced strategy to help telecommunications companies monetize 5G as a business services platform, engage customers with data-driven experiences, and improve operational efficiency across telecom core systems.
Under the AT&T partnership, the solutions to be built will incorporate Google Cloud's core capabilities in Kubernetes, artificial intelligence (AI), and data analytics and run on AT&T's global network. The solutions will enable businesses to move computing infrastructure from centralized locations all the way to edges, platforms, and devices. The eventual offerings will allow applications to run closer to end users and thereby reduce latency, optimize operations, strengthen security, and deliver high-quality user experiences.
Google Cloud and AT&T will focus on building edge computing solutions for such vertical industries as manufacturing, retail, transportation, and gaming. Google Cloud and AT&T will also provide support for an ecosystem of independent software vendors, solutions providers, developers, and other technology partners seeking to build new solutions using Google Cloud, the AT&T Network Edge, as well as the partners' own capabilities. Read more at Bloomberg.
Google Cloud and AT&T Team to Build 5G Edge Computing Solutions
Analyst Take: The news that Google Cloud and AT&T are teaming to build 5G edge computing solutions isn't surprising. 5G is the future of the edge. It is also a key component in the evolution of cloud computing ecosystems toward more distributed environments. This partnership is likely also a strategic move away from reliance on the company's core ads business as it seeks to make more inroads into the enterprise cloud market. All of the foregoing makes this partnership between Google Cloud and AT&T a smart move.
5G is Where Clouds and Telcos Converge
5G will be a prime catalyst for the trend under which more workloads are executed and data resides on edge devices. It converges digital cellular technology with wireless Long-Term Evolution and Wi-Fi interfaces. When implemented in cross-technology network interfaces, 5G will enable every edge device to seamlessly roam between indoor and wide-area environments.
The technology's adoption may someday lead to convergence of the radio spectra for these disparate radio channels and convergence of network interfaces down to single chips that are agile at maintaining seamless connections across multiple radio access technologies. These same 5G interfaces will undoubtedly be converged with neural network processing circuitry into low-power, low-cost systems on chip for many mass-market AI apps.
Cloud and Telco Partnerships Will Drive Cloud-Native Computing Deeply into 5G Fabrics
What's most noteworthy about this announcement from Google Cloud is the breadth of its strategy for partnering with 5G carriers, including but not limited to AT&T.
Key aspects of this strategy involve Google Cloud assisting telco partners in jointly building and delivering 5G edge computing solutions. As seen with the AT&T partnership, Google Cloud is bringing the following solutions to the table to accelerate customer 5G success:
Containerization The partnership is building 5G network solutions that run across Google Cloud's version of its Anthos multicloud software for telecommunications use cases. Anthos enables cloud-native applications to run unmodified on the hardware platform of the customer's choice, including edge devices running on 5G networks. Anthos for Telecom enables telecommunications companies to modernize existing applications, build new applications, and securely run them on-premises, in hybrid public/private clouds, and across multiple clouds. Incorporating open-source Kubernetes, it brings the Anthos cloud-native application platform to the edge, thereby enabling telcos to run their applications wherever it makes the most sense.
Operational and business support systems: Google Cloud and AT&T will be able to build their new solution on cloud-based telco operational support systems (OSS) and business support systems (BSS). Google Cloud announced a partnership with Amdocs to enable communications service providers to run Amdocs' portfolio of telco OSS/BSS functions in the cloud. Under the Amdocs partnership, new data analytics, site reliability engineering, and 5G edge solutions will also be delivered to support telco customers. These services will enable telcos to reduce costs and improve IT efficiencies, using Google Cloud to virtualize network functions for their core communications networks. Google Cloud also announced a new partnership with Netcracker to deploy its entire digital BSS/OSS and orchestration stack on Google Cloud.
Data analytics: To drive these OSS/BSS functions, the partners will use Google Cloud's fully managed serverless analytics platform to make data-driven intelligent decisions that detect fraud, reduce customer churn, manage network optimization, and power scalable edge solutions. Google Cloud's BigQuery platform provides a scalable data analytics solution—with machine learning built-in—so telecommunications companies can store, process, and analyze data in real time, and build personalization models on top of this data.
Google Cloud Should Bring Strong AIops Into its 5G Enablement Strategy
AI will live at every edge in multiclouds and mesh networks of the future, including those running entirely or partially over 5G networks.
AI is also a key component in the infrastructure for ensuring that 5G networks, in all their complexity, can support diverse application workloads. Recently published research from Ericcson shows that many telecommunications carriers around the world are well on their way to deploying AI for managing their 5G and other networks.
So it's no surprise that Google Cloud is bringing its sophisticated AI to its 5G initiatives, both for OSS/BSS decision support and for network operations automation. Under the AT&T partnership, Google Cloud will use AI to enable more service personalization across 5G networks. It will use AI to deliver customer service that speaks naturally with customers, guides human agents on more complex cases, and integrates with enterprises' existing contact center technology.
Google Cloud's Contact Center AI will help telecommunications companies improve customer service, while decreasing costs. It gives companies 24/7 access to immediate conversational self-service, with seamless handoffs to human agents for more complex issues. It also empowers human agents with continuous support during their calls by identifying intent and providing real-time, step-by-step assistance.
However, I believe one thing is missing from Google Cloud's current 5G program is any use of AI to automate self-management of these next-generation wireless networks. That will rely on embedding of AI's machine learning models to automate application-level traffic routing, quality-of-service assurance, performance management, root-cause analysis, and other operational tasks more scalably, predictably, rapidly, and efficiently than manual methods alone.
That capability, often known as AIOps, will be key to 5G delivering on its promise of substantially faster, more reliable, and more RF-efficient connections than prior wireless technologies. AIOps capabilities will need to be integral to the network virtualization and multicloud management suites that are used to manage 5G networks and associated applications from end to end.
At the very least, AIOps would drive differentiated quality-of-service from end-to-end across 5G environments. AI-based controls would ensure that RF channels and other infrastructure resources are provisioned dynamically and precisely to support changing quality-of-service requirements, traffic patterns and application workloads. They would also support continuously predictive alarm management, configuration and healing, and subscriber experience optimization.
AIOps tooling should supplement a 5G infrastructure capability known as "network slicing." This enables 5G networks to run several virtual networks over one physical connection. Leveraging this virtualized resource provisioning capability, AIOps tooling could enable predictive and dynamic delivery of distinct wireless quality-of-service tiers for diverse customer types and edge-device classes.
AIOps will also be needed to augment 5G's dynamic RF-channel allocation features. 5G has smaller cells than 4G, reuses frequencies more intensively, and must continuously retarget "beamformed" base station phase-array millimeter-wave antennas at each edge device. To ensure quality of service, 5G base stations dynamically predict and provision the best wireless path to each device. They do this while continuously accounting for the difficulties that 5G's millimeter waves encounter in passing through walls and other solid objects. AI-driven closed-loop real-time analytics are acutely needed to perform these calculations in real-time across dynamically changing wireless local loops.
The Takeaway – Google Cloud's 5G Partnerships Will Accelerate Cloud-to-Edge Computing
5G networks will become integral to cloud-native computing environments, thanks to industry initiatives such as Google Cloud's newly announced Global Mobile Edge Cloud strategy.
Under this program Google Cloud is providing a cloud-native open platform for developing these network-centric applications over partner telcos' 5G networks. This shows considerable progress since this time last year, when the vendor launched its Anthos multicloud software with no mention of extending it to support containerized workloads deployed on telco, wireless, or 5G carrier networks.
However, the company's newly announced Global Mobile Edge Cloud strategy provides a strong program for engaging with telcos in order to help them monetize 5G as a business services platform and to use 5G as a platform for users to build and deploy high-performance AI applications.
Going forward, Google Cloud will need to draw from its rich trove of IoT cloud-to-edge technologies to integrate AIops into Anthos for Telecom. It might also make sense for Google to partner with or acquire outright a network performance management vendor with strong AIops capabilities — Accedian and VMware's Nyansa unit spring to mind.
Futurum Research provides industry research and analysis. These columns are for educational purposes only and should not be considered in any way investment advice.
Other analysis from Futurum Research:
Cisco Prepares Service Providers to Follow the 5G Money in the Cloud
Nokia Network Operations Master Launches — Designed to Spur Automation of 5G Network Ops
BMC Strengthens AIOps Through Compuware Acquisition
Image Credit: CIO Bulletin
The original version of this article was first published on Futurum Research.
James has held analyst and consulting positions at SiliconANGLE/Wikibon, Forrester Research, Current Analysis and the Burton Group. He is an industry veteran, having held marketing and product management positions at IBM, Exostar, and LCC. He is a widely published business technology author, has published several books on enterprise technology, and contributes regularly to InformationWeek, InfoWorld, Datanami, Dataversity, and other publications.