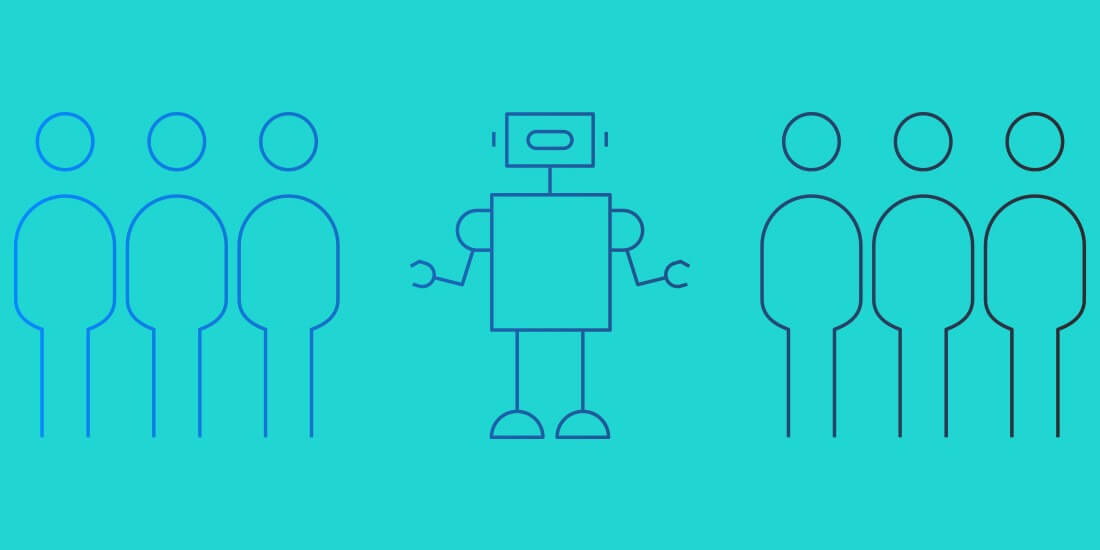 The future of artificial intelligence cannot be successful without the development of automation.
These two processes work together, promising to increase productivity and efficiency in the workplace. At the same time, many worry about the loss of jobs — and potential economic downfall — if robots and other automated technologies take over the digital marketplace.
From where I stand, the future of automating work is largely a positive one. In fact, there's a lot to get excited about for almost every department in almost every industry. There are four things in particular that keep me amped because they present the biggest practical opportunities right now.
1. Automating Mundane Tasks
The future of automating work, as it stands right now, is a bit fragmented, but not necessarily in a bad way.
This may be considered the low-hanging fruit of automation, but it's also one of the things that excites me the most: companies can work to automate mundane tasks that suck up employees' days, so employees have more time to focus on bigger, higher-value work. For example, PNC Financial Services Group saw an 80 to 90 percent decrease in the number of loan applications requiring manual review using tools such as the IBM automation platform. What at one time was a lengthy and excruciatingly boring process can now be done largely automatically, freeing employees to focus on other initiatives that bring greater value to the company.
Companies including Glassdoor and Pandora have turned to a sales engagement platform that lines up calls and tells the representative what to prioritize. Instead of wasting time trying to determine quality leads, sales reps are much more productive and can focus on closing the deal.
2. Designing Faster and Easier Processes and Workflows
One of the first industries people think of when imagining the future of automating work is manufacturing. While manufacturing has already seen huge advancements in its own right, there are still many to go, especially when it comes to process improvement and workflow. For instance, one global cement and building materials manufacturer needed to improve its sales and inventory reconciliation processes, which included manual reconciliation of over 1,000 reports per day. Automation helped it reduce cycle time by nearly 40 percent and error rates by nearly 20 percent.
At BMW factories worldwide, robots have been added to the production line, working in conjunction with employees, but handling the more dangerous or physically strenuous tasks. A ceiling-mounted robot lifts bevel gears, which can weigh up to 5.5 kilograms, during axel transmission assembly. Employees then can work on the smaller, more nimble assembly processes.
3. Managing Large Volumes of Unstructured Data
Data entry was once a job in and of itself. I know many people who had the luxury of spending their days retyping information written on paper into a word processor all day, five days a week. I'm exhausted just thinking about it.
As you can imagine, the chance for human error, especially in such a mundane job, is quite high. In many markets, those errors can also be costly. This is why I can't wait to see how companies use automation in this area.
For instance, with error rates at 10 percent, one needed a way to improve productivity and efficiency in its bank reconciliation processes. Using automated data capturing and processing, it could manage large volumes of unstructured and non-standard data and even make some decisions automatically. The solution increased accuracy by 80 percent and increased productivity by 20 percent.
4. Automating Real-Time, Smart Decision Making
The future of automating work is becoming so intelligent that it can actually make decisions in real time to optimize marketing campaigns, production lines, qualified leads and other processes. Using artificial intelligence, companies no longer need to waste an entire ad campaign to see if their ad is effective. Instead, automation programs will analyze in real time what's working and what might work better, changing those messages mid-stream. The result is not just more effective campaigns, it's huge savings in ad dollars spent on ineffective ones.
Automation: The New Future of Work
Key tech advancements such as the IBM Automation Platform for Digital Business are making the benefits of automation more accessible for businesses large and small. Indeed, while the term Automation as a Service (AaaS) hasn't quite been coined, automation is on its way to becoming one of the most essential components of any company's digital transformation plan. Every business is concerned with ROI. To invest in automation, leaders need to know the technology is worth it. In my view, not only is automation worth it, it's impossible to go without it and compete in the global marketplace.
There's simply no way today's companies can keep up with customer demands without automation. When used well, automation can help curate more accurate data, build faster and easier processes, manage more reliable information, and help companies be more responsive to customer needs.
And when it comes to jobs, there's little reason to worry, at least for now. Yes, some jobs will be lost. But with the time saved on mundane tasks, employees can focus more on things like digital transformation, tech disruption, and customer experience, all of which are essential in today's marketplace and hold tremendous potential to create new jobs themselves.
Read this white paper to learn more about how the future of automating work can help you reinvent your business.
This post was brought to you by IBM. For more content like this, visit IBM.com.
Daniel Newman is the Principal Analyst of Futurum Research and the CEO of Broadsuite Media Group. Living his life at the intersection of people and technology, Daniel works with the world's largest technology brands exploring Digital Transformation and how it is influencing the enterprise. From Big Data to IoT to Cloud Computing, Newman makes the connections between business, people and tech that are required for companies to benefit most from their technology projects, which leads to his ideas regularly being cited in CIO.Com, CIO Review and hundreds of other sites across the world. A 5x Best Selling Author including his most recent "Building Dragons: Digital Transformation in the Experience Economy," Daniel is also a Forbes, Entrepreneur and Huffington Post Contributor. MBA and Graduate Adjunct Professor, Daniel Newman is a Chicago Native and his speaking takes him around the world each year as he shares his vision of the role technology will play in our future.