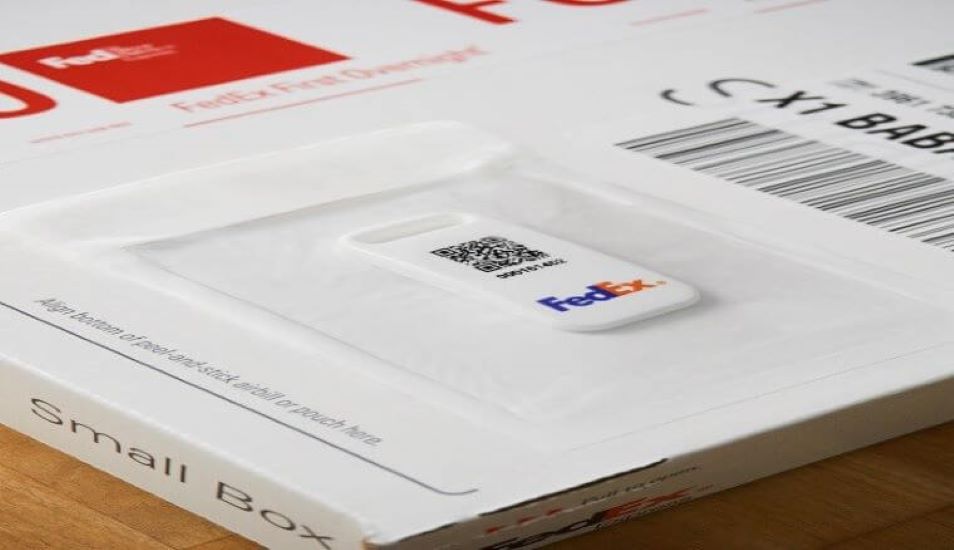 The News: FedEx Corp (NYSE: FDX) is rolling out a new lightweight sensor-based logistics device designed to help track packages in quasi-real-time called SenseAware ID. FedEx's new SenseAware ID uses a small lightweight BLE (Bluetooth Low Energy) sensor that transmits the package's location every few seconds to Fedex Express Network gateway devices and other Wifi access points along the way. The package's location can thus be tracked nearly continuously while in transit to its destination. This technology complements existing package scans and vehicle tracking, providing an additional layer of precision tracking for critical packages equipped with SenseAware ID sensors.
FedEx plans to initially prioritize the technology for First Overnight packages within its U.S. Express network, and specifically for healthcare, aerospace and retail customers. Access to SenseAware ID's enhanced data is expected to roll out to customers in November, with an expanded rollout to a broader customer base in H1 2021. FedEx also plans to expand SenseAware ID to a broader menu of premium Express services. Read more about it at FedEx.
FedEx New SenseAware ID Tracking System isn't Just Evolved Logistics, it also Highlights the Importance of Low Power IoT Sensors and Ubiquitous Wireless Connectivity in the Post-COVID Era
Analyst Take: FedEx's rollout of SenseAware ID couldn't have come at a more opportune time. On the one hand, remote work and other disruptions caused by the Coronavirus pandemic have created demand at scale for better, more up-to-date tracking of packages, especially those carrying sensitive or otherwise critical materials. On the other, as we slide into flu season, flu and COVID-specific shipments of therapeutics, PPEs, and experimental vaccines are becoming part of the everyday fabric of our public health response demand a higher degree of tracking precision than what we were accustomed to just a year ago. Scanning packages as they reach various transit milestones is still useful, being able to track delivery trucks in real time as they transport parcels is also pretty great, but the ability to track individual parcels in quasi-real time is a significant improvement, and a welcome new capability/service offering for FedEx.
The decision to use BLE sensors instead of GPS for this particular application also makes sense. For starters, using GPS chips on packages at scale would be somewhat cost-prohibitive, to say nothing of logistics overkill. Second, leveraging low energy bluetooth sensors considerably reduces the weight and energy demands of the device, making it more reliable, scalable, and environmentally-friendly. What strikes me most about this rollout however, is that FedEx, by selecting a low power IoT solution to address this particular use case, is essentially betting on the proliferation of the types of IoT-focused wireless networks that usually come up whenever we discuss smart cities. Note that the operative wireless layers being used here are not GPS, 5G, or 4G, but WiFi and Bluetooth. From an engineering standpoint, selecting the solution with the lowest power consumption and the smallest possible network footprint makes perfect sense not just for Fedex but also for carriers, for whom bandwidth can often be a challenge. SenseAware ID should be able to provide the high level of value-add tracking that FedEx customers will find valuable while not monopolizing precious network resources.
The timing of this rollout checks a number of boxes as well: For starters, by virtue of FedEx's massive footprint, a technology like this being deployed at scale is extremely likely to result in an acceleration in investments in IoT-dedicated networks, particularly along likely FedEx delivery routes. It will be interesting to see if (or how) this service will be expanded into rural areas over the course of the next several years. I could be wrong, but I can only deduce that FedEx expects to benefit from some degree of overlap between its own SenseAware ID network needs and the type of wireless infrastructure deployments (adjacent to enhanced 4G and 5G coverage) that connected and autonomous vehicles will require in the coming years. The degree to which FedEx, which has already pursuing a global wireless strategy of its own for well over a decade, will play a role in such deployments remains to be seen, but a number of potential synergies between FedEx, chipmakers, automakers, wireless carriers, and government agencies aren't difficult to glimpse, especially as 5G rollouts and IoT infrastructure projects around the country begin to pick up speed.
It also isn't difficult to see how FedEx's renewed relevance in the COVID era, characterized by an increased reliance on e-commerce and delivery services, helps drive the need for new services and capabilities like SenseAwareID. Not only will this solution benefit customers with a need to track packages with more precision, but it should also form the basis for a new premium price tier for FedEx (and competitors looking to also provide more precise real-time tracking for some packages). The new service, which could be used to track COVID-related vaccine, therapeutics, and PPE shipments, for example, should help FedEx improve its margins even as demand for deliveries remains high over the course of the next 12 to 18 months.
To be continued.
Futurum Research provides industry research and analysis. These columns are for educational purposes only and should not be considered in any way investment advice.
Read more analysis from Futurum Research:
Amazon Devices Launch Leans Into Sustainability, Innovation, And Privacy
Microsoft's Edge Browser Updated At Microsoft Ignite 2020
Oracle Cloud Infrastructure Takes The High-Performance Computing Road
The original version of this article was first published on Futurum Research.
Senior Analyst at @Futurumxyz. Digital Transformation + Tech + Disruption. Author, keynote speaker + troublemaker. Opinions are my own. I like croissants.