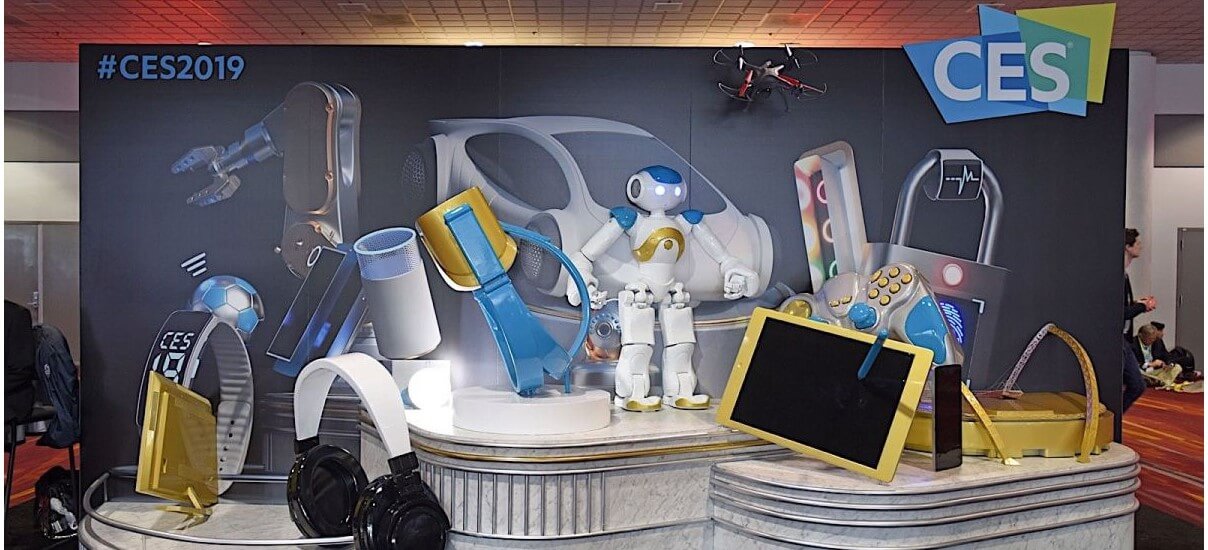 This post is sponsored by Samsung Semicondutor US. Opinions are my own.
For CES 2019 I predicted 5 overarching themes would be distinctly visible throughout the show and all of the coverage that the show receives. Those trends include 5G, Autonomous Vehicles, Flexible Devices and Growing Smart Ecosystems. However, while all of those trends were certain to be massive throughout the show, the number one trend by far was going to be AI or AI Inside as I like to call it. After Samsung's opening press conference at CES 2019, I had the chance to chat with Jim Elliott, Corporate Senior Vice President of Samsung's memory business, and he opened up by saying precisely what I feel is happening in the marketplace.
"The AI revolution is upon us. We've witnessed its impact across every aspect of our daily lives – from natural language processing and deep learning to facial recognition and autonomous driving. It affects how we bank, how we work out, how we play sports, and how we use virtually every consumer device and smart appliance."
Over the past few years, AI has been a hot topic. With driver assistance, smart speakers and digital assistants dominating the consumer view of these products, there has been a much bigger revolution taking place in the background and that has been built on a foundation of data. As Internet of Things is rapidly proliferating and every single one of those things is creating a mass of data, our systems are rapidly gaining intelligence that creates the opportunity for machine learning to augment our lives. It's simple, more data equals more fuels for our systems to collect, process, analyze, learn and improve based upon the available data. It is a strategic partnership between data, humans and systems that will lead to an AI revolution pushing the boundaries from today's Internet of Things to tomorrow's Intelligence of Things. However, the technology required to make this happen will also have to keep up. Jim continued by saying,
"AI will continue to change how we live and interact. But to enable this new reality, the infrastructure to process, store, and "make sense of" staggering amounts of data must continue to evolve. How we navigate, mine, and gain real-time insight into that data is critical to accelerating the speed, performance, and scalability required by all AI applications. Behind the phones, the smart speakers, and the in-car infotainment systems is the infrastructure that handles the data they require – it's what makes AI actually work."
This is often not understood by consumers, but realistically, it doesn't have to be. The experience is about ubiquity between people and AI. However, it's also important that as an industry, we don't forget the close relationship between infrastructure and intelligence.
In the coming year, I anticipate the AI revolution continues to find its way into our everyday life more than ever before. Beyond the simple natural language processing and programmatic chatbots that show a mere nano-percentage of what is possible with AI. I believe we are turning the corner and moving toward a phase of training and learning. A pursuit toward more contextual interactions where we don't have to work so hard to have AI actually be helpful. This will also find its way into our work lives. Helping us to perform our jobs better. Where AI has the capability to perform activities beyond just basics, but to truly gain intelligence passively through the continued processing of data and adding contextual insights into our enterprise software and infrastructure, improving the security of our assets and increasing the speed at which we are able to deliver new products, innovations and the staples of our business, like order processing and customer service. Such performance will also require the embracing of edge infrastructure. Jim spoke of how 70+ percent of data will be processed at the edge in just the next 2 years. This means our televisions, mobile devices, speakers, sensors and small edge data centers will take over the processing requirements from the cloud, which today is where almost all AI and Machine Learning activities take place. This will require more from semiconductors as memory and processing will have to be sufficient at those edge devices to handle the demands of AI. Don't mistake for a moment that this is futurist speak either. This is very real and coming to a home and an office near you.
Now of course, as we close the week of CES AI was a massive theme for this event. We will almost certainly find the marketers coining AI as part of every single solution. It wouldn't be CES if we weren't riddled with marketecture and vaporware. However, don't mistake those that are drafting off the AI revolution with those that are helping to lead it. And trust me, there is a difference. It makes me think of one other sage comment from Jim Elliott as he tried to position the difference between Samsung and so many others trying to stake their claim in the AI revolution. Ultimately, it will come down to the infrastructure.
"Since the first days of AI, Samsung Semiconductor has been developing the fastest and most robust memory and storage products in the world in order to support the AI 'data explosion'. Samsung Semiconductor's newest tech will dramatically increase capabilities in data centers and servers around the world and allow for the next wave of innovation in 5G, Cloud, Edge, Big Data, and AI. Always with an eye on the future, Samsung Semiconductor is already looking at how to inspire the next leap forward in AI by bringing processing closer to the device, pre-sorting data, and leveraging edge computing. Our driving force to innovate continues to be a faster, better, more useful AI-enabled world."
Perhaps what I enjoyed the most, having worked closely with so many technology companies is that Jim's narrative, aligns very well with mine. He connected the dots between what it takes to truly have an AI revolution that adds value to society. The big topics like 5G, Edge, Big Data and AI are not mutually exclusive. In fact, they are entirely interdependent AND dependent upon companies like Samsung who are contributing to the semiconductor ecosystem by improving compute, memory and storage. They are the inventors and innovators that are powering our data centers and the edge that will be at the forefront of building the processing power required to not only collage the data but to process, organize, interpret, distribute and do so at a performance level that allows for near real-time action.
Yes, a revolution is upon us and it powered the buzz of this year's CES show. From Autonomous Vehicles to Smart Speakers to Apps and Software that run our businesses and enhance our lives. The "Things" have become intelligent and AI will be everywhere. But behind the intelligence that we are experiencing comes a mass of invention and innovation that is fueling our data centers and powering our devices. This must continue at an exponential rate to support our AI ambitions and the continued growth of meaningful human machine partnerships.
Daniel Newman is the Principal Analyst of Futurum Research and the CEO of Broadsuite Media Group. Living his life at the intersection of people and technology, Daniel works with the world's largest technology brands exploring Digital Transformation and how it is influencing the enterprise. From Big Data to IoT to Cloud Computing, Newman makes the connections between business, people and tech that are required for companies to benefit most from their technology projects, which leads to his ideas regularly being cited in CIO.Com, CIO Review and hundreds of other sites across the world. A 5x Best Selling Author including his most recent "Building Dragons: Digital Transformation in the Experience Economy," Daniel is also a Forbes, Entrepreneur and Huffington Post Contributor. MBA and Graduate Adjunct Professor, Daniel Newman is a Chicago Native and his speaking takes him around the world each year as he shares his vision of the role technology will play in our future.