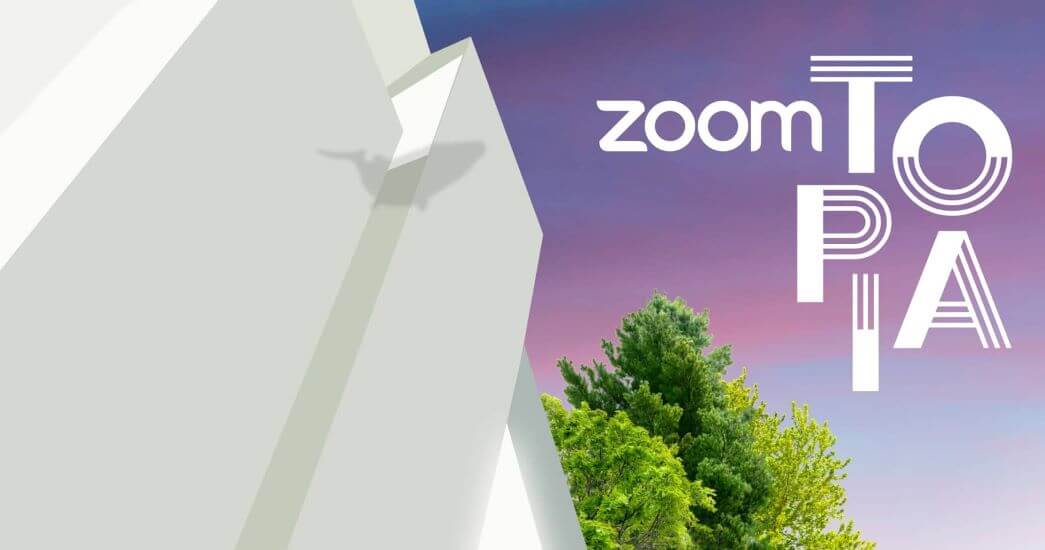 The News: Zoom's Zoomtopia 2021 event featured exciting new features, innovations, and improvements to the video conferencing platform. Read more on the Zoom site here.
Zoom's Zoomtopia 2021 — Zoom is Not Playing When it Comes to Conferences, Events, Contact Center and Leveling Up Collaboration Offerings
Analyst Take: Not only is the hybrid work environment here to stay, it's pretty clear that hybrid events are rapidly becoming the new norm. Zoom's Zoomtopia 2021 kicked off with CEO Eric Yuan's keynote and one of the first things I noticed was the company's nod to inclusivity by featuring a sign language interpreter every step of the way. The company's focus on better engagement, a more connected user experience, and more inclusive experiences was clear from the onset, leading with the announcement that Zoom's automated transcription will be extended to 30 languages and the company will add live translation to 12 languages within the next year. Here is a look as some of the new features, innovations, partnerships, and improvements to the Zoom platform that were announced at Zoomtopia 2021.
Zoom's New Conferences Feature, Designed to Enhance Zoom Events
Zoom's new Conferences feature enhances Zoom Events and allow event organizations to better and more effectively organize events. Zoom has added features like the ability to host up to 13 concurrent sessions at once and events that span over the course of five days. Sessions can be streamed to the conference lobby, and there will be features that allow the showcasing of sponsors and improved branding opportunities, which are exciting enhancements. There will also be the ability to launch surveys, record events, provide networking opportunities for attendees, and even offering an itinerary builder for attendees — all features clearly designed to make virtual and hybrid events better experiences, for participants and event planners alike. There's a Backstage feature available in beta later this year, providing a green room that gives speakers, panelists, and production support a centralized place to gather, chat, monitor, and respond.
There's also an analytics function tied into the Zoom Conferences feature, which I find very compelling. As someone who attends many virtual events and also as the host of our own annual Six Five Summit event, this is intriguing. We have developed our own custom event platform that performed very well for us this past year. That said, I'm always interested in the evolution of video conferencing platforms and am looking forward to checking out Zoom Conferences in greater detail as I get the opportunity.
Zoom's Video Engagement Center and a Continued Focus on the Contact Center
Another announcement at Zoom's Zoomtopia 2021 event is Zoom's Video Engagement Center (VEC), which is a video contact center that allows an organization's customer service agents to serve customers by way of video rather than only relying on phone conversations. This follows Zoom's clearly articulated intentions in the contact center space, as the company announced plans in mid-July to acquire Five9 in an all-stock transaction valued at about $14.7 billion. With Zoom's video capabilities combined with Five9's audio capabilities and reputation for contact center excellence, this is a win all the way around. Customers will get great customer experiences, with audio or video, depending on their preference, and organizations utilizing these offerings get happier, more satisfied, more loyal customers.
Zoom Whiteboard, Zoom Rooms Smart Gallery, Hot Desking, Partnership with Oculus on Horizon Workrooms
Other key announcements from Zoom's Zoomtopia 2021 event included Zoom Whiteboard, Zoom Rooms Smart Gallery, and a partnership with Oculus on Horizon Workrooms that all sound pretty interesting.
Zoom Whiteboard is the company's new virtual hub that's all about facilitating asynchronous collaboration across a wide range of devices and also about providing a more streamlined, more engaging meeting experience. I covered news this last week of Zoom adding $30 million to its investment in Neat, a video device vendor, bringing its investment in the Norway, Oslo-based company to $41 million. While Neat isn't yet part of the Zoom equation in terms of announcements at this event, I see the path there, since many of the features of the Zoom Whiteboard and Zoom Rooms Smart Gallery are functionality also served up in Neat's hardware offerings. Zoom Rooms Smart gallery, available in public beta now, uses AI to create individual video feeds of participants in the room and serving up a clear view of each participant. Neat's offerings are similar, all with a goal of facilitating the hybrid work experience and making remote meeting participants/collaborators as much a part of the experience as possible. I'm curious to see how this works in real time and look forward to experimenting.
Zoom's Hot Desking functionality is all about hybrid and flexible workplaces that are the new workplace normal and affording employees the opportunity to book spaces or desks, selecting seats, and even reconfiguring workspaces for flex working situations. I expect we'll see more on this in the coming months.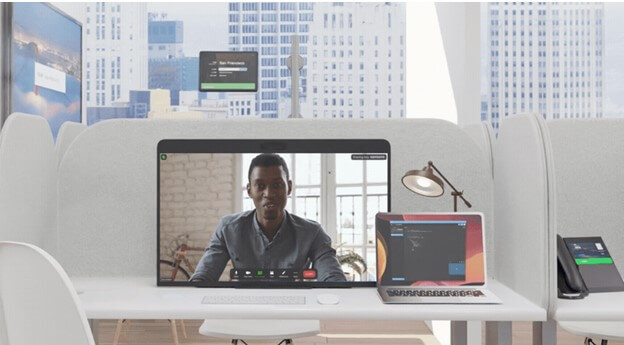 Zoom's Hot Desking functionality
Zoom also teamed up with Oculus to build a Zoom Whiteboard integration for Oculus Horizons Workrooms. This will allow users to interact with a virtual whiteboard the same way they would in person. As AR/VR become more mainstream, and we've got a long way to go there, I'm always interested in solutions like this that nudge the technology and the experiences along. This is another feature I'm excited to play around with, for sure.
Zoom Workstreams and Zoom Widget – Expanded Collaboration Experiences
Another announcement of interest today was Zoom's focus on Workstreams, which are all about expanding and enhancing collaboration experiences. Instead of a team simply jumping on a Zoom video call to have a meeting, Zoom's Continuous Collaboration is intended to extend the conversation beyond the meeting, designed with a goal of keeping collaborators in the Zoom application to collaborate in the channel, sharing files or documents, chatting, etc. rather than going on about their days individually and/or collaborating using other apps. Zoom's Chat Huddle, coming in a few months, will show by way of a visual representation what's happening in a channel, who is participating, and what they are doing. I think that some people will love this, especially folks who need to collaborate closely throughout the day. I also see managers who want to monitor team productivity loving this. Personally, I need lots of quiet thinking time throughout the day, and I'm a fan of zero interruptions when I'm writing or working toward a deadline, so the ability to check out of this — or any collaboration platform — as needed would be important to me. Bottom line, though, there seems to be something for everyone in this expanded collaboration experience ecosystem.
Zoom Widget is designed to provide an at-a-glance schedule of meetings and a more connected workplace. It's nice to see simple things at a glance, and Widgets is a nice nod to that, and again, designed to keep users in the Zoom interface in ways they have previously not been engaged.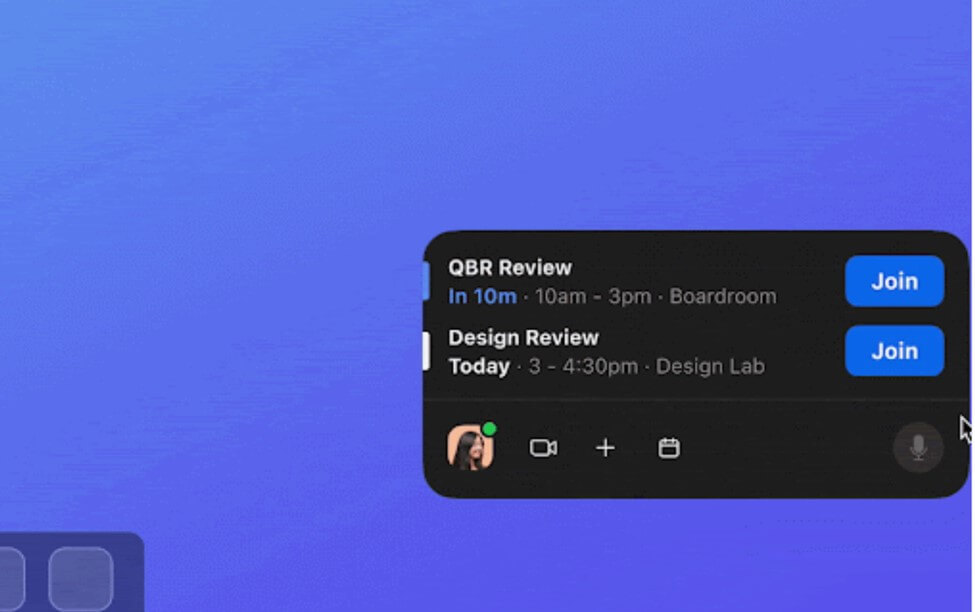 Zoom Widgets
Renewed Focus on Platform Security
Security has in the past been problematic for Zoom, but the reality is that the company has prevailed in spite of unfortunate issues like Zoombombing that it experienced early on in the pandemic. Following those early blips, the company dug in on security, required passwords or waiting rooms in order to protect meetings and participants, and took initiative to remedy past oversights as it relates to security. I'm very happy to see Zoom's Bring Your Own Key (BYOK) offering, which is a feature that lets employees manage their own, personal encryption keys. Zoom also announced the implementation of end to end encryption (E2EE) to its mobile platform.
Bottom Line: Zoom Is Even More of a Legitimate Competitor Than Ever Before
To be fair, a global pandemic provided the spark that Zoom needed to become the everyperson's collaboration platform, and was quickly embraced by individuals, SMBs, and enterprises across the board. There have been some stumbles along the way, largely tied to security, but the company has worked hard to overcome that and has, I believe, effectively done so.
But in the marketplace, competitors Cisco's Webex Suite and Microsoft Teams have clearly been designed to be multifaceted in the way they are used — and these platforms are designed around collaboration as a whole — compared to Zoom's more limited video conferencing functionality. Salesforce's acquisition of Slack and integration with Amazon Chime have served to make it a multifaceted platform, and Google Meet is no slouch in terms of user base either.
In today's business world, collaboration is the name of the game. And in a future of work, and a now of the workplace that is either going to be or already is largely hybrid, these enhancements, and a transition to a more robust, more multi-faceted functionality which allow the transition to a true collaboration platform, are necessary for Zoom to compete. Which is why I'm excited to see these moves and the many announcements coming out of Zoomtopia 2021, because they change the game on that front. Zoom has become, and is becoming, a true collaboration, messaging, event-focused platform and the depth of its offerings continues to grow at a rapid clip.
In addition, Zoom's move into the hardware arena, with offerings from Poly's Studio X70 (available now), Logitech's Rally Plus Appliance (shipping in October) and Neat's Neat Bar Pro (shipping before the end of 2021) is smart and sets the stage for Zoom to become a full stack collaboration platform, with what is sure to be more innovation and enhancements on the horizon.
Zoom reported its FY2022 Q2 earnings late last month and while the company beat expectations on both the top and bottom lines, growth has slown. Kids are back in school, some offices are opening back up to in person work, and a slowdown at some point was inevitable. That said, the transition to serving the hybrid workplace, working to level the playing field between in person employees and remote workers, offering solutions that scale language barriers, providing an exciting, multi-faceted event platform, and offering a true collaboration experience for employees in all corners of the globe – that's the next iteration of the workplace, and it's the next iteration of Zoom.
Disclosure: Futurum Research is a research and advisory firm that engages or has engaged in research, analysis, and advisory services with many technology companies, including those mentioned in this article. The author does not hold any equity positions with any company mentioned in this article.
Other insights from Futurum Research:
Zoom Adds $30 Million to Its Investment in Neat, Video Device Vendor
Zoom to Acquire Five9: Turns Its Focus on the Contact Center
Zoom Crosses the Billion Dollar Mark in its 2022 FY Q2
Image Credit: Zoom
The original version of this article was first published on Futurum Research.
Shelly Kramer is a Principal Analyst and Founding Partner at Futurum Research. A serial entrepreneur with a technology centric focus, she has worked alongside some of the world's largest brands to embrace disruption and spur innovation, understand and address the realities of the connected customer, and help navigate the process of digital transformation. She brings 20 years' experience as a brand strategist to her work at Futurum, and has deep experience helping global companies with marketing challenges, GTM strategies, messaging development, and driving strategy and digital transformation for B2B brands across multiple verticals. Shelly's coverage areas include Collaboration/CX/SaaS, platforms, ESG, and Cybersecurity, as well as topics and trends related to the Future of Work, the transformation of the workplace and how people and technology are driving that transformation. A transplanted New Yorker, she has learned to love life in the Midwest, and has firsthand experience that some of the most innovative minds and most successful companies in the world also happen to live in "flyover country."