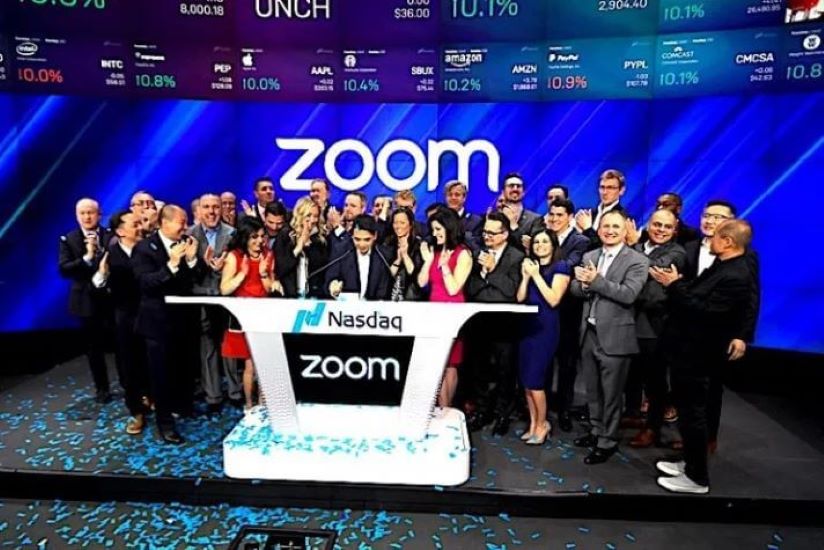 The News: Zoom Q4 results are in — the video communications and collaboration platform, bucked market trends this week by reporting scorching performance on top of their conspicuous growth potential, even as markets find themselves rattled by uncertainty surrounding global efforts to contain the COVID-19 Coronavirus epidemic.
Zoom's non-GAAP EPS was $0.15 (double the expected $0.07), but the company's impressive performance didn't stop there. Zoom's Q4 results included:
88 percent YoY revenue growth
86 percent growth in customers with >$100K TTM revenues
130 percent YoY TTM Net dollar expansion rate (7 consecutive quarters of growth)
14.2 percent non-GAAP operating margin
$114M free cash flow
Growing international presence (84 percent YoY EMEA and APAC growth)
Zoom's guidance for 2021:
$909M – $915M Revenue
$110M – $120M non-GAAP operating income
Non-GAAP EPS $0.42 – $0.45
Q1FY21 revenue guidance: $199M – $201M (suggesting 64 percent YoY growth)
Read the full story on The Motley Fool.
Zoom Q4 Results: Strong Growth Trajectory, and Guidance for Exactly the Right Product at Exactly the Right Time
Analyst Take: Zoom's Q4 results weren't surprising, based on what we've been seeing. Two things are happening simultaneously here. On the one hand, Zoom is doing everything right, and we will get back to that in a moment. On the other, the global impact of the coronavirus outbreak is redefining the value (and opportunity) for video conferencing and collaboration solutions. Let's cover the former, then the latter.
Company Performance
Zoom has shown a track record of investing in the right people and focusing on the right things — in part due to a solid leadership team, but also, because of the company's growth-focused and customer-centric culture. This combination of traits has translated into a slick, reliable, easy-to-use platform that finally makes video-conferencing pain-free for users. One of the hallmarks of good design being word-of-mouth recommendations, it is no surprise that Zoom's growth is in great part driven by user recommendations.
Company performance aside, one of the big questions I have for Zoom going into 2020 is whether or not it will be able to take its user-friendly interface into the enterprise space without 1) spreading itself too thin trying to be all things to all people, 2) compromising quality and simplicity in pursuit of a slew of enterprise features, and 3) running into security issues that larger video conferencing solution providers might be better equipped to address.
Only time will tell on these fronts, and I expect that Zoom is likely to have some product announcements in the coming months that will answer these questions. In the meantime, Zoom's performance thus far suggests that the company is already laser-focused on addressing and overcoming these three challenges. Delivering secure communications for Zoom is a no-brainer, so whether the company begins to capture serious market share in the enterprise or not, it isn't a stretch to expect that it is a priority for the entire company. Adding user features without taking away from the product's clean user experience is also a relatively simple game of product diversification, so I expect that Zoom's portfolio of offerings will expand in the next 18 months to include more customizable business solutions to address not only enterprise needs, but specific types of use cases, as I think we can agree that not all enterprise needs are the same. Zoom is already learning how to play in the enterprise space with clients like Johnson and Johnson (60K seats) and VMware, where it delivers collaboration, meeting, and phone solutions. So, the answer to my question re moving into the enterprise space is probably yes, although Zoom's success in the enterprise will be hard-earned — a challenge that its leadership team seems to be looking forward to taking on.
With seven consecutive quarters of net dollar expansion, strong customer growth in general but 86% growth in customers with >$100K, and a realistic trajectory to reach $1B in annual revenues sometime in the next 12 to 18 months, the sky is the limit for the company, which launched in 2011.
The Coronavirus Paradigm
A factor not previously taken into consideration in the company's growth trend and FY21 guidance is the impact of global viral outbreaks like COVID-19 on conferences, business travel, and office presence. As the world wrestles with large scale travel interruptions, conference cancellations, new telecommuting guidance from corporate offices, and school closings, demand for reliable, easy-to-use, high quality video conferencing and collaboration tools is exploding. While other similar solutions exist, from Webex and Microsoft Teams to Slack and GoToMeeting, Zoom is uniquely positioned to leverage its momentum, very high NPS, and no-friction user experience to not only benefit from this new demand (covered by my colleague here at Futurum Research: Zoom Stock Finds Bright Spot in Coronavirus Fears), but also to come out ahead of the field. In many ways, Zoom appears to be exactly the right kind of video conferencing solution at precisely the right time. Not only does it answer a very real need elegantly and well, but its fresh approach to design, user experience, and seamless interoperability, coupled with the timing of its expansion into the enterprise, promises to attract the attention of many a CTO, to say nothing of millions of new users looking for a versatile and easy-to-use video solution to add to their ecosystem of remote attendance and collaboration solutions.
Futurum Research provides industry research and analysis. These columns are for educational purposes only and should not be considered in any way investment advice.
Related content from Futurum Research:
Zoom Stock Finds a Bright Spot in Coronavirus Fears 
Zoom Q3 Growth Slows but Its Trajectory Remains Solid
Cisco Finds Another Big Security Flaw With Zoom's Connector for Cisco
Image Credit: Spread
The original version of this article was first published on Futurum Research.
Senior Analyst at @Futurumxyz. Digital Transformation + Tech + Disruption. Author, keynote speaker + troublemaker. Opinions are my own. I like croissants.