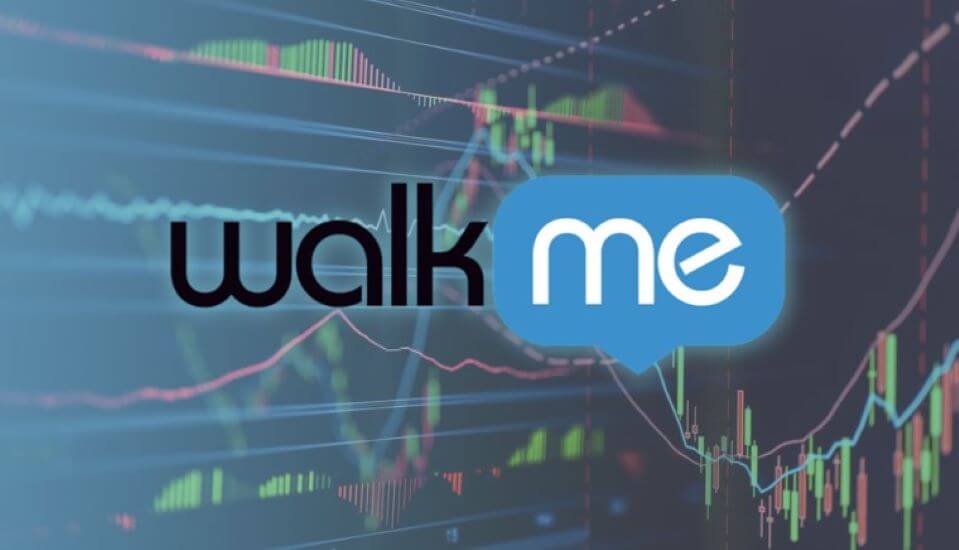 The News: WalkMe held its first Investor Day event in New York City a few weeks ago, which was designed to bring together both the investor community and the analyst community. The day-long event featured deep dives on the WalkMe products and recent advancements, a look at growth trends, an overview on positioning and messaging, and a look at what's ahead for the digital adoption leader. Read more at the WalkMe site.
WalkMe is Proving that Today's Best-in-Class Digital Adoption Platform is all About Delivering ROI
Analyst Take: WalkMe's mission is centered on one simple tenet: The new KPI is ROI, and a digital adoption platform (DAP) is how organizations get there. That focus from the WalkMe team was clear throughout the company's Investor Day event and it could not be more timely. Software technology stacks are growing at a rapid pace but, in my experience, buying technology solutions is the easy part of the equation. Having those technology solutions widely adopted throughout the organization and utilized effectively — so that they can deliver a maximum ROI for that investment — is the real challenge most organizations continue to struggle with.
Change is Happening Around Awareness of the Value DAPs Deliver
WalkMe has long been a trailblazer, understanding at an early juncture the value of employee adoption and working to educate the market. They may have been a bit ahead of the game with their solution, which isn't unusual. It was always a great solution and certainly one that made sense, and WalkMe's challenge was getting that message out and establishing proofs of concept. The team at WalkMe was relentless. They adapted and iterated, and continued to attract customers who understood the value their platform offered. The company IPO'd
Today, we are seeing this focus and effort play out in substantial ways. IT teams, business leaders and LOB decision makers in the C-Suite, and influencers and employee experience advocates within organizations across the board now understand that digital adoption is the only way for software solutions to deliver on their full value proposition and that that ROI must be measured and considered a significant part of the purchase journey.
That reality was part of WalkMe's presentation at Investor Day, as the team shared that they are seeing that change happen, at an increasingly rapid pace. Global search queries for "digital adoption platforms" and "digital adoption" are increasing, and that's because organizations are quickly realizing that technology alone isn't the answer — adoption is the key — and they are actively looking for digital adoption platform solutions.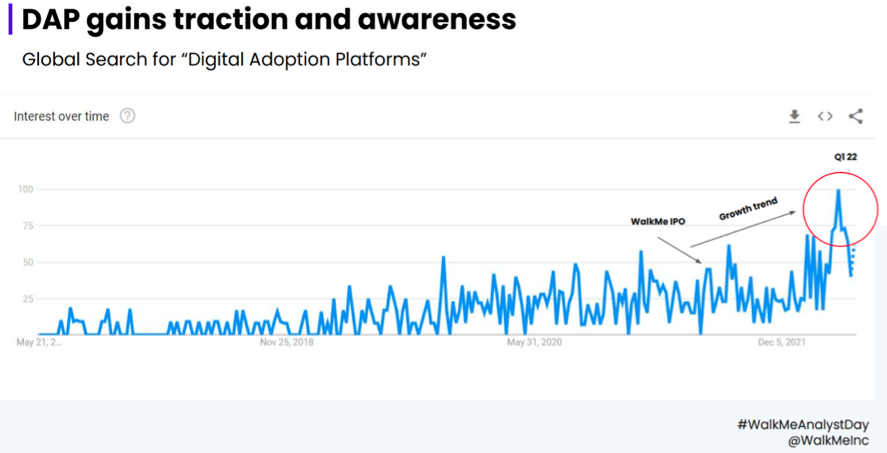 Image credit: WalkMe
WalkMe's Strategy is Centered on Strategic Partnerships and Employee Experience
WalkMe's DAP is designed for companies who want to accelerate their digital transformation journeys and realize ROI from their tech stack investments rapidly, and as a fundamental business KPI. While a key part of WalkMe's focus is on employee experience and helping employees get their jobs done more effectively and getting to the outcomes they seek, the WalkMe platform doesn't stop there.
WalkMe's platform is designed to complement with tech stack integrations, not compete with them, and extends to organizations using the platform to assist with product adoption and helping drive customer retention. WalkMe works with HCM solutions, including Workday, SAP's SuccessFactors, Oracle Cloud HCM, and Talentsoft, as well as CRM solutions like Salesforce, ServiceNow, Oracle CX Cloud, and Microsoft. Customers also use the platform to maximize adoption of ERP solutions, including those from NetSuite, SAP Concur, and SAP Ariba. The company also offers a variety of industry and vertical solution integrations designed for organizations focused on business continuity for their hybrid workforces, along with their clients' increasingly digital needs.
Are you starting to see that this is a very big picture? WalkMe's digital adoption platform is playing an outsized role in delivering in myriad ways — and it's exciting to see such a rapid uptick in adoption. The company has shifted its customer/prospect focus in the last year or so to the enterprise, and that strategic shift has been paying off.
A DAP Affects the Entire Organization and There's Just One Goal: Making a Difference in the Moments that Matter
A DAP impacts the entire organization – affecting many different departments — and as we're seeing across the board as it relates to technology stack investments, the decision making around a DAP like the WalkMe platform is not concentrated with one single buyer.
The team at WalkMe reports they are starting to see CIO and CTO, along with VP of infrastructure involved in purchase conversations, and buying by committee become the norm as they go deeper into the enterprise. The C-Suite is getting more involved as the company gets more focused on enterprise buyers. Bottom line, the reality is the same across the board as it relates to a software solution: the UI can be excellent, the UX can be excellent, but users still need help. And the only real way to maximize the ROI from software investments is to deliver the help users need, when they need it.
WalkMe has developed what they call a DAP Flywheel, which is designed to help organizations evaluate their needs, identify areas of improvement, define what success looks like, then act on those findings. That flywheel is here: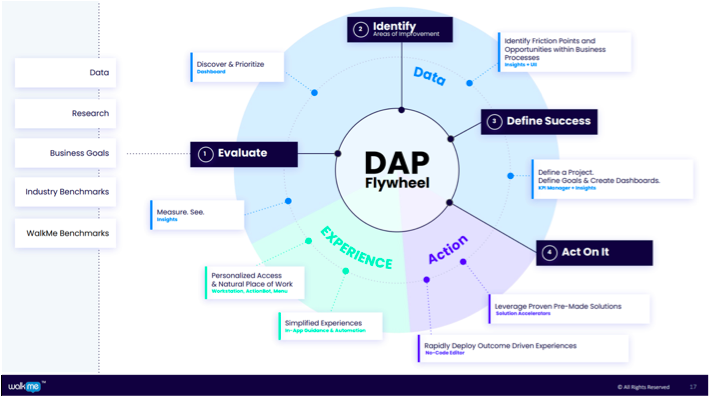 Image credit: WalkMe
The company's goal is simple: Making a difference in the moments that matter, aligned to the organization's strategic business objectives. Their strategies are client focused, putting colleagues (employees) at the forefront of the equation, and accelerating impact.
WalkMe Investor Day Customer Success Stories and What's Ahead
WalkMe shared some compelling client success stories and included some key clients at the Investor Day event.
Jack Snodgrass, VP of Global Security Sales for Stanley Security shared that the company had realized $2 million in savings by using WalkMe, and that they were currently looking at adding their HR business and tools business to the platform. He shared that the differentiator for them was all about the strong partnership between Stanley Security and WalkMe, the leadership that WalkMe brought to the table, both in the early stages of developing a strategy and then the WalkMe team making sure the company was adhering to the strategy every step of the way.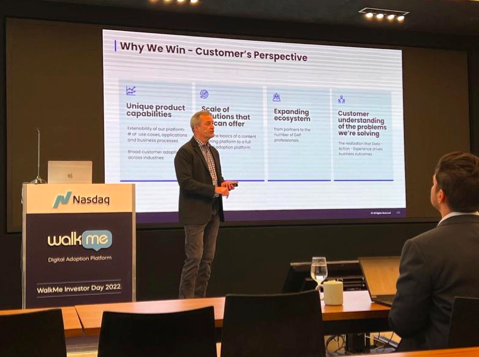 Image credit: WalkMe
The Investor Day event featured a fireside chat with Amir Farhi, WalkMe's Chief Business Development Officer and Austin Lorenzen, VP – Global Cloud Channel Sales for SAP Concur. Concur's relationship with WalkMe started years ago as Concur wanted to improve the activation experience for their employees and better serve their small and mid-market customers but also reduce the time implementation managers were spending. As a result of their use of WalkMe's DAP, Concur was able to cut their customer's mean time-to-value in half. This ultimately resulted in faster time to value, increased compliance with travel and expense policies, an increase in user productivity, and a decrease in cost to train employees. This benefits Concur's relationships with its own partners, who are embracing their own digital transformation initiatives and looking for reduced time to value.
Channel partners are going to play an integral role in WalkMe's success moving forward. WalkMe's Investor Day presentation also featured thoughts from Mike Bentley, Senior Partner at IBM and their goal of activating a human-technology partnership with WalkMe. Bentley shared that he is leading the enterprise change and DX practice with IBM Consulting and is taking a fresh look at how they handle change, transformation, and strategies for success. Part of IBM's goal is to create a true partnership with the team at WalkMe to activate business throughout the systems or new ways of working that activate value.
WalkMe also recently announced a new partnership with Celonis, an execution management software company, that will enable customers to identify and prioritize processes that are not being executed fully. Users will be able to fix these processes automatically or the system will offer a guide to help employees with the desired action when it is needed. The collaboration will help customers further accelerate their digital transformations.
These are but a handful of partnerships and customer success stories and I am confident we'll be seeing more of these strategic alliances moving forward.
What's Ahead: A Challenging Business Environment Makes WalkMe Even More Attractive
Coming out of two plus years of a global pandemic with rapid digital transformation goals the norm rather than the exception, combined with Russia's war in Ukraine, global inflation, fears of a recession, talk of layoffs and beyond means that there is no better time for a technology platform that speeds adoption and lessens time to value. Period.
WalkMe has the ability to make every technology investment deliver on ROI more effectively and more rapidly. Moreover, the company's focus on strategic partnerships with their clients, beyond simply selling them a platform, is a significant part of WalkMe's value proposition — and that sentiment rang out loud and clear from both WalkMe's senior leaders and customers at the Investor Day event.
This shift to becoming trusted strategic advisors to their clients and helping them focus on developing their strategies and deciding what outcomes they are aiming for is key. Asking questions like: What are the systems involved? What are the issues? Do we need to replace or use existing systems (this is preferred – don't look for something new, get people to use the tech you do have correctly). What does success look like for you? How can we equate that to dollars that we can measure against? These are exactly what customers are looking for from their strategic advisors.
This is what WalkMe means by the statement that: The New KPI is ROI and it is clear they are not only primed to deliver for customers, but that they are already doing so. And that? That's very good for WalkMe. Greater trust means longer contract times, deeper relationships, greater efficiencies in how they bring solutions to market, increases in subscription revenues (and faster than services), a partner ecosystem that provides an assist and/or a shift of services to partners — all of this is integral to WalkMe's brand story and really, to the company's success thus far.
Bottom line, driving better business efficiencies and delivering value in measurable ways couldn't be a better value proposition at a better time. Complex business processes mean that organizations are investing in software. Customers who understand that "data, action, and experience" is the name of the game and are all about supercharging their digital transformation processes, business outcomes, and experiencing the best, most rapid ROI on their tech stack investments possible. Every company that's investing in software should be looking at WalkMe, and the upside for WalkMe here is significant. Today, the majority of customers are very early in the DAP lifecycle, which equates to a massive opportunity for WalkMe and its partners.
We see a bright future for WalkMe and its digital adoption platform and look forward to continuing to watch the company evolve and grow.
Disclosure: Futurum Research is a research and advisory firm that engages or has engaged in research, analysis, and advisory services with many technology companies, including those mentioned in this article. The author does not hold any equity positions with any company mentioned in this article.
Analysis and opinions expressed herein are specific to the analyst individually and data and other information that might have been provided for validation, not those of Futurum Research as a whole.
Other insights from Futurum Research:
WalkMe Realize 2022: New Updates and Features for WalkMe Enterprise Take Center Stage
WalkMe Q4 Full and Year 2021 Earnings Report Sees Q4 Revenue Increase 37% as Subscription Revenue Rises 39%
WalkMe's Platform Is Built To Help CIOs Drive Digital Transformation
The original version of this article was first published on Futurum Research.
Shelly Kramer is a Principal Analyst and Founding Partner at Futurum Research. A serial entrepreneur with a technology centric focus, she has worked alongside some of the world's largest brands to embrace disruption and spur innovation, understand and address the realities of the connected customer, and help navigate the process of digital transformation. She brings 20 years' experience as a brand strategist to her work at Futurum, and has deep experience helping global companies with marketing challenges, GTM strategies, messaging development, and driving strategy and digital transformation for B2B brands across multiple verticals. Shelly's coverage areas include Collaboration/CX/SaaS, platforms, ESG, and Cybersecurity, as well as topics and trends related to the Future of Work, the transformation of the workplace and how people and technology are driving that transformation. A transplanted New Yorker, she has learned to love life in the Midwest, and has firsthand experience that some of the most innovative minds and most successful companies in the world also happen to live in "flyover country."