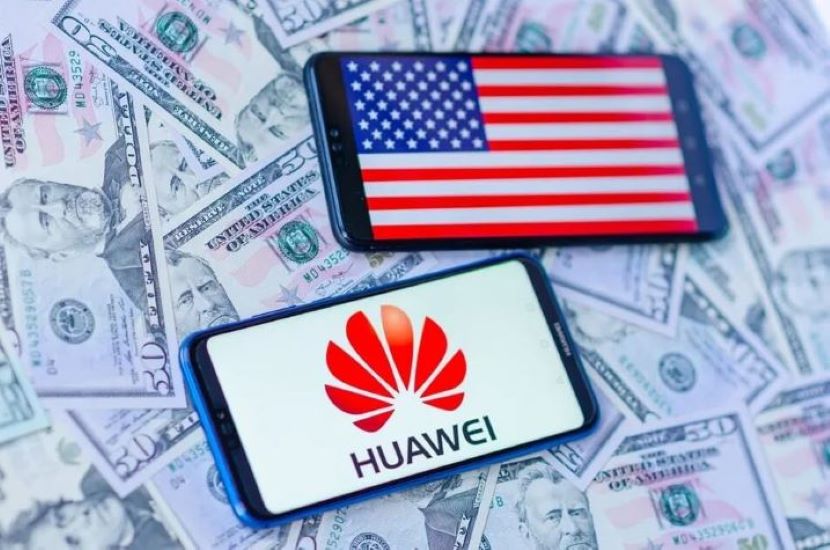 The News: In a move to counter Huawei's dominance in 5G, it's reported that the US government is looking at ways to help Huawei rivals such as Nokia and Ericsson to help counter the dominance established by Huawei early on. The Chinese company is the largest telecoms equipment maker in the world, selling 28% of the world's telecoms equipment. The US government is said to be looking at incentives to encourage incentives to Huawei rivals, as well as other telco equipment companies like Oracle and Cisco. Read more at FinancialTimes.
US Looks at Ways to Help Huawei Rivals, Evidencing the Importance of 5G
Analyst Take: Soon 5G mobile internet will be everywhere, and from a technology standpoint, there are few topics that take precedence over the importance of 5G. It's a global concern that is not just about device connectivity that's 10 to 20 times faster than what we have now, it's about smart cities, driverless transport, smart everything, and the reality that we are soon to be living in an everything is connected world. That can't happen without telecommunications equipment and network development—both of which the US lags behind on.
The Huawei Story, in Brief
Huawei was early to market in the 5G race, transitioning from its first government contract to provide telecoms equipment to the People's Liberation Army in the early 1990s to generating sales of $220 million US by 1995. One of the secrets to Huawei's success is the company's focus on rural markets which were largely underserved, much like rural markets across the world are underserved today. To reward the company for its success, the Chinese government granted Huawei the status of 'national champion' closing the telecoms market to foreign competition. In spite of political headwinds, Huawei reported 2018 revenue of $100 billion, a 19.5 percent YoY rise.
The privately-held employee-owned company has seen much success since those early days, largely due to a commitment to hard work, smart business strategy and network development, augmented by an ongoing and impressive commitment to R&D. Huawei once wanted to be a major player in the global communications market, and today the company sells more smartphones than Apple across the world.
Beyond mobile devices, Huawei quickly grew to be the world's largest telecoms infrastructure provider, followed by Nokia and Ericsson.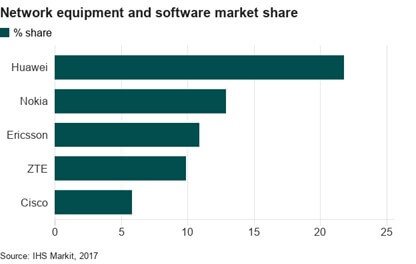 Huawei's 'secret sauce' in network infrastructure has been attributable in part to the company's focus in rural areas across the world. Largely overlooked and underserved, when a telecoms giant comes in and offers long-term financing at low rates, it's hard to say no. And many areas around the world were quick to say yes. Then came intelligence concerns, with reports of spying, and understandable concerns about how independent the company might really be given the realities of life (and business) in Communist China. The BBC recently did a very deep dive on Huawei. If interested, you can check that out here: Huawei: The Story of a Controversial Company.
The US Government Has Serious Concerns, With Good Reason
The US Government has serious concerns about Huawei, with reasons that go beyond allegations of spying—it's all about 5G market dominance. The Chinese company quietly set about dominating in network equipment and software market share and has a significant lead, today anyway, over rivals like Nokia, Ericsson, ZTE, and Cisco. Beyond anything having to do with national security, allegations of spying, or the involvement or potential involvement of the Chinese Government, that advantage is significant.
It makes perfect sense that the US government is exploring ways to get involved and move 5G initiatives forward domestically—and help other countries in their 5G efforts as well, notably the European markets. The goal would be to counter that lead that Huawei established early on and to make an effort to quickly get other telecom operators moving in this space. In some instances, rural operators in the US have already installed Huawei equipment, and the cost of replacing its kit could be a roadblock. These discussions presumably would include incentives and financing to facilitate removal/replacement.
Bottom line, while these are still the early days, I would not be at all surprised to see incentives offered by the US that make it easier for the likes of Nokia, Ericsson, Cisco, and others to make inroads in the 5G market. For the government, it's about trying to make up for lost time and throwing money and resources at it is exactly what led to Huawei's success with 5G network infrastructure to begin with.
Futurum Research provides industry research and analysis. These columns are for educational purposes only and should not be considered in any way investment advice.
Related content:
Alibaba Follows Huawei Into the AI Chip Space With the Hanguang 800
Huawei on 5G: Asia-Pacific is the Early Pace Setter
Huawei Keeps a Footing in the 5G Race in the UK
Image Credit: Enterprise Talk
The original version of this article was first published on Futurum Research.
Shelly Kramer is a Principal Analyst and Founding Partner at Futurum Research. A serial entrepreneur with a technology centric focus, she has worked alongside some of the world's largest brands to embrace disruption and spur innovation, understand and address the realities of the connected customer, and help navigate the process of digital transformation. She brings 20 years' experience as a brand strategist to her work at Futurum, and has deep experience helping global companies with marketing challenges, GTM strategies, messaging development, and driving strategy and digital transformation for B2B brands across multiple verticals. Shelly's coverage areas include Collaboration/CX/SaaS, platforms, ESG, and Cybersecurity, as well as topics and trends related to the Future of Work, the transformation of the workplace and how people and technology are driving that transformation. A transplanted New Yorker, she has learned to love life in the Midwest, and has firsthand experience that some of the most innovative minds and most successful companies in the world also happen to live in "flyover country."