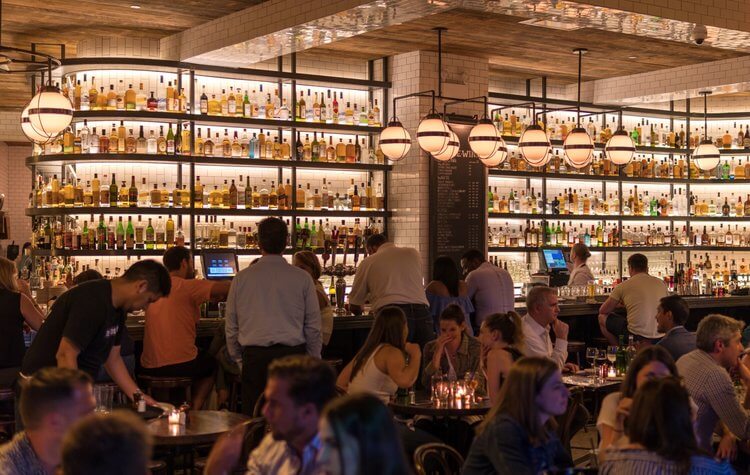 I was in New York City this past week and eating most every meal out made me think about how prime the restaurant is for disruption, and also how slowly it's moving toward adopting technology to make the dining experience a better one for customers. With digital channel sales predicted to make up some 30 percent of all restaurant transactions by 2025, and with only six percent of restaurant sales having a digital component, it is clear that technology's disruption of the restaurant industry is imminent. More importantly, the restaurant guests' expectations of what a dining experience is has and is changing—are restaurants changing with them?
Want more on digital transformation in hospitality? Read: Top Six Digital Transformation Trends in Hospitality and Tourism
In a recent report from BRP Consulting and Windstream Enterprises, "The Restaurant Digital Crossroads, the Race to Meet Guest Expectations," both customers and restaurant pros were surveyed on how the industry is doing in embracing digital channels and the process of digital transformation. Much of the data generated by way of the report focused on fast casual dining rather than fine dining, which makes sense—more Americans probably frequent this segment than the fine dining segment, and part of the whole fine dining experience is that it's an experience in and of itself, not just a meal. And when it comes to the fast food segment, we're definitely seeing (and going to see much more of) the integration of technology into operations, like what I wrote about over on our Converge Tech + Business site: Wendy's Introduces Robots Into the Fast Food Experience.
Technology's Disruption of the Restaurant Industry: It's All About Customer Expectations
When considering technology's disruption of the restaurant industry, think for just a moment about the things you personally encounter when eating out that irritate or frustrate you. For me, the number one irritation is being on someone else's schedule (e.g. the server) and having to sit around and twiddle my thumbs waiting for service. I'd love to sit down, see a menu (digital or otherwise) that allowed me to quickly see the specials, then have the ability to place an order electronically and get my food on its way to being prepared.
In today's restaurant world, instead of efficiency and a customer-first mindset, it's about status quo. This is how it's done, and this is how it'll be for you. Think about it. You arrive at a restaurant. The process is so predictable: First you're seated, then someone comes and brings you water (whether or not you want it), then your server comes, introduces themselves, and takes your drink order, then he or she goes away and gets your drinks, which may or may not be quick, depending on how busy he or she is. Then, finalllllllly, the drinks are delivered and your server is ready to take your order. Notice this is all built around what works for the server's schedule, not necessarily yours.
Then you wait for your food.
If something's wrong with your food, or something you ordered is not delivered, you wait until your server comes back around to your table to check in or until you can manage to flag them down and ask for a correction.
Then you wait for the problem to be fixed.
Then you wait for the chance to ask for your check.
Then you wait for your check.
Then you wait for your check and credit card to be processed.
Holy mother of wasting time and slogging through an incredibly slow process! What's the biggest common denominator that customers experience here? Waiting.
What is the biggest thing I hate? Waiting.
Technology's Disruption of the Restaurant Industry—What Customers Want
So when we're talking about technology's disruption of the restaurant industry, what is it that customers want? According to the report, some of that depends on their age. The BRP/Windstream survey respondents report that 74 percent of the Millennial/Gen Z cohorts are like me (and I'm definitely not a Millennial) — they expect digital channels to provide them with easy shopping, ordering, and payment solutions. Sixty percent of this group expect free wifi and only 44 percent of restaurants offer that. Think about that for a minute. How stinking hard is it to offer free wifi? Not hard at all, but yet a significant number of restaurants don't get that, and don't do it. My kids span both the Gen Z and Millennial cohorts, by the way, and everywhere they go they look for free wifi. Businesses who don't offer that are letting down an entire generation of customers.
So what do customers want? Convenience, speed, ease of execution. Here's an example: My favorite offering of any Starbucks or Panera store? The ability to place a mobile order, pay for it using my device, pop in, grab the order from a shelf and go. No waiting. No snags. No holdups, just convenience, speed, and ease of execution. Do I sometimes patronize these businesses over other coffee shops or lunch spots specifically because of mobile ordering, pickup, and payment offerings? Absolutely. Do other customers? Absolutely.
Here's another example of technology's disruption of the restaurant industry. I was in a restaurant in NYC that's a chain style, fast casual restaurant. One of the first things the greeter did after seating us is set a device on the table that allowed us to push a button when we needed service. You know what that device did? It made the whole experience more convenient for us. It completely eliminated us sitting around waiting on that one item that wasn't delivered and/or when we were ready for our check, instead of waiting for our server to figure that out, we pushed a button and immediately got the attention we sought. It was fabulous.
The Importance of Customer Reviews and a Great Online Experience
When I was in NYC, I sourced restaurants based on reviews, photos shared by other diners, and feedback from other, trusted foodies. I looked at menus online before deciding to patronize a restaurant, and took prior guest feedback into consideration when placing my order. That's another example of what today's customers want—for the restaurant experience to live up to the reviews. I look at reviews—Yelp reviews, OpenTable reviews, Facebook reviews, and Google reviews. I know in advance what the menu offerings are, what other guests are raving about, what other guests are suggesting I stay away from, and I'm making decisions based on the experiences shared by others. I'm also looking at the interaction (or lack thereof) of the restaurants with patrons who post reviews. Most restaurants don't engage with their customers at all post-review, which is something that other customers can clearly see. This is an opportunity for savvy restauranteurs to establish a competitive advantage by building strong relationships with customers who patronize their restaurants and go to the trouble of leaving reviews. It's also an opportunity to take their feedback and learn from them. Here's some data from the report on that front, and proof of how devices are driving the in-restaurant experience: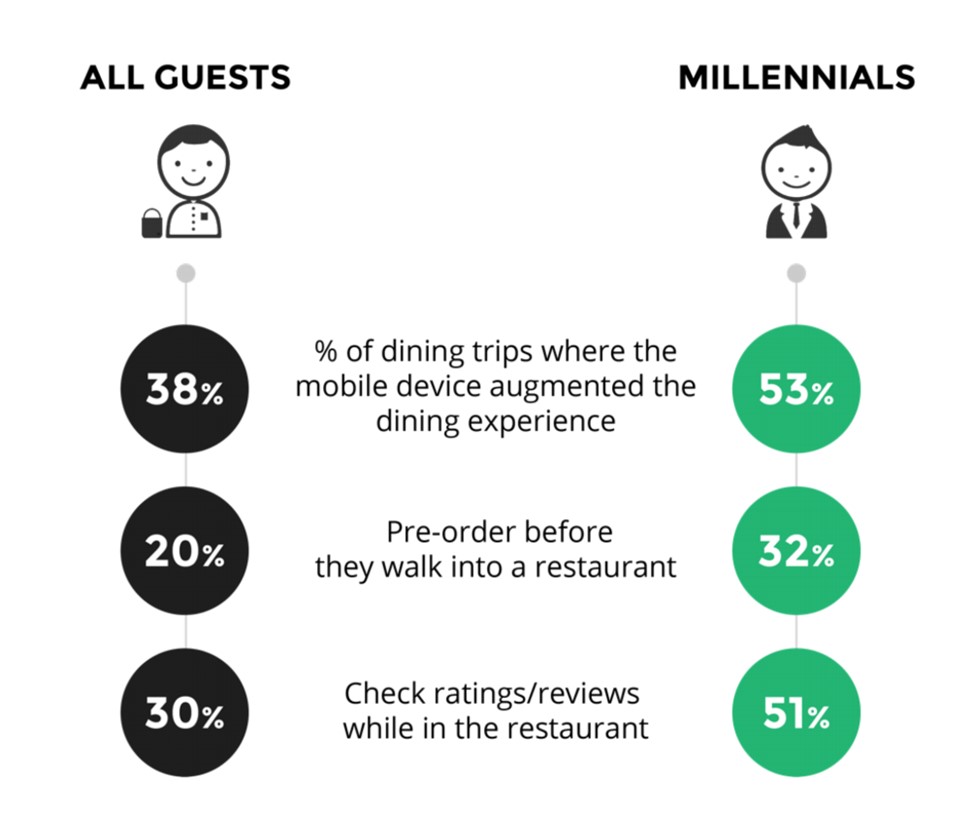 Once again, I'm not a Millennial, but I am as digital savvy, if not more so, than most Millennials, and there are many customers in my age group who are likewise expecting digital to play a role in the dining experience.
Here's another graphic from the report that shows what survey respondents wanted in digital offerings and what restaurants are currently serving up.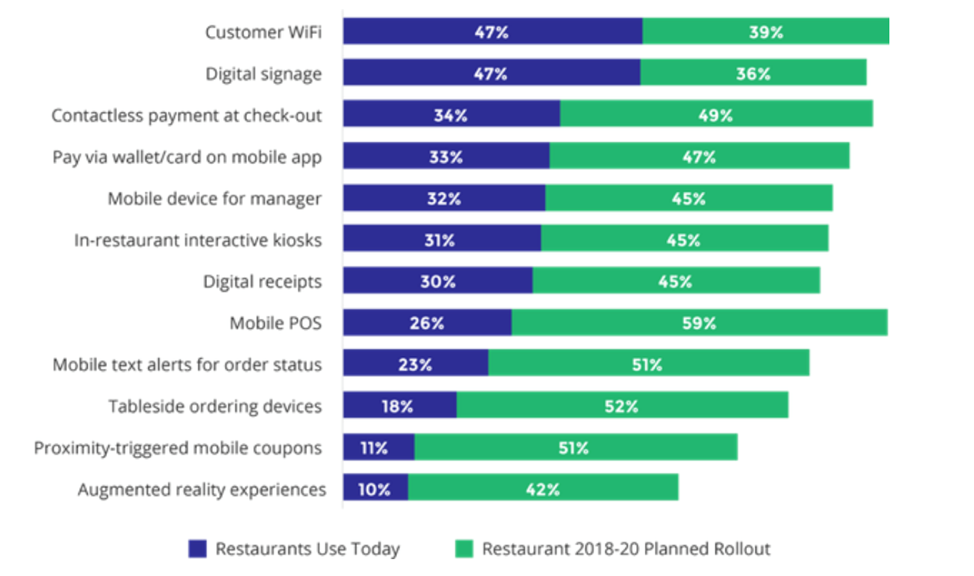 Successful Digital Transformation is All About Customer Experience
The successful digital transformation of the restaurant industry is no different than the successful digital transformation of any other industry. It's about approaching every part of the experience with a customer-first mindset. It's about not doing things because that's the way they've always been done, but instead looking at the entire customer experience through the customer's eyes. What are the hang-ups, frustrations, pain points, and irritants that customers face? How can we leverage technology to reduce or eliminate those things and create a better, more satisfying customer experience? Technology's disruption of the restaurant industry is a given, and it's imminent, but it's really not all that difficult to transform restaurant operations to create better customer experiences.
What about you? What are your expectations when it comes to dining experiences? Do you get frustrated by some of the same things that frustrate me? Have you seen innovative uses of technology in restaurants that are intended to make the dining experience more convenient, enjoyable, etc.? I'd love to hear your thoughts on technology's disruption of the restaurant industry.
Want the full report? Get it here: Restaurant Digital Crossroads: The Race to Meet Customer Expectations.
Other resources on this topic:
The Heart of Digital Transformation: The Customer
Four Digital Transformation Trends You Need to Know
Want a Competitive Advantage? Focus on Customer Experience
Shelly Kramer is a Principal Analyst and Founding Partner at Futurum Research. A serial entrepreneur with a technology centric focus, she has worked alongside some of the world's largest brands to embrace disruption and spur innovation, understand and address the realities of the connected customer, and help navigate the process of digital transformation. She brings 20 years' experience as a brand strategist to her work at Futurum, and has deep experience helping global companies with marketing challenges, GTM strategies, messaging development, and driving strategy and digital transformation for B2B brands across multiple verticals. Shelly's coverage areas include Collaboration/CX/SaaS, platforms, ESG, and Cybersecurity, as well as topics and trends related to the Future of Work, the transformation of the workplace and how people and technology are driving that transformation. A transplanted New Yorker, she has learned to love life in the Midwest, and has firsthand experience that some of the most innovative minds and most successful companies in the world also happen to live in "flyover country."