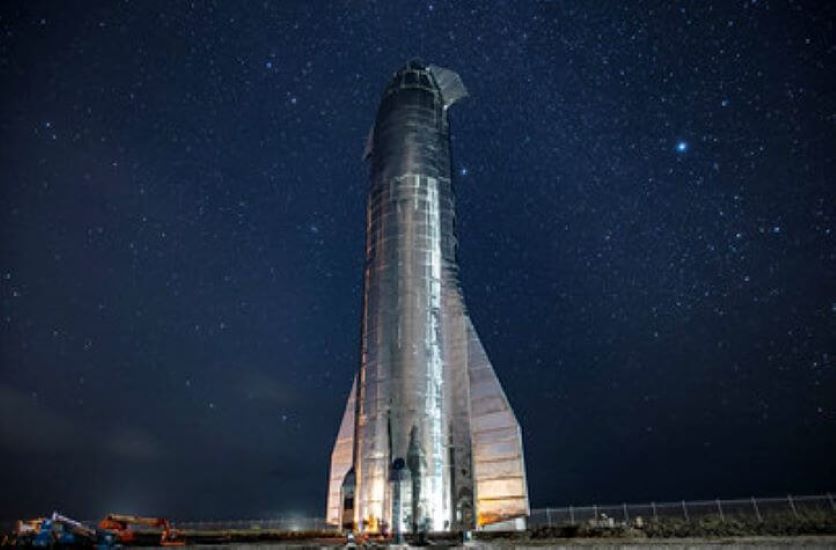 The News: Last night on Twitter, Elon Musk answered more in depth questions regarding his efforts with SpaceX's Starship, his space tech venture, which will help him attain his goal of ultimately sending one million people to Mars by 2050.
Space Tech: What Do Private Space Efforts Mean for the Tech Sector?
Summarized by Darrell Etherington in a more than comprehensive article on TechCrunch, Etherington wrote of Musk's plans. Below are just a few that Etherington summarized:
The CEO answered questions on Twitter last night providing more details about Starship and how it will eventually need to work in order to reach Musk's goal of colonizing Mars.
Musk reiterated that Starship will need to operate on a brisk schedule ferrying many megatons of cargo per year to Mars in order to establish and maintain a human presence.
The spacecraft is being designed with the plan of flying it for an average of three flights per day, each carrying over 100 tons per flight, for a total of over 1,000 flights per year per vehicle.
Ultimately, Musk says that he hopes to achieve a construction rate of 100 Starships being produced per year, with a goal of hitting 1,000 in total in service over the course of the next decade, which can transport as much as 100 megatons per year in cargo, or about 100,000 people "per Earth-Mars orbital sync" in terms of human passengers.
That translates to a schedule of roughly once every two years, when Earth and Mars are closest to one another because of the coincidence of their respective orbits around the Sun.
According to Etherington, Musk pointed out that his goal is to make it common enough and affordable enough that "anyone can go if they want, with loans available for those who don't have money." Musk also noted that there "will be lots of jobs on Mars" for potential colonists.
The Challenges and Opportunities Presented by Space Tech
Analyst Take: As Musk pushes through with his ambition for colonizing Mars and private space exploration becomes closer to reality, what does this mean for the economy in the tech sector — and space tech? Similar to preparations for Y2K, will there be niche services/vendors for Mars colonization? For example, satellite services that cater to Earth/Mars communications or software that helps with Mars-specific tasks and monitoring? In terms of workforce, will there be a sudden surge of students focused on space tech, studying to become space engineers? Or people training to become astronauts? Will the tech community have to adjust their focus and resources and as space tech becomes a new, and completely separate revenue stream?
The answer to all of the above is 'yes.' In fact, according to another article by Etherington, space investor company Space Angels revealed in their quarterly report that investors put nearly $6 billion in capital into space companies in 2019.
As space tech becomes a new revenue stream for the tech sector, here are my predictions of how the following categories will accommodate private space efforts such as the colonization of Mars:
Satellite – Satellite providers will be vying to be the key communications for Starship travelers and colonists. Communication providers and vendors that have a satellite play will be building this area to stay competitive.
Manufacturing – Manufacturers will have to provide space-ready materials that are nimble and augmented reality will be key to installation and maintenance.
Cloud players – The major cloud players (who may work with the satellite providers) will be key in providing SaaS applications for both the Starship and operations on Mars.
Software – Categories such as monitoring and quality/service assurance will become even more crucial on a planet with a very different climate.
Smart Cities – Smart cities or smart planet? Using the above categories, like satellite, cloud and software, this is a chance to start from scratch. No legacy systems to grapple with here! Sensors for new infrastructure will be common.
Police and Emergency – I can't imagine inhabiting a new planet means lawlessness? City departments such as police and emergency will have to make residence, and they'll also be using technologies such as satellite for mobile communication.
Food – Though space food already exists, now it will have to be developed in mass quantities to serve millions and also be packaged in a way that accommodates the confines of space.
Clothing – The clothing industry will have a new category of wear that adjusts to space and is made to suit the unique needs of living on Mars
Higher Ed – Space engineering/science will become an increasing popular category, and we'll also see an increase in astronaut training
Starship is currently in development, with a new prototype under construction at its Boca Chica, Texas facility. SpaceX says this most recent version will be used for orbital flight testing this year. These are my space tech predictions, but if you have other theories/ideas of how tech will support space exploration, please submit your idea and I may quote you in a follow up post.
Futurum Research provides industry research and analysis. These columns are for educational purposes only and should not be considered in any way investment advice.
Read more analysis from Futurum Research:
Visa's Acquisition of Plaid is a $5.3Bn Bet on the Future of Finance 
Microsoft's Carbon Negative Commitment: A Big Commitment To The Future
AWS Releases AutoGluon, an Innovative Open-Source Tooling for Automated Machine Learning
Image Credit: SpaceX
The original version of this article was first published on Futurum Research.
Sarah brings 24 years of experience as an industry analyst to the Futurum team. She most recently served as the head of industry research for Oracle. Her experience working as a research director and analyst extends across multiple focus areas including AI, big data and analytics, cloud infrastructure and operations, OSS/BSS, customer experience, IoT, SDN/NFV, mobile enterprise, cable/MSO issues, and managed services. Sarah has also conducted primary research of the retail, banking, financial services, healthcare, higher ed, manufacturing, and insurance industries and her research has been cited by media such as Forbes, U.S. News & World Report, VentureBeat, ReCode, and various trade publications, such as eMarketer and The Financial Brand.