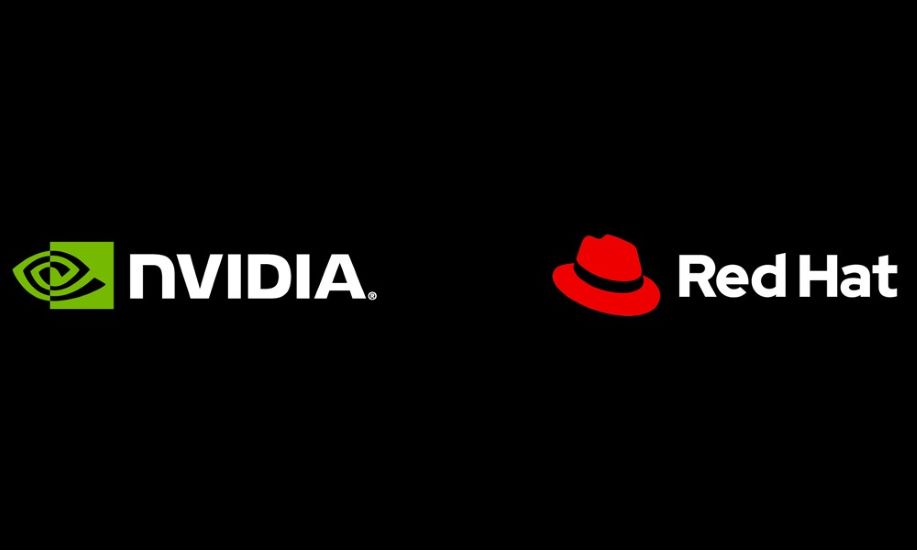 The News: Red Hat announced this week new certifications and capabilities for Red Hat OpenShift aimed at accelerating the delivery of intelligent applications across the hybrid cloud. These enhancements, including the certification of Red Hat OpenShift with NVIDIA AI Enterprise 2.0, as well as the general availability of Red Hat OpenShift 4.10, are intended to help organizations deploy, manage and scale artificial intelligence (AI) workloads with confidence. Read the full announcement here.
Red Hat Lowers Barrier to AI Adoption and Updates Core OpenShift Platform
Analyst Take: I had the chance to grab time with the Principal Product Marketing Manager Red Hat for OpenShift, Ben Cohen and the rest of the team focused on leading the efforts to bring OpenShift to market, soon after the announcements this week and the team were gracious with their time and insights as I tried to get beyond the marketing messages. OpenShift is a foundation technology for Red Hat. While RHEL is the cash cow, the Ansible and OpenShift platforms are where the next wave of Red Hat growth will come from. Put another way, IBM invested in acquiring Red Hat for $34 billion back in 2019 so as to lock in the hybrid cloud narrative that OpenShift as a technology stack underpins.
As Kubernetes establishes itself more prominently as the plumbing layer for hybrid cloud, we are seeing it get more widely deployed across the entire DevSecOps landscape as well as from the Edge-to-the-Cloud. This announcement takes this deployment trend and looks to meaningfully add AI to the mix. Consensus estimates put the AI software revenue market at north of $60 billion in 2022, which conservatively translates to 20%+ of growth against prior years. Enterprise clients are looking to integrate AI and machine learning capabilities into cloud native applications to both deliver more insight and also power the next stage of digital transformation. But the biggest challenge along the way has been dealing with the operational challenges of where the AI and ML teams meet their peers in operations.
These operations teams need an agile, scalable, and flexible platform that is consistent and pervasive, regardless of the workload. With bringing the ability to develop and deploy ML models and intelligent applications into production more quickly, but also crucially in a consistent and tested way, this not only benefits the data scientists that want to move fast and don't necessarily have Ops concerns at the front of mind, but also removes headaches for Ops teams.
Against this backdrop, Red Hat partnering with NVIDIA makes perfect sense, especially as both are easily considered leaders in their respective markets. Organizations are increasingly deploying more advanced AI/ML-powered applications that underpin the ability to inform strategic decision making and provide opportunities for innovation and differentiation. Kubernetes is becoming the preeminent deployment and orchestration approach for these cloud-native applications and, therefore, the Red Hat team partnering with NVIDIA is a sound step forward for both companies. Red Hat OpenShift brings inherent flexibility, portability, and scalability to train, test, and deploy ML models. OpenShift lives at the intersection of Dev and Ops and therefore provides a framework of capabilities for better collaboration between data scientists, developers and operations teams.
AI innovation Without Day Two Concerns
AI is revolutionizing how work gets done across industries and various uses cases, however operationalizing an AI infrastructure can be time-consuming, resource-heavy, and lead to labyrinthine operational models. Against this backdrop, the fact that Red Hat OpenShift is now certified and supported with the NVIDIA AI Enterprise 2.0 enables teams from both the AI and ML sphere and Ops to deploy applications at increased velocity with fewer day two operational headaches.
Customers can with OpenShift 4.10 and beyond deploy NVIDIA-Certified Systems with NVIDIA Enterprise AI software, as well as on previously supported NVIDIA DGX A100 systems. These joint announcements by Red Hat and NIVDIA allow organizations to significantly improve the MLOps lifecycle, and move toward a unified AI infrastructure that is radically easier to administer.
OpenShift Everywhere
Another key part of the recent OpenShift announcements was the continued move toward multi-cloud support, as well as bringing OpenShift to an increasingly large number of chip architectures. The OpenShift 4.10 announcements see Azure Stack Hub, Alibaba Cloud, and perhaps surprisingly, insomuch that it has taken this long, IBM Cloud. This pretty much completes the market for public cloud platforms, although I did raise the fact that Oracle Cloud is absent from the list and will be tracking this omission in the months ahead as the team briefs me further on the roadmap.
The currently supported platforms include: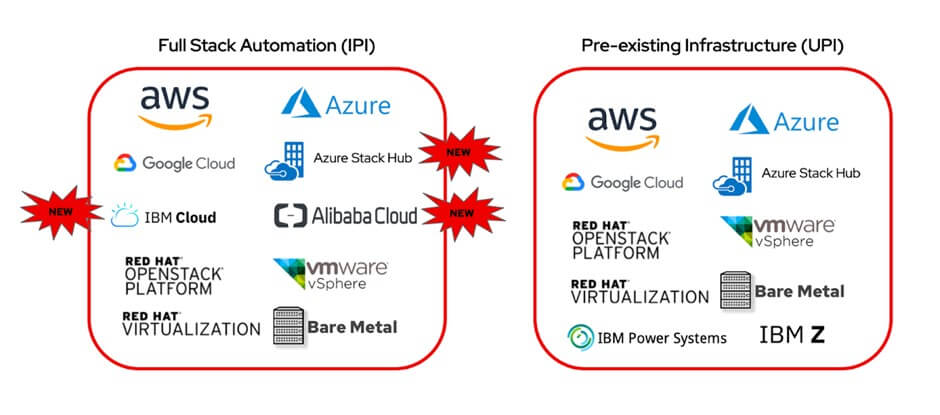 Red Hat OpenShift 4.10 continues on a trajectory to support a spectrum of cloud native workloads across open hybrid cloud environments. The 4:10 version of OpenShift adds support for additional public clouds and hardware architectures and adds new features and capabilities designed to improve the deployment of AI/ML workloads, include:
Installer provisioned infrastructure (IPI) support for Azure Stack Hub as well as Alibaba Cloud and IBM Cloud, both available as a technology preview. Users can now use the IPI process for fully automated, integrated, one-click installation. I will be interested to see whether this approach comes to IBM Power, Z and LinuxONE platforms in the near future.
Running Red Hat OpenShift on Arm. Arm support will be available in two ways: full stack automation IPI for Amazon Web Services (AWS), and user provisioned (UPI) for bare metal on pre-existing infrastructure.
Red Hat OpenShift availability on NVIDIA LaunchPad. With Red Hat OpenShift now available on NVIDIA LaunchPad, enterprises can get started more rapidly in their deployment of NVIDIA AI Enterprise with Red Hat.
Compliance Focus
Container Security and overall compliance posture is top of mind for many enterprise customers, and rightly so. Red Hat Advanced Cluster Security is the company's approach to the requirements of container security and represents the evolution of the Stackrox acquisition the company made early last year. However, it was good to see that in the latest OpenShift announcements compliance was covered in detail. OpenShift 4.10 includes three new compliance operators that enable users to check their cluster for compliance and remediate identified issues. The compliance profiles include:
The Payment Card Industry Data Security Standard (PCI DSS),
North American Electric Reliability Corporation Critical Infrastructure Protection (NAERC CIP)
FedRAMP Moderate impact level
Interestingly, OpenShift 4.10 also includes the general availability of sandboxed containers that provide an optional additional layer of isolation for workloads with stringent application-level security requirements. The company also highlighted during our briefing that improvements have been made to OpenShift in air-gapped settings, switch a focus on maintaining mirrors of OpenShift images, and keeping them in sync as if they were a connected cluster.
Looking Ahead for OpenShift
As multi-cloud and hybrid cloud become the operational reality for many enterprise customers and Kubernetes becomes the default option for container orchestration and operations, tools such as OpenShift become crucial control planes in the wider IT landscape. Against this backdrop, Red Hat is right to keep innovating and partnering with OpenShift and a deeper partnership with a market leader such as NVIDIA makes perfect sense.
I will be watching to see whether the Red Hat team becomes stretched as it tries to keep up the pace of innovation and partnership as they look to make the platform omnipresent across cloud deployments both in the public and private landscape. I will be tracking to see whether the team can maintain the furious pace they have established and stay ahead of the likes of VM ware and the increasingly focused SUSE team with Rancher. These three players are firmly establishing themselves as the names to watch in the hybrid cloud space and I only see the battle for Kubernetes supremacy heating up in the months ahead.
Disclosure: Futurum Research is a research and advisory firm that engages or has engaged in research, analysis, and advisory services with many technology companies, including those mentioned in this article. The author does not hold any equity positions with any company mentioned in this article.
Other insights from Futurum Research:
Red Hat Brings Ansible Automation Platform to Microsoft Azure 
Red Hat Goes All in on Multi Cloud and Hybrid Innovation with Latest Version of Red Hat Enterprise Linux
Red Hat Announces OpenShift 4.9 — Getting Closer to the Edge With Myriad Enhancements — and Advanced Cluster Management for Kubernetes
Image Credit: NVIDIA
The original version of this article was first published on Futurum Research.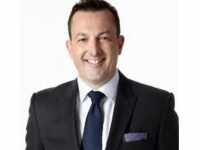 Steven Dickens is Vice President of Sales and Business Development and Senior Analyst at Futurum Research. Operating at the crossroads of technology and disruption, Steven engages with the world's largest technology brands exploring new operating models and how they drive innovation and competitive edge for the enterprise. With experience in Open Source, Mission Critical Infrastructure, Cryptocurrencies, Blockchain, and FinTech innovation, Dickens makes the connections between the C-Suite executives, end users, and tech practitioners that are required for companies to drive maximum advantage from their technology deployments. Steven is an alumnus of industry titans such as HPE and IBM and has led multi-hundred million dollar sales teams that operate on the global stage. Steven was a founding board member, former Chairperson, and now Board Advisor for the Open Mainframe Project, a Linux Foundation Project promoting Open Source on the mainframe. Steven Dickens is a Birmingham, UK native, and his speaking engagements take him around the world each year as he shares his insights on the role technology and how it can transform our lives going forward.