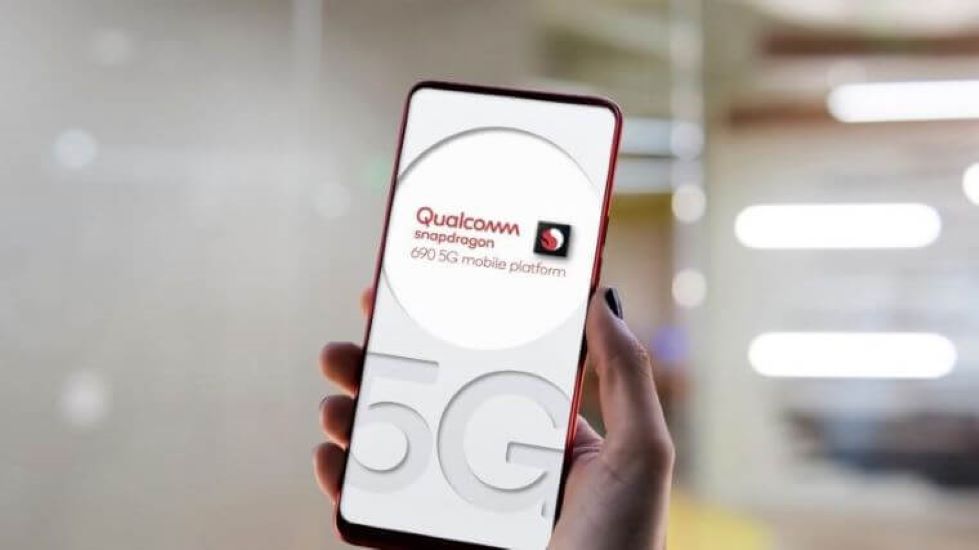 The News: Qualcomm has just unveiled its Snapdragon 690 5G mobile platform, a 5G-compatible SOC for mid-range and budget-friendly smartphones. Qualcomm's new Snapdragon 690 expands Qualcomm's 5G mobile SOC footprint into mid-to-lower-priced tiers and comes on the heels of the high-tier Snapdragon 768G unveiled in May, as well as the Snapdragon 765/765G and premium-tier Snapdragon 865 unveiled back in December. Read the full press release from Qualcomm here.
Qualcomm's New Snapdragon 690 Brings 5G to Budget-friendly Phones, Expands Qualcomm's 5G Mobile Platform Footprint Across Handset Tiers
Analyst Take: As a quick mental reference, the simplest way to understand Qualcomm's Snapdragon 5G mobile SOC product family is:
At first glance, these specs look solid for a budget-minded 5G mobile platform, which isn't surprising, coming from a company rooted in premium tier mobile SOC design. Obviously, consumers shouldn't expect the same volume of features and the same degree of high-end performance characteristics as can be found in the superior Snapdragon 700 and 800 series, but the Snapdragon 690 5G platform nevertheless delivers impressive features and performance for the price. Handset OEMs looking to bring high-end features and performance to their budget-minded 5G phones.
Some quick specs that caught my eye:
Qualcomm® Kryo™ 560 CPU (ARM Cortex architectures, 8 nm process)
Qualcomm® Adreno™ 619L GPU (60% improvement from 675 mobile platform for smooth graphics rendering)
Qualcomm® Snapdragon™ X51 5G Modem-RF System (Compatible with global bands, SA and NSA, and global multi-SIM enable connections worldwide)
Support for TDD, FDD and Dynamic Spectrum Sharing for global 5G coverage
Qualcomm® FastConnect™ 6200 Mobile Connectivity Subsystem (integrated 2×2 mobile connectivity / Dual Wi-Fi antennas, Wi-Fi 6-ready)
4K HDR video recording
Qualcomm Spectra™ 355L ISP (supports high-megapixel capture, plus fast autofocus and noise reduction technology for sharper, brighter videos >1B shades of color)
Slow Motion Video Capture: 720p @ 240 FPS. Video Capture Formats: HDR10, HLG, HEVC
192 Megapixel photo capture
4K HDR streaming
Qualcomm® aptX™ Adaptive Audio and Qualcomm Aqstic™ audio codec (up to Qualcomm® WCD9385) smart speaker amplifier (up to Qualcomm® WSA8815)
5th gen Qualcomm® AI Engine + Qualcomm® Hexagon™ Tensor Accelerator. (70% improvement in AI performance compared to its predecessor, but no confirmation on TOPS)
Qualcomm® Sensing Hub for always-on environment awareness and AI virtual assistance
Supports 120 Hz on-device display
Qualcomm® Quick Charge™ 4+ technology
Why This Move on the Part of Qualcomm is Strategic, and Clever
This move on Qualcomm's part is both very strategic, and clever. Qualcomm's Snapdragon mobile platforms have been a dominant force in the android ecosystem for some time now. The US chipmaker's leadership in 5G gave it an additional advantage when designing the Snapdragon 865 5G mobile platform for premium tier smartphones. It isn't a stretch to consider the Snapdragon 865 to be the global gold standard of 5G mobile platforms, and Qualcomm has demonstrated the ability to consistently deliver this kind of product to OEMs on schedule and at scale. The company also has the expertise to help OEMs integrate the snapdragon platform and its features into their handsets.
The thing is, not everyone wants to (or can afford to) dish out upwards of $1,000 for a premium smartphone every 2 to 3 years. And so, focusing only — or even mostly — on that premium tier had its moment, thanks in part to iPhone's premium pricing strategy setting the stage for the entire industry, but that moment has passed. While sales of premium-priced flagship handsets still look strong, consumers are increasingly looking for better value in their smartphones and can now readily find it in the $800 to $400 range, and below. This trend had begun before the COVID crisis and is likely to find itself accentuated by it. Uncertainty about the global economy is likely to affect consumer behaviors, and many smartphone users may decide to exercise a bit of caution when upgrading their aging phones to a 5G device. And with once-premium features and performance turning up at lower price-points, many consumers are satisfied with the "good enough" features now increasingly found in $200 to $800 phones. Marketing basics are at play here, and it doesn't take a genius to realize that wherever your consumers are, that's where you should be. Enter the Snapdragon 690 5G mobile platform, the mid-range complement to Qualcomm's more high-end 765G/768G and 865 platforms.
While any company would naturally worry about the possibility that their lower-tiered product offerings might cannibalize their premium-tiered products, Qualcomm appears to have done the math, and decided that it was worth the risk. For starters, what Qualcomm might hypothetically lose in Snapdragon 865 orders, it is likely to make up in 765G/768G orders. It's quite likely the company may even see volume growth from the popularity of the 765G/768G. The 690, for its part, should have little to no bearing on the 865. They are too different. Second, if Qualcomm doesn't plant its flag in the high and mid-tiers to make them its own, someone else will. In fact, others have. It makes sense for Qualcomm to be there as well, and to try to own as much of that ground as possible. Doubling-down on this tiered strategy just as 5G drives consumers to upgrade their phones makes good business sense.
The Advantages Here for OEMs
For OEMs, this also presents several advantages. For one, a growing and expansive familiarity with Qualcomm products allows OEM product teams to streamline their integration and development processes by jumping aboard what is essentially becoming a Qualcomm one-stop shop for mobile platforms and adjacent solutions. While not all handset OEMs will want to commit to a full Qualcomm stack, the option is there for those who do, and the benefits are obvious. These include more uniform integration up and down the product line, smoother interoperability, more consistent user experiences across the full breadth of the product ecosystem, faster to market, and possibly even simpler logistics. Even Qualcomm's technology licensing is fairly straightforward, so being able to consolidate product development, integration, testing, and licensing around one supplier is an attractive proposition. Last but not at all least on this front, with Qualcomm comes the promise of quality, reliability, and consistency, right down to chipsets typically shipping on-time, so peace of mind seems an important factor in that equation as well.
Every Tier has Value in the Mobile Market, Every Customer Different Needs
Having said that, you do get what you pay for. Despite the Snapdragon 690 5G mobile platform's impressive features and specs, it is, by design, no match for the 765G, 768G and 865. Unlike the 865, 768G, and the 765G, the 690 doesn't appear, for example, to support mmWave. In a 1-on-1 comparison with its predecessor, the Snapdragon 675, the 690's AI engine is vastly superior, but still far from delivering the impressive TOPS of the 865. I'll note here that Qualcomm has not, to my knowledge, released TOPS information for the Snapdragon 690 just yet. The Snapdragon 690 delivers impressive performance for the price, but everything about it is just more basic, more standard. Nothing about it feels "cheap," mind you, and that too is well worth noting.
The impression I get from browsing through the Snapdragon 690 specs is that Qualcomm is conscious of the fact that every tier has value in the mobile market, that every price-point serves the needs of a specific ecosystem of consumers, and that every device that its chipsets power deserves to deliver the best possible features and performance for its users. Perhaps this is just a hint of Qualcomm's culture finding its way into their product design philosophy, but what I see when I look at the Snapdragon 690 alongside the 765G, 768G, and the 865, is respect for each product and the role that it is designed to play in the mobile ecosystem. Even with a lower-priced chipset like the Snapdragon 690, every engineering decision feels deliberate, well thought-out, purposeful. Qualcomm engineers didn't cut corners. They didn't just strip a 765G down to its bare bones and slap on some cheap bits that will do the job. The Snapdragon 690's product team obviously took the time to put together a serious 5G mobile platform for a lower-priced tier and made it as good as they could for their OEMs and the benefit of their customers. For the price, the specs here are spot-on.
5G phones powered by the Snapdragon 690 5G platform are expected to start hitting the shelves later this year, and I, for one, look forward to giving them a spin.
Futurum Research provides industry research and analysis. These columns are for educational purposes only and should not be considered in any way investment advice.
Read more analysis from Futurum Research:
Qualcomm's New Snapdragon XR2 5G Reference Design Opens The Door To Truly Wireless On-Demand 8K XR Experiences 
Qualcomm's Virtual MWC Event Reveals Big Wins For Snapdragon 865 
Qualcomm Announces Snapdragon X60, Its 3rd Generation 5G Modem-RF System
Image Credit: News Break
The original version of this article was first published on Futurum Research.
Senior Analyst at @Futurumxyz. Digital Transformation + Tech + Disruption. Author, keynote speaker + troublemaker. Opinions are my own. I like croissants.