The News: Qualcomm just announced the world's fastest commercial charging solution for Android devices — Qualcomm's New Quick Charge 5. The silicon giant's new Quick Charge 5 is the first solution of its kind to support 100W+ charging power in a smartphone, and can get a device from 0% to a 50% charge in just five minutes — and to 100% in a mere 15 minutes, or about the time it takes the average person to take a shower. See the full details on the release from Qualcomm here.
Qualcomm's New Quick Charge 5 Tech is Announced — and Its Awesome
Analyst Take: This was a pretty exciting announcement — for an analyst tracking device news, anyway.
Some specifics:
Qualcomm's Quick Charge 5 uses Qualcomm's Battery Saver technology as well as Qualcomm's new Smart Identification of Adapter Capabilities technology to help improve charging efficiency while extending device battery lifecycles. To that end, Quick Charge 5 incorporates 8 levels of voltage protection, 3 levels of current protection, and 3 levels of thermal protection, including USB-input overvoltage protection at 25V and external power controls beyond 30V. (In fact, Quick Charge™ runs 10C cooler than Quick Charge 4.) Quick Charge 5 is backwards-compatible.
Overall, Qualcomm's Quick Charge 5 is also roughly 70% more efficient than its predecessor, Quick Charge 4, and offers 10x the power delivery of Quick Charge 1, which I believe debuted in 2013. Another improvement over Quick Charge 4 is that Quick Charge 5 supports 2S batteries and 20 Volts of power delivery. I believe the Quick Charge 4+ supported dual battery charging but not 2S batteries.
Qualcomm is also introducing its next generation premium tier power management PMICs: Qualcomm® SMB1396 and Qualcomm® SMB1398. The SMB1396 and SMB1398 are engineered to provide maximum efficiency above 98 percent. The SMB1936 is designed for next gen 2S charging, while the SMB1938 is designed for more traditional systems, providing full support for 1SnP and 2SnP batteries, wired and wireless input paths, adaptive operation based on the power source (3 level buck and DIV/2), scalability (primary and secondary to provide higher power), and more versatility for OEMs.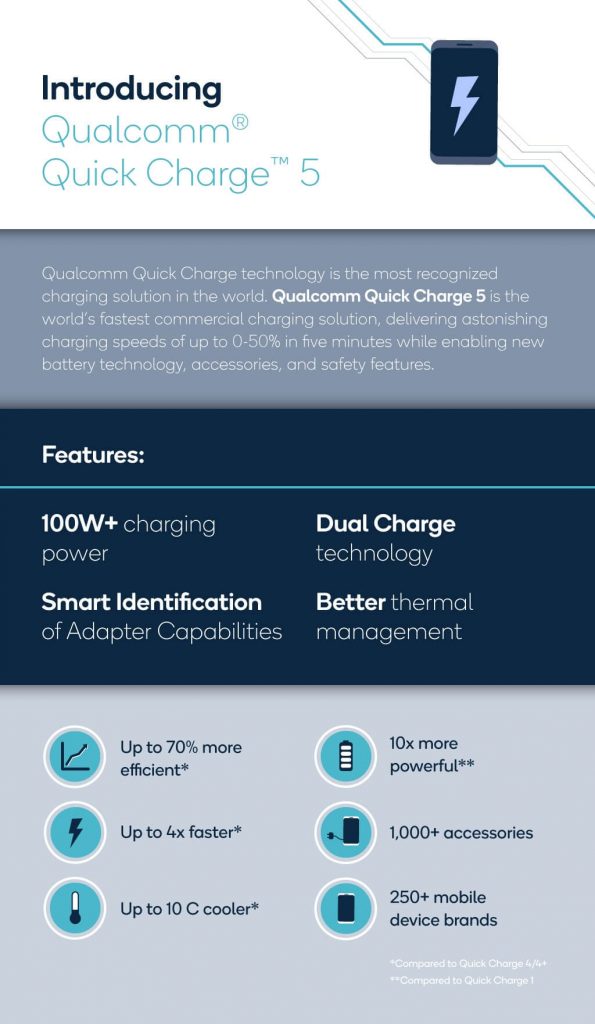 What This Means from an Engineering Standpoint — and for Power Users
Qualcomm's Quick Charge 5 represents a remarkable engineering achievement: The value of being able to safely get a mobile device from a 0% charge to a 50% charge in just 5 minutes speaks for itself, and the added value of reaching a 100% charge in the time it takes to take a shower, eat a sandwich, or respond to a few emails, speaks for itself.
This new standard is terrific news for power users of smartphones, and particularly those of us who are always on the move. And while we perhaps aren't spending as much time in airports as we once did, and surely will again, the ability to fully charge one's phone between connecting flights is something many of us have wished and prayed for for years. Qualcomm finally makes this a reality.
From an engineering standpoint, you will without a doubt already be wondering if charging an Li-ion battery that quickly is a good idea. To that point, you will undoubtedly have noticed that I made a point of mentioning that Qualcomm's Quick Charge 5's blistering speed *safely* charges a mobile device from 0 to 50% in 5 minutes, and to 100% in 15. Qualcomm combines a number of tools and fail safes to achieve this performance feature: Its own already proven Battery Saver technology, smart identification of the adapter being used so as to adjust and optimize charging performance, and at least a dozen voltage, current, and thermal protections. Also, because Qualcomm's SMB1398 and SMB1396 PMICs are designed to support 2S batteries (connected dual cells), they open the door to safely doubling the system's voltage, from, say, 5V to 10V. Think of it this way: Twice the voltage equal twice the speed. Quick Charge 5 supports up to 20V of input voltage, by the way.
Note that depending on the power cable being used, a charger could deliver 100W to a device, or much less. A typical 3A cable, for instance, may only be capable of delivering roughly 50W, no matter what the charger can actually push out. This is important, as the 5 and 15 minute charging times specified by Qualcomm likely depend on achieving 100W, or at least being in that neighborhood.
With Quick Charge 5, Qualcomm also appears to lean more on the USB-PD power delivery standard's voltage adjustment protocols than it has in the past. I presume this is to be able to safely take full advantage of the 100W voltage range at speed by moving some of the voltage regulation and conversion loss from the device's internal PMICs to the device charger itself.
There's More — and a Smart Strategy at Work Here
I believe there's more at play here that simply good engineering — there's also smart strategy driving this move. Beyond the obvious engineering challenges Qualcomm's Quick Charge 5 aims to solve this move also helps further unify the industry around one common standard. For reference, Qualcomm's Quick Charge was already the number one fast-charging solution in mobile, with over 1,000 unique accessories, over 250 mobile devices, and healthy expansion into adjacent technology categories like tablets, speakers, and drones.
By leaning more on USB-PD, Qualcomm appears to be looking more to enable the entire industry than unique OEMs. This isn't just a smart play because of the ubiquity of Android devices. It is especially clever, and timely, because handset OEMs are increasingly beginning to ship phones without chargers, forcing consumers to purchase their own. By strategically opening up Quick Charge 5 to the entire industry, I think that Qualcomm can help its technology achieve greater scale, and reach more consumers, albeit at a slower initial uptake.
I, for one, cannot wait to be able to charge my phone in roughly the amount of time it takes to read one of my articles.
Futurum Research provides industry research and analysis. These columns are for educational purposes only and should not be considered in any way investment advice.
Other insights from the Futurum team:
Siemens Implements Mobile Working Permanently As Part Of Its New Normal 
Intel Engineering Chief Departs Following 7nm Delays
SAP Plans To Spin Off Qualtrics Appears To Be Smart Financial Engineering
Image Credit: Droid Life
The original version of this article was first published on Futurum Research.
Senior Analyst at @Futurumxyz. Digital Transformation + Tech + Disruption. Author, keynote speaker + troublemaker. Opinions are my own. I like croissants.