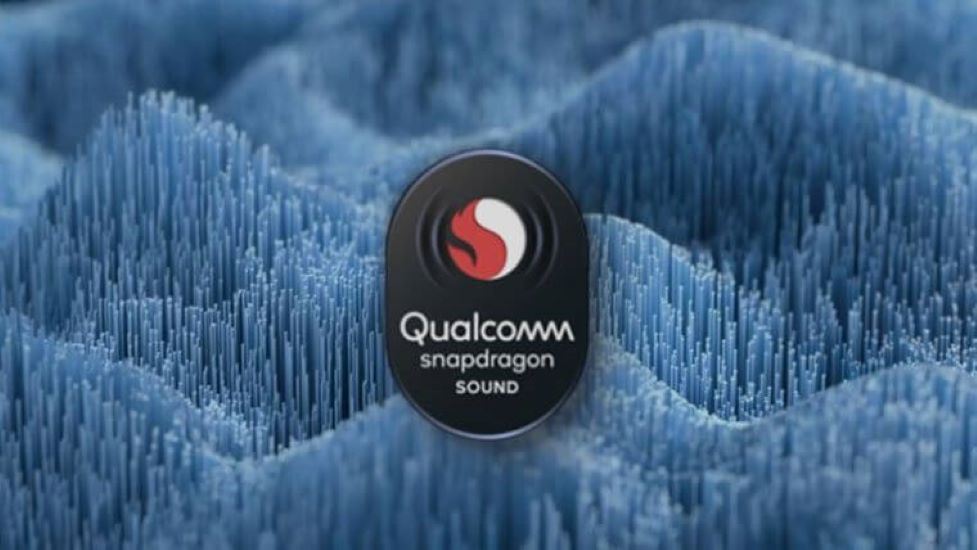 The News: This week in New York City, Qualcomm showcased the momentum of its global Snapdragon Sound technology rollout with 30 OEMs already signed on, provided a glimpse at the first commercial products headed for consumers (from Xiaomi, Edifier and Master & Dynamic, as well as a smartphone for Snapdragon Insiders designed by ASUS), and declared its intention to support CD Lossless audio transmission over Bluetooth wireless connectivity. CD Lossless audio transmission over Bluetooth wireless connectivity will be a feature of Snapdragon Sound, and is aimed at addressing increasing consumer demand for lossless audio quality. In conjunction with the event, executives from Qualcomm, Master & Dynamic, and Motorola discussed current and future audio trends and the company revealed new findings from its annual State of Sound report.
Qualcomm Snapdragon Sound Gains Momentum As Mobile Consumer Demand For Premium Wireless Audio Experiences Grows
Analyst Take: Qualcomm aptX™ Lossless technology will be a new addition to the chipmaker's aptX Adaptive technology and Snapdragon Sound and is designed to deliver CD quality 16-bit 44.1kHz lossless audio over Bluetooth for wireless earbuds and headphones. With Snapdragon Sound, OEMs will be able to support a range of audio formats including CD lossless, HD 24-bit 48kHz and high resolution 24-bit 96kHz, all with reliable connectivity for a premium audio experience even in streaming use cases.
James Chapman, VP and GM of Voice, Music and Wearables at Qualcomm, summarized Qualcomm's systems-level approach to the design of Snapdragon Sound, which takes into account the complete audio chain from mobile to earbuds: "By optimizing across the entire audio chain, we can enable our customers to deliver ultra-low latency for gaming, crystal clear voice calls and high quality music listening, all with reliable and consistent connectivity to ensure seamless user experiences. The technology is designed to dynamically adapt to both the use case and external environment and provides our customers with a new way to deliver robust, high quality audio including bit-for-bit exact CD Lossless quality."
Karolina Joynathsing, Director of Business Development for Amazon Music, was also on hand to talk about the partnership between Qualcomm and Amazon: "Sound quality matters to everyone," she stated, "and now with Qualcomm Technologies' Snapdragon Sound technology paired with Amazon Music HD, more fans than ever can experience the best possible version of their favorite music."
Doug Michau, Executive Director of North America Business Development at Motorola, also commended the collaboration between Motorola and Qualcomm, and highlighted Snapdragon Sound's integration into the new Motorola Edge: "Pairing Snapdragon Sound with the super-fast 144Hz refresh rate and 6.8″ FHD+ display on the new Motorola edge allows us to offer customers an immersive audio, viewing and gaming experience in one package."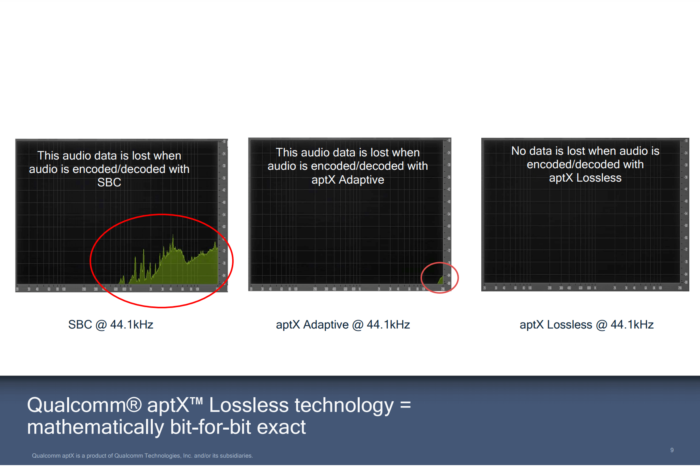 For his part, Jonathan Levine, CEO and Founder of Master & Dynamic, the premium headphone OEM, focused his comments on the increasingly critical relationship between premium audio and the Android ecosystem: "We always strive to deliver best-in-class technical performance from each of our products, but now that we've worked with Qualcomm Technologies on Snapdragon Sound, we've come to see the benefit of optimizing both the source mobile device and the earphones, and we're excited for the premium Android experience we are able to provide as a result."
The Dynamic State of Sound Report Suggests Covid-19 Has Permanently Impacted Wireless Audio Habits and Preferences
Qualcomm Technologies also released The State of Sound, its annual consumer research report based on a global survey of 6,000 consumers. Covid-19's impact clearly drove changes in purchasing and product use over previous years. For starters, demand for wireless earbuds grew at a faster rate this past year. The research identified a rise in consumer awareness for previously glossed-over features like better voice call quality, active noise cancellation and glitch-free sound, higher resolution, lossless music quality, and low latency for gaming. Additionally, 65 percent of respondents who turned to listening to music for comfort, 57 percent who did more video calls for work and 57 percent who stated their audio listening habits would continue to be changed post pandemic, indicating that the pandemic significantly impacted the wireless audio market, with consumers looking to OEMs to deliver increasingly high benchmarks of premium quality wireless sound with minimal lag and/or latency.
A substantial 70 percent of those surveyed reported that good sound in their wireless audio devices creates the best experience when using a smartphone, indicating that wireless audio is becoming a critical part of the mobile experience as opposed to an afterthought or secondary consideration for technology implementers. This preference, by the way, is about more than just pragmatic audio performance: Over 73 percent of respondents reported that listening to music, podcasts, and other media has a positive effect on their wellbeing, suggesting that the shift to better quality sound has turned into an instinctive, visceral preference. Over half of respondents reported that they use headphones or earbuds to stay in touch with friends and family on voice or video calls, compared to 59 percent reporting that they use wireless headphones and earbuds for calls when working from home. As many as 62 percent stated that they rely on audio devices in their daily lives. This personal dimension to the use of wireless sound technology cannot be underestimated.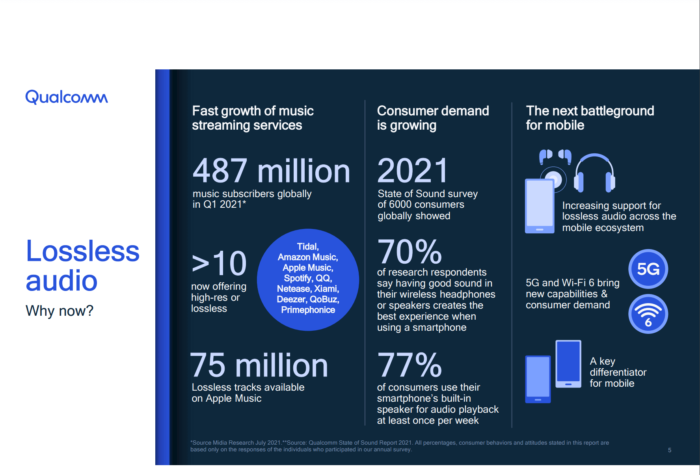 James Chapman, VP and GM of Voice, Music and Wearables at Qualcomm, put the report's findings in perspective for his company, the OEM ecosystem, and end users: "The survey highlights the tremendous opportunity for our customers today, with increased consumer demand for lower-latency, higher quality audio and changes in the way in which we work, live and relax driving new and exciting use cases. Our Snapdragon Sound technology and broad portfolio of technologies across mobile, audio, wearables and beyond will help our customers create a new age of audio."
Mobile Gaming Is Also Driving Wireless Audio Preferences
The report also noted that 68 percent of consumers surveyed play games on their smartphone at least twice per week and 46 percent play every single day. Those users spent an average of 1.9 hours per day playing on their phones. This is significant as audio latency in gaming (including mobile gaming) can make a massive difference in gaming performance, from achieving high scores to winning against other players. This insight suggests that as mobile gaming continues to grow, the wireless audio component of the gaming experience will continue to act as a key differentiator for technology OEMs in the wireless sound space, making Snapdragon Sound technology all the more critical to the market.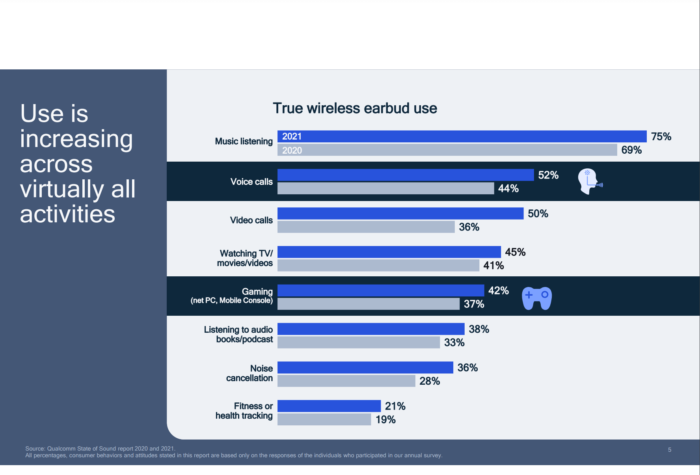 Disclosure: Futurum Research is a research and advisory firm that engages or has engaged in research, analysis, and advisory services with many technology companies, including those mentioned in this article. The author does not hold any equity positions with any company mentioned in this article.
Other insights from Futurum Research:
Qualcomm's New Snapdragon 888+ 5G Mobile Platform Brings 32 TOPS And Blistering Speeds To 2021 Smartphones 
New Qualcomm-Microsoft Snapdragon Developer Kit Announcement Signals Growing Enterprise Buy-In For Always-Connected Compute Platform
Qualcomm's New Snapdragon 7c Gen 2 Compute Platform Brings Major Upgrade To Budget Laptops
The original version of this article was first published on Futurum Research.
Senior Analyst at @Futurumxyz. Digital Transformation + Tech + Disruption. Author, keynote speaker + troublemaker. Opinions are my own. I like croissants.