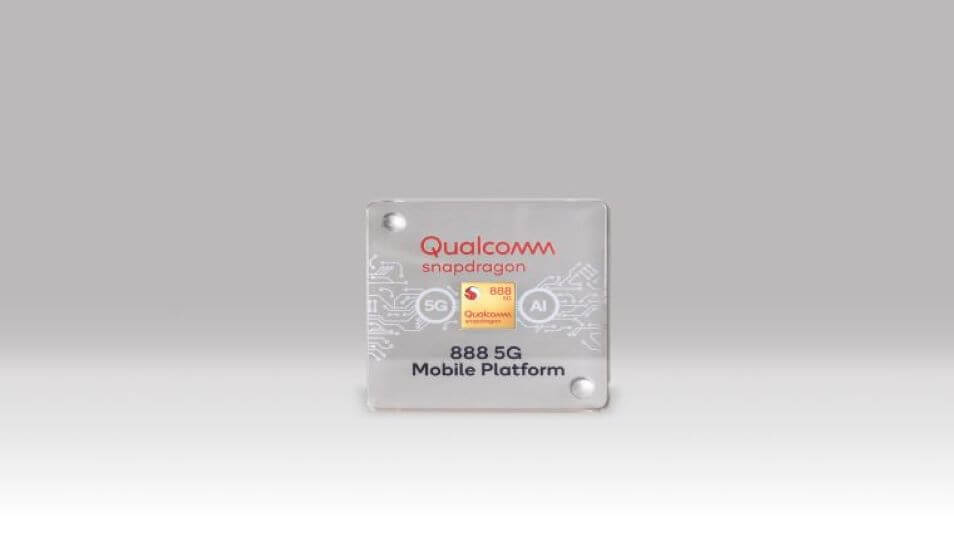 Last week at its annual Snapdragon Tech Summit, Qualcomm introduced the world to its impressive new premium-tier mobile platform: The Snapdragon 888 5G. The new 5nm SOC featured an impressive list of specs and improvements over its predecessor, the Snapdragon 865 (and subsequent 865 Plus). Among the highlights:
35% faster graphics rendering from its Adreno™ 660 GPU
New Arm Cortex-X1 architecture
25% higher performance from its Qualcomm® Kryo™ 680 CPU
3X performance per Watt improvements and up to 1,000x improvement for hands-off time from its 6th generation AI Engine (by way of Qualcomm's Hexagon 780 Processor)
A mind-boggling 26 TOPS from its new AI engine
A deep bench of extremely impressive camera improvements, including up to 200 MP for a single camera, 14-bit CV-ISPs, Hardware accelerator for computer vision (CV-ISP), 120FPS burst photo at 12MP, 4K HDR with computational HDR video capture, 10-bit HDR HEIF photo capture (up from 8-bit), 8K video capture at 30 FPS, and 960 FPS at 720p slow motion video capture
Qualcomm® Quick Charge™ 5 technology (0-100% charging in less than 15 minutes)
Enhanced Snapdragon Elite Gaming™ features, among them a 30% improvement in Variable Rate Shading and a 20% more responsive Game Quick Touch.
I will dive deeper into the Snapdragon 888 5G's exciting new camera and other overall features, but today, I want to focus on the platform's equally impressive connectivity capabilities, which I believe set new standards of excellence for premium tier smartphones going into 2021.
You can check out the Snapdragon 888 5G platform's full spec sheet here.
The Qualcomm Snapdragon 888 5G's Slick New Integrated X60 5G Modem-RF System Sets a New High Bar for Global Premium-Tier Smartphone Connectivity
Analyst Take: Qualcomm's new X60 Modem-RF system represents a welcome return to an integrated modem design and represents a clear focus on ubiquitous global connectivity in the 5G era. Let's get down to business and take a look —
Overview of Qualcomm's X60 Modem-RF System
The Snapdragon 888 5G ships with an integrated Snapdragon X60 5G Modem-RF System, which brings a peak download speed of 7.5 Gbps and a peak upload speed of 3 Gbps to the 5G platform, along with support for Dynamic Spectrum Sharing (DSS), mmWave, sub-6 GHz bands, 5G NR, LTE including CBRS support, HSPA, WCDMA, TD-SCDMA, CDMA 1x, EV-DO, and GSM/EDGE. Further showcasing its versatility even in these early days of 5G deployments, the Global 5G multi-SIM X60 modem's mmWave specs include 800 MHz bandwidth, 8 carriers, and 2×2 MIMO, while its sub-6 GHz specs include 200 MHz bandwidth and 4×4 MIMO. The modem also comes enhanced with AI-powered signal boost adaptive antenna tuning, wideband envelope tracking, Qualcomm® Smart Transmit™ technology, and Qualcomm® 5G PowerSave, which helps optimize power usage even during continuous high-speed data exchanges.
Qualcomm's Return to an Integrated Modem Design with the Snapdragon 888 5G
What I notice first is Qualcomm's return to an integrated modem design with the Snapdragon 888 5G. You may recall that last year's flagship Snapdragon release, the Snapdragon 865 (and subsequent 865 Plus), did not ship with an integrated modem. While the reason for Qualcomm's departure from an integrated modem design last year raised a few eyebrows, my read on this slight inconsistency from one year to the next is that inflection points in the transition between a mature "G" and a new "G" (transitioning from 3G to 4G, and in this case from 4G to 5G), especially given the extremely fast pace of chipset design, can sometimes impose some limitations on engineering decisions within the very tight window provided by fixed-date product releases. Essentially the same thing happened when Qualcomm was transitioning to 4G a decade ago, so deviations of this type are to be expected from time to time. Moving forward, I expect that an integrated modem design will again be the norm for Snapdragon's premium chipset.
Qualcomm's Connectivity Objective: Complete Global Agility
Also notable is that the new X60 is a complete global 5G Modem-RF System: Unsurprisingly, it supports both 5G sub-6 carrier aggregation and mmWave, which I came to expect from Qualcomm's 5G modems ahead of most early 5G modem solutions. That said, the real value here to handset makers, not just smartphone users, is that it enables coverage across pretty much all major networks worldwide, thereby helping streamline device OEMs' supply chains. The additional carry-over value of the system for smartphone users are that (1) it also supports Global 5G multi-SIM, which simplifies international roaming as well as managing more than one number on the same phone (work vs personal numbers, for instance). In addition, unless I missed something, (2) as far as I can tell, the X60 currently delivers the world's fastest commercially available 5G speeds. (7.5 Gbps is pretty impressive this early into 5G deployments and gets us a lot closer to 10 Gbps than I expected to be in 2020.) Qualcomm's new Modem-RF System also leans heavily on its built-in Dynamic Spectrum Sharing (DSS) capabilities, which is a topic I expect to spend some time diving into more in 2021.
WiFi Improvements: Qualcomm's new FastConnect™ 6900
The Snapdragon 888 5G platform also showcases Qualcomm's new FastConnect™ 6900 Mobile Connectivity System, which, in addition to accessing the 2.4 GHz and 5 GHz bands, also leverages Wi-Fi 6 (6 GHz) to deliver the fastest Wi-Fi 6 speeds in the mobile industry (up to 3.6 Gbps). So yes, on top of supporting Wi-Fi 5, and the 802.11a/b/g and 802.11n standards, support for Wi-Fi 6 and 6E also allows the Snapdragon 888 5G to tap into new 6 GHz capacity. The system also supports MU-MIMO (Uplink and Downlink), 8×8 sounding, 160 MHz channel, OFDMA (Uplink and Downlink), 4K QAM, and WPA3 security.
Snapdragon 888 5G Bluetooth Improvements
The Snapdragon 888 5G's built-in Fast Connect 6900 Mobile Connectivity System also brings more responsive audio to the platform through enhanced support for Bluetooth 5.2, Qualcomm® aptX™ Adaptive Audio,  LE Audio Features, Qualcomm TrueWireless™ Technology, broadcast audio, and noticeable advanced modulation & coding optimizations. What struck me as especially clever is the use of dual Bluetooth antennas to improve connectivity and performance with paired devices even when the user's phone is sitting in a back pocket or in an otherwise less-than optimal spot.
Technical footnote: NFC and Satellite System Support
The Snapdragon 888 5G also supports Near Field Communications, and the following Satellite Systems: Beidou, Galileo, GLONASS, Dual frequency GNSS, NavIC, NavIC enabled, GPS, GNSS, QZSS, SBAS
Stay tuned for analysis of other key Snapdragon 888 5G features.
Futurum Research provides industry research and analysis. These columns are for educational purposes only and should not be considered in any way investment advice.
Other insights from the Futurum team:
Qualcomm Snapdragon Summit, Day 1: Qualcomm's Powerful New Snapdragon 888 5G Chipset Will Define Premium Mobile Experiences In 2021 
Qualcomm's Fortune Turns As The Chipmaker's 5G Business Grows Rapidly
Qualcomm Q4 Blows Past Expectations As 5G Surges
Image Credit: Qualcomm
The original version of this article was first published on Futurum Research.
Senior Analyst at @Futurumxyz. Digital Transformation + Tech + Disruption. Author, keynote speaker + troublemaker. Opinions are my own. I like croissants.