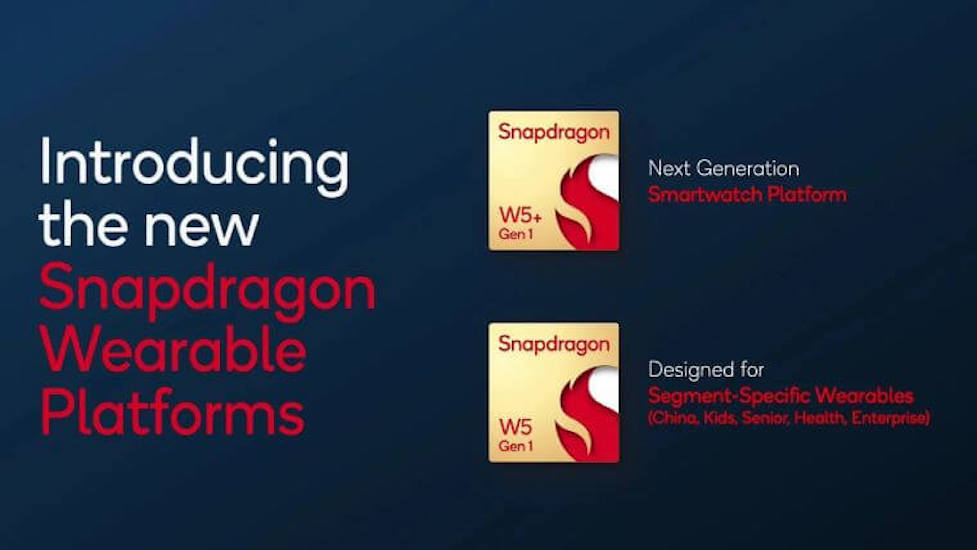 The News: Qualcomm recently unveiled its Snapdragon W5 Platform, which includes the Snapdragon W5+ G1 and Snapdragon W5 G1 SoCs for next generation wearables that are faster than its previous generation with a longer battery life. The SoC platform is designed for a wider range of smartwatches and has the potential for other form factors that go beyond the wrist. Read the full Qualcomm Press Release.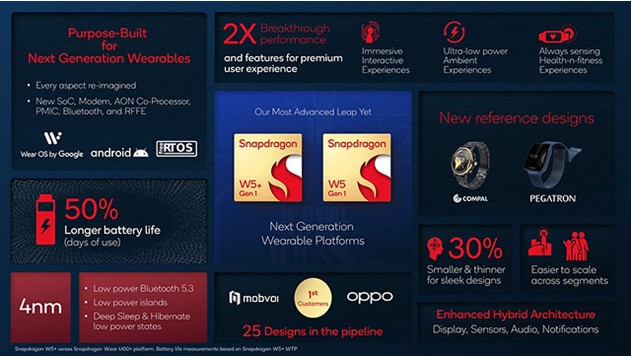 Qualcomm Launches Snapdragon W5 Platform Offering Longer Battery Life and Quicker Speed
Analyst Opinion: Qualcomm's new Snapdragon WS Platform, which includes the Snapdragon W5+ G1 and Snapdragon W5 G1 SoCs for next gen wearables, is something we've been awaiting with anticipation, and Qualcomm did not disappoint.
It's a given that the smartwatch and overall wearables category continues to grow at a rapid pace, not only appealing to consumers, but also growing rapidly in different vertical markets, for example, the healthcare market for which there are numerous use cases.
The newly announced Snapdragon W5+ G1 and W5 G1 platforms are an update from the prior generation 4100 and 4100+ series and not only have a 50 percent longer battery life, they are also 30 percent smaller and twice as fast.
The new chips are both aimed at the higher end of the market, with the W5+ being slightly more powerful since it incorporates a co-processor taking the load off the main processor. Isolating the Snapdragon W5+, it was built on the 4 nanometer process versus the 4100+ that used the 12-nanometer node process architecture. The Snapdragon W5+ co-processor is 22-nanometer, providing extra power efficiency that was previously 28 nanometer. When comparing the Snapdragon W5+ to the 4100+ (image below), you can see some of the tasks where power efficiencies are gained by key category.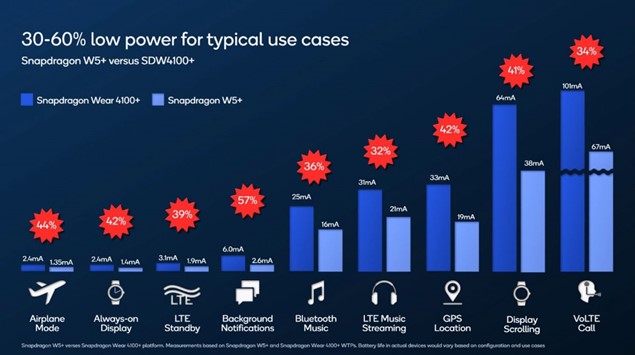 For display scrolling, users get a 41 percent increase, GPS location, a 42 percent increase, Bluetooth music, a 36 percent increase, airplane mode, a 44 percent increase, background notifications, a 57 percent increase, LTE music streaming, a 32 percent increase and for always on display, users get a 42 percent increase.
In my opinion, the high double-digit efficiencies gained across those categories are impressive and will no doubt resonate with users. I mean, who doesn't want more speed and better battery life? I can't think of anyone.
Today's users want wearable devices that don't have to constantly be charged on a daily basis, along with devices that are not only fashionable and more sleek, but which are also highly durable, voice assisted, and equipped with the ability to track biometrics and other metrics they care about today.
The upgraded features of Snapdragon's W5 Platform SOCs addresses a number of these user desires. And there's no question that more power, coupled with a longer battery life will resonate with users. Qualcomm said that Mobvoi and OPPO already have designs, and that there are additional customer designs in its pipeline.
Qualcomm's Snapdragon W5 Platform provides a solid assist to Qualcomm's partners in their quests to innovate and design more compelling use cases for wearables moving forward — and driving innovation is what Qualcomm is all about. The wearables category is going nowhere but up, and I'm looking forward to seeing what's ahead.
Disclosure: Futurum Research is a research and advisory firm that engages or has engaged in research, analysis, and advisory services with many technology companies, including those mentioned in this article. The author does not hold any equity positions with any company mentioned in this article.
Analysis and opinions expressed herein are specific to the analyst individually and data and other information that might have been provided for validation, not those of Futurum Research as a whole.
Other insights from Futurum Research:
Qualcomm Snapdragon Spaces XR Developer Platform Will Drive Innovation in the Extended Reality Market 
Qualcomm's Updated Premium Snapdragon Mobile Platform Continues Offering Android Users Excellent Gaming and Photography Experiences
Qualcomm Snapdragon SoCs to Power Volkswagen's CARIAD Software Platform to Provide In-Vehicle Assisted and Automated Driving Functions Up to Level 4 by the Mid-2020s
Image Credit: HESHMore
The original version of this article was first published on Futurum Research.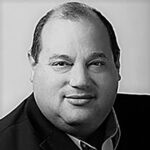 Michael Diamond is an industry analyst and foresight professional with 25 years of experience in the IT channel and market research industry. He is a route-to-market expert covering desktop and mobile devices, collaboration, contact center, ProAV, data center infrastructure, and cybersecurity. Prior to joining Futurum Research, Michael worked for The NPD Group as the sole industry analyst covering indirect channels, cybersecurity, SMB and vertical market trends, data center infrastructure (e.g., enterprise storage, servers, networking), ProAV and PCs. He has been quoted by media outlets such as Bloomberg, Kiplinger, TWICE, OPI (Office Products International), Apple World today, Dark Reading, Enterprise Storage Forum, Credit-Suisse, Footwear News, CRN (Computer Reseller News), Channel Futures and Into Tomorrow.  Michael has presented at myriad events including The Channel Company's Xchange, The Global Technology Distribution Council's summit, SMB TechFest and more.