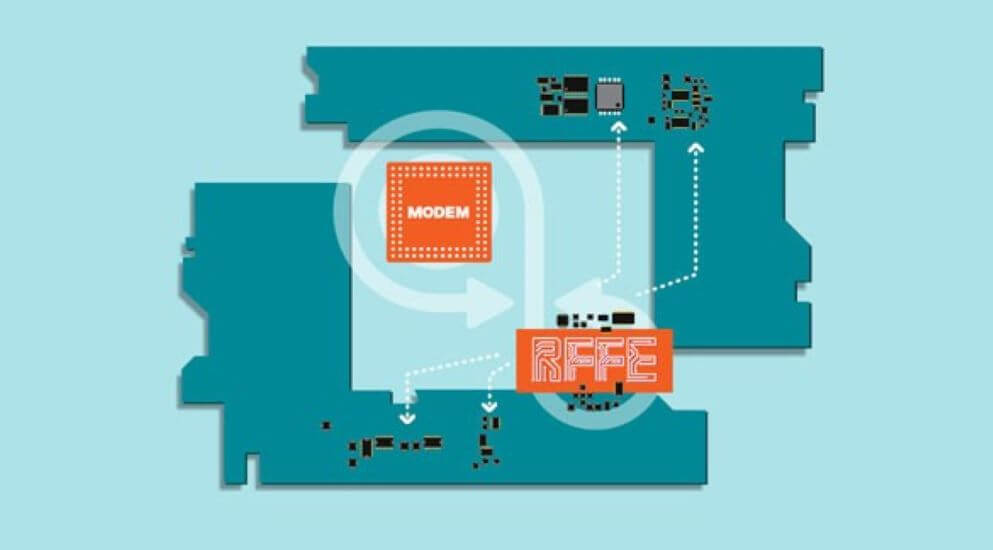 Why RFFE is so Important to 5G
In a mobile device, RFFE is essentially the pathway between the antenna and the cellular modem via the transceiver unit. It handles analog RF signals coming in and out of the antenna and manages a number of critical radio-frequency components, from antenna tuners and filters, that shape and manage all the signals sent and received over the air. The complexity of 5G RFFE is due in great part to the exponential growth in frequency band combinations, which require entirely new components and filters despite extremely limited space on printed circuit boards (PCBs).
Specifically, the combination of new frequencies and multiplexing methods used in 5G exponentially expands frequency band combinations from only about 1,000 in 4G/LTE to over 10,000 in 5G. Additionally, millimeter wave bands (mmWave), which rely on complex new RF techniques like beamforming and 5G new radio (5G NR) massive multiple input, multiple output (MIMO), require a completely new approach to RF solution design.
5G NR massive MIMO builds on legacy network systems by essentially adding a lot more antennas to base stations to help focus energy and bring significant improvements in throughput and efficiency. Spatial diversity, one of the fundamental benefits of MIMO technology, improves reliability by sending the same data across different propagation, or spatial, paths. It also further evolves spatial multiplexing by transmitting multiple messages simultaneously without interfering with one another. Because this feature must work despite the continuous movement of a mobile user and changes in that user's surrounding environment, both the device and the network require advanced capabilities that enable the continuity of the connection and data transmission.
This can only be achieved with entirely new types of RF solutions developed specifically for 5G mmWave communications.
Another example of a new 5G radio technology that requires entirely new and highly advanced antenna technologies is beamforming. Beamforming is a wireless technique that uses antennas both in mobile devices and network base stations to focus a wireless mmWave signal in a specific direction, much like a laser, instead of the traditional method of broadcasting a radio signal to a wide area. The enormous number of antenna elements deployed in a massive MIMO system allows networks to create 3D Beamforming schemes in which base stations focus horizontal and vertical beams toward users to increase capacity and data rates.
Additionally, the arrival of a new generation of Wi-Fi (5/6/6E) will add another layer of RF complexity which needs to be handled by the RFFE system as well.
While cellular modems have traditionally been given most of the credit for delivering improvements in cellular device performance by the tech press (focusing on download speeds/gbps creates an easy benchmark for consumers to get their heads around), we can no longer afford to ignore the importance of antenna and RFFE solutions. That is because the 5G era calls for advanced, integrated system-level radio designs that can handle both the massive increase in frequency band combinations and the complex challenges of mmWave communications brought on by 5G and do so in a way that allows handset OEMs to develop, implement, and test their designs as quickly as their legacy 4G devices despite the new complexities of 5G.
5G RFFE: A New Market Opportunity for Qualcomm and the Mobile Industry
At the dawn of 5G, the opportunity for Qualcomm was to create a fully integrated modem-RF system that could handle both sub-6 GHz and mmWave bands. The challenge, however, was to do so in a way that would not increase the size of its PCB footprint, which meant, among other hurdles, an entirely new and far more advanced approach to RF module assembly.
This evolution was necessary for several reasons, For starters, it would allow device form factors to remain sleek despite the enormous new demands of 5G RF systems. Second, by allowing OEMs to seamlessly integrate the entire 5G cellular system, from antenna to modem, into their handset design, Qualcomm could help them both simplify and accelerate their development, implementation, and testing timelines. Third, this approach was also likely to reduce overall handset costs, which would result in higher margins, or in lower handset price-points for consumers should they decide to pass on those savings. Well ahead of the world's first 5G deployments, Qualcomm knew that if it could manage to do this, it stood a good chance of not only harmonizing its complete portfolio of mobile solutions, from SOCs to integrated modem-RF products, but it might also be able to use the mobile industry's transition to 5G to capture a significant portion of the RFFE market as well.
Qualcomm's acquisition of TDK in 2019 solved a critical piece of that puzzle. It was around that time that Qualcomm started selling fully integrated end-to-end modem-to-antenna solutions, starting with an RF front end (RFFE) solution designed to work with its second generation X55 5G modem. For the first time, Qualcomm was able to deliver a complete modem-RF system to the mobile industry that included 5G/4G compatible modems, RFFE modules, and RF transceivers. But that was only the beginning.
2021: Snapshot of Qualcomm's 5G Modem RF System and Market Position
Fast forward to earlier this year when Qualcomm released its latest generation of RFFE solutions for high-performance 5G mobile devices (for the Snapdragon X65 and X62 5G Modem-RF Systems). This brought together modem, RF transceiver, and RF front-end components with artificial intelligence (AI) assistance and mmWave antenna modules to enable OEMs to design their new 5G devices.
This included Qualcomm Smart Transmit 2.0 technology, a unique breakthrough innovation for optimizing RF transmission across multiple antennas. These devices included Qualcomm's seventh-generation wideband envelope tracker (Qualcomm QET7100), which also supports global 5G sub-6 GHz and LTE bands, as well as Qualcomm's AI-Enhanced Signal Boost, the world's first 5G adaptive antenna tuning solution to be enhanced with AI to improve context-based antenna performance to help OEMs address the growing number of antennas and frequency ranges required in 5G mobile devices. It also included the world's first integrated multi-mode, multi-output, multi-power 5G/4G Power Amplifier (PA), and diversity modules.
The wideband envelope tracker supports full 100 MHz bandwidth for new 5G bands and LTE, which keeps OEMs from having to increase PCB size. A single tracker can drive multiple 5G and 4G PAs through its multi-output support while also providing OEMs flexibility for PA selection. It also delivers 30% better power efficiency compared to average power tracking technology from competitors, an important feature for OEMs who need their phones to deliver all-day battery performance in 5G environments.
Qualcomm's AI-enhanced adaptive antenna tuning solution uses AI-trained models to automatically detect a user's hand position on and around a device and fine-tune the antennas in real-time to optimize performance. This AI-based detection improves context accuracy by up to 30% for faster data speeds and longer battery life.
Qualcomm's new integrated 5G/4G power amplifier module supports 100 MHz envelope tracking operations for improved power efficiency and higher transmit power, eliminates the need for external diplexer filters, meaning more reliable connectivity and faster uploads.
Lastly, Qualcomm's newest dual-band diversity module (Qualcomm QDM5579) enjoys the smallest PCB footprint on the market.
Together, these new integrated modules take up minimal board area, which once again allows OEMs to keep designing sleek, stylish, modern devices despite the daunting RF complexities of 5G.
In just a few short years, what started out as Qualcomm's goal of offering a comprehensive RFFE portfolio and 5G modem-RF system to OEMs has evolved into solutions that deliver significant power, data speed, and PCB surface area efficiencies. This echoes the San Diego chipmaker's habit of reliably delivering impressive performance improvements year after year with its other mobile products. This may be the reason why by Q3FY21, which ended June 30, Qualcomm had already secured design wins for RF components and modules with major handset OEMs like Samsung, Google, Xiaomi, Oppo, and Vivo, and seen a 114% YoY growth in its RFFE business.
The growing market opportunity for the handset RFFE market already stands at roughly $17 billion this year, and Qualcomm clearly has its sights on extending leadership in 5G and becoming the largest smartphone RF Front-End supplier by revenue in short order. With its completely integrated 5G modem-RF solution, which saves OEMs from having to buy components from separate vendors and then assemble them part by part, the San Diego chipmaker is already off to a good start with nearly 200 smartphone design wins already using its 5G RFFE solutions, and unsurprisingly, more on the way.
In Part Three of this three-part series, we will take a closer look at how Qualcomm's RFFE business is likely to grow in the next decade, and what this means for the mobile industry at large for the remainder of the 5G era and beyond.
Disclosure: Futurum Research is a research and advisory firm that engages or has engaged in research, analysis, and advisory services with many technology companies, including those mentioned in this article. The author does not hold any equity positions with any company mentioned in this article.
Other insights from Futurum Research:
Qualcomm's RFFE Capabilities: A Critical Piece In The 5G Puzzle – Futurum Tech Webcast Interview Series
Qualcomm Spoke Partnership Brings C-V2X To Bicycles, Expands Smart Transportation Safety Ecosystem
Qualcomm Snapdragon Sound Gains Momentum As Mobile Consumer Demand For Premium Wireless Audio Experiences Grows
Image Credit: Qualcomm
The original version of this article was first published on Futurum Research.
Senior Analyst at @Futurumxyz. Digital Transformation + Tech + Disruption. Author, keynote speaker + troublemaker. Opinions are my own. I like croissants.